Abstract
Influential theories of human emotion argue that subjective feeling states involve representation of bodily responses elicited by emotional events. Within this framework, individual differences in intensity of emotional experience reflect variation in sensitivity to internal bodily responses. We measured regional brain activity by functional magnetic resonance imaging (fMRI) during an interoceptive task wherein subjects judged the timing of their own heartbeats. We observed enhanced activity in insula, somatomotor and cingulate cortices. In right anterior insular/opercular cortex, neural activity predicted subjects' accuracy in the heartbeat detection task. Furthermore, local gray matter volume in the same region correlated with both interoceptive accuracy and subjective ratings of visceral awareness. Indices of negative emotional experience correlated with interoceptive accuracy across subjects. These findings indicate that right anterior insula supports a representation of visceral responses accessible to awareness, providing a substrate for subjective feeling states.
Relevant articles
Open Access articles citing this article.
Tyler Fettrow

,

Kathleen Hupfeld

…

Rachael Seidler

Scientific Reports Open Access 08 March 2023

Dara G. Ghahremani

,

Jean-Baptiste F. Pochon

…

Edythe D. London

Neuropsychopharmacology Open Access 03 March 2023

Guido K. W. Frank

,

Megan E. Shott

…

Joel Stoddard

Neuropsychopharmacology Open Access 13 September 2022
Access options
Subscribe to this journal
Receive 12 print issues and online access
$209.00 per year
only $17.42 per issue
Rent or buy this article
Prices vary by article type
from$1.95
to$39.95
Prices may be subject to local taxes which are calculated during checkout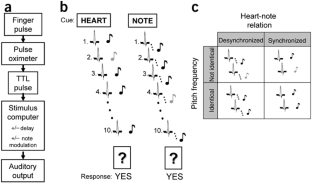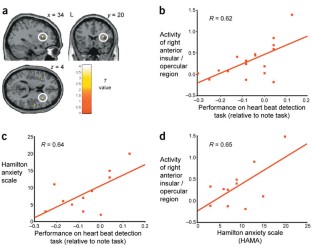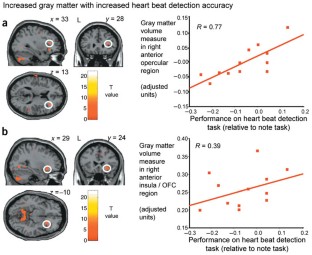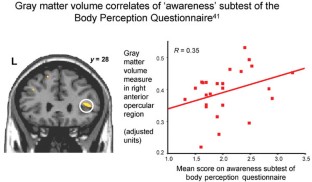 References
Cameron, O.G. Interoception: the inside story—a model for psychosomatic processes. Psychosom. Med. 63, 697–710 (2001).

Melmed, R.N. Mind, Body and Medicine (Oxford Univ. Press, Oxford, UK, 2002).

Jennings, J.R. & van der Molen, M.W. Cardiac timing and the central regulation of action. Psychol. Res. 66, 337–349 (2002).

Jennings, J.R. Is it important that the mind is in a body? Inhibition and the heart. Psychophysiology 29, 369–383 (1992).

Damasio, A.R. Descartes' Error: Emotion, Reason and the Human Brain (Grosset/Putnam, New York, 1994).

Dolan, R.J. Emotion, cognition, and behavior. Science 298, 1191–1194 (2002).

James, W. Physical basis of emotion. Psychol. Rev. 1, 516–529 (1894). Reprinted in Psychol. Rev. 101, 205–210 (1994).

Lange, C. The Emotions (Williams & Wilkins, Baltimore, Maryland, 1922). Translated by I.A. Haupt; original work published 1885.

Whitehead, W.E., Drescher, V.M., Heiman, P. & Blackwell, B. Relation of heart rate control to heart beat perception. Biofeedback and Self Regulation 2, 371–392 (1977).

Yates, A.J., Jones, K.E., Marie, G.V. & Hogben, J.H. Detection of the heart beat and events in the cardiac cycle. Psychophysiology 22, 561–567 (1985).

Wiens, S. & Palmer, S.N. Quadratic trend analysis and heart beat detection. Biol. Psychol. 58, 159–175 (2001).

Jones, G.E. Perception of visceral sensations: a review of recent findings, methodologies and future directions. in Advances in Psychophysiology Vol. 5 (eds. Jennings, J.R. et al.) 55–191 (Jessica Kingsley, London, 1994).

Ferguson, M.L. & Katkin, E.S. Visceral perception, anhedonia, and emotion. Biol. Psychol. 42, 131–145 (1996).

Wiens, S., Mezzacappa, E. & Katkin, E.S. Heart beat detection and the experience of emotion. Cognit. Emotion 14, 417–427 (2000).

Katkin, E.S., Wiens, S. & Ohman, A. Nonconscious fear conditioning, visceral perception, and the development of gut feelings. Psychol. Sci. 12, 366–370 (2001).

Mumford, D.B. et al. The Bradford Somatic Inventory. A multi-ethnic inventory of somatic symptoms reported by anxious and depressed patients in Britain and the Indo-Pakistan subcontinent. Br. J. Psychiatry 158, 379–386 (1991).

Ludwick-Rosenthal, R. & Neufeld, R.W. Heart beat interoception: a study of individual differences. Int. J. Psychophysiol. 3, 57–65 (1985).

Ehlers, A. & Breuer, P. How good are patients with panic disorder at perceiving their heart beats? Biol. Psychol. 42, 165–182 (1996).

Zoellner, L.A. & Craske, M.G. Interoceptive accuracy and panic. Behav. Res. Ther. 37, 141–158 (1999).

Stewart, S.H., Buffett-Jerrott, S.E. & Kokaram, R. Heart beat awareness and heart rate reactivity in anxiety sensitivity: a further investigation. J. Anxiety Disord. 15, 535–553 (2001).

Barsky, A.J. Palpitations, arrhythmias, and awareness of cardiac activity. Ann. Intern. Med. 134, 832–837 (2001).

Van der Does, A.J.W., Antony, M.M., Ehlers, A. & Barsky, A.J. Heart beat perception in panic disorder: a reanalysis. Behav. Res. Ther. 38, 47–62 (2000).

Craig, A.D. How do you feel? Interoception: the sense of the physiological condition of the body. Nat. Rev. Neurosci. 3, 655–666 (2002).

Critchley, H.D., Corfield, D.R., Chandler, M., Mathias, C.J. & Dolan, R.J. Cerebral correlates of peripheral cardiovascular arousal: a functional neuroimaging study. J. Physiol. 523, 259–270 (2000).

Critchley, H.D., Mathias, C.J. & Dolan, R.J. Neural correlates of first and second-order representation of bodily states. Nat. Neurosci. 4, 207–212 (2001).

Critchley, H.D., Mathias, C.J. & Dolan, R.J. Fear-conditioning in humans: the influence of awareness and arousal on functional neuroanatomy. Neuron 33, 653–663 (2002).

Critchley, H.D. et al. Human cingulate cortex and autonomic cardiovascular control: converging neuroimaging and clinical evidence. Brain 216, 2139–2152 (2003).

Cameron, O.G. & Minoshima, S. Regional brain activation due to pharmacologically induced adrenergic interoceptive stimulation in humans. Psychosom. Med. 64, 851–861 (2002).

Harper, R.M., Bandler, R., Spriggs, D. & Alger, J.R. Lateralized and widespread brain activation during transient blood pressure elevation revealed by magnetic resonance imaging. J. Comp. Neurol. 417, 195–204 (2000).

Aziz, Q., Schnitzler, A. & Enck, P. Functional neuroimaging of visceral sensation. J. Clin. Neurophysiol. 17, 604–612 (2000).

Peyron, R. et al. Role of operculoinsular cortices in human pain processing: converging evidence from PET, fMRI, dipole modeling, and intracerebral recordings of evoked potentials. NeuroImage 17, 1336–1346 (2002).

Craig, A.D., Chen, K., Bandy, D. & Reiman, E.M. Thermosensory activation of insular cortex. Nat. Neurosci. 3, 184–190 (2000).

Phillips, M.L. et al. Neural responses to facial and vocal expressions of fear and disgust. Proc. R. Soc. Lond. B Biol. Sci. 265, 1809–1817 (1998).

Buchel, C., Morris, J., Dolan, R.J. & Friston, K.J. Brain systems mediating aversive conditioning: an event-related fMRI study. Neuron 20, 947–957 (1998).

Good, C.D., et al. A voxel-based morphometric study of ageing in 465 normal adult human brains. Neuroimage 14, 21–36 (2001).

Ashburner, J. & Friston, K.J. Voxel-based morphometry—the methods. Neuroimage 11, 805–821 (2000).

Ashburner, J. & Friston, K.J. Why voxel-based morphometry should be used. Neuroimage 14, 1238–1243 (2001).

Hamilton, M.C. Hamilton anxiety scale [HAMA]. in Sourcebook of Adult Assessment: Applied Clinical Psychology (eds. Schutte, N.S. & Malouff, J.M.) 154–157 (Plenum Press, New York, 1995).

Beck, A.T. & Steer, R.A. Manual for the Beck Depression Inventory (The Psychological Corporation, San Antonio, Texas, USA 1993).

Watson, D. Intra-individual and inter-individual analyses of positive and negative affect: their relation to health complaints, perceived stress, and daily activities. J. Personality Soc. Psychol. 54, 1020–1030 (1988).

Porges, S. Body Perception Questionnaire (Laboratory of Developmental Assessment, University of Maryland, 1993).

Damasio, A.R. Descartes' Error (Putnam, New York, 1994).

Damasio, A.R. The Feeling of What Happens: Body and Emotion in the Making of Consciousness (Harcourt Brace, New York, 1999).

Friston, K. et al. Statistical parametric maps in functional imaging: a general linear approach. Human Brain Mapp. 2, 189–210 (1995).

Friston, K. et al. Spatial registration and normalization of images. Human Brain Mapp. 2, 165–189 (1995).

Ashburner, J., Neelin, P., Collins, D.L., Evans, A. & Friston, K. Incorporating prior knowledge into image registration. Neuroimage 6, 344–352 (1997).

Genovese, C.R., Lazar N.A. & Nichols, T. Thresholding of statistical maps in functional neuroimaging using the false discovery rate. Neuroimage 15, 870–878 (2002).
Acknowledgements
This work was supported by a Wellcome Clinician Scientist Fellowship to H.D.C. and a Programme Grant to R.J.D.
Ethics declarations
Competing interests
The authors declare no competing financial interests.
About this article
Cite this article
Critchley, H., Wiens, S., Rotshtein, P. et al. Neural systems supporting interoceptive awareness. Nat Neurosci 7, 189–195 (2004). https://doi.org/10.1038/nn1176
Received:

Accepted:

Published:

Issue Date:

DOI: https://doi.org/10.1038/nn1176