Abstract
The sense of smell is typically thought of as a 'slow' sense, but the true temporal constraints on the accuracy of olfactory perception are not known. It has been proposed that animals make finer odor discriminations at the expense of additional processing time. To test this idea, we measured the relationship between the speed and accuracy of olfactory discrimination in rats. We found that speed of discrimination was independent of odor similarity, as measured by overlap of glomerular activity patterns. Even when pushed to psychophysical limits using mixtures of two odors, rats needed to take only one sniff (<200 ms at theta frequency) to make a decision of maximum accuracy. These results show that, for the purpose of odor quality discrimination, a fully refined olfactory sensory representation can emerge within a single sensorimotor or theta cycle, suggesting that each sniff can be considered a snapshot of the olfactory world.
Relevant articles
Open Access articles citing this article.
Guang Ouyang

,

Shengjun Wang

…

Changsong Zhou

Cognitive Neurodynamics Open Access 23 November 2022

Kadjita Asumbisa

,

Adrien Peyrache

&

Stuart Trenholm

Nature Communications Open Access 19 September 2022

Jaclyn Essig

,

Joshua B. Hunt

&

Gidon Felsen

Communications Biology Open Access 11 June 2021
Access options
Subscribe to Journal
Get full journal access for 1 year
$79.00
only $6.58 per issue
All prices are NET prices.
VAT will be added later in the checkout.
Tax calculation will be finalised during checkout.
Buy article
Get time limited or full article access on ReadCube.
$32.00
All prices are NET prices.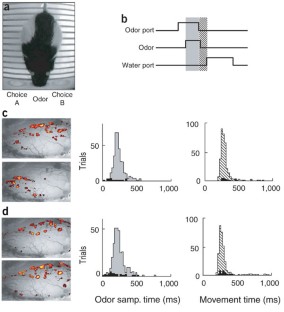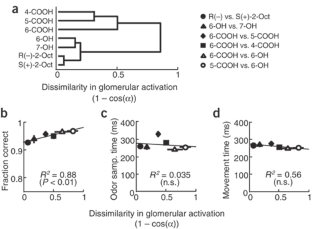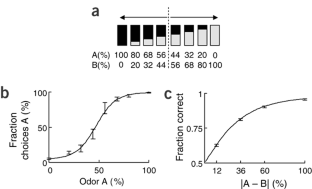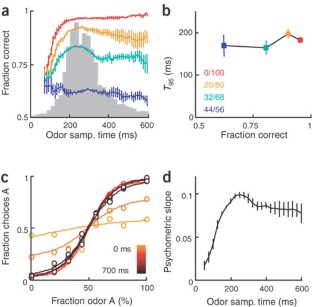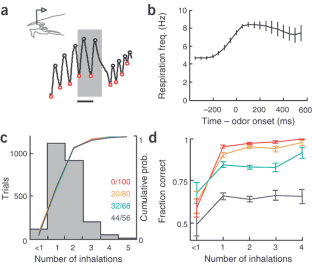 References
Korsching, S.I. Odor maps in the brain: spatial aspects of odor representation in sensory surface and olfactory bulb. Cell. Mol. Life Sci. 58, 520–530 (2001).

Leon, M. & Johnson, B.A. Olfactory coding in the mammalian olfactory bulb. Brain Res. Brain Res. Rev. 42, 23–32 (2003).

Mori, K. Grouping of odorant receptors: odour maps in the mammalian olfactory bulb. Biochem. Soc. Trans. 31, 134–136 (2003).

Rubin, B.D. & Katz, L.C. Spatial coding of enantiomers in the rat olfactory bulb. Nat. Neurosci. 4, 355–356 (2001).

Linster, C., Johnson, B.A., Morse, A., Yue, E. & Leon, M. Spontaneous versus reinforced olfactory discriminations. J. Neurosci. 22, 6842–6845 (2002).

Yokoi, M., Mori, K. & Nakanishi, S. Refinement of odor molecule tuning by dendrodendritic synaptic inhibition in the olfactory bulb. Proc. Natl. Acad. Sci. USA 92, 3371–3375 (1995).

Mori, K., Nagao, H. & Yoshihara, Y. The olfactory bulb: coding and processing of odor molecule information. Science 286, 711–715 (1999).

Adrian, E.D. The electrical activity of the mammalian olfactory bulb. Electroencephalography. Clin. Neurophysiol. 2, 377–388 (1950).

Gelperin, A. & Tank, D.W. Odour-modulated collective network oscillations of olfactory interneurons in a terrestrial mollusc. Nature 345, 437–440 (1990).

Freeman, W.J., Skarda, C.A. How brains make chaos in order to make sense of the world. Behav. Brain Sci. 10, 161–195 (1987).

Laurent, G. Olfactory network dynamics and the coding of multidimensional signals. Nat. Rev. Neurosci. 3, 884–895 (2002).

Rabinovich, M. et al. Dynamical encoding by networks of competing neuron groups: winnerless competition. Phys. Rev. Lett. 87, 068102 (e-pub, 2001).

Brody, C.D. & Hopfield, J.J. Simple networks for spike-timing-based computation, with application to olfactory processing. Neuron 37, 843–852 (2003).

Laurent, G. & Davidowitz, H. Encoding of olfactory information with oscillating neural assemblies. Science 265, 1872–1875 (1994).

Wehr, M. & Laurent, G. Odour encoding by temporal sequences of firing in oscillating neural assemblies. Nature 384, 162–166 (1996).

Stopfer, M., Bhagavan, S., Smith, B.H. & Laurent, G. Impaired odour discrimination on desynchronization of odour-encoding neural assemblies. Nature 390, 70–74 (1997).

Kashiwadani, H., Sasaki, Y.F., Uchida, N. & Mori, K. Synchronized oscillatory discharges of mitral/tufted cells with different molecular receptive ranges in the rabbit olfactory bulb. J. Neurophysiol. 82, 1786–1792 (1999).

Macrides, F. & Chorover, S.L. Olfactory bulb units: activity correlated with inhalation cycles and odor quality. Science 175, 84–87 (1972).

Chaput, M.A. EOG responses in anesthetized freely breathing rats. Chem. Senses 25, 695–701 (2000).

Margrie, T.W. & Schaefer, A.T. Theta oscillation coupled spike latencies yield computational vigour in a mammalian sensory system. J. Physiol. 546, 363–374 (2003).

Cang, J. & Isaacson, J.S. In vivo whole-cell recording of odor-evoked synaptic transmission in the rat olfactory bulb. J. Neurosci. 23, 4108–4116 (2003).

Welker, W.I. Analysis of sniffing of the albino rat. Behavior 22, 223–244 (1964).

Laurent, G. & Naraghi, M. Odorant-induced oscillations in the mushroom bodies of the locust. J. Neurosci. 14, 2993–3004 (1994).

Friedrich, R.W. & Laurent, G. Dynamic optimization of odor representations by slow temporal patterning of mitral cell activity. Science 291, 889–894 (2001).

Meredith, M. Patterned response to odor in mammalian olfactory bulb: the influence of intensity. J. Neurophysiol. 56, 572–597 (1986).

Stopfer, M. & Laurent, G. Short-term memory in olfactory network dynamics. Nature 402, 664–668 (1999).

Ambros-Ingerson, J., Granger, R. & Lynch, G. Simulation of paleocortex performs hierarchical clustering. Science 247, 1344–1348 (1990).

Karpov, A.P. Analysis of neuron activity in the rabbit's olfactory bulb during food-acquisition behavior in Neural Mechanisms of Goal-directed Behavior (eds. Thompson, R.F., Hicks, L.H. & Shvyrkov, V.B.) 273–282 (Academic, New York, 1980).

Laing, D.G. Identification of single dissimilar odors is achieved by humans with a single sniff. Physiol. Behav. 37, 163–170 (1986).

Goldberg, S.J. & Moulton, D.G. Olfactory bulb responses telemetered during an odor discrimination task in rats. Exp. Neurol. 96, 430–442 (1987).

Slotnick, B.M. Olfactory perception in Comparative Perception (eds. Stebbins, W. & Berkley, M.) 155–244 (Wiley, New York, 1990).

Wise, P.M. & Cain, W.S. Latency and accuracy of discriminations of odor quality between binary mixtures and their components. Chem. Senses 25, 247–265 (2000).

Uchida, N., Takahashi, Y.K., Tanifuji, M. & Mori, K. Odor maps in the mammalian olfactory bulb: domain organization and odorant structural features. Nat. Neurosci. 3, 1035–1043 (2000).

Luce, R.D. Response Times: Their Role in Inferring Elementary Mental Organization (Oxford Univx. Press, New York, 1986).

Parker, A.J. & Newsome, W.T. Sense and the single neuron: probing the physiology of perception. Annu. Rev. Neurosci. 21, 227–277 (1998).

VanRullen, R. & Thorpe, S.J. The time course of visual processing: from early perception to decision-making. J. Cogn. Neurosci. 13, 454–461 (2001).

Johnson, B.N., Mainland, J.D. & Sobel, N. Rapid olfactory processing implicates subcortical control of an olfactomotor system. J. Neurophysiol. 90, 1084–1094 (2003).

Atema, J. Chemical signals in the marine environment: dispersal, detection, and temporal signal analysis. Proc. Natl. Acad. Sci. USA 92, 62–66 (1995).

Vickers, N.J. & Baker, T.C. Reiterative responses to single strands of odor promote sustained upwind flight and odor source location by moths. Proc. Natl. Acad. Sci. USA 91, 5756–5760 (1994).

Nevitt, G.A. Do fish sniff? A new mechanism of olfactory sampling in pleuronectid flounders. J. Exp. Biol. 157, 1–18 (1991).

Chaput, M.A. Respiratory-phase-related coding of olfactory information in the olfactory bulb of awake freely-breathing rabbits. Physiol. Behav. 36, 319–324 (1986).

Spors, H. & Grinvald, A. Spatio-temporal dynamics of odor representations in the mammalian olfactory bulb. Neuron 34, 301–315 (2002).

Macrides, F., Eichenbaum, H.B. & Forbes, W.B. Temporal relationship between sniffing and the limbic theta rhythm during odor discrimination reversal learning. J. Neurosci. 2, 1705–1717 (1982).

Hopfield, J.J. Odor space and olfactory processing: collective algorithms and neural implementation. Proc. Natl. Acad. Sci. USA 96, 12506–12511 (1999).

Mackay-Sim, A. & Kesteven, S. Topographic patterns of responsiveness to odorants in the rat olfactory epithelium. J. Neurophysiol. 71, 150–160 (1994).

Meister, M. & Bonhoeffer, T. Tuning and topography in an odor map on the rat olfactory bulb. J. Neurosci. 21, 1351–1360 (2001).

Wichmann, F.A. & Hill, N.J. The psychometric function: fitting, sampling, and goodness of fit. Percept. Psychophys. 63, 1293–1313 (2001).
Acknowledgements
We thank S. Edgar, H. Zariwala, E. Friedman and G. Agarwal for behavioral training and testing, and R. Gasperini for development of instruments. We thank members of our group and colleagues at CSHL for discussion, as well as T. Zador, C. Brody, R. Malinow, A. Kepecs, M. DeWeese, M. Tanifuji and Y. Yoshihara for comments on a previous version of the manuscript. Supported by the National Institute on Deafness and Other Communication Disorders (5R01DC006104-02), Searle Scholars Program, Packard Foundation and Burroughs Wellcome Fund (Z.F.M.), as well as by a fellowship from the Japan Society for the Promotion of Science and the Cold Spring Harbor Laboratory Association (N.U.).
Ethics declarations
Competing interests
The authors declare no competing financial interests.
Supplementary information
About this article
Cite this article
Uchida, N., Mainen, Z. Speed and accuracy of olfactory discrimination in the rat. Nat Neurosci 6, 1224–1229 (2003). https://doi.org/10.1038/nn1142
Received:

Accepted:

Published:

Issue Date:

DOI: https://doi.org/10.1038/nn1142