Abstract
How are different object categories organized by the visual system? Current evidence indicates that monkeys and humans process object categories in fundamentally different ways. Functional magnetic resonance imaging (fMRI) studies suggest that humans have a ventral temporal face area, but such evidence is lacking in macaques. Instead, face-responsive neurons in macaques seem to be scattered throughout temporal cortex, with some relative concentration in the superior temporal sulcus (STS). Here, using fMRI in alert fixating macaque monkeys and humans, we found that macaques do have discrete face-selective patches, similar in relative size and number to face patches in humans. The face patches were embedded within a large swath of object-selective cortex extending from V4 to rostral TE. This large region responded better to pictures of intact objects compared to scrambled objects, with different object categories eliciting different patterns of activity, as in the human. Overall, our results suggest that humans and macaques share a similar brain architecture for visual object processing.
Relevant articles
Open Access articles citing this article.
Magdalena Boch

,

Isabella C. Wagner

…

Claus Lamm

Communications Biology Open Access 27 June 2023

Ning Liu

,

Marlene Behrmann

…

Leslie G. Ungerleider

Nature Communications Open Access 09 November 2022

Elena N. Waidmann

,

Kenji W. Koyano

…

David A. Leopold

Nature Communications Open Access 23 September 2022
Access options
Subscribe to this journal
Receive 12 print issues and online access
$209.00 per year
only $17.42 per issue
Rent or buy this article
Prices vary by article type
from$1.95
to$39.95
Prices may be subject to local taxes which are calculated during checkout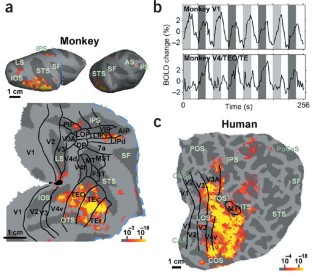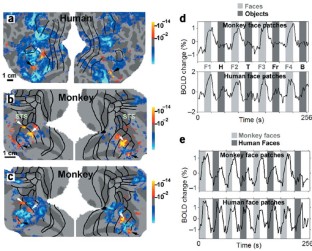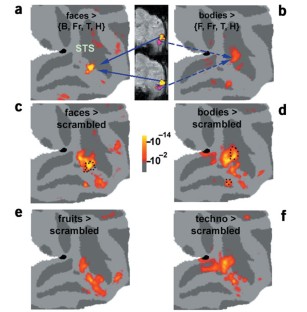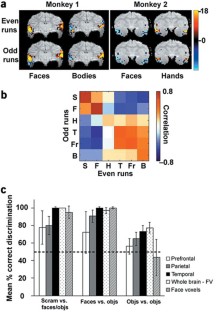 References
Ungerleider, L. & Mishkin, M. Two cortical visual systems. in Analysis of Visual Behavior (ed. Ingle, D.) 549–586 (MIT Press, Cambridge, Massachusetts, 1982).

Logothetis, N. & Sheinberg, D. Visual object recognition. Annu. Rev. Neurosci. 19, 577–621 (1996).

Gross, C.G., Rocha-Miranda, C.E. & Bender, D.B. Visual properties of neurons in inferotemporal cortex of the macaque. J. Neurophysiol. 35, 96–111 (1972).

Desimone, R., Albright, T., Gross, C.G. & Bruce, C. Stimulus-selective properties of inferior temporal neurons in the macaque. J. Neurosci. 4, 2051–2062 (1984).

Perrett, D., Hietanen, J., Oram, M. & Benson, P. Organization and function of cells responsive to faces in the temporal cortex. Phil. Trans. R. Soc. Lond. 335, 23–30 (1992).

Baylis, G., Rolls, E. & Leonard, C. Functional subdivisions of the temporal lobe neocortex. J. Neurosci. 7, 330–342 (1987).

Tanaka, K., Saito, H., Fukada, Y. & Moriya, M. Coding visual images of objects in the inferotemporal cortex of the macaque monkey. J. Neurophysiol. 66, 170–189 (1991).

Kanwisher, N., McDermott, J. & Chun, M. The fusiform face area: a module in human extrastriate cortex specialized for face perception. J. Neurosci. 17, 4302–4311 (1997).

Haxby, J. et al. Distributed and overlapping representations of faces and objects in ventral temporal cortex. Science 293, 2425–2430 (2001).

Spiridon, M. & Kanwisher, N. How distributed is visual category information in human occipito-temporal cortex? An fMRI study. Neuron 35, 1157–1165 (2002).

Epstein, R. & Kanwisher, N. A cortical representation of the local visual environment. Nature 392, 598–601 (1998).

Downing, P., Jiang, Y., Shuman, M. & Kanwisher, N. A cortical area selective for visual processing of the human body. Science 293, 2470–2472 (2001).

Fujita, I., Tanaka, K., Ito, M. & Cheng, K. Columns for visual features of objects in monkey inferotemporal cortex. Nature 360, 343–346 (1992).

Wang, G., Tanaka, K. & Tanifuji, M. Optical imaging of functional organization in the monkey inferotemporal cortex. Science 272, 1665–1668 (1996).

Tsunoda, K., Yamane, Y., Nishizaki, M. & Tanifuji, M. Complex objects are represented in macaque inferotemporal cortex by the combination of feature columns. Nat. Neurosci. 4, 832–838 (2001).

Dubowitz, D.J. et al. Functional magnetic resonance imaging in macaque cortex. NeuroReport 9, 2213–2218 (1998).

Logothetis, N., Guggenberger, H., Peled, S. & Pauls, J. Functional imaging of the monkey brain. Nat. Neurosci. 2, 555–562 (1999).

Vanduffel, W. et al. Visual motion processing investigated using contrast-agent enhanced fMRI in awake behaving monkeys. Neuron 32, 565–577 (2001).

Nakahara, K., Hayashi, T., Konishi, S. & Miyashita, Y. Functional MRI of macaque monkeys performing a cognitive set-shifting task. Science 295, 1532–1536 (2002).

Leite, F.P. et al. Repeated fMRI using iron oxide contrast agent in awake, behaving macaques at 3 tesla. Neuroimage 16, 283–294 (2002).

Van Essen, D.C. Organization of visual areas in macaque and human cerebral cortex. in The Visual Neurosciences (eds. Chalupa, L. & Werner, J. S.)(MIT Press, Cambirdge, Massachusetts, 2003).

Lewis, J.W. & Van Essen, D.C. Mapping of architectonic subdivisions in the macaque monkey, with emphasis on parieto-occipital cortex. J. Comp. Neurol. 428, 79–111 (2000).

Sakata, H. et al. Neural coding of 3D features of objects for hand action in the parietal cortex of the monkey. Phil. Trans. R. Soc. Lond. B. Biol. Sci. 353, 1363–1373 (1998).

Scalaidhe, S., Wilson, F. & Goldman-Rakic, P. Areal segregation of face-processing neurons in prefrontal cortex. Science 278, 1135–1138 (1997).

Grill-Spector, K., Kourtzi, Z. & Kanwisher, N. The lateral occipital complex and its role in object recognition. Vision Res. 41, 1409–1422 (2001).

Allman, J. & McGuiness, E. Visual cortex in primates. in Comparative Primate Biology (eds. Mitchell, G. & Erwin, J.) 279–326 (Alan R. Liss, New York, 1988).

Van Essen, D.C. et al. An integrated software system for surface-based analyses of cerebral cortex. J. Amer. Med. Informatics Assoc. 8, 443–459 (2001).

Gauthier, I. & Logothetis, N. Is face recognition not so unique after all? Cognit. Neuropsychol. 17, 125–142 (1999).

Sereno, A.B. & Maunsell, J.H. Shape selectivity in primate lateral intraparietal cortex. Nature 395, 500–503 (1998).

Freedman, D.J., Riesenhuber, M., Poggio,T. & Miller, E.K. Categorical representation of visual stimuli in primate prefrontal cortex. Science 291, 312–316 (2001).

Rees, G., Friston, K.J. & Koch, C. A direct, quantitative relationship between the functional properties of human and macaque V5. Nat. Neurosci. 3, 716–723 (2000).

Logothetis, N.K., Pauls, J., Augath, M., Trinath, T. & Oeltermann, A. Neurophysiological investigation of the basis of the fMRI signal. Nature 412, 150–157 (2001).

Cavanagh, P. Vision is getting easier every day. Perception 24, 1227–1232 (1995).

Gallant, J.L., Braun, J. & Van Essen, D.C. Selectivity for polar, hyperbolic and Cartesian gratings in macaque visual cortex. Science 259, 100–103 (1993).

Biederman, I. Visual object recognition. in Visual Cognition (eds. Kosslyn, S. M. & Osheron, D. N.) 121–166 (MIT Press, Cambridge, MA, 1995).

Turk, M. & Pentland, A. Eigenfaces for recognition. J. Cogn. Neurosci. 1995, 71–86 (1991).

Leopold, D.A., O'Toole, A., Vetter, T. & Blanz, V. Prototype-referenced shape encoding revealed by high-level aftereffects. Nat. Neurosci. 4, 89–94 (2001).

Ungerleider, L. & Desimone, R. Cortical connections of visual area MT in the macaque. J. Comp. Neurol. 248, 190–222 (1986).

Sereno, M.I. et al. Borders of multiple visual areas in humans revealed by functional magnetic resonance imaging. Science 268, 889–893 (1995).
Acknowledgements
We wish to thank R. Desimone, N. Kanwisher, K.S. Saleem, Y. Sasaki, W. Vanduffel and D.C. Van Essen for their comments on the manuscript and valuable discussions. We are also grateful to W. Vanduffel and L. Wald for setting up the monkey fixation system, to D.C. Van Essen for help with using CARET, and to D. Greve for help with using FSFAST. This study was supported by the National Center for Research Resources (P41RR14075), the Mental Illness and Neuroscience Discovery Institute, and grants from the National Institutes of Health (R01 MH67529 A01 and R01 EB00790 A01).
Ethics declarations
Competing interests
The authors declare no competing financial interests.
Supplementary information
About this article
Cite this article
Tsao, D., Freiwald, W., Knutsen, T. et al. Faces and objects in macaque cerebral cortex. Nat Neurosci 6, 989–995 (2003). https://doi.org/10.1038/nn1111
Received:

Accepted:

Published:

Issue Date:

DOI: https://doi.org/10.1038/nn1111