In the mouse olfactory bulb, cells with common input respond to odors with similar firing rates but with different timing. This suggests that such 'sister' cells make independent and unique connections with local interneurons.
Access options
Subscribe to Journal
Get full journal access for 1 year
$99.00
only $8.25 per issue
All prices are NET prices.
VAT will be added later in the checkout.
Tax calculation will be finalised during checkout.
Buy article
Get time limited or full article access on ReadCube.
$32.00
All prices are NET prices.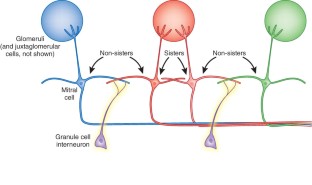 References
Dhawale, A.K., Hagiwara, A., Bhalla, U.S., Murthy, V.N. & Albeanu, D.F. Nat. Neurosci. 13, 1404–1412 (2010).

Schroeder, B., Pinheiro, E. & Weber, W.-D. in SIGMETRICS '09: Proc. 11th Intl. Joint Conf. Measurement and Modeling of Computer Systems 193–204 (ACM, New York, 2009).

Barlow, H.B. in Sensory Communication (ed. Rosenblith, W.A.) 217–234 (MIT Press, Cambridge, Massachusetts, USA, 1961).

Puchalla, J.L., Schneidman, E., Harris, R.A. & Berry, M.J. Neuron 46, 493–504 (2005).

Stevens, C.F. Curr. Biol. 8, R708–R710 (1998).

Ramaekers, A. et al. Curr. Biol. 15, 982–992 (2005).

Padmanabhan, K. & Urban, N.N. Nat. Neurosci. 13, 1276–1282 (2010).

Kazama, H. & Wilson, R.I. Nat. Neurosci. 12, 1136–1144 (2009).

Laurent, G. Science 286, 723–728 (1999).

Tan, J., Savigner, A., Ma, M. & Luo, M. Neuron 65, 912–926 (2010).

Luna, V.M. & Schoppa, N.E. J. Neurosci. 28, 8851–8859 (2008).

Poo, C. & Isaacson, J.S. Neuron 62, 850–861 (2009).
Ethics declarations
Competing interests
The author declares no competing financial interests.
About this article
Cite this article
Holy, T. "Yes! We're all individuals!": redundancy in neuronal circuits. Nat Neurosci 13, 1306–1307 (2010). https://doi.org/10.1038/nn1110-1306
Published:

Issue Date:

DOI: https://doi.org/10.1038/nn1110-1306