Abstract
Apoptosis seems to be a dignified method of cell death, dictated by an individual cell, but new evidence that astrocytes can send apoptotic signals to neighboring cells through gap junctions challenges this model and may explain slowly spreading damage to glia after an ischemic insult.
This is a preview of subscription content
Access options
Subscribe to Journal
Get full journal access for 1 year
$59.00
only $4.92 per issue
All prices are NET prices.
VAT will be added later in the checkout.
Tax calculation will be finalised during checkout.
Buy article
Get time limited or full article access on ReadCube.
$32.00
All prices are NET prices.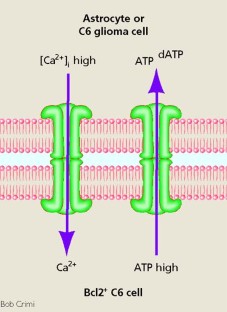 References
Finkbeiner, S. Neuron 8, 1101–1108 (1992).

Berridge, M. J. J.Physiol. (Lond.) 499, 291–306 (1997).

Hassinger, T. D., Guthrie, P. B., Atkinson, P. B., Bennett, M. V. L. & Kater, S. B. Proc. Natl. Acad. Sci. USA 93, 13268–13273 (1996).

Nedergaard, M. Science 263, 1768–1771 (1994).

Pasti, L., Volterra, A., Pozzan, T. & Carmignoto, G. J. Neurosci. 17, 7817–7830 (1997).

Dermietzel, R. & Spray, D. C. Trends Neurosci. 16, 186–192 (1993).

Cornell-Bell, A. H., Finkbeiner, S. M., Cooper, M. S. & Smith, S. J. Science 247, 470–473 (1990).

Araque, A., Sanzgiri, R. P., Parpura, V. & Haydon, P. G. J. Neurosci. 18, 6822–6829 (1998).

Lin, H.-C. J. et al. Nature Neurosci. 1, 494– 500 (1998).

Cotrina M. L. et al. J. Neurosci. 18, 2520– 2537 (1998).

Ankarcrona, M. et al. Neuron 15, 961–973 (1995).

Murphy, A. N., Bredesen, D. E., Cortopassi, G., Wang, E. & Fiskum, G. Proc. Natl. Acad. Sci. USA 93, 9893–9898 (1996).

Leist, M., Single, B., Castoldi, A. F., Kühnle, S. & Nicotera, P. J. Exp. Med. 185, 1481–1486 (1997).

Liu, X., Kim, C. N., Yang, J., Jemmerson, R. & Wang, X. Cell 86, 147– 157 (1996).

Blanc, E. M., Bruce-Keller, A. J. & Mattson, M. P. J. Neurochem. 70, 958– 970 (1998).
About this article
Cite this article
Budd, S., Lipton, S. Calcium tsunamis: do astrocytes transmit cell death messages via gap junctions during ischemia?. Nat Neurosci 1, 431–432 (1998). https://doi.org/10.1038/2147
Issue Date:

DOI: https://doi.org/10.1038/2147