Abstract
How does the brain order successive events? Here we studied whether temporal order of two stimuli delivered in rapid succession, one to each hand, is determined before or after the stimuli are localized in space. When their arms were crossed, subjects could accurately report the temporal order, even when the interval between stimuli was as short as 70 ms. In most trials, subjects could also judge temporal order when their arms were crossed, but only if given adequate time (>1 s). At moderately short intervals (<300 ms), crossing the arms caused misreporting (that is, inverting) of the temporal order. Thus, at these intervals, the determining factor of temporal order was the spatial location of the hands. We suggest that it is not until the spatial locations of the hands are taken into account that the cutaneous signals from the respective hands are ordered in time.
Relevant articles
Open Access articles citing this article.
Janina Klautke

,

Celia Foster

…

Tobias Heed

Nature Communications Open Access 27 July 2023

Makoto Wada

,

Yumi Umesawa

…

Makoto Miyazaki

Journal of Autism and Developmental Disorders Open Access 22 January 2022

Xavier E. Job

,

Louise P. Kirsch

&

Malika Auvray

Experimental Brain Research Open Access 29 October 2021
Access options
Subscribe to this journal
Receive 12 print issues and online access
$209.00 per year
only $17.42 per issue
Rent or buy this article
Prices vary by article type
from$1.95
to$39.95
Prices may be subject to local taxes which are calculated during checkout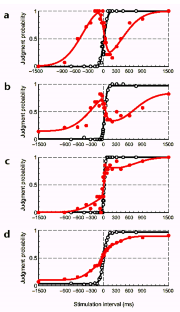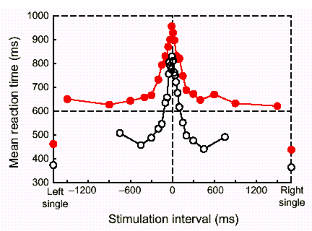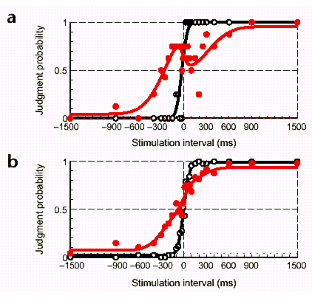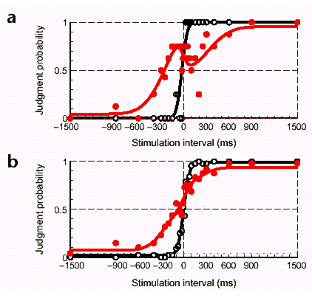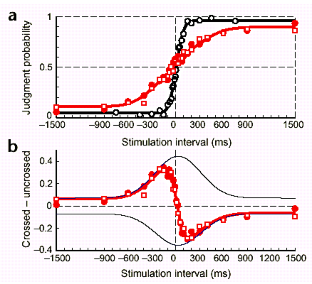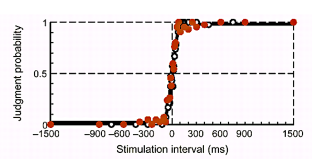 References
Dassonville, P. Haptic localization and the internal representation of the hand in space. Exp. Brain Res. 106, 434–448 (1995)

Cordo, P. J., Gurfinkel, V. S. & Levik, Y. Position sense during imperceptibly slow movements. Exp. Brain Res. 132, 1–9 (2000)

Hocherman, S., Aharonson, D., Medalion, B. & Hocherman, I. Perception of the immediate extrapersonal space through proprioceptive inputs. Exp. Brain Res. 73, 256–262 (1988).

Haggard, P., Newman, C., Blundell, J. & Andrew, H. The perceived position of the hand in space. Percept. Psychophys. 68, 363–377 (2000).

Hirsh, I. J. & Sherrick, C. E. Perceived order in different sense modalities. J. Exp. Psychol. 62, 423–432 (1961).

Pöppel, E. A hierarchical model of temporal perception. Trend Cogn. Sci. 1, 56–61 (1997).

Sternberg, S. & Knoll, R. L. in Attention and Performance (ed. Kornblum, S.) 629–685 (Academic, New York, 1973).

Dennett, D. C. & Kinsbourne, M. Time and the observer: the where and when of consciousness in the brain. Behav. Brain Sci. 15, 183–247 (1992).

Efron, R. The effect of handedness on the perception of simultaneity and temporal order. Brain 186, 261–284 (1963).

Gibbon, J. & Rutschmann, R. Temporal order judgment and reaction time. Science 47, 413–415 (1969).

Allan, L. G. The relationship between judgment of successiveness and judgment order. Percept. Psychophys . 18, 29–36 (1975).

Ulrich, R. Threshold models of temporal order judgments evaluated by a ternary response task. Percept. Psychophys. 42, 224–239 (1987).

Jaśkowski, P. Two-stage model for order discrimination. Percept. Psychophys. 50, 76–82 (1991).

Simon, J. R., Hinrichs, J. V. & Craft, J. L. Auditory S-R compatibility: reaction time as a function of ear-hand correspondence and ear-response-location correspondence. J. Exp. Psychol. 86, 97–102 (1970).

Kornblum, S., Hasbroucq, T. & Osman, A. Dimensional overlap: cognitive basis for stimulus-response compatibility—a model and taxonomy. Psychol. Rev. 97, 253–270 (1990).

Simon, J. R. in Stimulus-Response Compatibility (eds. Proctor, R. W. & Reeve, T. G.) 31–86 (Elsevier, Amsterdam, 1990).

Axelrod, S., Thompson, L. W. & Cohen, L. D. Effects of senescence on the temporal resolution of somesthetic stimuli presented to one hand or both. J. Gerontol., 23,191–195 (1968).

Driver, J. & Spence, C. Cross-modal links in spatial attention. Phil. Trans. R. Soc. Lond. B Biol. Sci. 353, 1319–1331 (1998).

Groh, J. M. & Sparks, D. L. Saccades to somatosensory targets. I. Behavioral characteristics. J. Neurophysiol. 75, 412–427 (1996).

Duhamel, J. R., Colby, C. L. & Goldberg, M. E. The updating of the representation of visual space in parietal cortex by intended eye movements. Science 255, 90–92 (1992).

Colby, C. L. & Goldberg, M. E. Space and attention in parietal cortex. Annu. Rev. Neurosci. 22, 319–349 (1999)

Groh, J. M. & Sparks, D. L. Saccades to somatosensory targets. III. Eye-position-dependent somatosensory activity in primate superior colliculus. J. Neurophysiol. 75, 439–453 (1996).

Wolpert, D. M., Goodbody, S. J. & Husain, M. Maintaining internal representations: the role of the human superior parietal lobe. Nat. Neurosci. 1, 529–533 (1998).

Obayashi, S., Tanaka, M. & Iriki, A. Subjective image of invisible hand coded by monkey intraparietal neurons. Neuroreport 11, 3499–3505 (2000).

Graziano, M. S. A., Cooke, D. F. & Taylor, C. S. R. Coding the location of the arm by sight. Science 290, 1782–1786 (2000).

Iwamura, Y., Iriki, A. & Tanaka, M. Bilateral hand representation in the postcentral somatosensory cortex. Nature 369, 554–556 (1994).

Iwamura,Y. Hierarchical somatosensory processing. Curr. Opin. Neurobiol. 8, 522–528 (1998).

Graziano, S. M. A., Xin, T. H. & Gross, C. G. Visuospatial properties of ventral premotor cortex. J. Neurophysiol. 77, 2268–2292 (1997).

Graziano, S. M. A. Where is my arm? The relative role of vision and proprioception in the neuronal representation of limb position. Proc. Nat. Acad. Sci. USA 96, 10418–10421 (1999).

Graziano, S. M. A. & Gross, C. G. Spatial maps for the control of movement. Curr. Opin. Neurobiol. 8, 195–201 (1998).

Graziano, S. M. A. & Gross, C. G. A bimodal map of space: somatosensory receptive fields in the macaque putamen with corresponding visual receptive fields. Exp. Brain Res. 97, 96–109 (1993).

Karhu, J. & Tesche, C. D. Simultaneous early processing of sensory input in human primary (SI) and secondary (SII) somatosensory cortices. J. Neurophysiol. 81, 2017–2025 (1999).

Oldfield, R. C. The assessment and analysis of handedness: the Edinburgh Inventory. Neuropsychologia 9, 97–113 (1971).

Geldard, F. A. & Sherrick, C. E. Space, time and touch. Sci. Am. 254, 84–89 (1986).

Shore, D. I., Spence, C. & Klein, R. M. Visual prior entry. Psychol. Sci. (in press).

Linhart, H. & Zucchini, W. Model Selection (Wiley, New York, 1986).
Acknowledgements
We thank F.A. Miles, K. Kawano, S. Phillips and K. Yamamoto for comments while preparing the manuscript, and K. Matsuda for technical assistance in measuring eye movements.
About this article
Cite this article
Yamamoto, S., Kitazawa, S. Reversal of subjective temporal order due to arm crossing. Nat Neurosci 4, 759–765 (2001). https://doi.org/10.1038/89559
Received:

Accepted:

Issue Date:

DOI: https://doi.org/10.1038/89559