Abstract
Glucocorticoids are known to promote the death of neurons in a variety of experimental systems. A new study suggests that they may also contribute to hippocampal atrophy during normal human aging.
Access options
Subscribe to Journal
Get full journal access for 1 year
$209.00
only $17.42 per issue
All prices are NET prices.
VAT will be added later in the checkout.
Rent or Buy article
Get time limited or full article access on ReadCube.
from$8.99
All prices are NET prices.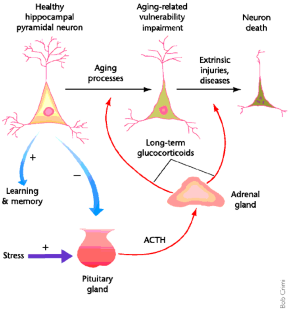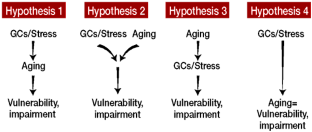 References
1

Coleman, P. & Flood, D. Neurobiol. Aging 8, 521–545 (1987)

2

DeToledo-Morrell, L., Geinisman, Y. & Morrell, F. Neurobiol. Aging 9, 581– 590 (1988)

3

Barnes, C.A. Trends. Neurosci. 17, 8–13 (1994 )

4

Squire, L.R. Psychol. Rev. 99, 195–231 (1992)

5

McEwen, B.S., De Kloet, E.R. & Rostene, W. Physiol. Rev. 66, 1121– 1188 (1986)

6

Landfield, P., Waymire, J. & Lynch, G. Science 202, 1098–1102 (1978)

7

Landfield, P., Baskin, R.K. & Pitler, T.A. Science 214, 581– 583 (1981)

8

Meaney, M.J., Aitken, D.H., Van Berkel, C., Bhatnagar, S. & Sapolsky, R.M. Science 239, 766– 768 (1988)

9

Landfield, P.W. & Eldridge, J.C. Neurobiol. Aging 15, 579–588 (1994)

10

Sapolsky, R.M. Ann. NY Acad. Sci. 746, 294–304 (1994)

11

Reagan, L.P. & McEwen, B.S. J. Chem. Neuroanat. 13, 149–167 (1997)

12

Joels, M. & De Kloet, E.R. Prog. Neurobiol. 43, 1–36 (1994)

13

Maguire, E.A., Frackowiak, R.S.J. & Frith, C.D. J. Neurosci. 17, 7103– 7110 (1997)

14

Gallagher, M. et al. Science 274, 484–485 (1996)

15

McConkey, D.J. & Orrenius, S. Biochem. Biophys. Res. Comm. 239, 357–366 (1997)

16

Landfield, P.W., Thibault, O., Mazzanti, M.L., Porter, N.M. & Kerr, D.S. J. Neurobiol. 23, 1247–1260 (1992)

17

Simpkins, J.W., Singh, M. & Bishop, J. Neurobiol. Aging 15, S195– 197 (1994)
About this article
Cite this article
Porter, N., Landfield, P. Stress hormones and brain aging: adding injury to insult?. Nat Neurosci 1, 3–4 (1998). https://doi.org/10.1038/196