Abstract
Memory consolidation in humans and other species is profoundly disrupted by lesions of either the medial temporal lobes or regions of the thalamus1,2,3. It has been proposed that these structures regulate the neuronal gene expression necessary for long-term memory4. Evidence suggests that long-term memory formation requires the activity of members of the cAMP response element (CRE) binding protein (CREB) transcription factor family5,6, and that CRE-regulated genes are expressed in the hippocampus in response to inhibitory avoidance training7,8. Here we show that lesions of the fornix, a massive fiber bundle connecting the hippocampus with the septum and hypothalamus, specifically disrupt both consolidation of inhibitory avoidance memory and CREB-mediated responses in the hippocampus. We propose that inputs passing through the fornix regulate this memory consolidation by regulating CREB-mediated gene expression in hippocampal neurons.
This is a preview of subscription content
Access options
Subscribe to Journal
Get full journal access for 1 year
$59.00
only $4.92 per issue
All prices are NET prices.
VAT will be added later in the checkout.
Tax calculation will be finalised during checkout.
Buy article
Get time limited or full article access on ReadCube.
$32.00
All prices are NET prices.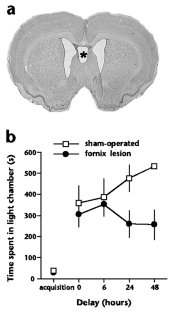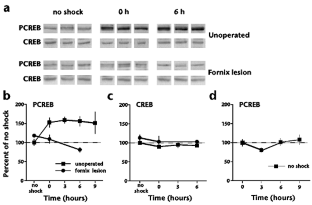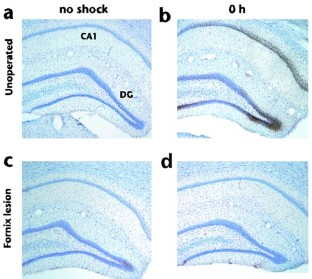 References
Scoville, W. B. & Milner, B. J. Neurol. Neurosurg. Psychiatry 20, 11–21 (1957).

de Castro, J. & Hall, T. W. Physiol. Psychol. 3, 201–204 (1975).

Squire, L. R. Memory and Brain (Oxford, New York, 1987).

Bear, M. F. Nature 385, 481–482 (1997).

Yin, J. C. P. et al. Cell 79, 49–58 (1994).

Silva, A. J., Kogan, J. H., Frankland, P. W. & Kida, S. Annu. Rev. Neurosci. 21, 127–148 (1998).

Bernabeu, R. et al. Proc. Natl. Acad. Sci. USA 94, 7041–7046 (1997).

Impey, S. et al. Nat. Neurosci. 1, 595– 601 (1998).

Yin, J. C. P., Del Vecchio, M., Zhou, H. & Tully, T. Cell 81, 107–115 (1995).

Bourtchuladze, R. et al. Cell 79, 59–68 (1994).

Montminy, M. Annu. Rev. Biochem. 66, 807–822 (1997).

Frey, U. & Morris, R. G. M. Nature 385, 533–536 (1997).

Baldi, E., Lorenzini, C. A., Sacchetti, B., Tassoni, G. & Bucherelli, C. Brain Res. 799, 270–277 (1998).

Lorenzini, C. A., Baldi, E., Bucherelli, C., Sacchetti, B. & Tassoni, G. Brain Res. 730, 32–39 (1996).

Wiig, K. A., Cooper, L. N. & Bear, M. F. Learn. Mem. 3, 313– 325 (1996).
Acknowledgements
This work was supported by the Whitehall Foundation (grant # F97-07), the Charles A. Dana Foundation and the Howard Hughes Medical Institute. The authors thank Deborah Brenner, Stephane Nedelec, Eric Sklar, Suzanne Meagher and Arnold Heynen for their assistance.
About this article
Cite this article
Taubenfeld, S., Wiig, K., Bear, M. et al. A molecular correlate of memory and amnesia in the hippocampus. Nat Neurosci 2, 309–310 (1999). https://doi.org/10.1038/7217
Received:

Accepted:

Issue Date:

DOI: https://doi.org/10.1038/7217