Abstract
Humor, a unique human characteristic, is critical in thought, communication and social interaction. Successful jokes involve a cognitive juxtaposition of mental sets, followed by an affective feeling of amusement; we isolated these two components of humor by using event-related fMRI on subjects who listened to auditorily presented semantic and phonological jokes (puns) and indicated whether or not they found the items amusing. Our findings suggest that whereas there are modality-specific pathways for processing the juxtaposition of mental sets necessary for the appreciation of jokes, a common component of humor is expressed in activity in medial ventral prefrontal cortex, a region involved in reward processing.
Access options
Subscribe to Journal
Get full journal access for 1 year
$59.00
only $4.92 per issue
All prices are NET prices.
VAT will be added later in the checkout.
Tax calculation will be finalised during checkout.
Rent or Buy article
Get time limited or full article access on ReadCube.
from$8.99
All prices are NET prices.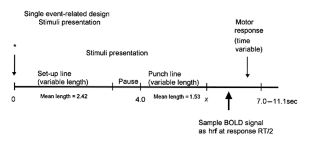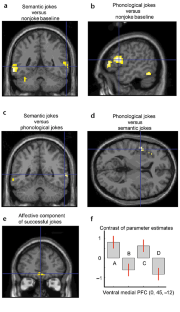 References
1

Friston, K. et al. Hum. Brain Mapp. 2, 189–210 (1995).

2

Coney, J. & Evans, K. D. Neuropsychologia 38, 272–282 (2000).

3

Faust, M. & Chiarello, C. Neuropsychologia 36, 827–835 (1998).

4

Federmeier, K. D. & Kutas, M. Brain Res. Cogn. Brain Res. 8, 373–392 (1999).

5

St. George, M., Kutas, M., Martinez, A. & Sereno, M. I. Brain 122, 1317–1325 (1999).

6

Dronkers, N. F. Nature 384, 159–161 (1996).

7

Wise, R. J., Greene, J., Buchel, C. & Scott, S. K. Lancet 353, 1057–1061 (1999).

8

Rolls, E. T. Cereb. Cortex 10, 284–294 (2000).

9

Anderson, S. W., Bechara, A., Damasio, H., Tranel, D. & Damasio, A. R. Nat. Neurosci 2, 1032–1037 (1999).

10

Schultz, W., Tremblay, L. & Hollerman, J. R. Cereb. Cortex 10, 272–284 (2000).

11

Shammi, P. & Stuss, D. T. Brain 122, 657–666 (1999).

12

Wapner, W., Hamby, S. & Gardner, H. Brain Lang. 14, 15–33 (1981).

13

Gardner, H., Ling, P. K., Flamm, L. & Silverman, J. Brain 98, 399–412 (1975).

14

Brownell, H. H., Potter, H. H., Michelow, D. & Gardner, H. Brain Lang. 22, 253–265 (1984).

15

Brownell, H. H., Simpson, T. L., Bihrle, A.M., Potter, H. H. & Gardner, H. Neuropsychologia 28, 375–383 (1990).
Acknowledgements
V.G. is supported by a McDonnell-Pew Program in Cognitive Neuroscience Award, and NSERC and SSHRC grants. R.J.D. is supported by the Wellcome Trust. The authors acknowledge advice from B. Strange and R. Henson.
About this article
Cite this article
Goel, V., Dolan, R. The functional anatomy of humor: segregating cognitive and affective components. Nat Neurosci 4, 237–238 (2001). https://doi.org/10.1038/85076
Received:

Accepted:

Issue Date: