Does awareness of the internal state of one's body relate to the conscious experience of feeling? A new imaging study suggests that body awareness mediated by activity in the anterior insular cortex may contribute to the intensity of negative emotions.
Access options
Subscribe to Journal
Get full journal access for 1 year
$59.00
only $4.92 per issue
All prices are NET prices.
VAT will be added later in the checkout.
Tax calculation will be finalised during checkout.
Rent or Buy article
Get time limited or full article access on ReadCube.
from$8.99
All prices are NET prices.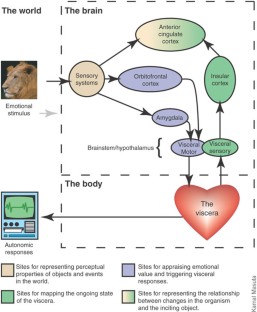 References
1

James, W. Mind 9, 188–205 (1884).

2

Damasio, A.R. The Feeling of What Happens: Body and Emotion in the Making of Consciousness (Harcourt Brace, New York, USA, 1999).

3

Damasio, A.R. Looking for Spinoza: Joy, Sorrow, and the Feeling Brain (Harcourt, New York, USA, 2003).

4

Critchley, H.D., Wiens, S., Rotshtein, P., Ohman, A. & Dolan, R.J. Nat. Neurosci. 7, 189–195 (2004).

5

Craig, A.D. Nat. Rev. Neurosci. 3, 655–666 (2002).

6

Bechara, A., Damasio, H. & Damasio, A. in The Amygdala in Brain Function: Basic and Clinical Approaches (eds. Shinnick-Gallagher, P., Pitkanen, A., Shekhar, A. & Cahill, L.) 356–369 (Annals of the New York Academy of Science, New York, USA, 2003).
About this article
Cite this article
Bechara, A., Naqvi, N. Listening to your heart: interoceptive awareness as a gateway to feeling. Nat Neurosci 7, 102–103 (2004). https://doi.org/10.1038/nn0204-102