Abstract
Both lesion and functional imaging studies in humans1,2, as well as neurophysiological studies in nonhuman primates3, demonstrate the importance of the prefrontal cortex in representing the emotional value of sensory stimuli. Here we investigated single-neuron responses to emotional stimuli in an awake person with normal intellect. Recording from neurons within healthy tissue in ventral sites of the right prefrontal cortex, we found short-latency (120–160 ms) responses selective for aversive visual stimuli.
This is a preview of subscription content
Access options
Subscribe to Journal
Get full journal access for 1 year
$59.00
only $4.92 per issue
All prices are NET prices.
VAT will be added later in the checkout.
Tax calculation will be finalised during checkout.
Buy article
Get time limited or full article access on ReadCube.
$32.00
All prices are NET prices.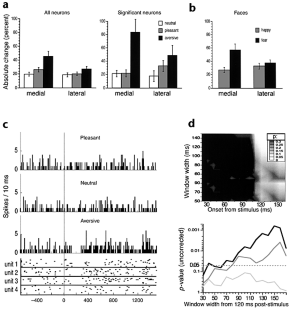 References
Damasio, A. R. Descartes' Error: Emotion, Reason, and the Human Brain (Grosset/Putnam, New York, 1994).

Elliott, R., Dolan, R. J. & Frith, C. D. Cereb. Cortex 10, 308–317 (2000).

Rolls, E. T. The Brain and Emotion (Oxford Univ. Press, New York, 1999).

Fuster, J. M. The Prefrontal Cortex. Anatomy, Physiology, and Neuropsychology of the Frontal Lobe (Raven, New York, 1989).

Damasio, A. R. Phil. Trans. R. Soc. Lond. B Biol. Sci. 351, 1413–1420 (1996).

Bechara, A., Damasio, A. R., Damasio, H. & Anderson, S. W. Cognition 50, 7–15 (1994).

Howard, M. A. et al. J. Neurosurg. 84, 129–132 (1996).

Halgren, E. et al. J. Physiol. (Paris) 88, 51–80 (1994).

Northoff, G. et al. Cereb. Cortex 10, 93–107 (2000).

Kreiman, G., Koch, C. & Fried, I. Nat. Neurosci. 3, 946–953 (2000).

Ojemann, G. A., Ojemann, S. G. & Fried, I. Neuroscientist 4, 285–300 (1998).

Sugase, Y., Yamane, S., Ueno, S. & Kawano, K. Nature 400, 869–872 (1999).

Tomita, H., Ohbayashi, M., Nakahara, K., Hasegawa, I. & Miyashita, Y. Nature 401, 699–703 (1999).
Acknowledgements
We thank I. Volkov, D. Tranel and N. Denburg for technical help. Supported by grants to R.A. from the Center for Consciousness Studies, the EJLB Foundation, and the Klingenstein Fund.
Supplementary information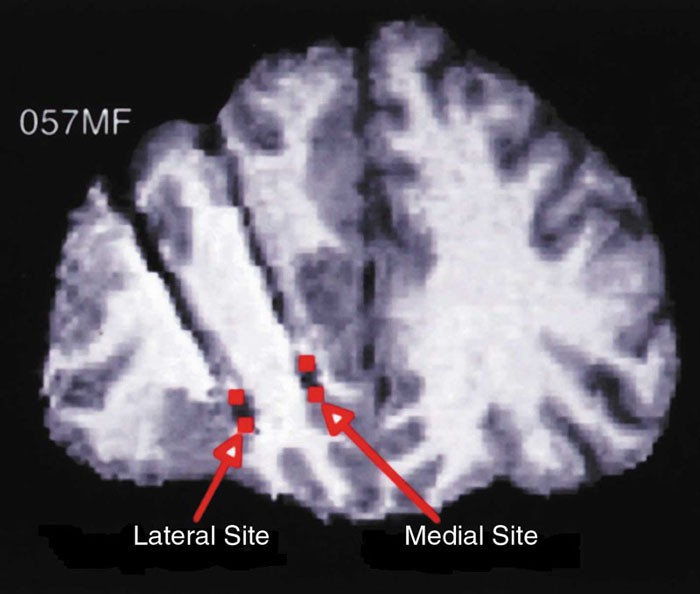 (JPG 58.3 KB)
Neuroanatomical location of recording sites shown in coronal MR scan. Four recording locations in the ventral prefrontal cortex are shown in red and were located at the tips of the electrodes. Each recording location indicated on the figure corresponds to a tetrode cluster of 4 adjacent contacts cut flush with the shaft's surface. Electrodes consisted of Pt-Ir wires (Ų 40µm, impedance 50-200 kΩ) within a teflon shaft (O.D. 1.25mm; Radionics, Burlington, Massachusetts)7. Intracranial EEG recordings demonstrated that interictal epileptiform activity and seizure onsets localized to the right posterior dorsal frontal lobe, distal to the recording location. All recordings presented in this report were obtained from brain tissue that showed no anatomical or electrophysiological abnormalities as detected with high-resolution MRI and EEG.
About this article
Cite this article
Kawasaki, H., Adolphs, R., Kaufman, O. et al. Single-neuron responses to emotional visual stimuli recorded in human ventral prefrontal cortex. Nat Neurosci 4, 15–16 (2001). https://doi.org/10.1038/82850
Received:

Accepted:

Issue Date:

DOI: https://doi.org/10.1038/82850