Abstract
Communication between glia cells and neurons is crucial for brain functions, but the molecular mechanisms and functional consequences of gliotransmission remain enigmatic. Here we report that astrocytes express synaptobrevin II and cellubrevin as functionally non-overlapping vesicular SNARE proteins on glutamatergic vesicles and neuropeptide Y-containing large dense-core vesicles, respectively. Using individual null-mutants for Vamp2 (synaptobrevin II) and Vamp3 (cellubrevin), as well as the corresponding compound null-mutant for genes encoding both v-SNARE proteins, we delineate previously unrecognized individual v-SNARE dependencies of astrocytic release processes and their functional impact on neuronal signaling. Specifically, we show that astroglial cellubrevin-dependent neuropeptide Y secretion diminishes synaptic signaling, while synaptobrevin II–dependent glutamate release from astrocytes enhances synaptic signaling. Our experiments thereby uncover the molecular mechanisms of two distinct v-SNARE-dependent astrocytic release pathways that oppositely control synaptic strength at presynaptic sites, elucidating new avenues of communication between astrocytes and neurons.
This is a preview of subscription content
Access options
Subscribe to Nature+
Get immediate online access to the entire Nature family of 50+ journals
Subscribe to Journal
Get full journal access for 1 year
$59.00
only $4.92 per issue
All prices are NET prices.
VAT will be added later in the checkout.
Tax calculation will be finalised during checkout.
Buy article
Get time limited or full article access on ReadCube.
$32.00
All prices are NET prices.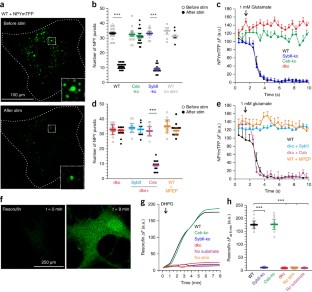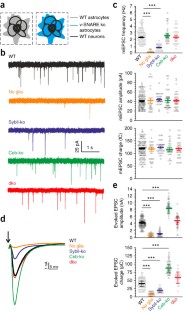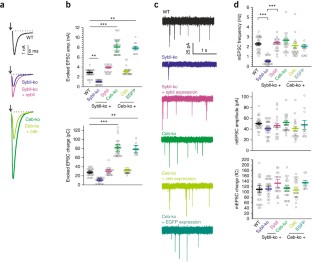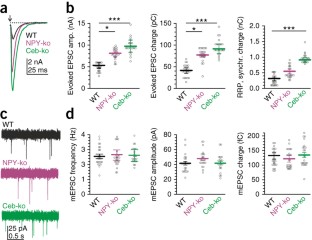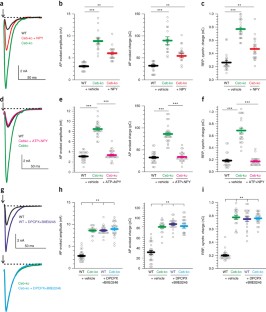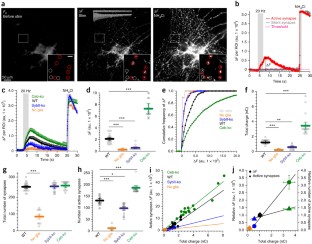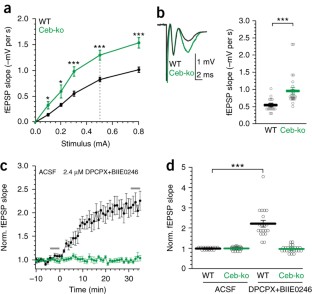 References
Henneberger, C., Papouin, T., Oliet, S.H. & Rusakov, D.A. Long-term potentiation depends on release of D-serine from astrocytes. Nature 463, 232–236 (2010).

Jourdain, P. et al. Glutamate exocytosis from astrocytes controls synaptic strength. Nat. Neurosci. 10, 331–339 (2007).

Panatier, A. et al. Glia-derived D-serine controls NMDA receptor activity and synaptic memory. Cell 125, 775–784 (2006).

Parpura, V. et al. Glutamate-mediated astrocyte-neuron signalling. Nature 369, 744–747 (1994).

Pascual, O. et al. Astrocytic purinergic signaling coordinates synaptic networks. Science 310, 113–116 (2005).

Perea, G. & Araque, A. Astrocytes potentiate transmitter release at single hippocampal synapses. Science 317, 1083–1086 (2007).

Zhang, J.M. et al. ATP released by astrocytes mediates glutamatergic activity-dependent heterosynaptic suppression. Neuron 40, 971–982 (2003).

Halassa, M.M., Fellin, T., Takano, H., Dong, J.H. & Haydon, P.G. Synaptic islands defined by the territory of a single astrocyte. J. Neurosci. 27, 6473–6477 (2007).

Araque, A. et al. Gliotransmitters travel in time and space. Neuron 81, 728–739 (2014).

Sahlender, D.A., Savtchouk, I. & Volterra, A. What do we know about gliotransmitter release from astrocytes? Phil. Trans. R. Soc. Lond. B 369, 20130592 (2014).

Verkhratsky, A., Matteoli, M., Parpura, V., Mothet, J.P. & Zorec, R. Astrocytes as secretory cells of the central nervous system: idiosyncrasies of vesicular secretion. EMBO J. 35, 239–257 (2016).

Bezzi, P. et al. Astrocytes contain a vesicular compartment that is competent for regulated exocytosis of glutamate. Nat. Neurosci. 7, 613–620 (2004).

Ramamoorthy, P. & Whim, M.D. Trafficking and fusion of neuropeptide Y-containing dense-core granules in astrocytes. J. Neurosci. 28, 13815–13827 (2008).

Stellwagen, D. & Malenka, R.C. Synaptic scaling mediated by glial TNF-alpha. Nature 440, 1054–1059 (2006).

Hamilton, N.B. & Attwell, D. Do astrocytes really exocytose neurotransmitters? Nat. Rev. Neurosci. 11, 227–238 (2010).

Crippa, D. et al. Synaptobrevin2-expressing vesicles in rat astrocytes: insights into molecular characterization, dynamics and exocytosis. J. Physiol. (Lond.) 570, 567–582 (2006).

Li, D. et al. Astrocyte VAMP3 vesicles undergo Ca2+ -independent cycling and modulate glutamate transporter trafficking. J. Physiol. (Lond.) 593, 2807–2832 (2015).

Martineau, M. Gliotransmission: focus on exocytotic release of L-glutamate and D-serine from astrocytes. Biochem. Soc. Trans. 41, 1557–1561 (2013).

Schubert, V., Bouvier, D. & Volterra, A. SNARE protein expression in synaptic terminals and astrocytes in the adult hippocampus: a comparative analysis. Glia 59, 1472–1488 (2011).

Wolfes, A.C. et al. A novel method for culturing stellate astrocytes reveals spatially distinct Ca2+ signaling and vesicle recycling in astrocytic processes. J. Gen. Physiol. 149, 149–170 (2017).

Slezak, M. et al. Relevance of exocytotic glutamate release from retinal glia. Neuron 74, 504–516 (2012).

Fellin, T. et al. Neuronal synchrony mediated by astrocytic glutamate through activation of extrasynaptic NMDA receptors. Neuron 43, 729–743 (2004).

Marvin, J.S. et al. An optimized fluorescent probe for visualizing glutamate neurotransmission. Nat. Methods 10, 162–170 (2013).

Guzman, R.E., Schwarz, Y.N., Rettig, J. & Bruns, D. SNARE force synchronizes synaptic vesicle fusion and controls the kinetics of quantal synaptic transmission. J. Neurosci. 30, 10272–10281 (2010).

Bacci, A., Huguenard, J.R. & Prince, D.A. Differential modulation of synaptic transmission by neuropeptide Y in rat neocortical neurons. Proc. Natl. Acad. Sci. USA 99, 17125–17130 (2002).

Gómez-Gonzalo, M. et al. Endocannabinoids induce lateral long-term potentiation of transmitter release by stimulation of gliotransmission. Cereb. Cortex 25, 3699–3712 (2015).

Navarrete, M. & Araque, A. Endocannabinoids potentiate synaptic transmission through stimulation of astrocytes. Neuron 68, 113–126 (2010).

Sihra, T.S. & Rodríguez-Moreno, A. Presynaptic kainate receptor-mediated bidirectional modulatory actions: mechanisms. Neurochem. Int. 62, 982–987 (2013).

Ullian, E.M., Sapperstein, S.K., Christopherson, K.S. & Barres, B.A. Control of synapse number by glia. Science 291, 657–661 (2001).

Otsu, Y. et al. Competition between phasic and asynchronous release for recovered synaptic vesicles at developing hippocampal autaptic synapses. J. Neurosci. 24, 420–433 (2004).

Rosenmund, C. & Stevens, C.F. Definition of the readily releasable pool of vesicles at hippocampal synapses. Neuron 16, 1197–1207 (1996).

Baraban, S.C., Hollopeter, G., Erickson, J.C., Schwartzkroin, P.A. & Palmiter, R.D. Knock-out mice reveal a critical antiepileptic role for neuropeptide Y. J. Neurosci. 17, 8927–8936 (1997).

Coco, S. et al. Storage and release of ATP from astrocytes in culture. J. Biol. Chem. 278, 1354–1362 (2003).

Dunwiddie, T.V. & Masino, S.A. The role and regulation of adenosine in the central nervous system. Annu. Rev. Neurosci. 24, 31–55 (2001).

Parker, S.L. & Balasubramaniam, A. Neuropeptide Y Y2 receptor in health and disease. Br. J. Pharmacol. 153, 420–431 (2008).

Pinheiro, P.S. & Mulle, C. Presynaptic glutamate receptors: physiological functions and mechanisms of action. Nat. Rev. Neurosci. 9, 423–436 (2008).

Chittajallu, R., Braithwaite, S.P., Clarke, V.R. & Henley, J.M. Kainate receptors: subunits, synaptic localization and function. Trends Pharmacol. Sci. 20, 26–35 (1999).

Pfrieger, F.W. Role of glial cells in the formation and maintenance of synapses. Brain Res. Rev. 63, 39–46 (2010).

Zhang, Y. et al. An RNA-sequencing transcriptome and splicing database of glia, neurons, and vascular cells of the cerebral cortex. J. Neurosci. 34, 11929–11947 (2014).

De Pittà, M., Brunel, N. & Volterra, A. Astrocytes: orchestrating synaptic plasticity? Neuroscience 323, 43–61 (2016).

Bergersen, L.H. et al. Immunogold detection of L-glutamate and D-serine in small synaptic-like microvesicles in adult hippocampal astrocytes. Cereb. Cortex 22, 1690–1697 (2012).

Martineau, M. et al. Storage and uptake of D-serine into astrocytic synaptic-like vesicles specify gliotransmission. J. Neurosci. 33, 3413–3423 (2013).

Contractor, A. et al. Loss of kainate receptor-mediated heterosynaptic facilitation of mossy-fiber synapses in KA2-/- mice. J. Neurosci. 23, 422–429 (2003).

Gelsomino, G. et al. Kainate induces mobilization of synaptic vesicles at the growth cone through the activation of protein kinase A. Cereb. Cortex 23, 531–541 (2013).

Woo, D.H. et al. TREK-1 and Best1 channels mediate fast and slow glutamate release in astrocytes upon GPCR activation. Cell 151, 25–40 (2012).

Lee, H.S. et al. Astrocytes contribute to gamma oscillations and recognition memory. Proc. Natl. Acad. Sci. USA 111, E3343–E3352 (2014).

Panatier, A. et al. Astrocytes are endogenous regulators of basal transmission at central synapses. Cell 146, 785–798 (2011).

Agulhon, C., Fiacco, T.A. & McCarthy, K.D. Hippocampal short- and long-term plasticity are not modulated by astrocyte Ca2+ signaling. Science 327, 1250–1254 (2010).

Moore, K.A., Nicoll, R.A. & Schmitz, D. Adenosine gates synaptic plasticity at hippocampal mossy fiber synapses. Proc. Natl. Acad. Sci. USA 100, 14397–14402 (2003).

Wang, S. et al. Adenosinergic depression of glutamatergic transmission in the entorhinal cortex of juvenile rats via reduction of glutamate release probability and the number of releasable vesicles. PLoS One 8, e62185 (2013).
Acknowledgements
The authors thank J. Rettig, D. Stevens, M. Dhara and R. Mohrmann for valuable discussions. We thank W. Frisch, V. Schmidt and M. Wirth for excellent technical assistance. The work was supported by grants from the DFG (SFB 894, TRR 152 and SPP 1757) to D.B. and F.K. and from HOMFOR (to Y.S.).
Ethics declarations
Competing interests
The authors declare no competing financial interests.
Integrated supplementary information
Supplementary information
Supplementary Figures 1–10. (PDF 2149 kb)
About this article
Cite this article
Schwarz, Y., Zhao, N., Kirchhoff, F. et al. Astrocytes control synaptic strength by two distinct v-SNARE-dependent release pathways. Nat Neurosci 20, 1529–1539 (2017). https://doi.org/10.1038/nn.4647
Received:

Accepted:

Published:

Issue Date:

DOI: https://doi.org/10.1038/nn.4647