Abstract
The identity of cortical circuits mediating nociception and pain is largely unclear. The cingulate cortex is consistently activated during pain, but the functional specificity of cingulate divisions, the roles at distinct temporal phases of central plasticity and the underlying circuitry are unknown. Here we show in mice that the midcingulate division of the cingulate cortex (MCC) does not mediate acute pain sensation and pain affect, but gates sensory hypersensitivity by acting in a wide cortical and subcortical network. Within this complex network, we identified an afferent MCC–posterior insula pathway that can induce and maintain nociceptive hypersensitivity in the absence of conditioned peripheral noxious drive. This facilitation of nociception is brought about by recruitment of descending serotonergic facilitatory projections to the spinal cord. These results have implications for our understanding of neuronal mechanisms facilitating the transition from acute to long-lasting pain.
Relevant articles
Open Access articles citing this article.
Masaaki Sato

,

Nobuhiro Nakai

…

Toru Takumi

Molecular Psychiatry Open Access 24 August 2023

Heloísa Alonso-Matielo

,

Zizhen Zhang

…

Gerald W. Zamponi

Molecular Brain Open Access 21 August 2023

Katharina Ziegler

,

Ross Folkard

…

Alexander Groh

Nature Communications Open Access 24 May 2023
Access options
Access Nature and 54 other Nature Portfolio journals
Get Nature+, our best-value online-access subscription
$29.99 / 30 days
cancel any time
Subscribe to this journal
Receive 12 print issues and online access
$209.00 per year
only $17.42 per issue
Rent or buy this article
Prices vary by article type
from$1.95
to$39.95
Prices may be subject to local taxes which are calculated during checkout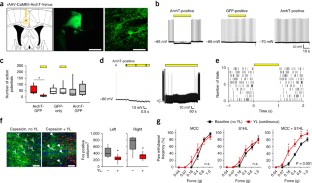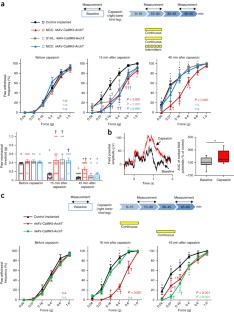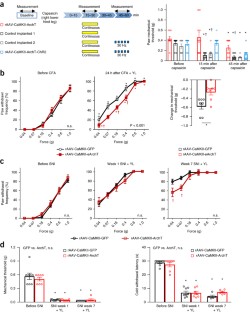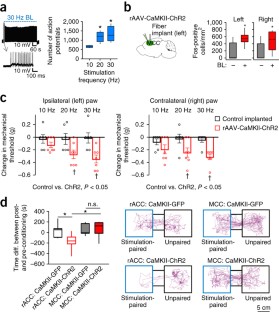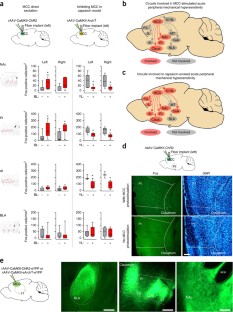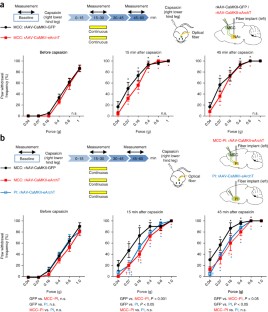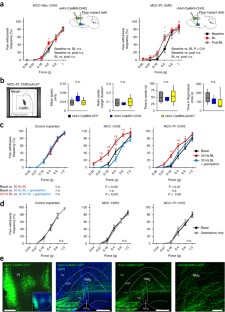 References
Vogt, B.A., Berger, G.R. & Derbyshire, S.W.G. Structural and functional dichotomy of human midcingulate cortex. Eur. J. Neurosci. 18, 3134–3144 (2003).

Vogt, B.A. Pain and emotion interactions in subregions of the cingulate gyrus. Nat. Rev. Neurosci. 6, 533–544 (2005).

Shackman, A.J. et al. The integration of negative affect, pain and cognitive control in the cingulate cortex. Nat. Rev. Neurosci. 12, 154–167 (2011).

Wager, T.D. et al. An fMRI-based neurologic signature of physical pain. N. Engl. J. Med. 368, 1388–1397 (2013).

Xu, H. et al. Presynaptic and postsynaptic amplifications of neuropathic pain in the anterior cingulate cortex. J. Neurosci. 28, 7445–7453 (2008).

Apps, M.A.J., Lockwood, P.L. & Balsters, J.H. The role of the midcingulate cortex in monitoring others' decisions. Front. Neurosci. 7, 251 (2013).

Vogt, B.A. & Paxinos, G. Cytoarchitecture of mouse and rat cingulate cortex with human homologies. Brain Struct. Funct. 219, 185–192 (2014).

Gao, Y.J., Ren, W.H., Zhang, Y.Q. & Zhao, Z.Q. Contributions of the anterior cingulate cortex and amygdala to pain- and fear-conditioned place avoidance in rats. Pain 110, 343–353 (2004).

Johansen, J.P. & Fields, H.L. Glutamatergic activation of anterior cingulate cortex produces an aversive teaching signal. Nat. Neurosci. 7, 398–403 (2004).

Qu, C. et al. Lesion of the rostral anterior cingulate cortex eliminates the aversiveness of spontaneous neuropathic pain following partial or complete axotomy. Pain 152, 1641–1648 (2011).

Wei, F. et al. Genetic elimination of behavioral sensitization in mice lacking calmodulin-stimulated adenylyl cyclases. Neuron 36, 713–726 (2002).

Li, X.Y. et al. Alleviating neuropathic pain hypersensitivity by inhibiting PKMζ in the anterior cingulate cortex. Science 330, 1400–1404 (2010).

Koga, K. et al. In vivo whole-cell patch-clamp recording of sensory synaptic responses of cingulate pyramidal neurons to noxious mechanical stimuli in adult mice. Mol. Pain 6, 62 (2010).

Kang, S.J. et al. Bidirectional modulation of hyperalgesia via the specific control of excitatory and inhibitory neuronal activity in the ACC. Mol. Brain 8, 81 (2015).

Ren, L.Y. et al. Distinct roles of the anterior cingulate cortex in spinal and supraspinal bee venom-induced pain behaviors. Neuroscience 153, 268–278 (2008).

Gu, L. et al. Pain inhibition by optogenetic activation of specific anterior cingulate cortical neurons. PLoS One 10, e0117746 (2015).

Schweinhardt, P. & Bushnell, M.C. Pain imaging in health and disease—how far have we come? J. Clin. Invest. 120, 3788–3797 (2010).

Hu, L. et al. The primary somatosensory cortex and the insula contribute differently to the processing of transient and sustained nociceptive and non-nociceptive somatosensory inputs. Hum. Brain Mapp. 36, 4346–4360 (2015).

Tye, K.M. & Deisseroth, K. Optogenetic investigation of neural circuits underlying brain disease in animal models. Nat. Rev. Neurosci. 13, 251–266 (2012).

Luo, C. et al. Presynaptically localized cyclic GMP-dependent protein kinase 1 is a key determinant of spinal synaptic potentiation and pain hypersensitivity. PLoS Biol. 10, e1001283 (2012).

Meyer, R.A., Ringkamp, M., Campbell, J.N. & Raja, S.N. Peripheral mechanism of cutaneous nociception. in Wall and Melzack's Textbook of Pain (eds. McMahon, S.B. & Koltzenburg, M.) 3–34 (Elsevier Churchill Livingstone, 2006).

Mattis, J. et al. Principles for applying optogenetic tools derived from direct comparative analysis of microbial opsins. Nat. Methods 9, 159–172 (2011).

Mahn, M., Prigge, M., Ron, S., Levy, R. & Yizhar, O. Biophysical constraints of optogenetic inhibition at presynaptic terminals. Nat. Neurosci. 19, 554–556 (2016).

Kayser, V. et al. Mechanical, thermal and formalin-induced nociception is differentially altered in 5-HT1A−/−, 5-HT1B−/−, 5-HT2A−/−, 5-HT3A−/− and 5-HTT−/− knock-out male mice. Pain 130, 235–248 (2007).

Frot, M., Mauguière, F., Magnin, M. & Garcia-Larrea, L. Parallel processing of nociceptive A-delta inputs in SII and midcingulate cortex in humans. J. Neurosci. 28, 944–952 (2008).

Apkarian, A.V., Baliki, M.N. & Geha, P.Y. Towards a theory of chronic pain. Prog. Neurobiol. 87, 81–97 (2009).

Chen, T. et al. Postsynaptic potentiation of corticospinal projecting neurons in the anterior cingulate cortex after nerve injury. Mol. Pain 10, 33 (2014).

Calejesan, A.A., Kim, S.J. & Zhuo, M. Descending facilitatory modulation of a behavioral nociceptive response by stimulation in the adult rat anterior cingulate cortex. Eur. J. Pain 4, 83–96 (2000).

Johansen, J.P., Fields, H.L. & Manning, B.H. The affective component of pain in rodents: direct evidence for a contribution of the anterior cingulate cortex. Proc. Natl. Acad. Sci. USA 98, 8077–8082 (2001).

Tang, J. et al. Pavlovian fear memory induced by activation in the anterior cingulate cortex. Mol. Pain 1, 6 (2005).

Singer, T. et al. Empathy for pain involves the affective but not sensory components of pain. Science 303, 1157–1162 (2004).

Kuner, R. & Flor, H. Structural plasticity and reorganisation in chronic pain. Nat. Rev. Neurosci. 18, 20–30 (2016).

Sheth, S.A. et al. Human dorsal anterior cingulate cortex neurons mediate ongoing behavioural adaptation. Nature 488, 218–221 (2012).

Zhang, Z. et al. Role of Prelimbic GABAergic Circuits in Sensory and Emotional Aspects of Neuropathic Pain. Cell Rep. 12, 752–759 (2015).

Lee, M. et al. Activation of corticostriatal circuitry relieves chronic neuropathic pain. J. Neurosci. 35, 5247–5259 (2015).

Craig, A.D. How do you feel—now? The anterior insula and human awareness. Nat. Rev. Neurosci. 10, 59–70 (2009).

Segerdahl, A.R., Mezue, M., Okell, T.W., Farrar, J.T. & Tracey, I. The dorsal posterior insula subserves a fundamental role in human pain. Nat. Neurosci. 18, 499–500 (2015).

Davis, K.D., Bushnell, M.C., Iannetti, G.D., St Lawrence, K. & Coghill, R. Evidence against pain specificity in the dorsal posterior insula. F1000Res. 4, 362 (2015).

Palermo, S., Benedetti, F., Costa, T. & Amanzio, M. Pain anticipation: an activation likelihood estimation meta-analysis of brain imaging studies. Hum. Brain Mapp. 36, 1648–1661 (2015).

Brown, C.A. & Jones, A.K.P. A role for midcingulate cortex in the interruptive effects of pain anticipation on attention. Clin. Neurophysiol. 119, 2370–2379 (2008).

Wiech, K. et al. Anterior insula integrates information about salience into perceptual decisions about pain. J. Neurosci. 30, 16324–16331 (2010).

Misra, G. & Coombes, S.A. Neuroimaging evidence of motor control and pain processing in the human midcingulate cortex. Cereb. Cortex 25, 1906–1919 (2015).

Baliki, M.N., Geha, P.Y. & Apkarian, A.V. Parsing pain perception between nociceptive representation and magnitude estimation. J. Neurophysiol. 101, 875–887 (2009).

Cai, Y.Q., Wang, W., Hou, Y.Y. & Pan, Z.Z. Optogenetic activation of brainstem serotonergic neurons induces persistent pain sensitization. Mol. Pain 10, 70 (2014).

Ringkamp, M. & Raja, S.N. A sore spot: central or peripheral generation of chronic neuropathic spontaneous pain? Pain 155, 1189–1191 (2014).

Dittgen, T. et al. Lentivirus-based genetic manipulations of cortical neurons and their optical and electrophysiological monitoring in vivo. Proc. Natl. Acad. Sci. USA 101, 18206–18211 (2004).

Tang, W. et al. Faithful expression of multiple proteins via 2A-peptide self-processing: a versatile and reliable method for manipulating brain circuits. J. Neurosci. 29, 8621–8629 (2009).

Smith, R.H., Levy, J.R. & Kotin, R.M. A simplified baculovirus-AAV expression vector system coupled with one-step affinity purification yields high-titer rAAV stocks from insect cells. Mol. Ther. 17, 1888–1896 (2009).

During, M.J., Young, D., Baer, K., Lawlor, P. & Klugmann, M. Development and optimization of adeno-associated virus vector transfer into the central nervous system. Methods Mol. Med. 76, 221–236 (2003).

Paxinos, G. & Franklin, K.B.J. The Mouse Brain in Stereotaxic Coordinates (Academic, 2001).

Fillinger, C., Yalcin, I., Barrot, M. & Veinante, P. Afferents to anterior cingulate areas 24a and 24b and midcingulate areas 24a′ and 24b′ in the mouse. Brain Struct. Funct. 222, 1509–1532 (2017).

Njoo, C., Heinl, C. & Kuner, R. In vivo siRNA transfection and gene knockdown in spinal cord via rapid noninvasive lumbar intrathecal injections in mice. J. Vis. Exp. 85, 51229 (2014).

Barthas, F. et al. The anterior cingulate cortex is a critical hub for pain-induced depression. Biol. Psychiatry 77, 236–245 (2015).

Tadel, F., Baillet, S., Mosher, J.C., Pantazis, D. & Leahy, R.M. Brainstorm: a user-friendly application for MEG/EEG analysis. Comput. Intell. Neurosci. 2011, 879716 (2011).
Acknowledgements
We thank R. LeFaucheur for secretarial help, as well as N. Gehrig, V. Buchert, L. Brenner, H.-J. Wrede, D. Baumgartl-Ahlert and K. Meyer for technical assistance. We are grateful to the Interdisciplinary Neurobehavioral Core Facility in Heidelberg for support with behavioral experiments. We gratefully acknowledge funding in form of SFB1158 grants from the Deutsche Forschungsgemeinschaft (DFG) to R.K. (project B01), T.K. (project B08), R.S. (project A05) and H.F. (project B07), European Research Council (ERC) Advanced Investigator grants to R.K. (Pain Plasticity 294293) and H.F. (Phantommind 230249) and DFG funding via the Excellence Cluster CellNetworks (Ectop funding to R.K. and H.F.). We acknowledge support from the European Molecular Biology Organization (EMBO) to L.L.T. in the form of an EMBO long-term postdoctoral fellowship.
Ethics declarations
Competing interests
The authors declare no competing financial interests.
Integrated supplementary information
Supplementary information
Supplementary Figures 1–15 (PDF 3213 kb)
About this article
Cite this article
Tan, L., Pelzer, P., Heinl, C. et al. A pathway from midcingulate cortex to posterior insula gates nociceptive hypersensitivity. Nat Neurosci 20, 1591–1601 (2017). https://doi.org/10.1038/nn.4645
Received:

Accepted:

Published:

Issue Date:

DOI: https://doi.org/10.1038/nn.4645