Abstract
Long-range enhancer interactions critically regulate gene expression, yet little is known about how their coordinated activities contribute to CNS development or how this may, in turn, relate to disease states. By examining the regulation of the transcription factor NFIA in the developing spinal cord, we identified long-range enhancers that recapitulate NFIA expression across glial and neuronal lineages in vivo. Complementary genetic studies found that Sox9–Brn2 and Isl1–Lhx3 regulate enhancer activity and NFIA expression in glial and neuronal populations. Chromatin conformation analysis revealed that these enhancers and transcription factors form distinct architectures within these lineages in the spinal cord. In glioma models, the glia-specific architecture is present in tumors, and these enhancers are required for NFIA expression and contribute to glioma formation. By delineating three-dimensional mechanisms of gene expression regulation, our studies identify lineage-specific chromatin architectures and associated enhancers that regulate cell fate and tumorigenesis in the CNS.
Relevant articles
Open Access articles citing this article.
Junbao Wang

,

Andi Wang

…

Yan Zhou

Cell Discovery Open Access 02 August 2022

A. Alonso-Gonzalez

,

M. Calaza

…

A. Carracedo

Scientific Reports Open Access 11 January 2021

Yonghe Wu

,

Michael Fletcher

…

Bernhard Radlwimmer

Nature Communications Open Access 18 December 2020
Access options
Access Nature and 54 other Nature Portfolio journals
Get Nature+, our best-value online-access subscription
$29.99 per month
cancel any time
Subscribe to this journal
Receive 12 print issues and online access
$189.00 per year
only $15.75 per issue
Rent or buy this article
Get just this article for as long as you need it
$39.95
Prices may be subject to local taxes which are calculated during checkout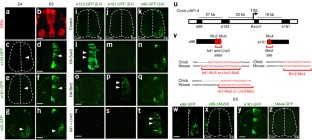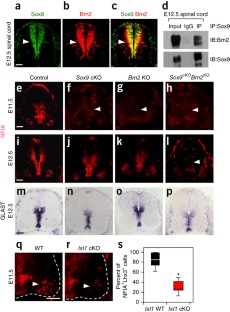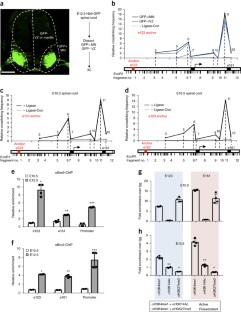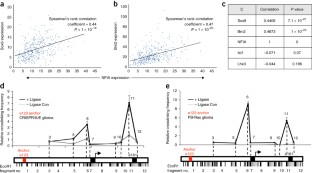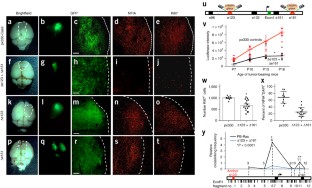 References
Li, G. et al. Extensive promoter-centered chromatin interactions provide a topological basis for transcription regulation. Cell 148, 84–98 (2012).

Phillips-Cremins, J.E. et al. Architectural protein subclasses shape 3D organization of genomes during lineage commitment. Cell 153, 1281–1295 (2013).

Palstra, R.J. & Grosveld, F. Transcription factor binding at enhancers: shaping a genomic regulatory landscape in flux. Front. Genet. 3, 195 (2012).

Tolhuis, B., Palstra, R.J., Splinter, E., Grosveld, F. & de Laat, W. Looping and interaction between hypersensitive sites in the active beta-globin locus. Mol. Cell 10, 1453–1465 (2002).

de Wit, E. & de Laat, W. A decade of 3C technologies: insights into nuclear organization. Genes Dev. 26, 11–24 (2012).

Donohoe, M.E., Silva, S.S., Pinter, S.F., Xu, N. & Lee, J.T. The pluripotency factor Oct4 interacts with Ctcf and also controls X-chromosome pairing and counting. Nature 460, 128–132 (2009).

Kim, Y.J., Cecchini, K.R. & Kim, T.H. Conserved, developmentally regulated mechanism couples chromosomal looping and heterochromatin barrier activity at the homeobox gene A locus. Proc. Natl. Acad. Sci. USA 108, 7391–7396 (2011).

Kagey, M.H. et al. Mediator and cohesin connect gene expression and chromatin architecture. Nature 467, 430–435 (2010).

Handoko, L. et al. CTCF-mediated functional chromatin interactome in pluripotent cells. Nat. Genet. 43, 630–638 (2011).

Pombo, A. & Dillon, N. Three-dimensional genome architecture: players and mechanisms. Nat. Rev. Mol. Cell Biol. 16, 245–257 (2015).

Buecker, C. & Wysocka, J. Enhancers as information integration hubs in development: lessons from genomics. Trends Genet. 28, 276–284 (2012).

Shlyueva, D., Stampfel, G. & Stark, A. Transcriptional enhancers: from properties to genome-wide predictions. Nat. Rev. Genet. 15, 272–286 (2014).

Tanabe, Y. & Jessell, T.M. Diversity and pattern in the developing spinal cord. Science 274, 1115–1123 (1996).

Rowitch, D.H. & Kriegstein, A.R. Developmental genetics of vertebrate glial-cell specification. Nature 468, 214–222 (2010).

Morrison, S.J., Shah, N.M. & Anderson, D.J. Regulatory mechanisms in stem cell biology. Cell 88, 287–298 (1997).

Morrison, S.J. et al. Transient Notch activation initiates an irreversible switch from neurogenesis to gliogenesis by neural crest stem cells. Cell 101, 499–510 (2000).

Deneen, B. et al. The transcription factor NFIA controls the onset of gliogenesis in the developing spinal cord. Neuron 52, 953–968 (2006).

Kang, P. et al. Sox9 and NFIA coordinate a transcriptional regulatory cascade during the initiation of gliogenesis. Neuron 74, 79–94 (2012).

Pfaff, S.L., Mendelsohn, M., Stewart, C.L., Edlund, T. & Jessell, T.M. Requirement for LIM homeobox gene Isl1 in motor neuron generation reveals a motor neuron-dependent step in interneuron differentiation. Cell 84, 309–320 (1996).

Thaler, J.P., Lee, S.K., Jurata, L.W., Gill, G.N. & Pfaff, S.L. LIM factor Lhx3 contributes to the specification of motor neuron and interneuron identity through cell-type-specific protein-protein interactions. Cell 110, 237–249 (2002).

Akiyama, H., Chaboissier, M.C., Martin, J.F., Schedl, A. & de Crombrugghe, B. The transcription factor Sox9 has essential roles in successive steps of the chondrocyte differentiation pathway and is required for expression of Sox5 and Sox6. Genes Dev. 16, 2813–2828 (2002).

McEvilly, R.J., de Diaz, M.O., Schonemann, M.D., Hooshmand, F. & Rosenfeld, M.G. Transcriptional regulation of cortical neuron migration by POU domain factors. Science 295, 1528–1532 (2002).

Dekker, J., Rippe, K., Dekker, M. & Kleckner, N. Capturing chromosome conformation. Science 295, 1306–1311 (2002).

Hagège, H. et al. Quantitative analysis of chromosome conformation capture assays (3C-qPCR). Nat. Protoc. 2, 1722–1733 (2007).

de Laat, W. & Duboule, D. Topology of mammalian developmental enhancers and their regulatory landscapes. Nature 502, 499–506 (2013).

Bouwman, B.A. & de Laat, W. Getting the genome in shape: the formation of loops, domains and compartments. Genome Biol. 16, 154 (2015).

Glasgow, S.M. et al. The miR-223/nuclear factor I-A axis regulates glial precursor proliferation and tumorigenesis in the CNS. J. Neurosci. 33, 13560–13568 (2013).

Glasgow, S.M. et al. Mutual antagonism between Sox10 and NFIA regulates diversification of glial lineages and glioma subtypes. Nat. Neurosci. 17, 1322–1329 (2014).

Brennan, C.W. et al. The somatic genomic landscape of glioblastoma. Cell 155, 462–477 (2013).

Ceccarelli, M. et al. Molecular profiling reveals biologically discrete subsets and pathways of progression in diffuse glioma. Cell 164, 550–563 (2016).

John Lin, C.C. et al. Identification of diverse astrocyte populations and their malignant analogs. Nat. Neurosci. 20, 396–405 (2017).

Gundry, M.C. et al. Highly efficient genome editing of murine and human hematopoietic progenitor cells by CRISPR/Cas9. Cell Rep. 17, 1453–1461 (2016).

de la Iglesia, N. et al. Identification of a PTEN-regulated STAT3 brain tumor suppressor pathway. Genes Dev. 22, 449–462 (2008).

Xue, W. et al. CRISPR-mediated direct mutation of cancer genes in the mouse liver. Nature 514, 380–384 (2014).

Chen, F. & LoTurco, J. A method for stable transgenesis of radial glia lineage in rat neocortex by piggyBac mediated transposition. J. Neurosci. Methods 207, 172–180 (2012).

Cong, L. et al. Multiplex genome engineering using CRISPR/Cas systems. Science 339, 819–823 (2013).

Hsu, P.D. et al. DNA targeting specificity of RNA-guided Cas9 nucleases. Nat. Biotechnol. 31, 827–832 (2013).

Sugitani, Y. et al. Brn-1 and Brn-2 share crucial roles in the production and positioning of mouse neocortical neurons. Genes Dev. 16, 1760–1765 (2002).

Vierbuchen, T. et al. Direct conversion of fibroblasts to functional neurons by defined factors. Nature 463, 1035–1041 (2010).

Pang, Z.P. et al. Induction of human neuronal cells by defined transcription factors. Nature 476, 220–223 (2011).

Wegner, M. Secrets to a healthy Sox life: lessons for melanocytes. Pigment Cell Res. 18, 74–85 (2005).

Ma, Y. et al. Functional interactions between Drosophila bHLH/PAS, Sox, and POU transcription factors regulate CNS midline expression of the slit gene. J. Neurosci. 20, 4596–4605 (2000).

Dailey, L. & Basilico, C. Coevolution of HMG domains and homeodomains and the generation of transcriptional regulation by Sox/POU complexes. J. Cell. Physiol. 186, 315–328 (2001).

Davis-Dusenbery, B.N., Williams, L.A., Klim, J.R. & Eggan, K. How to make spinal motor neurons. Development 141, 491–501 (2014).

Rau, M.J., Fischer, S. & Neumann, C.J. Zebrafish Trap230/Med12 is required as a coactivator for Sox9-dependent neural crest, cartilage and ear development. Dev. Biol. 296, 83–93 (2006).

Wang, X., Yang, N., Uno, E., Roeder, R.G. & Guo, S. A subunit of the mediator complex regulates vertebrate neuronal development. Proc. Natl. Acad. Sci. USA 103, 17284–17289 (2006).

Zhou, R. et al. SOX9 interacts with a component of the human thyroid hormone receptor-associated protein complex. Nucleic Acids Res. 30, 3245–3252 (2002).

Vogl, M.R. et al. Sox10 cooperates with the mediator subunit 12 during terminal differentiation of myelinating glia. J. Neurosci. 33, 6679–6690 (2013).

Song, H.R. et al. Nuclear factor IA is expressed in astrocytomas and is associated with improved survival. Neuro-oncol. 12, 122–132 (2010).

Suvà, M.L. Genetics and epigenetics of gliomas. Swiss Med. Wkly. 144, w14018 (2014).
Acknowledgements
This work was supported by grants from the National Institutes of Health (NS071153 to B.D. and K01CA190235 and 5-T32HL092332-08 to S.G.), Cancer Prevention Research Institute of Texas (RP150334 and RP160192 to B.D. and C.J.C.), and Sontag Foundation (B.D.).
Ethics declarations
Competing interests
The authors declare no competing financial interests.
Integrated supplementary information
Supplementary information
Supplementary Figures 1–10 and Supplementary Tables 1–5 (PDF 1841 kb)
About this article
Cite this article
Glasgow, S., Carlson, J., Zhu, W. et al. Glia-specific enhancers and chromatin structure regulate NFIA expression and glioma tumorigenesis. Nat Neurosci 20, 1520–1528 (2017). https://doi.org/10.1038/nn.4638
Received:

Accepted:

Published:

Issue Date:

DOI: https://doi.org/10.1038/nn.4638