Abstract
The consolidation of context-dependent emotional memory requires communication between the hippocampus and the basolateral amygdala (BLA), but the mechanisms of this process are unknown. We recorded neuronal ensembles in the hippocampus and BLA while rats learned the location of an aversive air puff on a linear track, as well as during sleep before and after training. We found coordinated reactivations between the hippocampus and the BLA during non-REM sleep following training. These reactivations peaked during hippocampal sharp wave–ripples (SPW-Rs) and involved a subgroup of BLA cells positively modulated during hippocampal SPW-Rs. Notably, reactivation was stronger for the hippocampus–BLA correlation patterns representing the run direction that involved the air puff than for the 'safe' direction. These findings suggest that consolidation of contextual emotional memory occurs during ripple-reactivation of hippocampus–amygdala circuits.
Access options
Subscribe to Journal
Get full journal access for 1 year
$225.00
only $18.75 per issue
All prices are NET prices.
VAT will be added later in the checkout.
Rent or Buy article
Get time limited or full article access on ReadCube.
from$8.99
All prices are NET prices.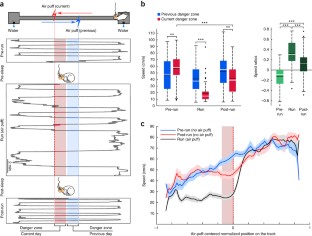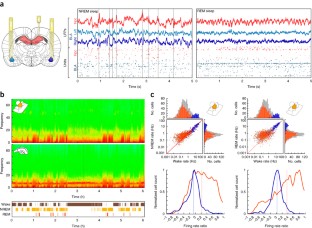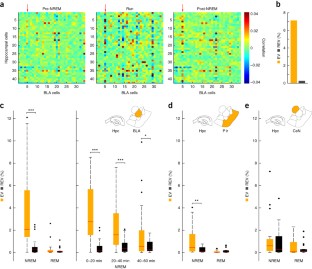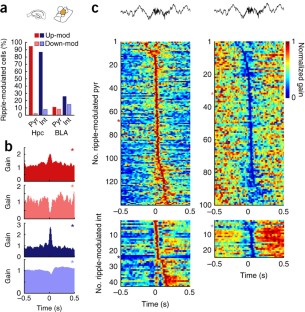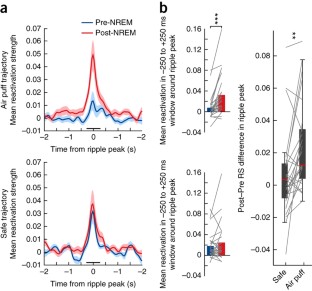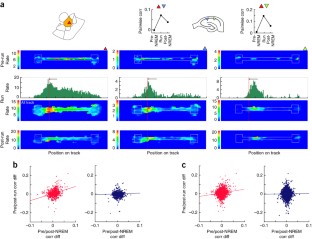 References
1

Vazdarjanova, A. & McGaugh, J.L. Basolateral amygdala is involved in modulating consolidation of memory for classical fear conditioning. J. Neurosci. 19, 6615–6622 (1999).

2

Paré, D., Collins, D.R. & Pelletier, J.G. Amygdala oscillations and the consolidation of emotional memories. Trends Cogn. Sci. 6, 306–314 (2002).

3

Maren, S. & Fanselow, M.S. Synaptic plasticity in the basolateral amygdala induced by hippocampal formation stimulation in vivo. J. Neurosci. 15, 7548–7564 (1995).

4

Ikegaya, Y., Saito, H. & Abe, K. Attenuated hippocampal long-term potentiation in basolateral amygdala-lesioned rats. Brain Res. 656, 157–164 (1994).

5

Ikegaya, Y., Saito, H. & Abe, K. High-frequency stimulation of the basolateral amygdala facilitates the induction of long-term potentiation in the dentate gyrus in vivo. Neurosci. Res. 22, 203–207 (1995).

6

Goshen, I. et al. Dynamics of retrieval strategies for remote memories. Cell 147, 678–689 (2011).

7

Reijmers, L.G., Perkins, B.L., Matsuo, N. & Mayford, M. Localization of a stable neural correlate of associative memory. Science 317, 1230–1233 (2007).

8

Redondo, R.L. et al. Bidirectional switch of the valence associated with a hippocampal contextual memory engram. Nature 513, 426–430 (2014).

9

Hsiang, H.-L.L. et al. Manipulating a "cocaine engram" in mice. J. Neurosci. 34, 14115–14127 (2014).

10

Xu, C. et al. Distinct hippocampal pathways mediate dissociable roles of context in memory retrieval. Cell 167, 961–972 (2016).

11

Phillips, R.G. & LeDoux, J.E. Differential contribution of amygdala and hippocampus to cued and contextual fear conditioning. Behav. Neurosci. 106, 274–285 (1992).

12

Zelikowsky, M., Hersman, S., Chawla, M.K., Barnes, C.A. & Fanselow, M.S. Neuronal ensembles in amygdala, hippocampus, and prefrontal cortex track differential components of contextual fear. J. Neurosci. 34, 8462–8466 (2014).

13

O'Keefe, J. & Nadel, L. The Hippocampus as a Cognitive Map (Oxford Univ. Press, 1978).

14

Kjelstrup, K.G. et al. Reduced fear expression after lesions of the ventral hippocampus. Proc. Natl. Acad. Sci. USA 99, 10825–10830 (2002).

15

Royer, S., Sirota, A., Patel, J. & Buzsáki, G. Distinct representations and theta dynamics in dorsal and ventral hippocampus. J. Neurosci. 30, 1777–1787 (2010).

16

Moser, M.B., Moser, E.I., Forrest, E., Andersen, P. & Morris, R.G. Spatial learning with a minislab in the dorsal hippocampus. Proc. Natl. Acad. Sci. USA 92, 9697–9701 (1995).

17

Moser, E.I.E., Krobert, K.A., Moser, M.B. & Morris, R.G. Impaired spatial learning after saturation of long-term potentiation. Science 281, 2038–2042 (1998).

18

Small, S.A. The longitudinal axis of the hippocampal formation: its anatomy, circuitry, and role in cognitive function. Rev. Neurosci. 13, 183–194 (2002).

19

Kim, J.J. & Fanselow, M.S. Modality-specific retrograde amnesia of fear. Science 256, 675–677 (1992).

20

Corcoran, K.A., Desmond, T.J., Frey, K.A. & Maren, S. Hippocampal inactivation disrupts the acquisition and contextual encoding of fear extinction. J. Neurosci. 25, 8978–8987 (2005).

21

Maren, S. & Quirk, G.J. Neuronal signalling of fear memory. Nat. Rev. Neurosci. 5, 844–852 (2004).

22

Pitkänen, A., Pikkarainen, M., Nurminen, N. & Ylinen, A. Reciprocal connections between the amygdala and the hippocampal formation, perirhinal cortex, and postrhinal cortex in rat. A review. Ann. NY Acad. Sci. 911, 369–391 (2000).

23

Herry, C. et al. Switching on and off fear by distinct neuronal circuits. Nature 454, 600–606 (2008).

24

Girardeau, G. & Zugaro, M. Hippocampal ripples and memory consolidation. Curr. Opin. Neurobiol. 21, 452–459 (2011).

25

Wang, D.V. et al. Mesopontine median raphe regulates hippocampal ripple oscillation and memory consolidation. Nat. Neurosci. 18, 728–735 (2015).

26

van de Ven, G.M., Trouche, S., McNamara, C.G., Allen, K. & Dupret, D. Hippocampal offline reactivation consolidates recently formed cell assembly patterns during sharp wave-ripples. Neuron 92, 968–974 (2016).

27

Popa, D., Duvarci, S., Popescu, A.T., Léna, C. & Paré, D. Coherent amygdalocortical theta promotes fear memory consolidation during paradoxical sleep. Proc. Natl. Acad. Sci. USA 107, 6516–6519 (2010).

28

Huff, M.L., Miller, R.L., Deisseroth, K., Moorman, D.E. & LaLumiere, R.T. Posttraining optogenetic manipulations of basolateral amygdala activity modulate consolidation of inhibitory avoidance memory in rats. Proc. Natl. Acad. Sci. USA 110, 3597–3602 (2013).

29

Patel, J., Schomburg, E.W., Berényi, A., Fujisawa, S. & Buzsáki, G. Local generation and propagation of ripples along the septotemporal axis of the hippocampus. J. Neurosci. 33, 17029–17041 (2013).

30

Lovett-Barron, M. et al. Dendritic inhibition in the hippocampus supports fear learning. Science 343, 857–863 (2014).

31

Mizuseki, K., Royer, S., Diba, K. & Buzsáki, G. Activity dynamics and behavioral correlates of CA3 and CA1 hippocampal pyramidal neurons. Hippocampus 22, 1659–1680 (2012).

32

Kudrimoti, H.S., Barnes, C.A. & McNaughton, B.L. Reactivation of hippocampal cell assemblies: effects of behavioral state, experience, and EEG dynamics. J. Neurosci. 19, 4090–4101 (1999).

33

Lansink, C.S., Goltstein, P.M., Lankelma, J.V., McNaughton, B.L. & Pennartz, C.M.A. Hippocampus leads ventral striatum in replay of place-reward information. PLoS Biol. 7, e1000173 (2009).

34

Hoffman, K.L. & McNaughton, B.L. Coordinated reactivation of distributed memory traces in primate neocortex. Science 297, 2070–2073 (2002).

35

Wilson, M. & McNaughton, B. Reactivation of hippocampal ensemble memories during sleep. Science (80- ) 5, 14–17 (1994).

36

Shen, J., Kudrimoti, H.S., McNaughton, B.L. & Barnes, C.A. Reactivation of neuronal ensembles in hippocampal dentate gyrus during sleep after spatial experience. J. Sleep Res. 7 (Suppl. 1), 6–16 (1998).

37

Genzel, L., Spoormaker, V.I., Konrad, B.N. & Dresler, M. The role of rapid eye movement sleep for amygdala-related memory processing. Neurobiol. Learn. Mem. 122, 110–121 (2015).

38

Hutchison, I.C. & Rathore, S. The role of REM sleep theta activity in emotional memory. Front. Psychol. 6, 1439 (2015).

39

LeDoux, J.E. Coming to terms with fear. Proc. Natl. Acad. Sci. USA 111, 2871–2878 (2014).

40

Moita, M.A., Rosis, S., Zhou, Y., LeDoux, J.E. & Blair, H.T. Putting fear in its place: remapping of hippocampal place cells during fear conditioning. J. Neurosci. 24, 7015–7023 (2004).

41

Wang, M.E. et al. Differential roles of the dorsal and ventral hippocampus in predator odor contextual fear conditioning. Hippocampus 23, 451–466 (2013).

42

Bannerman, D.M. et al. Regional dissociations within the hippocampus—memory and anxiety. Neurosci. Biobehav. Rev. 28, 273–283 (2004).

43

Ciocchi, S., Passecker, J., Malagon-Vina, H., Mikus, N. & Klausberger, T. Brain computation. Selective information routing by ventral hippocampal CA1 projection neurons. Science 348, 560–563 (2015).

44

Buzsáki, G. Hippocampal sharp wave-ripple: a cognitive biomarker for episodic memory and planning. Hippocampus 25, 1073–1188 (2015).

45

Logothetis, N.K. et al. Hippocampal–cortical interaction during periods of subcortical silence. Nature 491, 547–553 (2012).

46

Sparta, D.R. et al. Inhibition of projections from the basolateral amygdala to the entorhinal cortex disrupts the acquisition of contextual fear. Front. Behav. Neurosci. 8, 129 (2014).

47

Chrobak, J.J. & Buzsáki, G. High-frequency oscillations in the output networks of the hippocampal-entorhinal axis of the freely behaving rat. J. Neurosci. 16, 3056–3066 (1996).

48

Boyce, R., Glasgow, S.D., Williams, S. & Adamantidis, A. Causal evidence for the role of REM sleep theta rhythm in contextual memory consolidation. Science (80- ) 23, 812 (2016).

49

Maquet, P. et al. Experience-dependent changes in cerebral activation during human REM sleep. Nat. Neurosci. 3, 831–836 (2000).

50

Atherton, L.A., Dupret, D. & Mellor, J.R. Memory trace replay: the shaping of memory consolidation by neuromodulation. Trends Neurosci. 38, 560–570 (2015).

51

Vandecasteele, M. et al. Large-scale recording of neurons by movable silicon probes in behaving rodents. J. Vis. Exp. 3568, e3568 (2012).

52

Hazan, L., Zugaro, M. & Buzsáki, G. Klusters, NeuroScope, NDManager: a free software suite for neurophysiological data processing and visualization. J. Neurosci. Methods 155, 207–216 (2006).

53

Peyrache, A., Khamassi, M., Benchenane, K., Wiener, S.I. & Battaglia, F.P. Replay of rule-learning related neural patterns in the prefrontal cortex during sleep. Nat. Neurosci. 12, 919–926 (2009).

54

Lopes-dos-Santos, V., Ribeiro, S. & Tort, A.B.L. Detecting cell assemblies in large neuronal populations. J. Neurosci. Methods 220, 149–166 (2013).
Acknowledgements
We thank J. LeDoux, C. Léna, E. Stark, A. Peyrache and L. Roux for comments and discussions on the analyses and manuscript and all the members of the Buzsáki laboratory for their support. This work was supported by the Fondation pour la Recherche Médicale (FRM), the Fyssen Foundation, a Charles H. Revson Senior Fellowship in Biomedical Science (G.G.), NIH MH54671 and MH107396, NS 090583 and the Simons Foundations (G.B.).
Ethics declarations
Competing interests
The authors declare no competing financial interests.
Integrated supplementary information
Supplementary information
Supplementary Figures 1–11 and Supplementary Tables 1 and 2. (PDF 6987 kb)
About this article
Cite this article
Girardeau, G., Inema, I. & Buzsáki, G. Reactivations of emotional memory in the hippocampus–amygdala system during sleep. Nat Neurosci 20, 1634–1642 (2017). https://doi.org/10.1038/nn.4637
Received:

Accepted:

Published:

Issue Date: