Abstract
To clarify the role of microglia in brain homeostasis and disease, an understanding of their maintenance, proliferation and turnover is essential. The lifespan of brain microglia, however, remains uncertain, and reflects confounding factors in earlier assessments that were largely indirect. We genetically labeled single resident microglia in living mice and then used multiphoton microscopy to monitor these cells over time. Under homeostatic conditions, we found that neocortical resident microglia were long-lived, with a median lifetime of well over 15 months; thus, approximately half of these cells survive the entire mouse lifespan. While proliferation of resident neocortical microglia under homeostatic conditions was low, microglial proliferation in a mouse model of Alzheimer's β-amyloidosis was increased threefold. The persistence of individual microglia throughout the mouse lifespan provides an explanation for how microglial priming early in life can induce lasting functional changes and how microglial senescence may contribute to age-related neurodegenerative diseases.
Relevant articles
Open Access articles citing this article.
Tian Zhou

,

Yuxin Li

…

Bo Peng

Nature Communications Open Access 24 October 2022

Xiaoming Zhang

,

Laura Kracht

…

Susanne M. Kooistra

Journal of Neuroinflammation Open Access 14 May 2022

Adnan Shakoor

,

Wendi Gao

…

Dong Sun

Microsystems & Nanoengineering Open Access 29 April 2022
Access options
Subscribe to Nature+
Get immediate online access to Nature and 55 other Nature journal
Subscribe to Journal
Get full journal access for 1 year
$79.00
only $6.58 per issue
All prices are NET prices.
VAT will be added later in the checkout.
Tax calculation will be finalised during checkout.
Buy article
Get time limited or full article access on ReadCube.
$32.00
All prices are NET prices.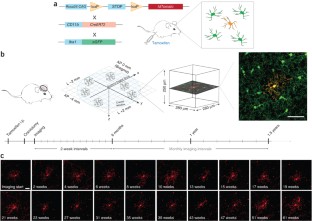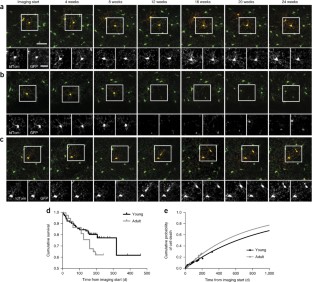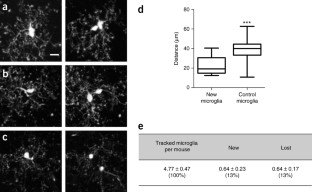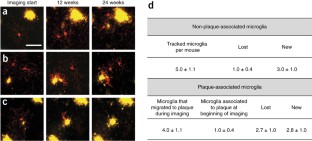 References
Crotti, A. & Ransohoff, R.M. Microglial physiology and pathophysiology: insights from genome-wide transcriptional profiling. Immunity 44, 505–515 (2016).

Ginhoux, F. et al. Fate mapping analysis reveals that adult microglia derive from primitive macrophages. Science 330, 841–845 (2010).

Sheng, J., Ruedl, C. & Karjalainen, K. Most tissue-resident macrophages except microglia are derived from fetal hematopoietic stem cells. Immunity 43, 382–393 (2015).

Ajami, B., Bennett, J.L., Krieger, C., Tetzlaff, W. & Rossi, F.M. Local self-renewal can sustain CNS microglia maintenance and function throughout adult life. Nat. Neurosci. 10, 1538–1543 (2007).

Hashimoto, D. et al. Tissue-resident macrophages self-maintain locally throughout adult life with minimal contribution from circulating monocytes. Immunity 38, 792–804 (2013).

Pelvig, D.P., Pakkenberg, H., Stark, A.K. & Pakkenberg, B. Neocortical glial cell numbers in human brains. Neurobiol. Aging 29, 1754–1762 (2008).

Hefendehl, J.K. et al. Homeostatic and injury-induced microglia behavior in the aging brain. Aging Cell 13, 60–69 (2014).

Nimmerjahn, A., Kirchhoff, F. & Helmchen, F. Resting microglial cells are highly dynamic surveillants of brain parenchyma in vivo. Science 308, 1314–1318 (2005).

Prinz, M. & Priller, J. Microglia and brain macrophages in the molecular age: from origin to neuropsychiatric disease. Nat. Rev. Neurosci. 15, 300–312 (2014).

Ransohoff, R.M. How neuroinflammation contributes to neurodegeneration. Science 353, 777–783 (2016).

Sierra, A. et al. The "big-bang" for modern glial biology: translation and comments on Pío del Río-Hortega 1919 series of papers on microglia. Glia 64, 1801–1840 (2016).

Gómez-Nicola, D., Fransen, N.L., Suzzi, S. & Perry, V.H. Regulation of microglial proliferation during chronic neurodegeneration. J. Neurosci. 33, 2481–2493 (2013).

Graeber, M.B. et al. The microglia/macrophage response in the neonatal rat facial nucleus following axotomy. Brain Res. 813, 241–253 (1998).

Lawson, L.J., Perry, V.H. & Gordon, S. Turnover of resident microglia in the normal adult mouse brain. Neuroscience 48, 405–415 (1992).

Askew, K. et al. Coupled proliferation and apoptosis maintain the rapid turnover of microglia in the adult brain. Cell Rep. 18, 391–405 (2017).

Tay, T.L. et al. A new fate mapping system reveals context-dependent random or clonal expansion of microglia. Nat. Neurosci. 20, 793–803 (2017).

Nowakowski, R.S. & Hayes, N.L. New neurons: extraordinary evidence or extraordinary conclusion? Science 288, 771 (2000).

Rakic, P. Neurogenesis in adult primates. Prog. Brain Res. 138, 3–14 (2002).

Knuesel, I. et al. Maternal immune activation and abnormal brain development across CNS disorders. Nat. Rev. Neurol. 10, 643–660 (2014).

Perry, V.H. & Holmes, C. Microglial priming in neurodegenerative disease. Nat. Rev. Neurol. 10, 217–224 (2014).

Heppner, F.L., Ransohoff, R.M. & Becher, B. Immune attack: the role of inflammation in Alzheimer disease. Nat. Rev. Neurosci. 16, 358–372 (2015).

Streit, W.J., Xue, Q.S., Tischer, J. & Bechmann, I. Microglial pathology. Acta Neuropathol. Commun. 2, 142 (2014).

Hefendehl, J.K. et al. Repeatable target localization for long-term in vivo imaging of mice with 2-photon microscopy. J. Neurosci. Methods 205, 357–363 (2012).

Radde, R. et al. Aβ42-driven cerebral amyloidosis in transgenic mice reveals early and robust pathology. EMBO Rep. 7, 940–946 (2006).

Jucker, M. & Ingram, D.K. Murine models of brain aging and age-related neurodegenerative diseases. Behav. Brain Res. 85, 1–26 (1997).

Bruttger, J. et al. Genetic cell ablation reveals clusters of local self-renewing microglia in the mammalian central nervous system. Immunity 43, 92–106 (2015).

Elmore, M.R. et al. Colony-stimulating factor 1 receptor signaling is necessary for microglia viability, unmasking a microglia progenitor cell in the adult brain. Neuron 82, 380–397 (2014).

Grabert, K. et al. Microglial brain region-dependent diversity and selective regional sensitivities to aging. Nat. Neurosci. 19, 504–516 (2016).

Moore, D.L. & Jessberger, S. Creating age asymmetry: consequences of inheriting damaged goods in mammalian cells. Trends Cell Biol. 27, 82–92 (2017).

Streit, W.J., Sammons, N.W., Kuhns, A.J. & Sparks, D.L. Dystrophic microglia in the aging human brain. Glia 45, 208–212 (2004).

Frisén, J. Neurogenesis and gliogenesis in nervous system plasticity and repair. Annu. Rev. Cell Dev. Biol. 32, 127–141 (2016).

Hoeijmakers, L., Heinen, Y., van Dam, A.M., Lucassen, P.J. & Korosi, A. Microglial priming and Alzheimer's disease: a possible role for (early) immune challenges and epigenetics? Front. Hum. Neurosci. 10, 398 (2016).

Muzumdar, M.D., Tasic, B., Miyamichi, K., Li, L. & Luo, L. A global double-fluorescent Cre reporter mouse. Genesis 45, 593–605 (2007).

Madisen, L. et al. A robust and high-throughput Cre reporting and characterization system for the whole mouse brain. Nat. Neurosci. 13, 133–140 (2010).

Hirasawa, T. et al. Visualization of microglia in living tissues using Iba1-EGFP transgenic mice. J. Neurosci. Res. 81, 357–362 (2005).

Klingstedt, T. et al. Synthesis of a library of oligothiophenes and their utilization as fluorescent ligands for spectral assignment of protein aggregates. Org. Biomol. Chem. 9, 8356–8370 (2011).

Wegenast-Braun, B.M. et al. Spectral discrimination of cerebral amyloid lesions after peripheral application of luminescent conjugated oligothiophenes. Am. J. Pathol. 181, 1953–1960 (2012).

Mahler, J. Ex vivo and in vivo analysis of protein aggregates in transgenic mouse models of cerebral amyloidosis using luminescent conjugated oligothiophenes. MSc thesis, University of Tübingen (2012).

Collet, D. Modelling Survival Data in Medical Research 2nd edn. (Chapman & Hall, New York, 2003).
Acknowledgements
We thank L. Walker, G. Kempermann and M. Staufenbiel, as well as all other laboratory members, for help and comments on the manuscript, and P. Nilsson (Linköping University) for providing the LCO amyloid dye. This work was supported by internal institutional funds from the Ministry of Science, Research and the Arts, Baden-Wuerttemberg (M.J.), by a Ph.D. fellowship of the Studienstiftung des Deutschen Volkes (A.-C.W.), by National Institute of Health grants AG021494 and AG027854 (S.S.S., K.V.) and by the Cure Alzheimer's Fund (S.S.S.).
Ethics declarations
Competing interests
The authors declare no competing financial interests.
Integrated supplementary information
Supplementary information
Supplementary Figures 1–4 and Supplementary Tables 1 and 2 (PDF 1040 kb)
About this article
Cite this article
Füger, P., Hefendehl, J., Veeraraghavalu, K. et al. Microglia turnover with aging and in an Alzheimer's model via long-term in vivo single-cell imaging. Nat Neurosci 20, 1371–1376 (2017). https://doi.org/10.1038/nn.4631
Received:

Accepted:

Published:

Issue Date:

DOI: https://doi.org/10.1038/nn.4631