Abstract
The neocortex comprises multiple information processing streams mediated by subsets of glutamatergic pyramidal cells (PCs) that receive diverse inputs and project to distinct targets. How GABAergic interneurons regulate the segregation and communication among intermingled PC subsets that contribute to separate brain networks remains unclear. Here we demonstrate that a subset of GABAergic chandelier cells (ChCs) in the prelimbic cortex, which innervate PCs at spike initiation site, selectively control PCs projecting to the basolateral amygdala (BLAPC) compared to those projecting to contralateral cortex (CCPC). These ChCs in turn receive preferential input from local and contralateral CCPCs as opposed to BLAPCs and BLA neurons (the prelimbic cortex–BLA network). Accordingly, optogenetic activation of ChCs rapidly suppresses BLAPCs and BLA activity in freely behaving mice. Thus, the exquisite connectivity of ChCs not only mediates directional inhibition between local PC ensembles but may also shape communication hierarchies between global networks.
Relevant articles
Open Access articles citing this article.
Xin Fu

,

Eric Teboul

…

Jeffrey G. Tasker

Nature Communications Open Access 11 March 2022

Rodrigo Muñoz-Castañeda

,

Brian Zingg

…

Hong-Wei Dong

Nature Open Access 06 October 2021

Qian Zhang

,

Yi Zeng

&

Taoyi Yang

Scientific Reports Open Access 13 March 2020
Access options
Subscribe to Nature+
Get immediate online access to Nature and 55 other Nature journal
Subscribe to Journal
Get full journal access for 1 year
$79.00
only $6.58 per issue
All prices are NET prices.
VAT will be added later in the checkout.
Tax calculation will be finalised during checkout.
Buy article
Get time limited or full article access on ReadCube.
$32.00
All prices are NET prices.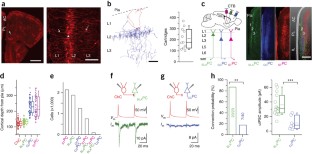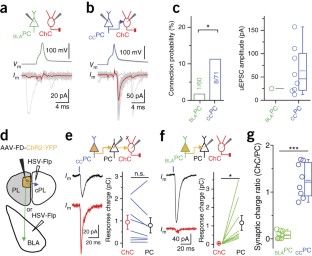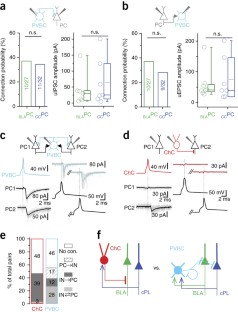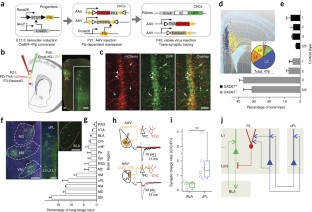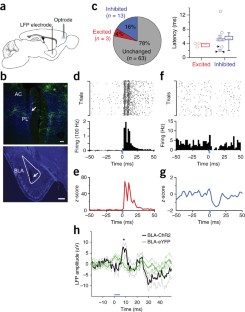 References
Harris, K.D. & Shepherd, G.M. The neocortical circuit: themes and variations. Nat. Neurosci. 18, 170–181 (2015).

Somogyi, P., Katona, L., Klausberger, T., Lasztóczi, B. & Viney, T.J. Temporal redistribution of inhibition over neuronal subcellular domains underlies state-dependent rhythmic change of excitability in the hippocampus. Phil. Trans. R. Soc. Lond. B 369, 20120518 (2013).

Huang, Z.J. Toward a genetic dissection of cortical circuits in the mouse. Neuron 83, 1284–1302 (2014).

Roux, L. & Buzsáki, G. Tasks for inhibitory interneurons in intact brain circuits. Neuropharmacology 88, 10–23 (2015).

Somogyi, P. A specific 'axo-axonal' interneuron in the visual cortex of the rat. Brain Res. 136, 345–350 (1977).

DeFelipe, J., Hendry, S.H., Jones, E.G. & Schmechel, D. Variability in the terminations of GABAergic chandelier cell axons on initial segments of pyramidal cell axons in the monkey sensory-motor cortex. J. Comp. Neurol. 231, 364–384 (1985).

Somogyi, P. et al. Identified axo-axonic cells are immunoreactive for GABA in the hippocampus and visual cortex of the cat. Brain Res. 332, 143–149 (1985).

Tamás, G. & Szabadics, J. Summation of unitary IPSPs elicited by identified axo-axonic interneurons. Cereb. Cortex 14, 823–826 (2004).

Inan, M. et al. Dense and overlapping innervation of pyramidal neurons by chandelier cells. J. Neurosci. 33, 1907–1914 (2013).

Crick, F. & Asanuma, C. Certain aspects of the anatomy and physiology of cerebral cortex. in Parallel Distributed Processing: Exploration in the Microstructures of Cognition. Vol. 2: Psychology and Biological Models (eds. Rumelhart, D.E. & McClelland, J.L.) 333–371 (MIT Press, 1986).

Woodruff, A.R., Anderson, S.A. & Yuste, R. The enigmatic function of chandelier cells. Front. Neurosci. 4, 201 (2010).

Glickfeld, L.L., Roberts, J.D., Somogyi, P. & Scanziani, M. Interneurons hyperpolarize pyramidal cells along their entire somatodendritic axis. Nat. Neurosci. 12, 21–23 (2009).

Szabadics, J. et al. Excitatory effect of GABAergic axo-axonic cells in cortical microcircuits. Science 311, 233–235 (2006).

Woodruff, A.R. et al. State-dependent function of neocortical chandelier cells. J. Neurosci. 31, 17872–17886 (2011).

Gabbott, P.L., Warner, T.A., Jays, P.R., Salway, P. & Busby, S.J. Prefrontal cortex in the rat: projections to subcortical autonomic, motor, and limbic centers. J. Comp. Neurol. 492, 145–177 (2005).

Hoover, W.B. & Vertes, R.P. Anatomical analysis of afferent projections to the medial prefrontal cortex in the rat. Brain Struct. Funct. 212, 149–179 (2007).

Delevich, K., Tucciarone, J., Huang, Z.J. & Li, B. The mediodorsal thalamus drives feedforward inhibition in the anterior cingulate cortex via parvalbumin interneurons. J. Neurosci. 35, 5743–5753 (2015).

Cruikshank, S.J. et al. Thalamic control of layer 1 circuits in prefrontal cortex. J. Neurosci. 32, 17813–17823 (2012).

Gilmartin, M.R., Balderston, N.L. & Helmstetter, F.J. Prefrontal cortical regulation of fear learning. Trends Neurosci. 37, 455–464 (2014).

Little, J.P. & Carter, A.G. Synaptic mechanisms underlying strong reciprocal connectivity between the medial prefrontal cortex and basolateral amygdala. J. Neurosci. 33, 15333–15342 (2013).

Taniguchi, H., Lu, J. & Huang, Z.J. The spatial and temporal origin of chandelier cells in mouse neocortex. Science 339, 70–74 (2013).

Hu, H., Gan, J. & Jonas, P. Fast-spiking, parvalbumin+ GABAergic interneurons: from cellular design to microcircuit function. Science 345, 1255263 (2014).

Lee, S.H. et al. Parvalbumin-positive basket cells differentiate among hippocampal pyramidal cells. Neuron 82, 1129–1144 (2014).

Lu, J., Tucciarone, J., Lin, Y. & Huang, Z.J. Input-specific maturation of synaptic dynamics of parvalbumin interneurons in primary visual cortex. Proc. Natl. Acad. Sci. USA 111, 16895–16900 (2014).

Yoshimura, Y. & Callaway, E.M. Fine-scale specificity of cortical networks depends on inhibitory cell type and connectivity. Nat. Neurosci. 8, 1552–1559 (2005).

He, M. et al. Strategies and tools for combinatorial targeting of GABAergic neurons in mouse cerebral cortex. Neuron 91, 1228–1243 (2016).

Karalis, N. et al. 4-Hz oscillations synchronize prefrontal-amygdala circuits during fear behavior. Nat. Neurosci. 19, 605–612 (2016).

Likhtik, E., Stujenske, J.M., Topiwala, M.A., Harris, A.Z. & Gordon, J.A. Prefrontal entrainment of amygdala activity signals safety in learned fear and innate anxiety. Nat. Neurosci. 17, 106–113 (2014).

Siapas, A.G., Lubenov, E.V. & Wilson, M.A. Prefrontal phase locking to hippocampal theta oscillations. Neuron 46, 141–151 (2005).

Karnani, M.M., Agetsuma, M. & Yuste, R. A blanket of inhibition: functional inferences from dense inhibitory connectivity. Curr. Opin. Neurobiol. 26, 96–102 (2014).

Krook-Magnuson, E., Varga, C., Lee, S.H. & Soltesz, I. New dimensions of interneuronal specialization unmasked by principal cell heterogeneity. Trends Neurosci. 35, 175–184 (2012).

Fino, E. & Yuste, R. Dense inhibitory connectivity in neocortex. Neuron 69, 1188–1203 (2011).

Packer, A.M. & Yuste, R. Dense, unspecific connectivity of neocortical parvalbumin-positive interneurons: a canonical microcircuit for inhibition? J. Neurosci. 31, 13260–13271 (2011).

Jiang, X. et al. Principles of connectivity among morphologically defined cell types in adult neocortex. Science 350, aac9462 (2015).

Oláh, S. et al. Regulation of cortical microcircuits by unitary GABA-mediated volume transmission. Nature 461, 1278–1281 (2009).

Lee, A.T. et al. Pyramidal neurons in prefrontal cortex receive subtype-specific forms of excitation and inhibition. Neuron 81, 61–68 (2014).

Otsuka, T. & Kawaguchi, Y. Cortical inhibitory cell types differentially form intralaminar and interlaminar subnetworks with excitatory neurons. J. Neurosci. 29, 10533–10540 (2009).

Varga, C., Lee, S.Y. & Soltesz, I. Target-selective GABAergic control of entorhinal cortex output. Nat. Neurosci. 13, 822–824 (2010).

Caroni, P. Inhibitory microcircuit modules in hippocampal learning. Curr. Opin. Neurobiol. 35, 66–73 (2015).

Donato, F., Chowdhury, A., Lahr, M. & Caroni, P. Early- and late-born parvalbumin basket cell subpopulations exhibiting distinct regulation and roles in learning. Neuron 85, 770–786 (2015).

Donato, F., Rompani, S.B. & Caroni, P. Parvalbumin-expressing basket-cell network plasticity induced by experience regulates adult learning. Nature 504, 272–276 (2013).

Armstrong, C. & Soltesz, I. Basket cell dichotomy in microcircuit function. J. Physiol. (Lond.) 590, 683–694 (2012).

Massi, L. et al. Temporal dynamics of parvalbumin-expressing axo-axonic and basket cells in the rat medial prefrontal cortex in vivo. J. Neurosci. 32, 16496–16502 (2012).

Viney, T.J. et al. Network state-dependent inhibition of identified hippocampal CA3 axo-axonic cells in vivo. Nat. Neurosci. 16, 1802–1811 (2013).

Courtin, J. et al. Prefrontal parvalbumin interneurons shape neuronal activity to drive fear expression. Nature 505, 92–96 (2014).

Dejean, C. et al. Prefrontal neuronal assemblies temporally control fear behaviour. Nature 535, 420–424 (2016).

Mátyás, F., Lee, J., Shin, H.S. & Acsády, L. The fear circuit of the mouse forebrain: connections between the mediodorsal thalamus, frontal cortices and basolateral amygdala. Eur. J. Neurosci. 39, 1810–1823 (2014).

Parnaudeau, S. et al. Inhibition of mediodorsal thalamus disrupts thalamofrontal connectivity and cognition. Neuron 77, 1151–1162 (2013).

Fenno, L.E. et al. Targeting cells with single vectors using multiple-feature Boolean logic. Nat. Methods 11, 763–772 (2014).

Kuhlman, S.J. & Huang, Z.J. High-resolution labeling and functional manipulation of specific neuron types in mouse brain by Cre-activated viral gene expression. PLoS One 3, e2005 (2008).

Schindelin, J. et al. Fiji: an open-source platform for biological-image analysis. Nat. Methods 9, 676–682 (2012).

Arganda-Carreras, I. et al. Consistent and elastic registration of histological sections using vector-spline regularization. in Computer Vision Approaches to Medical Image Analysis 85–95 (Springer, 2006).

Andrey, P. & Maurin, Y. Free-D: an integrated environment for three-dimensional reconstruction from serial sections. J. Neurosci. Methods 145, 233–244 (2005).

Tai, Y., Janas, J.A., Wang, C.L. & Van Aelst, L. Regulation of chandelier cell cartridge and bouton development via DOCK7-mediated ErbB4 activation. Cell Rep. 6, 254–263 (2014).

Wang, X. & Sun, Q.Q. Characterization of axo-axonic synapses in the piriform cortex of Mus musculus. J. Comp. Neurol. 520, 832–847 (2012).

Schmitzer-Torbert, N., Jackson, J., Henze, D., Harris, K. & Redish, A.D. Quantitative measures of cluster quality for use in extracellular recordings. Neuroscience 131, 1–11 (2005).

Vinck, M., van Wingerden, M., Womelsdorf, T., Fries, P. & Pennartz, C.M. The pairwise phase consistency: a bias-free measure of rhythmic neuronal synchronization. Neuroimage 51, 112–122 (2010).
Acknowledgements
We thank S. Schamiloglu for help with retrograde labeling of PL pyramidal neurons, B. Li, A. Kepecs and G. Buzsáki for comments on the manuscript. This work was supported in part by NIH R01 MH094705-05 and CSHL Robertson Neuroscience Fund to Z.J.H. and by NIH R01 MH081968 and the Hope for Depression Research Foundation to J.A.G. J.T. was supported by NRSA F30 Medical Scientist Predoctoral Fellowships. J.L. was supported by a NARSAD Postdoctoral Fellowship. N.P.C. was supported by the National Science Foundation. J.A.G. contributed to this article while at Columbia University, before joining the National Institute of Mental Health. The views expressed are the author's own and do not represent the views of the National Institutes of Health, the Department of Health and Human Services, or the United States government.
Ethics declarations
Competing interests
The authors declare no competing financial interests.
Integrated supplementary information
Supplementary information
Supplementary Figures 1–13 and Supplementary Table 1. (PDF 2903 kb)
Supplementary Software. (ZIP 3 kb)
About this article
Cite this article
Lu, J., Tucciarone, J., Padilla-Coreano, N. et al. Selective inhibitory control of pyramidal neuron ensembles and cortical subnetworks by chandelier cells. Nat Neurosci 20, 1377–1383 (2017). https://doi.org/10.1038/nn.4624
Received:

Accepted:

Published:

Issue Date:

DOI: https://doi.org/10.1038/nn.4624