Abstract
Optogenetics promises precise spatiotemporal control of neural processes using light. However, the spatial extent of illumination within the brain is difficult to control and cannot be adjusted using standard fiber optics. We demonstrate that optical fibers with tapered tips can be used to illuminate either spatially restricted or large brain volumes. Remotely adjusting the light input angle to the fiber varies the light-emitting portion of the taper over several millimeters without movement of the implant. We use this mode to activate dorsal versus ventral striatum of individual mice and reveal different effects of each manipulation on motor behavior. Conversely, injecting light over the full numerical aperture of the fiber results in light emission from the entire taper surface, achieving broader and more efficient optogenetic activation of neurons, compared to standard flat-faced fiber stimulation. Thus, tapered fibers permit focal or broad illumination that can be precisely and dynamically matched to experimental needs.
Access options
Subscribe to Journal
Get full journal access for 1 year
$209.00
only $17.42 per issue
All prices are NET prices.
VAT will be added later in the checkout.
Rent or Buy article
Get time limited or full article access on ReadCube.
from$8.99
All prices are NET prices.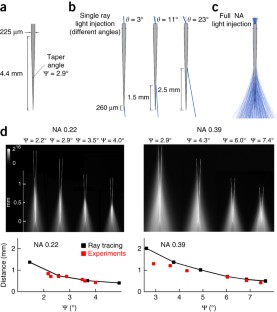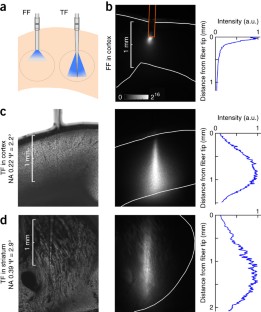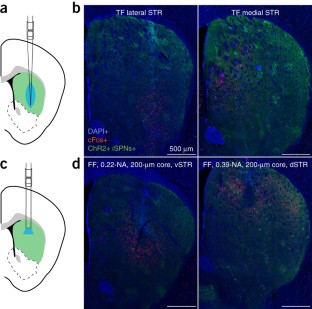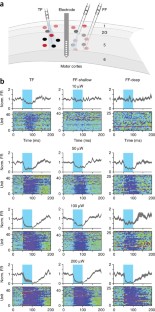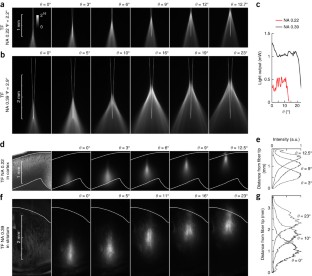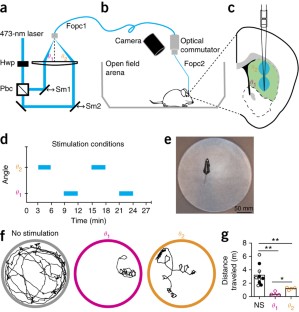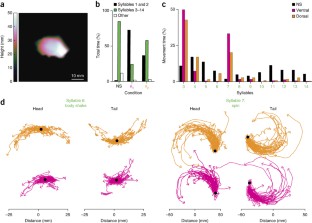 References
1

Dawydow, A. et al. Channelrhodopsin-2-XXL, a powerful optogenetic tool for low-light applications. Proc. Natl. Acad. Sci. USA 111, 13972–13977 (2014).

2

Hochbaum, D.R. et al. All-optical electrophysiology in mammalian neurons using engineered microbial rhodopsins. Nat. Methods 11, 825–833 (2014).

3

Govorunova, E.G., Sineshchekov, O.A., Janz, R., Liu, X. & Spudich, J.L. NEUROSCIENCE. Natural light-gated anion channels: a family of microbial rhodopsins for advanced optogenetics. Science 349, 647–650 (2015).

4

Lee, J., Ozden, I., Song, Y.-K. & Nurmikko, A.V. Transparent intracortical microprobe array for simultaneous spatiotemporal optical stimulation and multichannel electrical recording. Nat. Methods 12, 1157–1162 (2015).

5

Canales, A. et al. Multifunctional fibers for simultaneous optical, electrical and chemical interrogation of neural circuits in vivo. Nat. Biotechnol. 33, 277–284 (2015).

6

Jeong, J.-W. et al. Wireless optofluidic systems for programmable in vivo pharmacology and optogenetics. Cell 162, 662–674 (2015).

7

Kim, T.I. et al. Injectable, cellular-scale optoelectronics with applications for wireless optogenetics. Science 340, 211–216 (2013).

8

Kwon, K.Y., Lee, H.-M., Ghovanloo, M., Weber, A. & Li, W. Design, fabrication, and packaging of an integrated, wirelessly-powered optrode array for optogenetics application. Front. Syst. Neurosci. 9, 69 (2015).

9

Zorzos, A.N., Scholvin, J., Boyden, E.S. & Fonstad, C.G. Three-dimensional multiwaveguide probe array for light delivery to distributed brain circuits. Opt. Lett. 37, 4841–4843 (2012).

10

Schwaerzle, M., Elmlinger, P., Paul, O. & Ruther, P. in Micro Electro Mechanical Systems (MEMS), 28th IEEE International Conference 162–165 (2015).

11

McAlinden, N., Gu, E., Dawson, M.D., Sakata, S. & Mathieson, K. Optogenetic activation of neocortical neurons in vivo with a sapphire-based micro-scale LED probe. Front. Neural Circuits 9, 25 (2015).

12

McCall, J.G. et al. Fabrication and application of flexible, multimodal light-emitting devices for wireless optogenetics. Nat. Protoc. 8, 2413–2428 (2013).

13

Szabo, V., Ventalon, C., De Sars, V., Bradley, J. & Emiliani, V. Spatially selective holographic photoactivation and functional fluorescence imaging in freely behaving mice with a fiberscope. Neuron 84, 1157–1169 (2014).

14

Pisanello, F. et al. Multipoint-emitting optical fibers for spatially addressable in vivo optogenetics. Neuron 82, 1245–1254 (2014).

15

Pisanello, M. et al. Modal demultiplexing properties of tapered and nanostructured optical fibers for in vivo optogenetic control of neural activity. Biomed. Opt. Express 6, 4014–4026 (2015).

16

Aravanis, A.M. et al. An optical neural interface: in vivo control of rodent motor cortex with integrated fiberoptic and optogenetic technology. J. Neural Eng. 4, S143–S156 (2007).

17

Yizhar, O., Fenno, L.E., Davidson, T.J., Mogri, M. & Deisseroth, K. Optogenetics in neural systems. Neuron 71, 9–34 (2011).

18

Stujenske, J.M., Spellman, T. & Gordon, J.A. Modeling the spatiotemporal dynamics of light and heat propagation for in vivo optogenetics. Cell Reports 12, 525–534 (2015).

19

Oldenburg, I.A. & Sabatini, B.L. Antagonistic but not symmetric regulation of primary motor cortex by basal ganglia direct and indirect pathways. Neuron 86, 1174–1181 (2015).

20

Greenberg, M.E., Ziff, E.B. & Greene, L.A. Stimulation of neuronal acetylcholine receptors induces rapid gene transcription. Science 234, 80–83 (1986).

21

Zhao, S. et al. Cell type–specific channelrhodopsin-2 transgenic mice for optogenetic dissection of neural circuitry function. Nat. Methods 8, 745–752 (2011).

22

Wiltschko, A.B. et al. Mapping sub-second structure in mouse behavior. Neuron 88, 1121–1135 (2015).

23

Kravitz, A.V. et al. Regulation of parkinsonian motor behaviours by optogenetic control of basal ganglia circuitry. Nature 466, 622–626 (2010).

24

Boyden, E.S., Zhang, F., Bamberg, E., Nagel, G. & Deisseroth, K. Millisecond-timescale, genetically targeted optical control of neural activity. Nat. Neurosci. 8, 1263–1268 (2005).

25

Zhang, F. et al. Multimodal fast optical interrogation of neural circuitry. Nature 446, 633–639 (2007).

26

Klapoetke, N.C. et al. Independent optical excitation of distinct neural populations. Nat. Methods 11, 338–346 (2014).

27

Cardin, J.A. et al. Targeted optogenetic stimulation and recording of neurons in vivo using cell-type-specific expression of Channelrhodopsin-2. Nat. Protoc. 5, 247–254 (2010).

28

Warden, M.R., Cardin, J.A. & Deisseroth, K. Optical neural interfaces. Annu. Rev. Biomed. Eng. 16, 103–129 (2014).

29

Eshel, N. et al. Arithmetic and local circuitry underlying dopamine prediction errors. Nature 525, 243–246 (2015).

30

Al-Juboori, S.I. et al. Light scattering properties vary across different regions of the adult mouse brain. PLoS One 8, e67626 (2013).

31

Hanks, T.D. et al. Distinct relationships of parietal and prefrontal cortices to evidence accumulation. Nature 520, 220–223 (2015).

32

Stark, E., Koos, T. & Buzsáki, G. Diode probes for spatiotemporal optical control of multiple neurons in freely moving animals. J. Neurophysiol. 108, 349–363 (2012).

33

Gilmartin, M.R., Miyawaki, H., Helmstetter, F.J. & Diba, K. Prefrontal activity links nonoverlapping events in memory. J. Neurosci. 33, 10910–10914 (2013).

34

Lambelet, P., Sayah, A., Pfeffer, M., Philipona, C. & Marquis-Weible, F. Chemically etched fiber tips for near-field optical microscopy: a process for smoother tips. Appl. Opt. 37, 7289–7292 (1998).

35

McGeorge, A.J. & Faull, R.L. The organization of the projection from the cerebral cortex to the striatum in the rat. Neuroscience 29, 503–537 (1989).

36

Afraz, A., Boyden, E.S. & DiCarlo, J.J. Optogenetic and pharmacological suppression of spatial clusters of face neurons reveal their causal role in face gender discrimination. Proc. Natl. Acad. Sci. USA 112, 6730–6735 (2015).

37

Lund, J.S. & Boothe, R.G. Interlaminar connections and pyramidal neuron organisation in the visual cortex, area 17, of the Macaque monkey. J. Comp. Neurol. 159, 305–334 (1975).

38

Saleh, B.E.A. & Teich, M.C. Fundamentals of Photonics 2nd edn. (Wiley Interscience, 2007).

39

Sparta, D.R. et al. Construction of implantable optical fibers for long-term optogenetic manipulation of neural circuits. Nat. Protoc. 7, 12–23 (2011).
Acknowledgements
F.P. acknowledges funding from the European Research Council under the European Union's Horizon 2020 research and innovation program (#677683); L.S., M.D.V. and B.L.S. are funded by the US National Institutes of Health (U01NS094190); and G.M., J.M., S.D. and B.L.S. are funded by the Simons Collaboration on the Global Brain. M.P. acknowledges funding from the Rotary Foundation and the Rotary International District 2120 (Global Grant GG1417647).
Ethics declarations
Competing interests
M.D.V., F.P., B.L.S., S.D. and L.S. are co-founders of Optogenix LLC, a company based in Italy that produces and markets the tapered fibers described here.
Integrated supplementary information
Supplementary information
About this article
Cite this article
Pisanello, F., Mandelbaum, G., Pisanello, M. et al. Dynamic illumination of spatially restricted or large brain volumes via a single tapered optical fiber. Nat Neurosci 20, 1180–1188 (2017). https://doi.org/10.1038/nn.4591
Received:

Accepted:

Published:

Issue Date: