Abstract
The mediodorsal thalamus (MD) shares reciprocal connectivity with the prefrontal cortex (PFC), and decreased MD–PFC connectivity is observed in schizophrenia patients. Patients also display cognitive deficits including impairments in working memory, but a mechanistic link between thalamo–prefrontal circuit function and working memory is missing. Using pathway-specific inhibition, we found directional interactions between mouse MD and medial PFC (mPFC), with MD-to-mPFC supporting working memory maintenance and mPFC-to-MD supporting subsequent choice. We further identify mPFC neurons that display elevated spiking during the delay, a feature that was absent on error trials and required MD inputs for sustained maintenance. Strikingly, delay-tuned neurons had minimal overlap with spatially tuned neurons, and each mPFC population exhibited mutually exclusive dependence on MD and hippocampal inputs. These findings indicate a role for MD in sustaining prefrontal activity during working memory maintenance. Consistent with this idea, we found that enhancing MD excitability was sufficient to enhance task performance.
Relevant articles
Open Access articles citing this article.
Kathleen K. A. Cho

,

Jingcheng Shi

…

Vikaas S. Sohal

Nature Open Access 26 April 2023

Mikael Lundqvist

,

Scott L. Brincat

…

Pawel Herman

Nature Communications Open Access 14 March 2023

Weiguo Yang

,

Sri Laasya Tipparaju

…

Nuo Li

Nature Neuroscience Open Access 28 September 2022
Access options
Access Nature and 54 other Nature Portfolio journals
Get Nature+, our best-value online-access subscription
$29.99 / 30 days
cancel any time
Subscribe to this journal
Receive 12 print issues and online access
$189.00 per year
only $15.75 per issue
Rent or buy this article
Get just this article for as long as you need it
$39.95
Prices may be subject to local taxes which are calculated during checkout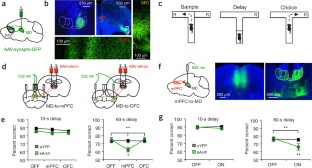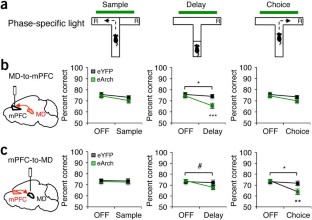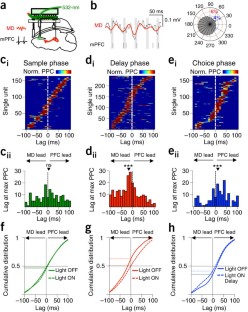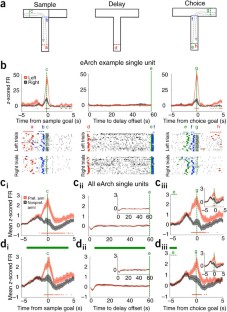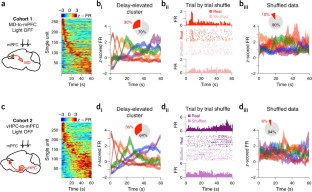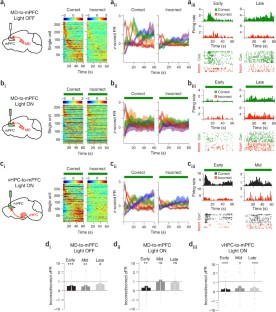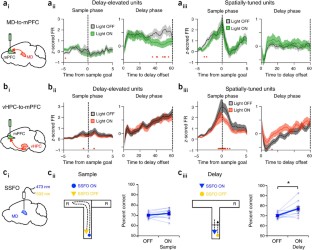 References
Fuster, J.M. The Prefrontal Cortex. Anatomy, Physiology, and Neuropsychology of the Frontal Lobe. 2nd ed. (Raven, 1989).

Minzenberg, M.J., Laird, A.R., Thelen, S., Carter, C.S. & Glahn, D.C. Meta-analysis of 41 functional neuroimaging studies of executive function in schizophrenia. Arch. Gen. Psychiatry 66, 811–822 (2009).

Weinberger, D.R. & Berman, K.F. Prefrontal function in schizophrenia: confounds and controversies. Phil. Trans. R. Soc. Lond. B 351, 1495–1503 (1996).

Perlstein, W.M., Carter, C.S., Noll, D.C. & Cohen, J.D. Relation of prefrontal cortex dysfunction to working memory and symptoms in schizophrenia. Am. J. Psychiatry 158, 1105–1113 (2001).

Mitchell, A.S. The mediodorsal thalamus as a higher order thalamic relay nucleus important for learning and decision-making. Neurosci. Biobehav. Rev. 54, 76–88 (2015).

Saalmann, Y.B. Intralaminar and medial thalamic influence on cortical synchrony, information transmission and cognition. Front. Syst. Neurosci. 8, 83 (2014).

Baxter, M.G. Mediodorsal thalamus and cognition in non-human primates. Front. Syst. Neurosci. 7, 38 (2013).

Jones, E.G. The Thalamus (2nd Edition). (Cambridge University Press, 2007).

Parnaudeau, S. et al. Mediodorsal thalamus hypofunction impairs flexible goal-directed behavior. Biol. Psychiatry 77, 445–453 (2015).

Parnaudeau, S. et al. Inhibition of mediodorsal thalamus disrupts thalamofrontal connectivity and cognition. Neuron 77, 1151–1162 (2013).

Browning, P.G., Chakraborty, S. & Mitchell, A.S. Evidence for mediodorsal thalamus and prefrontal cortex interactions during cognition in macaques. Cereb. Cortex 25, 4519–4534 (2015).

Bailey, K.R. & Mair, R.G. Lesions of specific and nonspecific thalamic nuclei affect prefrontal cortex-dependent aspects of spatial working memory. Behav. Neurosci. 119, 410–419 (2005).

Byne, W., Hazlett, E.A., Buchsbaum, M.S. & Kemether, E. The thalamus and schizophrenia: current status of research. Acta Neuropathol. 117, 347–368 (2009).

Andrews, J., Wang, L., Csernansky, J.G., Gado, M.H. & Barch, D.M. Abnormalities of thalamic activation and cognition in schizophrenia. Am. J. Psychiatry 163, 463–469 (2006).

Woodward, N.D., Karbasforoushan, H. & Heckers, S. Thalamocortical dysconnectivity in schizophrenia. Am. J. Psychiatry 169, 1092–1099 (2012).

Anticevic, A. et al. Characterizing thalamo-cortical disturbances in schizophrenia and bipolar illness. Cereb. Cortex 24, 3116–3130 (2014).

Anticevic, A. et al. Association of thalamic dysconnectivity and conversion to psychosis in youth and young adults at elevated clinical risk. JAMA Psychiatry 72, 882–891 (2015).

Spellman, T. et al. Hippocampal-prefrontal input supports spatial encoding in working memory. Nature 522, 309–314 (2015).

Ray, J.P. & Price, J.L. The organization of projections from the mediodorsal nucleus of the thalamus to orbital and medial prefrontal cortex in macaque monkeys. J. Comp. Neurol. 337, 1–31 (1993).

Groenewegen, H.J. Organization of the afferent connections of the mediodorsal thalamic nucleus in the rat, related to the mediodorsal-prefrontal topography. Neuroscience 24, 379–431 (1988).

Alcaraz, F., Marchand, A.R., Courtand, G., Coutureau, E. & Wolff, M. Parallel inputs from the mediodorsal thalamus to the prefrontal cortex in the rat. Eur. J. Neurosci. 44, 1972–1986 (2016).

Mátyás, F., Lee, J., Shin, H.S. & Acsády, L. The fear circuit of the mouse forebrain: connections between the mediodorsal thalamus, frontal cortices and basolateral amygdala. Eur. J. Neurosci. 39, 1810–1823 (2014).

Kellendonk, C. et al. Transient and selective overexpression of dopamine D2 receptors in the striatum causes persistent abnormalities in prefrontal cortex functioning. Neuron 49, 603–615 (2006).

Yoon, T., Okada, J., Jung, M.W. & Kim, J.J. Prefrontal cortex and hippocampus subserve different components of working memory in rats. Learn. Mem. 15, 97–105 (2008).

Padilla-Coreano, N. et al. Direct ventral hippocampal-prefrontal input is required for anxiety-related neural activity and behavior. Neuron 89, 857–866 (2016).

Stujenske, J.M., Spellman, T. & Gordon, J.A. Modeling the spatiotemporal dynamics of light and heat propagation for in vivo optogenetics. Cell Rep. 12, 525–534 (2015).

Adhikari, A., Sigurdsson, T., Topiwala, M.A. & Gordon, J.A. Cross-correlation of instantaneous amplitudes of field potential oscillations: a straightforward method to estimate the directionality and lag between brain areas. J. Neurosci. Methods 191, 191–200 (2010).

Jung, M.W., Qin, Y., McNaughton, B.L. & Barnes, C.A. Firing characteristics of deep layer neurons in prefrontal cortex in rats performing spatial working memory tasks. Cereb. Cortex 8, 437–450 (1998).

Fujisawa, S., Amarasingham, A., Harrison, M.T. & Buzsáki, G. Behavior-dependent short-term assembly dynamics in the medial prefrontal cortex. Nat. Neurosci. 11, 823–833 (2008).

Harvey, C.D., Coen, P. & Tank, D.W. Choice-specific sequences in parietal cortex during a virtual-navigation decision task. Nature 484, 62–68 (2012).

Baeg, E.H. et al. Dynamics of population code for working memory in the prefrontal cortex. Neuron 40, 177–188 (2003).

Mello, G.B., Soares, S. & Paton, J.J. A scalable population code for time in the striatum. Curr. Biol. 25, 1113–1122 (2015).

Akhlaghpour, H. et al. Dissociated sequential activity and stimulus encoding in the dorsomedial striatum during spatial working memory. Elife 5, e19507 (2016).

Yizhar, O. et al. Neocortical excitation/inhibition balance in information processing and social dysfunction. Nature 477, 171–178 (2011).

Goldman-Rakic, P.S. Cellular basis of working memory. Neuron 14, 477–485 (1995).

Funahashi, S. Space representation in the prefrontal cortex. Prog. Neurobiol. 103, 131–155 (2013).

Rao, S.C., Rainer, G. & Miller, E.K. Integration of what and where in the primate prefrontal cortex. Science 276, 821–824 (1997).

Fuster, J.M. Unit activity in prefrontal cortex during delayed-response performance: neuronal correlates of transient memory. J. Neurophysiol. 36, 61–78 (1973).

Niki, H. Differential activity of prefrontal units during right and left delayed response trials. Brain Res. 70, 346–349 (1974).

Niki, H. Prefrontal unit activity during delayed alternation in the monkey. I. Relation to direction of response. Brain Res. 68, 185–196 (1974).

Rich, E.L. & Shapiro, M. Rat prefrontal cortical neurons selectively code strategy switches. J. Neurosci. 29, 7208–7219 (2009).

Durstewitz, D., Vittoz, N.M., Floresco, S.B. & Seamans, J.K. Abrupt transitions between prefrontal neural ensemble states accompany behavioral transitions during rule learning. Neuron 66, 438–448 (2010).

Wallis, J.D., Anderson, K.C. & Miller, E.K. Single neurons in prefrontal cortex encode abstract rules. Nature 411, 953–956 (2001).

Cromer, J.A., Roy, J.E. & Miller, E.K. Representation of multiple, independent categories in the primate prefrontal cortex. Neuron 66, 796–807 (2010).

Schmitt, L. I. et al. Thalamic amplification of cortical connectivity sustains attentional control. Nature http://dx.doi.org/10.1038/nature22073 (2017).

Narayanan, N.S. & Laubach, M. Top-down control of motor cortex ensembles by dorsomedial prefrontal cortex. Neuron 52, 921–931 (2006).

Sherman, S.M. & Guillery, R.W. The role of the thalamus in the flow of information to the cortex. Phil. Trans. R. Soc. Lond. B 357, 1695–1708 (2002).

Oh, S.W. et al. A mesoscale connectome of the mouse brain. Nature 508, 207–214 (2014).

Hunnicutt, B.J. et al. A comprehensive thalamocortical projection map at the mesoscopic level. Nat. Neurosci. 17, 1276–1285 (2014).

Bolkan, S.S., Carvalho Poyraz, F. & Kellendonk, C. Using human brain imaging studies as a guide toward animal models of schizophrenia. Neuroscience 321, 77–98 (2016).

Johansson, J.D. Spectroscopic method for determination of the absorption coefficient in brain tissue. J. Biomed. Opt. 15, 057005 (2010).

Mattis, J. et al. Principles for applying optogenetic tools derived from direct comparative analysis of microbial opsins. Nat. Methods 9, 159–172 (2011).

Paxinos, G. & Franklin, K.B.J. The Mouse Brain in Stereotaxic Coordinates. (Academic Press, 2001).

Delevich, K., Tucciarone, J., Huang, Z.J. & Li, B. The mediodorsal thalamus drives feedforward inhibition in the anterior cingulate cortex via parvalbumin interneurons. J. Neurosci. 35, 5743–5753 (2015).

Vinck, M., van Wingerden, M., Womelsdorf, T., Fries, P. & Pennartz, C.M. The pairwise phase consistency: a bias-free measure of rhythmic neuronal synchronization. Neuroimage 51, 112–122 (2010).
Acknowledgements
We thank members of the Gordon and Kellendonk labs for technical assistance and discussions. We also thank M. Halassa for discussions and commentary on an initial draft of the manuscript. This work was supported by grants from the NIMH (R01 MH096274 to J.A.G., F31 MH102041 to S.S.B. and F30 MH107204 to J.M.S.); by the Hope for Depression Research Foundation (to J.A.G.); and by the Irma Hirschl Trust (to C.K.). This article was prepared while J.A.G. was employed at the Department of Psychiatry at Columbia University and NYSPI. The opinions expressed in this article are the author's own and do not reflect the view of the National Institutes of Health, the Department of Health and Human Services or the United States government.
Ethics declarations
Competing interests
The authors declare no competing financial interests.
Integrated supplementary information
Supplementary information
Supplementary Figures 1–11 (PDF 1411 kb)
Supplementary Methods (PDF 144 kb)
About this article
Cite this article
Bolkan, S., Stujenske, J., Parnaudeau, S. et al. Thalamic projections sustain prefrontal activity during working memory maintenance. Nat Neurosci 20, 987–996 (2017). https://doi.org/10.1038/nn.4568
Received:

Accepted:

Published:

Issue Date:

DOI: https://doi.org/10.1038/nn.4568