Abstract
While human cognitive abilities are clearly unique, underlying changes in brain organization and function remain unresolved. Here we characterized the transcriptome of the cortical layers and adjacent white matter in the prefrontal cortexes of humans, chimpanzees and rhesus macaques using unsupervised sectioning followed by RNA sequencing. More than 20% of detected genes were expressed predominantly in one layer, yielding 2,320 human layer markers. While the bulk of the layer markers were conserved among species, 376 switched their expression to another layer in humans. By contrast, only 133 of such changes were detected in the chimpanzee brain, suggesting acceleration of cortical reorganization on the human evolutionary lineage. Immunohistochemistry experiments further showed that human-specific expression changes were not limited to neurons but affected a broad spectrum of cortical cell types. Thus, despite apparent histological conservation, human neocortical organization has undergone substantial changes affecting more than 5% of its transcriptome.
Relevant articles
Open Access articles citing this article.
Weifen Sun

,

Gangcai Xie

…

Xiling Liu

BMC Biology Open Access 24 May 2023

Natasha Andressa Nogueira Jorge

,

Uwe Ueberham

…

Thomas Arendt

Scientific Reports Open Access 12 October 2021
Access options
Access Nature and 54 other Nature Portfolio journals
Get Nature+, our best-value online-access subscription
$29.99 / 30 days
cancel any time
Subscribe to this journal
Receive 12 print issues and online access
$189.00 per year
only $15.75 per issue
Rent or buy this article
Get just this article for as long as you need it
$39.95
Prices may be subject to local taxes which are calculated during checkout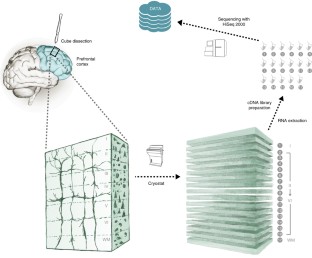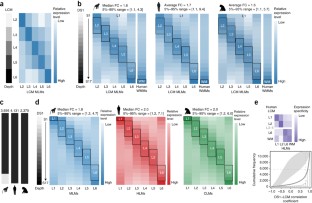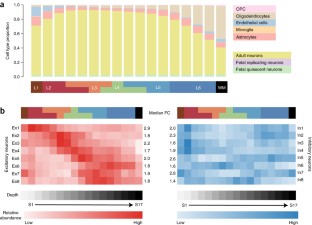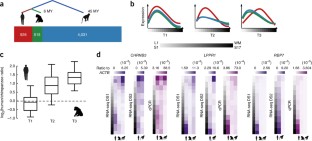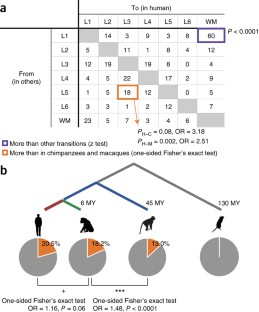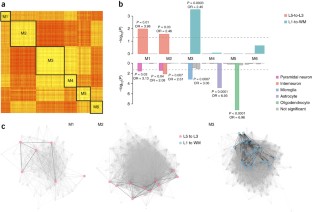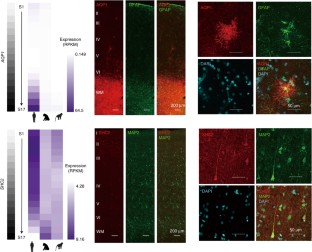 Accession codes
Accessions
BioProject
Sequence Read Archive
References
Northcutt, R.G. & Kaas, J.H. The emergence and evolution of mammalian neocortex. Trends Neurosci. 18, 373–379 (1995).

Jeon, H.A. & Friederici, A.D. Degree of automaticity and the prefrontal cortex. Trends Cogn. Sci. 19, 244–250 (2015).10.1016/j.tics.2015.03.003

Jeon, H.A. & Friederici, A.D. Two principles of organization in the prefrontal cortex are cognitive hierarchy and degree of automaticity. Nat. Commun. 4, 2041 (2013).

Khaitovich, P., Enard, W., Lachmann, M. & Pääbo, S. Evolution of primate gene expression. Nat. Rev. Genet. 7, 693–702 (2006).

Somel, M. et al. Transcriptional neoteny in the human brain. Proc. Natl. Acad. Sci. USA 106, 5743–5748 (2009).

Liu, X. et al. Extension of cortical synaptic development distinguishes humans from chimpanzees and macaques. Genome Res. 22, 611–622 (2012).

Defelipe, J. The evolution of the brain, the human nature of cortical circuits, and intellectual creativity. Front. Neuroanat. 5, 29 (2011).

Belgard, T.G. et al. A transcriptomic atlas of mouse neocortical layers. Neuron 71, 605–616 (2011).

Wang, W.Z., Oeschger, F.M., Lee, S. & Molnár, Z. High quality RNA from multiple brain regions simultaneously acquired by laser capture microdissection. BMC Mol. Biol. 10, 69 (2009).

Bernard, A. et al. Transcriptional architecture of the primate neocortex. Neuron 73, 1083–1099 (2012).

Lein, E.S. et al. Genome-wide atlas of gene expression in the adult mouse brain. Nature 445, 168–176 (2007).

Zeng, H. et al. Large-scale cellular-resolution gene profiling in human neocortex reveals species-specific molecular signatures. Cell 149, 483–496 (2012).

Bauernfeind, A.L. et al. High spatial resolution proteomic comparison of the brain in humans and chimpanzees. J. Comp. Neurol. 523, 2043–2061 (2015).10.1002/cne.23777

Paul, C.A., Beltz, B. & Berger-Sweeney, J. Sectioning of brain tissues. Cold Spring Harb. Protoc. 2008, ip42 (2008).

Peng, G. et al. Spatial transcriptome for the molecular annotation of lineage fates and cell identity in mid-gastrula mouse embryo. Dev. Cell 36, 681–697 (2016).

He, Z., Bammann, H., Han, D., Xie, G. & Khaitovich, P. Conserved expression of lincRNA during human and macaque prefrontal cortex development and maturation. RNA 20, 1103–1111 (2014).

Mills, J.D. et al. Unique transcriptome patterns of the white and grey matter corroborate structural and functional heterogeneity in the human frontal lobe. PLoS One 8, e78480 (2013).

Hevner, R.F. Layer-specific markers as probes for neuron type identity in human neocortex and malformations of cortical development. J. Neuropathol. Exp. Neurol. 66, 101–109 (2007).

Newman, A.M. et al. Robust enumeration of cell subsets from tissue expression profiles. Nat. Methods 12, 453–457 (2015).

Darmanis, S. et al. A survey of human brain transcriptome diversity at the single cell level. Proc. Natl. Acad. Sci. USA 112, 7285–7290 (2015).

Pelvig, D.P., Pakkenberg, H., Stark, A.K. & Pakkenberg, B. Neocortical glial cell numbers in human brains. Neurobiol. Aging 29, 1754–1762 (2008).10.1016/j.neurobiolaging.2007.04.013

Herculano-Houzel, S. The human brain in numbers: a linearly scaled-up primate brain. Front. Hum. Neurosci. 3, 31 (2009).

Filipchenko, R.E., Pevzner, L.Z. & Slonim, A.D. RNA content in the neurons and glia of the hypothalamic nuclei after intermittent cooling. Neurosci. Behav. Physiol. 7, 69–71 (1976).

Lake, B.B. et al. Neuronal subtypes and diversity revealed by single-nucleus RNA sequencing of the human brain. Science 352, 1586–1590 (2016).

Fertuzinhos, S. et al. Laminar and temporal expression dynamics of coding and noncoding RNAs in the mouse neocortex. Cell Rep. 6, 938–950 (2014).

Zhang, B. & Horvath, S. A general framework for weighted gene co-expression network analysis. Stat. Appl. Genet. Mol. Biol. 4, e17 (2005).

Zhang, Y. et al. An RNA-sequencing transcriptome and splicing database of glia, neurons, and vascular cells of the cerebral cortex. J. Neurosci. 34, 11929–11947 (2014).

Uhlén, M. et al. Proteomics. Tissue-based map of the human proteome. Science 347, 1260419 (2015).

Alfano, C. & Studer, M. Neocortical arealization: evolution, mechanisms, and open questions. Dev. Neurobiol. 73, 411–447 (2013).

Kaas, J.H. The evolution of brains from early mammals to humans. Wiley Interdiscip. Rev. Cogn. Sci. 4, 33–45 (2013).

Aboitiz, F., Montiel, J. & García, R.R. Ancestry of the mammalian preplate and its derivatives: evolutionary relicts or embryonic adaptations? Rev. Neurosci. 16, 359–376 (2005).

Kostović, I., Judaš, M. & Sedmak, G. Developmental history of the subplate zone, subplate neurons and interstitial white matter neurons: relevance for schizophrenia. Int. J. Dev. Neurosci. 29, 193–205 (2011).

Bystron, I., Blakemore, C. & Rakic, P. Development of the human cerebral cortex: Boulder Committee revisited. Nat. Rev. Neurosci. 9, 110–122 (2008).

Duque, A., Krsnik, Z., Kostović, I. & Rakic, P. Secondary expansion of the transient subplate zone in the developing cerebrum of human and nonhuman primates. Proc. Natl. Acad. Sci. USA 113, 9892–9897 (2016).10.1073/pnas.1610078113

Savaskan, N.E., Bräuer, A.U. & Nitsch, R. Molecular cloning and expression regulation of PRG-3, a new member of the plasticity-related gene family. Eur. J. Neurosci. 19, 212–220 (2004).10.1046/j.1460-9568.2003.03078.x

Wang, S.S., Betz, A.G. & Reed, R.R. Cloning of a novel Olf-1/EBF-like gene, O/E-4, by degenerate oligo-based direct selection. Mol. Cell. Neurosci. 20, 404–414 (2002).

Brodmann, K. Brodmann's Localisation in the Cerebral Cortex (Springer, 2006).

Petrides, M. Lateral prefrontal cortex: architectonic and functional organization. Philos. Trans. R. Soc. Lond. B. Biol. Sci. 360, 781–795 (2005).

Sallet, J. et al. The organization of dorsal frontal cortex in humans and macaques. J. Neurosci. 33, 12255–12274 (2013).

Mai, J.K., Majtanik, M. & Paxinos, G. Atlas of the Human Brain 4th edn. (Elsevier, 2016).

Paxinos, G., Huang, X.-F., Petrides, M. & Toga, A.W. The Rhesus Monkey Brain in Stereotaxic Coordinates 2nd edn. (Elsevier, 2009).

Rajkowska, G. & Goldman-Rakic, P.S. Cytoarchitectonic definition of prefrontal areas in the normal human cortex: I. Remapping of areas 9 and 46 using quantitative criteria. Cereb. Cortex 5, 307–322 (1995).

Semendeferi, K., Armstrong, E., Schleicher, A., Zilles, K. & Van Hoesen, G.W. Prefrontal cortex in humans and apes: a comparative study of area 10. Am. J. Phys. Anthropol. 114, 224–241 (2001).

Dobin, A. et al. STAR: ultrafast universal RNA-seq aligner. Bioinformatics 29, 15–21 (2013).

Wang, L. et al. Measure transcript integrity using RNA-seq data. BMC Bioinformatics 17, 58 (2016).

Zeisel, A. et al. Brain structure. Cell types in the mouse cortex and hippocampus revealed by single-cell RNA-seq. Science 347, 1138–1142 (2015).

Korzhevskii, D.E., Otellin, V.A. & Grigor'ev, I.P. Glial fibrillary acidic protein in astrocytes in the human neocortex. Neurosci. Behav. Physiol. 35, 789–792 (2005).10.1007/s11055-005-0125-y

Lyck, L., Dalmau, I., Chemnitz, J., Finsen, B. & Schrøder, H.D. Immunohistochemical markers for quantitative studies of neurons and glia in human neocortex. J. Histochem. Cytochem. 56, 201–221 (2008).

Schnell, S.A., Staines, W.A. & Wessendorf, M.W. Reduction of lipofuscin-like autofluorescence in fluorescently labeled tissue. J. Histochem. Cytochem. 47, 719–730 (1999).
Acknowledgements
We thank the Maryland Brain Collection Center and the Chinese Brain Bank Center for providing the human samples; the Biomedical Primate Research Centre, the Burgers' Zoo in Arnhem, and R. Martin and W. Scheffran (Zurich University, Anthropology Department, Zurich, Switzerland) for providing the chimpanzee samples; and the Suzhou Drug Safety Evaluation and Research Center and C. Lian, H. Cai and X. Zheng for providing the macaque samples. We thank G.L. Banes for his comments on the manuscript. This study was supported by the Strategic Priority Research Program of the Chinese Academy of Sciences (grant XDB13010200 to P.K.); the National Natural Science Foundation of China (grants 91331203, 31171232, 31501047 and 31420103920 to P.K.); the National One Thousand Foreign Experts Plan (grant WQ20123100078 to P.K.); the Bureau of International Cooperation, Chinese Academy of Sciences (grant GJHZ201313 to P.K.); and the Russian Science Foundation (grant 16-14-00220 to P.K.).
Ethics declarations
Competing interests
The authors declare no competing financial interests.
Integrated supplementary information
Supplementary information
About this article
Cite this article
He, Z., Han, D., Efimova, O. et al. Comprehensive transcriptome analysis of neocortical layers in humans, chimpanzees and macaques. Nat Neurosci 20, 886–895 (2017). https://doi.org/10.1038/nn.4548
Received:

Accepted:

Published:

Issue Date:

DOI: https://doi.org/10.1038/nn.4548