Abstract
Microglia constitute a highly specialized network of tissue-resident immune cells that is important for the control of tissue homeostasis and the resolution of diseases of the CNS. Little is known about how their spatial distribution is established and maintained in vivo. Here we establish a new multicolor fluorescence fate mapping system to monitor microglial dynamics during steady state and disease. Our findings suggest that microglia establish a dense network with regional differences, and the high regional turnover rates found challenge the universal concept of microglial longevity. Microglial self-renewal under steady state conditions constitutes a stochastic process. During pathology this randomness shifts to selected clonal microglial expansion. In the resolution phase, excess disease-associated microglia are removed by a dual mechanism of cell egress and apoptosis to re-establish the stable microglial network. This study unravels the dynamic yet discrete self-organization of mature microglia in the healthy and diseased CNS.
This is a preview of subscription content
Access options
Subscribe to Journal
Get full journal access for 1 year
$59.00
only $4.92 per issue
All prices are NET prices.
VAT will be added later in the checkout.
Tax calculation will be finalised during checkout.
Rent or Buy article
Get time limited or full article access on ReadCube.
from$8.99
All prices are NET prices.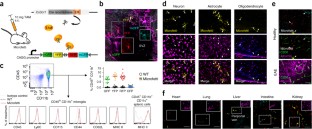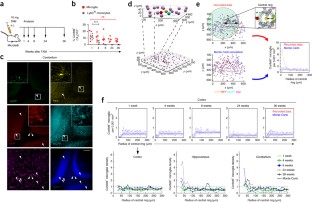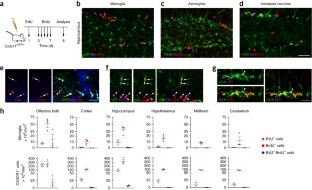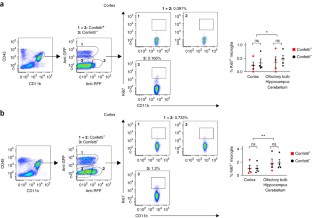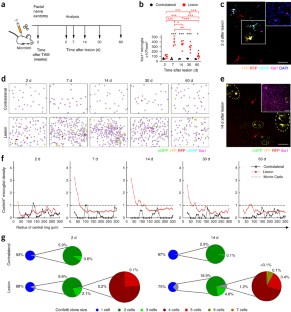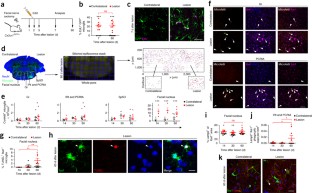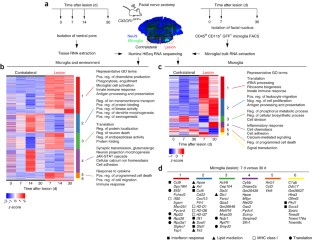 Accession codes
Primary accessions
European Nucleotide Archive
Gene Expression Omnibus
References
1

Hanisch, U.K. & Kettenmann, H. Microglia: active sensor and versatile effector cells in the normal and pathologic brain. Nat. Neurosci. 10, 1387–1394 (2007).

2

Prinz, M. & Priller, J. Microglia and brain macrophages in the molecular age: from origin to neuropsychiatric disease. Nat. Rev. Neurosci. 15, 300–312 (2014).

3

Ransohoff, R.M. & Perry, V.H. Microglial physiology: unique stimuli, specialized responses. Annu. Rev. Immunol. 27, 119–145 (2009).

4

Ginhoux, F. et al. Fate mapping analysis reveals that adult microglia derive from primitive macrophages. Science 330, 841–845 (2010).

5

Gomez Perdiguero, E. et al. Tissue-resident macrophages originate from yolk-sac-derived erythro-myeloid progenitors. Nature 518, 547–551 (2015).

6

Hashimoto, D. et al. Tissue-resident macrophages self-maintain locally throughout adult life with minimal contribution from circulating monocytes. Immunity 38, 792–804 (2013).

7

Hagemeyer, N. et al. Transcriptome-based profiling of yolk sac-derived macrophages reveals a role for Irf8 in macrophage maturation. EMBO J. 35, 1730–1744 (2016).

8

Kierdorf, K. et al. Microglia emerge from erythromyeloid precursors via Pu.1- and Irf8-dependent pathways. Nat. Neurosci. 16, 273–280 (2013).

9

Schulz, C. et al. A lineage of myeloid cells independent of Myb and hematopoietic stem cells. Science 336, 86–90 (2012).

10

Sheng, J., Ruedl, C. & Karjalainen, K. Most tissue-resident macrophages except microglia are derived from fetal hematopoietic stem cells. Immunity 43, 382–393 (2015).

11

Goldmann, T. et al. Origin, fate and dynamics of macrophages at central nervous system interfaces. Nat. Immunol. 17, 797–805 (2016).

12

Grabert, K. et al. Microglial brain region-dependent diversity and selective regional sensitivities to aging. Nat. Neurosci. 19, 504–516 (2016).

13

Shemer, A., Erny, D., Jung, S. & Prinz, M. Microglia plasticity during health and disease: an immunological perspective. Trends Immunol. 36, 614–624 (2015).

14

Bruttger, J. et al. Genetic cell ablation reveals clusters of local self-renewing microglia in the mammalian central nervous system. Immunity 43, 92–106 (2015).

15

Elmore, M.R.P. et al. Colony-stimulating factor 1 receptor signaling is necessary for microglia viability, unmasking a microglia progenitor cell in the adult brain. Neuron 82, 380–397 (2014).

16

Sieweke, M.H. & Allen, J.E. Beyond stem cells: self-renewal of differentiated macrophages. Science 342, 1242974 (2013).

17

Ajami, B., Bennett, J.L., Krieger, C., Tetzlaff, W. & Rossi, F.M.V. Local self-renewal can sustain CNS microglia maintenance and function throughout adult life. Nat. Neurosci. 10, 1538–1543 (2007).

18

Mildner, A. et al. Microglia in the adult brain arise from Ly-6ChiCCR2+ monocytes only under defined host conditions. Nat. Neurosci. 10, 1544–1553 (2007).

19

Mildner, A. et al. Distinct and non-redundant roles of microglia and myeloid subsets in mouse models of Alzheimer's disease. J. Neurosci. 31, 11159–11171 (2011).

20

Davalos, D. et al. ATP mediates rapid microglial response to local brain injury in vivo. Nat. Neurosci. 8, 752–758 (2005).

21

Nimmerjahn, A., Kirchhoff, F. & Helmchen, F. Resting microglial cells are highly dynamic surveillants of brain parenchyma in vivo. Science 308, 1314–1318 (2005).

22

Lawson, L.J., Perry, V.H., Dri, P. & Gordon, S. Heterogeneity in the distribution and morphology of microglia in the normal adult mouse brain. Neuroscience 39, 151–170 (1990).

23

Jung, S. et al. Analysis of fractalkine receptor CX3CR1 function by targeted deletion and green fluorescent protein reporter gene insertion. Mol. Cell. Biol. 20, 4106–4114 (2000).

24

Parkhurst, C.N. et al. Microglia promote learning-dependent synapse formation through brain-derived neurotrophic factor. Cell 155, 1596–1609 (2013).

25

Goldmann, T. et al. A new type of microglia gene targeting shows TAK1 to be pivotal in CNS autoimmune inflammation. Nat. Neurosci. 16, 1618–1626 (2013).

26

Yona, S. et al. Fate mapping reveals origins and dynamics of monocytes and tissue macrophages under homeostasis. Immunity 38, 79–91 (2013).

27

Wieghofer, P., Knobeloch, K.P. & Prinz, M. Genetic targeting of microglia. Glia 63, 1–22 (2015).

28

Lawson, L.J., Perry, V.H. & Gordon, S. Turnover of resident microglia in the normal adult mouse brain. Neuroscience 48, 405–415 (1992).

29

Ajami, B., Bennett, J.L., Krieger, C., McNagny, K.M. & Rossi, F.M.V. Infiltrating monocytes trigger EAE progression, but do not contribute to the resident microglia pool. Nat. Neurosci. 14, 1142–1149 (2011).

30

Gómez-Nicola, D., Fransen, N.L., Suzzi, S. & Perry, V.H. Regulation of microglial proliferation during chronic neurodegeneration. J. Neurosci. 33, 2481–2493 (2013).

31

Olmos-Alonso, A. et al. Pharmacological targeting of CSF1R inhibits microglial proliferation and prevents the progression of Alzheimer's-like pathology. Brain 139, 891–907 (2016).

32

Snippert, H.J. et al. Intestinal crypt homeostasis results from neutral competition between symmetrically dividing Lgr5 stem cells. Cell 143, 134–144 (2010).

33

Wuidart, A. et al. Quantitative lineage tracing strategies to resolve multipotency in tissue-specific stem cells. Genes Dev. 30, 1261–1277 (2016).

34

Ghigo, C. et al. Multicolor fate mapping of Langerhans cell homeostasis. J. Exp. Med. 210, 1657–1664 (2013).

35

Alliot, F., Godin, I. & Pessac, B. Microglia derive from progenitors, originating from the yolk sac, and which proliferate in the brain. Brain Res. Dev. Brain Res. 117, 145–152 (1999).

36

Gosselin, D. et al. Environment drives selection and function of enhancers controlling tissue-specific macrophage identities. Cell 159, 1327–1340 (2014).

37

Lavin, Y. et al. Tissue-resident macrophage enhancer landscapes are shaped by the local microenvironment. Cell 159, 1312–1326 (2014).

38

Xu, J. et al. Temporal-spatial resolution fate mapping reveals distinct origins for embryonic and adult microglia in zebrafish. Dev. Cell 34, 632–641 (2015).

39

Gallego, B.I. et al. IOP induces upregulation of GFAP and MHC-II and microglia reactivity in mice retina contralateral to experimental glaucoma. J. Neuroinflammation 9, 92 (2012).

40

Cen, L.P. et al. Bilateral retinal microglial response to unilateral optic nerve transection in rats. Neuroscience 311, 56–66 (2015).

41

Bellingan, G.J., Caldwell, H., Howie, S.E., Dransfield, I. & Haslett, C. In vivo fate of the inflammatory macrophage during the resolution of inflammation: inflammatory macrophages do not die locally, but emigrate to the draining lymph nodes. J. Immunol. 157, 2577–2585 (1996).

42

Gautier, E.L., Ivanov, S., Lesnik, P. & Randolph, G.J. Local apoptosis mediates clearance of macrophages from resolving inflammation in mice. Blood 122, 2714–2722 (2013).

43

Schwab, J.M., Chiang, N., Arita, M. & Serhan, C.N. Resolvin E1 and protectin D1 activate inflammation-resolution programmes. Nature 447, 869–874 (2007).

44

Drew, P.J. et al. Chronic optical access through a polished and reinforced thinned skull. Nat. Methods 7, 981–984 (2010).

45

Preibisch, S., Saalfeld, S. & Tomancak, P. Globally optimal stitching of tiled 3D microscopic image acquisitions. Bioinformatics 25, 1463–1465 (2009).

46

Shankaran, M. et al. Measurement of brain microglial proliferation rates in vivo in response to neuroinflammatory stimuli: application to drug discovery. J. Neurosci. Res. 85, 2374–2384 (2007).

47

Salic, A. & Mitchison, T.J. A chemical method for fast and sensitive detection of DNA synthesis in vivo. Proc. Natl. Acad. Sci. USA 105, 2415–2420 (2008).

48

Emmenlauer, M. et al. XuvTools: free, fast and reliable stitching of large 3D datasets. J. Microsc. 233, 42–60 (2009).

49

Kim, D., Langmead, B. & Salzberg, S.L. HISAT: a fast spliced aligner with low memory requirements. Nat. Methods 12, 357–360 (2015).

50

Liao, Y., Smyth, G.K. & Shi, W. The Subread aligner: fast, accurate and scalable read mapping by seed-and-vote. Nucleic Acids Res. 41, e108 (2013).

51

Love, M.I., Huber, W. & Anders, S. Moderated estimation of fold change and dispersion for RNA-seq data with DESeq2. Genome Biol. 15, 550 (2014).

52

Alexa, A. & Rahnenfuhrer, J. TopGO: enrichment analysis for gene ontology. R package version 2.26.0 (2016).
Acknowledgements
The authors thank H. Snippert (University Medical Center Utrecht) and H. Clevers (Hubrecht Institute) for the R26RConfetti mouse line, M. Follo and team at Lighthouse Fluorescence Technologies Core Facility, T. Blank for critical feedback, J. Bührer for technical support, and CEMT, University of Freiburg for excellent animal care. T.L.T. is supported by the German Research Foundation (DFG, TA1029/1-1) and Ministry of Science, Research and the Arts, Baden-Wuerttemberg (Research Seed Capital). M.P. is supported by the BMBF Competence Network of Multiple Sclerosis (KKNMS), the Sobek-Stiftung and the DFG (SFB992, SFB1140, Reinhart-Koselleck grant). F.F.-K., J.A.P., S.J., J.P. and M.P. are supported by the SFB/TRR167 "NeuroMac".
Ethics declarations
Competing interests
The authors declare no competing financial interests.
Integrated supplementary information
Supplementary information
About this article
Cite this article
Tay, T., Mai, D., Dautzenberg, J. et al. A new fate mapping system reveals context-dependent random or clonal expansion of microglia. Nat Neurosci 20, 793–803 (2017). https://doi.org/10.1038/nn.4547
Received:

Accepted:

Published:

Issue Date: