Abstract
Blood flow into the brain is dynamically regulated to satisfy the changing metabolic requirements of neurons, but how this is accomplished has remained unclear. Here we demonstrate a central role for capillary endothelial cells in sensing neural activity and communicating it to upstream arterioles in the form of an electrical vasodilatory signal. We further demonstrate that this signal is initiated by extracellular K+ —a byproduct of neural activity—which activates capillary endothelial cell inward-rectifier K+ (KIR2.1) channels to produce a rapidly propagating retrograde hyperpolarization that causes upstream arteriolar dilation, increasing blood flow into the capillary bed. Our results establish brain capillaries as an active sensory web that converts changes in external K+ into rapid, 'inside-out' electrical signaling to direct blood flow to active brain regions.
Relevant articles
Open Access articles citing this article.
Braxton Phillips

,

Jenna Clark

…

Ravi L. Rungta

Communications Biology Open Access 06 May 2023

Justine S. C. Palhol

,

Maddalena Balia

…

Arne Battefeld

Fluids and Barriers of the CNS Open Access 03 April 2023

Yosuke Hashimoto

,

Chris Greene

…

Matthew Campbell

Fluids and Barriers of the CNS Open Access 28 March 2023
Access options
Access Nature and 54 other Nature Portfolio journals
Get Nature+, our best-value online-access subscription
$29.99 / 30 days
cancel any time
Subscribe to this journal
Receive 12 print issues and online access
$209.00 per year
only $17.42 per issue
Rent or buy this article
Prices vary by article type
from$1.95
to$39.95
Prices may be subject to local taxes which are calculated during checkout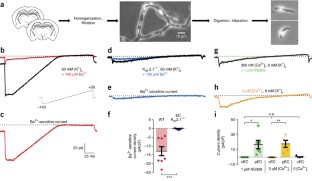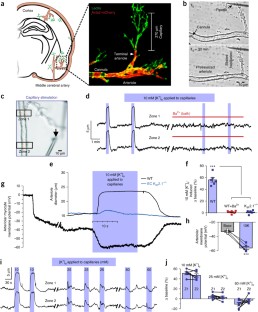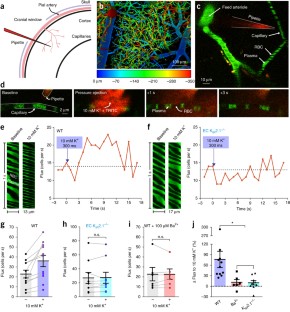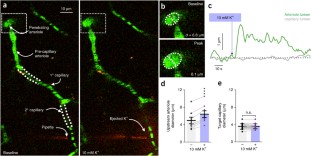 Accession codes
Accessions
NCBI Reference Sequence
References
Iadecola, C. & Nedergaard, M. Glial regulation of the cerebral microvasculature. Nat. Neurosci. 10, 1369–1376 (2007).

Uhlirova, H. et al. Cell type specificity of neurovascular coupling in cerebral cortex. eLife 5, e14315 (2016).

Attwell, D. et al. Glial and neuronal control of brain blood flow. Nature 468, 232–243 (2010).

Nishimura, N., Schaffer, C.B., Friedman, B., Lyden, P.D. & Kleinfeld, D. Penetrating arterioles are a bottleneck in the perfusion of neocortex. Proc. Natl. Acad. Sci. USA 104, 365–370 (2007).

Blinder, P. et al. The cortical angiome: an interconnected vascular network with noncolumnar patterns of blood flow. Nat. Neurosci. 16, 889–897 (2013).

Beach, J.M., McGahren, E.D. & Duling, B.R. Capillaries and arterioles are electrically coupled in hamster cheek pouch. Am. J. Physiol. 275, H1489–H1496 (1998).

Aydin, F., Rosenblum, W.I. & Povlishock, J.T. Myoendothelial junctions in human brain arterioles. Stroke 22, 1592–1597 (1991).

Nelson, M.T., Patlak, J.B., Worley, J.F. & Standen, N.B. Calcium channels, potassium channels, and voltage dependence of arterial smooth muscle tone. Am. J. Physiol. 259, C3–C18 (1990).

Ballanyi, K., Doutheil, J. & Brockhaus, J. Membrane potentials and microenvironment of rat dorsal vagal cells in vitro during energy depletion. J. Physiol. (Lond.) 495, 769–784 (1996).

Longden, T.A. & Nelson, M.T. Vascular inward rectifier K+ channels as external K+ sensors in the control of cerebral blood flow. Microcirculation 22, 183–196 (2015).

Quayle, J.M., Nelson, M.T. & Standen, N.B. ATP-sensitive and inwardly rectifying potassium channels in smooth muscle. Physiol. Rev. 77, 1165–1232 (1997).

Filosa, J.A. et al. Local potassium signaling couples neuronal activity to vasodilation in the brain. Nat. Neurosci. 9, 1397–1403 (2006).

Ledoux, J. et al. Functional architecture of inositol 1,4,5-trisphosphate signaling in restricted spaces of myoendothelial projections. Proc. Natl. Acad. Sci. USA 105, 9627–9632 (2008).

Quayle, J.M., McCarron, J.G., Brayden, J.E. & Nelson, M.T. Inward rectifier K+ currents in smooth muscle cells from rat resistance-sized cerebral arteries. Am. J. Physiol. 265, C1363–C1370 (1993).

Hibino, H. et al. Inwardly rectifying potassium channels: their structure, function, and physiological roles. Physiol. Rev. 90, 291–366 (2010).

Zaritsky, J.J., Eckman, D.M., Wellman, G.C., Nelson, M.T. & Schwarz, T.L. Targeted disruption of Kir2.1 and Kir2.2 genes reveals the essential role of the inwardly rectifying K(+) current in K(+)-mediated vasodilation. Circ. Res. 87, 160–166 (2000).

Ye, W. et al. The K+ channel KIR2.1 functions in tandem with proton influx to mediate sour taste transduction. Proc. Natl. Acad. Sci. USA 113, E229–E238 (2016).

Sonkusare, S.K., Dalsgaard, T., Bonev, A.D. & Nelson, M.T. Inward rectifier potassium (Kir2.1) channels as end-stage boosters of endothelium-dependent vasodilators. J. Physiol. (Lond.) 594, 3271–3285 (2016).

Ledoux, J., Werner, M.E., Brayden, J.E. & Nelson, M.T. Calcium-activated potassium channels and the regulation of vascular tone. Physiology (Bethesda) 21, 69–78 (2006).

Strøbaek, D. et al. Activation of human IK and SK Ca2+ -activated K+ channels by NS309 (6,7-dichloro-1H-indole-2,3-dione 3-oxime). Biochim. Biophys. Acta 1665, 1–5 (2004).

Dabertrand, F. et al. Potassium channelopathy-like defect underlies early-stage cerebrovascular dysfunction in a genetic model of small vessel disease. Proc. Natl. Acad. Sci. USA 112, E796–E805 (2015).

Dabertrand, F. et al. Prostaglandin E2, a postulated astrocyte-derived neurovascular coupling agent, constricts rather than dilates parenchymal arterioles. J. Cereb. Blood Flow Metab. 33, 479–482 (2013).

Dabertrand, F., Nelson, M.T. & Brayden, J.E. Acidosis dilates brain parenchymal arterioles by conversion of calcium waves to sparks to activate BK channels. Circ. Res. 110, 285–294 (2012).

Hannah, R.M., Dunn, K.M., Bonev, A.D. & Nelson, M.T. Endothelial SK(Ca) and IK(Ca) channels regulate brain parenchymal arteriolar diameter and cortical cerebral blood flow. J. Cereb. Blood Flow Metab. 31, 1175–1186 (2011).

Nystoriak, M.A. et al. Fundamental increase in pressure-dependent constriction of brain parenchymal arterioles from subarachnoid hemorrhage model rats due to membrane depolarization. Am. J. Physiol. Heart Circ. Physiol. 300, H803–H812 (2011).

Knot, H.J., Zimmermann, P.A. & Nelson, M.T. Extracellular K(+)-induced hyperpolarizations and dilatations of rat coronary and cerebral arteries involve inward rectifier K(+) channels. J. Physiol. (Lond.) 492, 419–430 (1996).

Girouard, H. et al. Astrocytic endfoot Ca2+ and BK channels determine both arteriolar dilation and constriction. Proc. Natl. Acad. Sci. USA 107, 3811–3816 (2010).

Ayata, C. & Lauritzen, M. Spreading depression, spreading depolarizations, and the cerebral vasculature. Physiol. Rev. 95, 953–993 (2015).

Toussay, X., Basu, K., Lacoste, B. & Hamel, E. Locus coeruleus stimulation recruits a broad cortical neuronal network and increases cortical perfusion. J. Neurosci. 33, 3390–3401 (2013).

Vetri, F., Xu, H., Paisansathan, C. & Pelligrino, D.A. Impairment of neurovascular coupling in type 1 diabetes mellitus in rats is linked to PKC modulation of BK(Ca) and Kir channels. Am. J. Physiol. Heart Circ. Physiol. 302, H1274–H1284 (2012).

Masamoto, K. et al. Unveiling astrocytic control of cerebral blood flow with optogenetics. Sci. Rep. 5, 11455 (2015).

Leithner, C. et al. Pharmacological uncoupling of activation induced increases in CBF and CMRO2. J. Cereb. Blood Flow Metab. 30, 311–322 (2010).

Shih, A.Y. et al. Robust and fragile aspects of cortical blood flow in relation to the underlying angioarchitecture. Microcirculation 22, 204–218 (2015).

García-Amado, M. & Prensa, L. Stereological analysis of neuron, glial and endothelial cell numbers in the human amygdaloid complex. PLoS One 7, e38692 (2012).

Tsai, P.S. et al. Correlations of neuronal and microvascular densities in murine cortex revealed by direct counting and colocalization of nuclei and vessels. J. Neurosci. 29, 14553–14570 (2009).

Simard, M., Arcuino, G., Takano, T., Liu, Q.S. & Nedergaard, M. Signaling at the gliovascular interface. J. Neurosci. 23, 9254–9262 (2003).

Cauli, B. et al. Cortical GABA interneurons in neurovascular coupling: relays for subcortical vasoactive pathways. J. Neurosci. 24, 8940–8949 (2004).

Zhang, T., Wu, D.M., Xu, G.-Z. & Puro, D.G. The electrotonic architecture of the retinal microvasculature: modulation by angiotensin II. J. Physiol. (Lond.) 589, 2383–2399 (2011).

Figueroa, X.F. & Duling, B.R. Gap junctions in the control of vascular function. Antioxid. Redox Signal. 11, 251–266 (2009).

Zhang, Y. et al. An RNA-sequencing transcriptome and splicing database of glia, neurons, and vascular cells of the cerebral cortex. J. Neurosci. 34, 11929–11947 (2014).

Kuschinsky, W., Wahl, M., Bosse, O. & Thurau, K. Perivascular potassium and pH as determinants of local pial arterial diameter in cats. A microapplication study. Circ. Res. 31, 240–247 (1972).

Daut, J., Standen, N.B. & Nelson, M.T. The role of the membrane potential of endothelial and smooth muscle cells in the regulation of coronary blood flow. J. Cardiovasc. Electrophysiol. 5, 154–181 (1994).

Hall, C.N. et al. Capillary pericytes regulate cerebral blood flow in health and disease. Nature 508, 55–60 (2014).

Wu, D.M., Minami, M., Kawamura, H. & Puro, D.G. Electrotonic transmission within pericyte-containing retinal microvessels. Microcirculation 13, 353–363 (2006).

Matsushita, K. & Puro, D.G. Topographical heterogeneity of K(IR) currents in pericyte-containing microvessels of the rat retina: effect of diabetes. J. Physiol. (Lond.) 573, 483–495 (2006).

Wei, H.S. et al. Erythrocytes are oxygen-sensing regulators of the cerebral microcirculation. Neuron 91, 851–862 (2016).

Chen, B.R., Kozberg, M.G., Bouchard, M.B., Shaik, M.A. & Hillman, E.M.C. A critical role for the vascular endothelium in functional neurovascular coupling in the brain. J. Am. Heart Assoc. 3, e000787 (2014).

Westcott, E.B., Goodwin, E.L., Segal, S.S. & Jackson, W.F. Function and expression of ryanodine receptors and inositol 1,4,5-trisphosphate receptors in smooth muscle cells of murine feed arteries and arterioles. J. Physiol. (Lond.) 590, 1849–1869 (2012).

Barry, J.M. et al. Temporal coordination of hippocampal neurons reflects cognitive outcome post-febrile status epilepticus. EBioMedicine 7, 175–190 (2016).

Mitra, P. & Bokil, H. Observed Brain Dynamics (Oxford University Press, 2008).
Acknowledgements
The authors gratefully acknowledge J. Barry for assistance with local field potential recordings and analysis, and S. O'Dwyer and M. Ross for technical assistance. This study was supported by a postdoctoral fellowship (14POST20480144 to T.A.L.) and a scientist development grant (14SDG20150027 to M.K.) from the American Heart Association, and grants from the United Leukodystrophy Foundation (to F.D.), the Totman Medical Research Trust (to M.T.N.), Fondation Leducq (to M.T.N.), European Union's Horizon 2020 research and innovation programme (grant agreement No 666881, SVDs@target, to M.T.N.), and National Institutes of Health (R01-HL-136636 to F.D.; T32HL-007594 to A.L.G.; K01-DK103840 to N.R.T.; P30-GM-103498 to the COBRE imaging facility at UVM College of Medicine; P01-HL-095488, R01-HL-121706, R37-DK-053832, 7UM-HL-1207704 and R01-HL-131181 to M.T.N.).
Ethics declarations
Competing interests
The authors declare no competing financial interests.
Integrated supplementary information
Supplementary information
About this article
Cite this article
Longden, T., Dabertrand, F., Koide, M. et al. Capillary K+-sensing initiates retrograde hyperpolarization to increase local cerebral blood flow. Nat Neurosci 20, 717–726 (2017). https://doi.org/10.1038/nn.4533
Received:

Accepted:

Published:

Issue Date:

DOI: https://doi.org/10.1038/nn.4533