The rate of development of the brain connectome distinguishes adolescents with and without psychiatric symptoms. Those with symptoms exhibit delayed development of connectome distinctiveness as compared to healthy adolescents.
Access options
Subscribe to Journal
Get full journal access for 1 year
$59.00
only $4.92 per issue
All prices are NET prices.
VAT will be added later in the checkout.
Tax calculation will be finalised during checkout.
Rent or Buy article
Get time limited or full article access on ReadCube.
from$8.99
All prices are NET prices.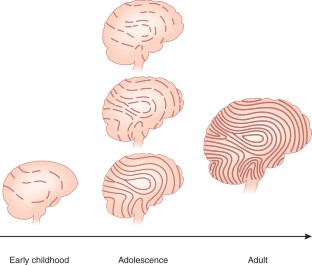 References
1

Lee, F.S. et al. Science 346, 547–549 (2014).

2

Centers for Disease Control and Prevention. https://nccd.cdc.gov/YouthOnline/App/Default.aspx (2015).

3

World Health Organization (WHO). Economic Aspects of Mental Health in Children and Adolescents (WHO, Geneva, 2007).

4

Etkin, A. Lancet Psychiatry 3, 12–13 (2016).

5

Galván, A. Neuron 83, 262–265 (2014).

6

Finn, E.S. et al. Nat. Neurosci. 18, 1664–1671 (2015).

7

Kaufmann, T. et al. Nat. Neurosci. 20, 513–515 (2017).

8

Sherman, L.E. et al. Dev. Cogn. Neurosci. 10, 148–159 (2014).

9

Piekarski, D.J. et al. Brain Res. 1654 Pt B, 123–144 (2017).

10

Stevens, M.C. Neurosci. Biobehav. Rev. 70, 13–32 (2016).
Ethics declarations
Competing interests
The author declares no competing financial interests.
About this article
Cite this article
Galván, A. Adolescence, brain maturation and mental health. Nat Neurosci 20, 503–504 (2017). https://doi.org/10.1038/nn.4530