Abstract
Neurons and neural networks often extend hundreds of micrometers in three dimensions. Capturing the calcium transients associated with their activity requires volume imaging methods with subsecond temporal resolution. Such speed is a challenge for conventional two-photon laser-scanning microscopy, because it depends on serial focal scanning in 3D and indicators with limited brightness. Here we present an optical module that is easily integrated into standard two-photon laser-scanning microscopes to generate an axially elongated Bessel focus, which when scanned in 2D turns frame rate into volume rate. We demonstrated the power of this approach in enabling discoveries for neurobiology by imaging the calcium dynamics of volumes of neurons and synapses in fruit flies, zebrafish larvae, mice and ferrets in vivo. Calcium signals in objects as small as dendritic spines could be resolved at video rates, provided that the samples were sparsely labeled to limit overlap in their axially projected images.
Relevant articles
Open Access articles citing this article.
Xinyang Li

,

Yixin Li

…

Qionghai Dai

Nature Biotechnology Open Access 26 September 2022

Lu Bai

,

Zhenkun Zhang

…

Kai Wang

Neuroscience Bulletin Open Access 08 August 2022

Ching-Pu Chang

,

Kohei Otomo

…

Tomomi Nemoto

Scientific Reports Open Access 21 June 2022
Access options
Subscribe to Nature+
Get immediate online access to Nature and 55 other Nature journal
Subscribe to Journal
Get full journal access for 1 year
$79.00
only $6.58 per issue
All prices are NET prices.
VAT will be added later in the checkout.
Tax calculation will be finalised during checkout.
Buy article
Get time limited or full article access on ReadCube.
$32.00
All prices are NET prices.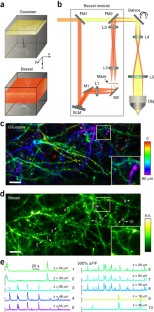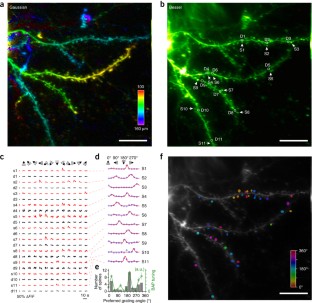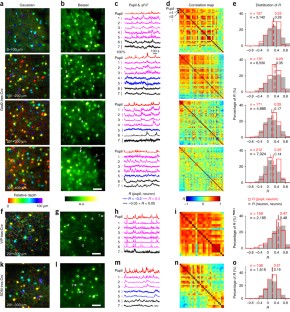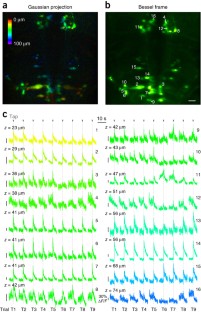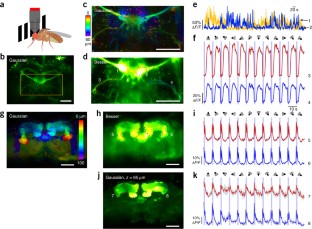 References
Denk, W., Strickler, J.H. & Webb, W.W. Two-photon laser scanning fluorescence microscopy. Science 248, 73–76 (1990).

Welford, W.T. Use of annular apertures to increase focal depth. J. Opt. Soc. Am. 50, 749–753 (1960).

Botcherby, E.J., Juškaitis, R. & Wilson, T. Scanning two photon fluorescence microscopy with extended depth of field. Opt. Commun. 268, 253–260 (2006).

Thériault, G., De Koninck, Y. & McCarthy, N. Extended depth of field microscopy for rapid volumetric two-photon imaging. Opt. Express 21, 10095–10104 (2013).

Thériault, G., Cottet, M., Castonguay, A., McCarthy, N. & De Koninck, Y. Extended two-photon microscopy in live samples with Bessel beams: steadier focus, faster volume scans, and simpler stereoscopic imaging. Front. Cell. Neurosci. 8, 139 (2014).

Dombeck, D.A., Khabbaz, A.N., Collman, F., Adelman, T.L. & Tank, D.W. Imaging large-scale neural activity with cellular resolution in awake, mobile mice. Neuron 56, 43–57 (2007).

Andermann, M.L., Kerlin, A.M. & Reid, R.C. Chronic cellular imaging of mouse visual cortex during operant behavior and passive viewing. Front. Cell. Neurosci. 4, 3 (2010).

Thévenaz, P., Ruttimann, U.E. & Unser, M. A pyramid approach to subpixel registration based on intensity. IEEE Trans. Image Process. 7, 27–41 (1998).

Jia, H., Rochefort, N.L., Chen, X. & Konnerth, A. Dendritic organization of sensory input to cortical neurons in vivo. Nature 464, 1307–1312 (2010).

Chen, X., Leischner, U., Rochefort, N.L., Nelken, I. & Konnerth, A. Functional mapping of single spines in cortical neurons in vivo. Nature 475, 501–505 (2011).

Chen, T.-W. et al. Ultrasensitive fluorescent proteins for imaging neuronal activity. Nature 499, 295–300 (2013).

Wilson, D.E., Whitney, D.E., Scholl, B. & Fitzpatrick, D. Orientation selectivity and the functional clustering of synaptic inputs in primary visual cortex. Nat. Neurosci. 19, 1003–1009 (2016).

Kubota, Y. Untangling GABAergic wiring in the cortical microcircuit. Curr. Opin. Neurobiol. 26, 7–14 (2014).

Sohya, K., Kameyama, K., Yanagawa, Y., Obata, K. & Tsumoto, T. GABAergic neurons are less selective to stimulus orientation than excitatory neurons in layer II/III of visual cortex, as revealed by in vivo functional Ca2+ imaging in transgenic mice. J. Neurosci. 27, 2145–2149 (2007).

Liu, B.H. et al. Visual receptive field structure of cortical inhibitory neurons revealed by two-photon imaging guided recording. J. Neurosci. 29, 10520–10532 (2009).

Kameyama, K. et al. Difference in binocularity and ocular dominance plasticity between GABAergic and excitatory cortical neurons. J. Neurosci. 30, 1551–1559 (2010).

Runyan, C.A. et al. Response features of parvalbumin-expressing interneurons suggest precise roles for subtypes of inhibition in visual cortex. Neuron 67, 847–857 (2010).

Taniguchi, H. et al. A resource of Cre driver lines for genetic targeting of GABAergic neurons in cerebral cortex. Neuron 71, 995–1013 (2011).

Polack, P.-O., Friedman, J. & Golshani, P. Cellular mechanisms of brain state-dependent gain modulation in visual cortex. Nat. Neurosci. 16, 1331–1339 (2013).

Fu, Y. et al. A cortical circuit for gain control by behavioral state. Cell 156, 1139–1152 (2014).

Kerlin, A.M., Andermann, M.L., Berezovskii, V.K. & Reid, R.C. Broadly tuned response properties of diverse inhibitory neuron subtypes in mouse visual cortex. Neuron 67, 858–871 (2010).

McGinley, M.J. et al. Waking state: rapid variations modulate neural and behavioral responses. Neuron 87, 1143–1161 (2015).

Göbel, W. & Helmchen, F. In vivo calcium imaging of neural network function. Physiology (Bethesda) 22, 358–365 (2007).

Reimer, J. et al. Pupil fluctuations track fast switching of cortical states during quiet wakefulness. Neuron 84, 355–362 (2014).

Hestrin, S. & Galarreta, M. Electrical synapses define networks of neocortical GABAergic neurons. Trends Neurosci. 28, 304–309 (2005).

Pakan, J.M.P. et al. Behavioral-state modulation of inhibition is context-dependent and cell type specific in mouse visual cortex. eLife 5, e14985 (2016).

Hu, H., Cavendish, J.Z. & Agmon, A. Not all that glitters is gold: off-target recombination in the somatostatin-IRES-Cre mouse line labels a subset of fast-spiking interneurons. Front. Neural Circuits 7, 195 (2013).

Pfeffer, C.K., Xue, M., He, M., Huang, Z.J. & Scanziani, M. Inhibition of inhibition in visual cortex: the logic of connections between molecularly distinct interneurons. Nat. Neurosci. 16, 1068–1076 (2013).

Ahrens, M.B., Orger, M.B., Robson, D.N., Li, J.M. & Keller, P.J. Whole-brain functional imaging at cellular resolution using light-sheet microscopy. Nat. Methods 10, 413–420 (2013).

Panier, T. et al. Fast functional imaging of multiple brain regions in intact zebrafish larvae using selective plane illumination microscopy. Front. Neural Circuits 7, 65 (2013).

Bouchard, M.B. et al. Swept confocally-aligned planar excitation (SCAPE) microscopy for high speed volumetric imaging of behaving organisms. Nat. Photonics 9, 113–119 (2015).

Kimmel, C.B., Powell, S.L. & Metcalfe, W.K. Brain neurons which project to the spinal cord in young larvae of the zebrafish. J. Comp. Neurol. 205, 112–127 (1982).

O'Malley, D.M., Kao, Y.-H. & Fetcho, J.R. Imaging the functional organization of zebrafish hindbrain segments during escape behaviors. Neuron 17, 1145–1155 (1996).

Severi, K.E. et al. Neural control and modulation of swimming speed in the larval zebrafish. Neuron 83, 692–707 (2014).

Gahtan, E., Sankrithi, N., Campos, J.B. & O'Malley, D.M. Evidence for a widespread brain stem escape network in larval zebrafish. J. Neurophysiol. 87, 608–614 (2002).

Gahtan, E. & O'Malley, D.M. Rapid lesioning of large numbers of identified vertebrate neurons: applications in zebrafish. J. Neurosci. Methods 108, 97–110 (2001).

Lister, J.A., Robertson, C.P., Lepage, T., Johnson, S.L. & Raible, D.W. nacre encodes a zebrafish microphthalmia-related protein that regulates neural-crest-derived pigment cell fate. Development 126, 3757–3767 (1999).

Orger, M.B., Kampff, A.R., Severi, K.E., Bollmann, J.H. & Engert, F. Control of visually guided behavior by distinct populations of spinal projection neurons. Nat. Neurosci. 11, 327–333 (2008).

Seelig, J.D. et al. Two-photon calcium imaging from head-fixed Drosophila during optomotor walking behavior. Nat. Methods 7, 535–540 (2010).

Weir, P.T. & Dickinson, M.H. Functional divisions for visual processing in the central brain of flying Drosophila. Proc. Natl. Acad. Sci. USA 112, E5523–E5532 (2015).

Jenett, A. et al. A GAL4-driver line resource for Drosophila neurobiology. Cell Rep. 2, 991–1001 (2012).

Vogt, K. et al. Direct neural pathways convey distinct visual information to Drosophila mushroom bodies. eLife 5, e14009 (2016).

Song, A. et al. Volumetric two-photon imaging of neurons using stereoscopy (vTwINS). Preprint at http://www.biorxiv.org/content/early/2016/09/06/073742.

Stamnes, J.J., Heier, H. & Ljunggren, S. Encircled energy for systems with centrally obscured circular pupils. Appl. Opt. 21, 1628–1633 (1982).

Ji, N., Magee, J.C. & Betzig, E. High-speed, low-photodamage nonlinear imaging using passive pulse splitters. Nat. Methods 5, 197–202 (2008).

Podgorski, K. & Ranganathan, G. Brain heating induced by near-infrared lasers during multiphoton microscopy. J. Neurophysiol. 116, 1012–1023 (2016).

Yang, W. et al. Simultaneous multi-plane imaging of neural circuits. Neuron 89, 269–284 (2016).

Pnevmatikakis, E.A. et al. Simultaneous denoising, deconvolution, and demixing of calcium imaging data. Neuron 89, 285–299 (2016).

Ji, N., Freeman, J. & Smith, S.L. Technologies for imaging neural activity in large volumes. Nat. Neurosci. 19, 1154–1164 (2016).

Pologruto, T.A., Sabatini, B.L. & Svoboda, K. ScanImage: flexible software for operating laser scanning microscopes. Biomed. Eng. Online 2, 13 (2003).

Goodman, J.W. Introduction to Fourier Optics (Roberts & Company, 2005).

Sun, W., Tan, Z., Mensh, B.D. & Ji, N. Thalamus provides layer 4 of primary visual cortex with orientation- and direction-tuned inputs. Nat. Neurosci. 19, 308–315 (2016).

Drapeau, P., Ali, D.W., Buss, R.R. & Saint-Amant, L. In vivo recording from identifiable neurons of the locomotor network in the developing zebrafish. J. Neurosci. Methods 88, 1–13 (1999).

Tan, Z., Sun, W., Chen, T.-W., Kim, D. & Ji, N. Neuronal representation of ultraviolet visual stimuli in mouse primary visual cortex. Sci. Rep. 5, 12597 (2015).

Schindelin, J. et al. Fiji: an open-source platform for biological-image analysis. Nat. Methods 9, 676–682 (2012).

Carandini, M. & Ferster, D. Membrane potential and firing rate in cat primary visual cortex. J. Neurosci. 20, 470–484 (2000).
Acknowledgements
The authors thank V. Jayaraman for discussions, Y. Aso and Y. Sun for help with fly anatomy, and J. Kuhl for help with illustration. R.L., W.S., Y.L., A.K., J.D.S., B.M., M.T., M.K. and N.J. were supported by the Howard Hughes Medical Institute. M.T. was also supported by the Japanese Society for the Promotion of Science (S2602 and 15K06708). D.E.W., B.S. and D.F. were supported by the National Eye Institute of the NIH under Grant 2 R01 EY011488-17. J.B. was supported by a PhD fellowship from the Portuguese Fundação para a Ciência e a Tecnologia. M.B.O was supported by the Champalimaud Foundation and the Bial Foundation (185/12).
Ethics declarations
Competing interests
The authors declare no competing financial interests.
Integrated supplementary information
Supplementary information
About this article
Cite this article
Lu, R., Sun, W., Liang, Y. et al. Video-rate volumetric functional imaging of the brain at synaptic resolution. Nat Neurosci 20, 620–628 (2017). https://doi.org/10.1038/nn.4516
Received:

Accepted:

Published:

Issue Date:

DOI: https://doi.org/10.1038/nn.4516