Abstract
The hypothalamic arcuate–median eminence complex (Arc-ME) controls energy balance, fertility and growth through molecularly distinct cell types, many of which remain unknown. To catalog cell types in an unbiased way, we profiled gene expression in 20,921 individual cells in and around the adult mouse Arc-ME using Drop-seq. We identify 50 transcriptionally distinct Arc-ME cell populations, including a rare tanycyte population at the Arc-ME diffusion barrier, a new leptin-sensing neuron population, multiple agouti-related peptide (AgRP) and pro-opiomelanocortin (POMC) subtypes, and an orexigenic somatostatin neuron population. We extended Drop-seq to detect dynamic expression changes across relevant physiological perturbations, revealing cell type–specific responses to energy status, including distinct responses in AgRP and POMC neuron subtypes. Finally, integrating our data with human genome-wide association study data implicates two previously unknown neuron populations in the genetic control of obesity. This resource will accelerate biological discovery by providing insights into molecular and cell type diversity from which function can be inferred.
Relevant articles
Open Access articles citing this article.
Muhammad Junaid

,

Han Kyoung Choe

…

Su Bin Lim

Scientific Data Open Access 04 December 2023

Andras Sziraki

,

Ziyu Lu

…

Junyue Cao

Nature Genetics Open Access 30 November 2023

Rémi Lamontagne-Caron

,

Patrick Desrosiers

…

Simon Duchesne

Scientific Reports Open Access 05 October 2023
Access options
Access Nature and 54 other Nature Portfolio journals
Get Nature+, our best-value online-access subscription
$29.99 / 30 days
cancel any time
Subscribe to this journal
Receive 12 print issues and online access
$209.00 per year
only $17.42 per issue
Rent or buy this article
Prices vary by article type
from$1.95
to$39.95
Prices may be subject to local taxes which are calculated during checkout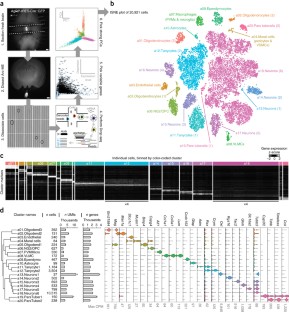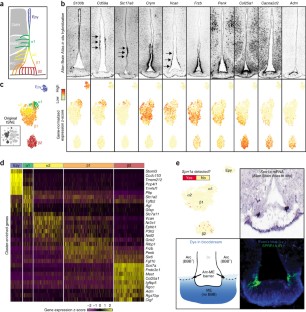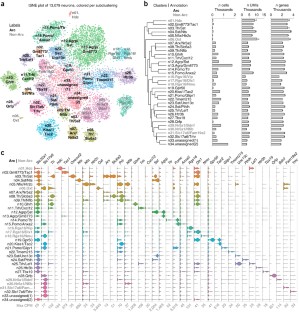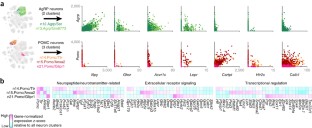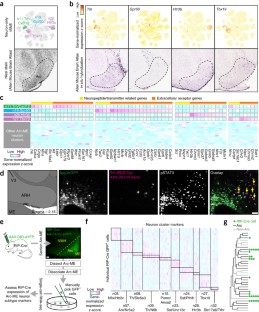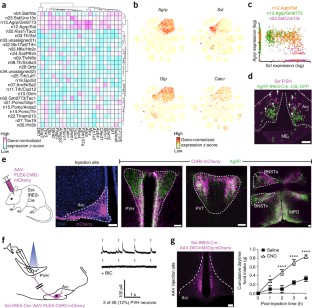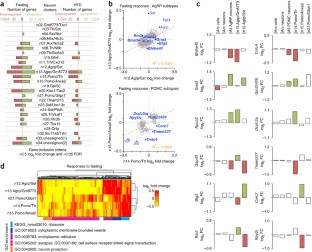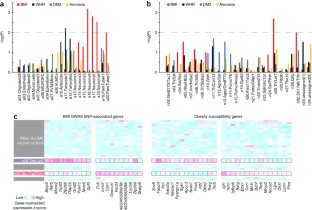 Accession codes
Primary accessions
Gene Expression Omnibus
Referenced accessions
NCBI Reference Sequence
References
Rodríguez, E.M., Blázquez, J.L. & Guerra, M. The design of barriers in the hypothalamus allows the median eminence and the arcuate nucleus to enjoy private milieus: the former opens to the portal blood and the latter to the cerebrospinal fluid. Peptides 31, 757–776 (2010).

Langlet, F. et al. Tanycytic VEGF-A boosts blood-hypothalamus barrier plasticity and access of metabolic signals to the arcuate nucleus in response to fasting. Cell Metab. 17, 607–617 (2013).

Aponte, Y., Atasoy, D. & Sternson, S.M. AGRP neurons are sufficient to orchestrate feeding behavior rapidly and without training. Nat. Neurosci. 14, 351–355 (2011).

Krashes, M.J. et al. Rapid, reversible activation of AgRP neurons drives feeding behavior in mice. J. Clin. Invest. 121, 1424–1428 (2011).

Han, S.Y., McLennan, T., Czieselsky, K. & Herbison, A.E. Selective optogenetic activation of arcuate kisspeptin neurons generates pulsatile luteinizing hormone secretion. Proc. Natl. Acad. Sci. USA 112, 13109–13114 (2015).

Vong, L. et al. Leptin action on GABAergic neurons prevents obesity and reduces inhibitory tone to POMC neurons. Neuron 71, 142–154 (2011).

Kong, D. et al. GABAergic RIP-Cre neurons in the arcuate nucleus selectively regulate energy expenditure. Cell 151, 645–657 (2012).

Macosko, E.Z. et al. Highly parallel genome-wide expression profiling of individual cells using nanoliter droplets. Cell 161, 1202–1214 (2015).

Marques, S. et al. Oligodendrocyte heterogeneity in the mouse juvenile and adult central nervous system. Science 352, 1326–1329 (2016).

Usoskin, D. et al. Unbiased classification of sensory neuron types by large-scale single-cell RNA sequencing. Nat. Neurosci. 18, 145–153 (2015).

Vijayan, E., Samson, W.K. & McCann, S.M. In vivo and in vitro effects of cholecystokinin on gonadotropin, prolactin, growth hormone and thyrotropin release in the rat. Brain Res. 172, 295–302 (1979).

Morgan, P.J. & Williams, L.M. The pars tuberalis of the pituitary: a gateway for neuroendocrine output. Rev. Reprod. 1, 153–161 (1996).

Goodman, T. & Hajihosseini, M.K. Hypothalamic tanycytes-masters and servants of metabolic, neuroendocrine, and neurogenic functions. Front. Neurosci. 9, 387 (2015).

Lein, E.S. et al. Genome-wide atlas of gene expression in the adult mouse brain. Nature 445, 168–176 (2007).

Tesfaigzi, J. & Carlson, D.M. Expression, regulation, and function of the SPR family of proteins. A review. Cell Biochem. Biophys. 30, 243–265 (1999).

Everitt, B.J. et al. The hypothalamic arcuate nucleus-median eminence complex: immunohistochemistry of transmitters, peptides and DARPP-32 with special reference to coexistence in dopamine neurons. Brain Res. 396, 97–155 (1986).

Choudhury, A.I. et al. The role of insulin receptor substrate 2 in hypothalamic and beta cell function. J. Clin. Invest. 115, 940–950 (2005).

Garfield, A.S. et al. Dynamic GABAergic afferent modulation of AgRP neurons. Nat. Neurosci. 19, 1628–1635 (2016).

Lyons, D.J., Hellysaz, A. & Broberger, C. Prolactin regulates tuberoinfundibular dopamine neuron discharge pattern: novel feedback control mechanisms in the lactotrophic axis. J. Neurosci. 32, 8074–8083 (2012).

Demaria, J.E. et al. Dopamine transporters participate in the physiological regulation of prolactin. Endocrinology 141, 366–374 (2000).

Henry, F.E., Sugino, K., Tozer, A., Branco, T. & Sternson, S.M. Cell type-specific transcriptomics of hypothalamic energy-sensing neuron responses to weight-loss. Elife 4, 09800 (2015).

Sohn, J.W. et al. Serotonin 2C receptor activates a distinct population of arcuate pro-opiomelanocortin neurons via TRPC channels. Neuron 71, 488–497 (2011).

Kahn, D., Abrams, G.M., Zimmerman, E.A., Carraway, R. & Leeman, S.E. Neurotensin neurons in the rat hypothalamus: an immunocytochemical study. Endocrinology 107, 47–54 (1980).

Nishiyama, T. et al. Hypothalamic thyrotropin-releasing hormone (TRH)-containing neurons involved in the hypothalamic-hypophysial-thyroid axis. Light microscopic immunohistochemistry. Brain Res. 345, 205–218 (1985).

Liu, J. et al. Tbx19, a tissue-selective regulator of POMC gene expression. Proc. Natl. Acad. Sci. USA 98, 8674–8679 (2001).

Takayasu, S. et al. A neuropeptide ligand of the G protein-coupled receptor GPR103 regulates feeding, behavioral arousal, and blood pressure in mice. Proc. Natl. Acad. Sci. USA 103, 7438–7443 (2006).

Chitravanshi, V.C., Kawabe, K. & Sapru, H.N. Mechanisms of cardiovascular actions of urocortins in the hypothalamic arcuate nucleus of the rat. Am. J. Physiol. Heart Circ. Physiol. 305, H182–H191 (2013).

Reyes, T.M. et al. Urocortin II: a member of the corticotropin-releasing factor (CRF) neuropeptide family that is selectively bound by type 2 CRF receptors. Proc. Natl. Acad. Sci. USA 98, 2843–2848 (2001).

Vaisse, C. et al. Leptin activation of Stat3 in the hypothalamus of wild-type and ob/ob mice but not db/db mice. Nat. Genet. 14, 95–97 (1996).

Kong, W. et al. A role for arcuate cocaine and amphetamine-regulated transcript in hyperphagia, thermogenesis, and cold adaptation. FASEB J. 17, 1688–1690 (2003).

Asnicar, M.A. et al. Vasoactive intestinal polypeptide/pituitary adenylate cyclase-activating peptide receptor 2 deficiency in mice results in growth retardation and increased basal metabolic rate. Endocrinology 143, 3994–4006 (2002).

Novak, C.M., Zhang, M. & Levine, J.A. Neuromedin U in the paraventricular and arcuate hypothalamic nuclei increases non-exercise activity thermogenesis. J. Neuroendocrinol. 18, 594–601 (2006).

Tong, Q., Ye, C.P., Jones, J.E., Elmquist, J.K. & Lowell, B.B. Synaptic release of GABA by AgRP neurons is required for normal regulation of energy balance. Nat. Neurosci. 11, 998–1000 (2008).

Kuperman, Y. et al. CRFR1 in AgRP neurons modulates sympathetic nervous system activity to adapt to cold stress and fasting. Cell Metab. 23, 1185–1199 (2016).

Moga, M.M. & Saper, C.B. Neuropeptide-immunoreactive neurons projecting to the paraventricular hypothalamic nucleus in the rat. J. Comp. Neurol. 346, 137–150 (1994).

Betley, J.N., Cao, Z.F., Ritola, K.D. & Sternson, S.M. Parallel, redundant circuit organization for homeostatic control of feeding behavior. Cell 155, 1337–1350 (2013).

Atasoy, D., Betley, J.N., Su, H.H. & Sternson, S.M. Deconstruction of a neural circuit for hunger. Nature 488, 172–177 (2012).

Garfield, A.S. et al. A neural basis for melanocortin-4 receptor-regulated appetite. Nat. Neurosci. 18, 863–871 (2015).

Petreanu, L., Huber, D., Sobczyk, A. & Svoboda, K. Channelrhodopsin-2-assisted circuit mapping of long-range callosal projections. Nat. Neurosci. 10, 663–668 (2007).

Armbruster, B.N., Li, X., Pausch, M.H., Herlitze, S. & Roth, B.L. Evolving the lock to fit the key to create a family of G protein-coupled receptors potently activated by an inert ligand. Proc. Natl. Acad. Sci. USA 104, 5163–5168 (2007).

Wu, Q., Boyle, M.P. & Palmiter, R.D. Loss of GABAergic signaling by AgRP neurons to the parabrachial nucleus leads to starvation. Cell 137, 1225–1234 (2009).

Hahn, T.M., Breininger, J.F., Baskin, D.G. & Schwartz, M.W. Coexpression of Agrp and NPY in fasting-activated hypothalamic neurons. Nat. Neurosci. 1, 271–272 (1998).

Hsueh, Y.C., Cheng, S.M. & Pan, J.T. Fasting stimulates tuberoinfundibular dopaminergic neuronal activity and inhibits prolactin secretion in oestrogen-primed ovariectomized rats: involvement of orexin A and neuropeptide Y. J. Neuroendocrinol. 14, 745–752 (2002).

Pers, T.H. et al. Biological interpretation of genome-wide association studies using predicted gene functions. Nat. Commun. 6, 5890 (2015).

Locke, A.E. et al. Genetic studies of body mass index yield new insights for obesity biology. Nature 518, 197–206 (2015).

Shungin, D. et al. New genetic loci link adipose and insulin biology to body fat distribution. Nature 518, 187–196 (2015).

Vimaleswaran, K.S. et al. Candidate genes for obesity-susceptibility show enriched association within a large genome-wide association study for BMI. Hum. Mol. Genet. 21, 4537–4542 (2012).

Fenselau, H. et al. A rapidly acting glutamatergic ARC→PVH satiety circuit postsynaptically regulated by α-MSH. Nat. Neurosci. 20, 42–51 (2017).

Boules, M., Li, Z., Smith, K., Fredrickson, P. & Richelson, E. Diverse roles of neurotensin agonists in the central nervous system. Front. Endocrinol. (Lausanne) 4, 36 (2013).

Wood, A.R. et al. Defining the role of common variation in the genomic and biological architecture of adult human height. Nat. Genet. 46, 1173–1186 (2014).

Balthasar, N. et al. Leptin receptor signaling in POMC neurons is required for normal body weight homeostasis. Neuron 42, 983–991 (2004).

Taniguchi, H. et al. A resource of Cre driver lines for genetic targeting of GABAergic neurons in cerebral cortex. Neuron 71, 995–1013 (2011).

Krashes, M.J. et al. An excitatory paraventricular nucleus to AgRP neuron circuit that drives hunger. Nature 507, 238–242 (2014).

van den Pol, A.N. et al. Neuromedin B and gastrin-releasing peptide excite arcuate nucleus neuropeptide Y neurons in a novel transgenic mouse expressing strong Renilla green fluorescent protein in NPY neurons. J. Neurosci. 29, 4622–4639 (2009).

Postic, C. et al. Dual roles for glucokinase in glucose homeostasis as determined by liver and pancreatic beta cell-specific gene knock-outs using Cre recombinase. J. Biol. Chem. 274, 305–315 (1999).

Saxena, A. et al. Trehalose-enhanced isolation of neuronal sub-types from adult mouse brain. Biotechniques 52, 381–385 (2012).

Robinson, M.D., McCarthy, D.J. & Smyth, G.K. edgeR: a Bioconductor package for differential expression analysis of digital gene expression data. Bioinformatics 26, 139–140 (2010).

Satija, R., Farrell, J.A., Gennert, D., Schier, A.F. & Regev, A. Spatial reconstruction of single-cell gene expression data. Nat. Biotechnol. 33, 495–502 (2015).

van der Maaten, L. & Hinton, G. Visualizing data using t-SNE. J. Mach. Learn. Res. 9, 2579–2605 (2008).

Esther, M., Kriegel, H.-P., Sander, J. & Xu, X. A density-based algorithm for discovering clusters in large spatial databases with noise. in 2nd International Conference on Knowledge Discovery and Data Mining (KDD-96) (Institute for Computer Science, University of Munich, 1996).

Kharchenko, P.V., Silberstein, L. & Scadden, D.T. Bayesian approach to single-cell differential expression analysis. Nat. Methods 11, 740–742 (2014).

Fresno, C. & Fernández, E.A. RDAVIDWebService: a versatile R interface to DAVID. Bioinformatics 29, 2810–2811 (2013).

Hempel, C.M., Sugino, K. & Nelson, S.B. A manual method for the purification of fluorescently labeled neurons from the mammalian brain. Nat. Protoc. 2, 2924–2929 (2007).

Picelli, S. et al. Full-length RNA-seq from single cells using Smart-seq2. Nat. Protoc. 9, 171–181 (2014).

Mullier, A., Bouret, S.G., Prevot, V. & Dehouck, B. Differential distribution of tight junction proteins suggests a role for tanycytes in blood-hypothalamus barrier regulation in the adult mouse brain. J. Comp. Neurol. 518, 943–962 (2010).

Bonilla, I.E., Tanabe, K. & Strittmatter, S.M. Small proline-rich repeat protein 1A is expressed by axotomized neurons and promotes axonal outgrowth. J. Neurosci. 22, 1303–1315 (2002).

Morris, A.P. et al. Large-scale association analysis provides insights into the genetic architecture and pathophysiology of type 2 diabetes. Nat. Genet. 44, 981–990 (2012).

Day, F.R. et al. Large-scale genomic analyses link reproductive aging to hypothalamic signaling, breast cancer susceptibility and BRCA1-mediated DNA repair. Nat. Genet. 47, 1294–1303 (2015).

Perry, J.R. et al. Parent-of-origin-specific allelic associations among 106 genomic loci for age at menarche. Nature 514, 92–97 (2014).

Boraska, V. et al. A genome-wide association study of anorexia nervosa. Mol. Psychiatry 19, 1085–1094 (2014).

Chang, C.C. et al. Second-generation PLINK: rising to the challenge of larger and richer datasets. Gigascience 4, 7 (2015).

The 1000 Genomes Project Consortium. A global reference for human genetic variation. Nature 526, 68–74 (2015).

Yates, A. et al. Ensembl 2016. Nucleic Acids Res. 44 D1: D710–D716 (2016).
Acknowledgements
We gratefully acknowledge Z. Yang, J. Madara and C. Wu for technical assistance, A. Garfield for editorial advice and P. Kharchenko for advice on SCDE. Quantitative PCR and confocal imaging were done at BIDMC's Molecular Medicine Core and Confocal Imaging Core, respectively. Funding was provided by US National Institutes of Health grants to B.B.L. (R01 DK096010, R01 DK089044, R01 DK071051, R01 DK075632, R37 DK053477, BNORC Transgenic Core P30 DK046200, BADERC Transgenic Core P30 DK057521), E.D.R. (R01 DK102170, R01 DK085171, R01 DK102173), E.D.R. and L.T.T. (BNORC Functional Genomics Core P30 DK046200), L.T.T. (BADERC Pilot and Feasibility grant NIH 2P30DK057521-16) and J.M.R. (F32 DK103387); a Department of Defense grant to L.T.T. (Discovery Award W81XWH-15-1-0251); an American Heart Association Postdoctoral Fellowship to J.N.C. (14POST20100011); the Lundbeck Foundation and the Benzon Foundation (T.H.P.); the Stanley Center for Psychiatric Research (S.A.M.); and the Stanley-MGH Fellowship in Psychiatric Neuroscience (E.Z.M.).
Ethics declarations
Competing interests
The authors declare no competing financial interests.
Integrated supplementary information
Supplementary information
About this article
Cite this article
Campbell, J., Macosko, E., Fenselau, H. et al. A molecular census of arcuate hypothalamus and median eminence cell types. Nat Neurosci 20, 484–496 (2017). https://doi.org/10.1038/nn.4495
Received:

Accepted:

Published:

Issue Date:

DOI: https://doi.org/10.1038/nn.4495