Abstract
The functions and underlying mechanisms of rapid eye movement (REM) sleep remain unclear. Here we show that REM sleep prunes newly formed postsynaptic dendritic spines of layer 5 pyramidal neurons in the mouse motor cortex during development and motor learning. This REM sleep-dependent elimination of new spines facilitates subsequent spine formation during development and when a new motor task is learned, indicating a role for REM sleep in pruning to balance the number of new spines formed over time. Moreover, REM sleep also strengthens and maintains newly formed spines, which are critical for neuronal circuit development and behavioral improvement after learning. We further show that dendritic calcium spikes arising during REM sleep are important for pruning and strengthening new spines. Together, these findings indicate that REM sleep has multifaceted functions in brain development, learning and memory consolidation by selectively eliminating and maintaining newly formed synapses via dendritic calcium spike-dependent mechanisms.
Access options
Subscribe to Journal
Get full journal access for 1 year
$59.00
only $4.92 per issue
All prices are NET prices.
VAT will be added later in the checkout.
Tax calculation will be finalised during checkout.
Rent or Buy article
Get time limited or full article access on ReadCube.
from$8.99
All prices are NET prices.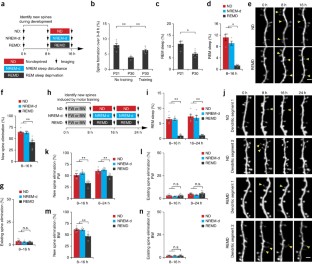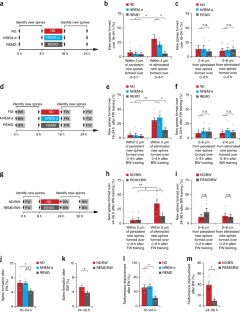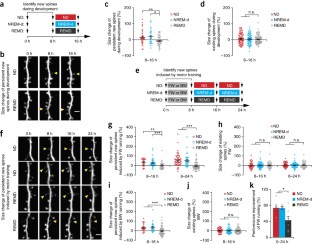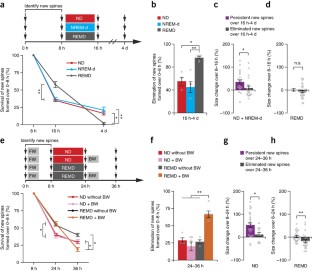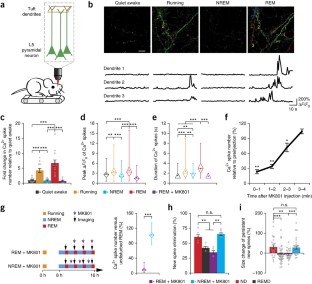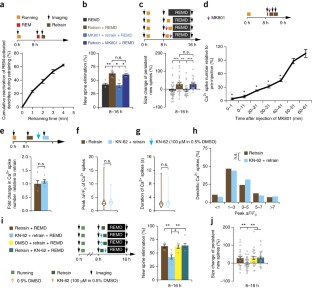 References
1

Roffwarg, H.P., Muzio, J.N. & Dement, W.C. Ontogenetic development of the human sleep-dream cycle. Science 152, 604–619 (1966).

2

Jouvet, M. Paradoxical sleep and the nature-nurture controversy. Prog. Brain Res. 53, 331–346 (1980).

3

Siegel, J.M. The REM sleep-memory consolidation hypothesis. Science 294, 1058–1063 (2001).

4

Hobson, J.A. REM sleep and dreaming: towards a theory of protoconsciousness. Nat. Rev. Neurosci. 10, 803–813 (2009).

5

Karni, A., Tanne, D., Rubenstein, B.S., Askenasy, J.J. & Sagi, D. Dependence on REM sleep of overnight improvement of a perceptual skill. Science 265, 679–682 (1994).

6

Rasch, B. & Born, J. About sleep's role in memory. Physiol. Rev. 93, 681–766 (2013).

7

Llinas, R.R & Pare, D. Of dreaming and wakefulness. Neuroscience 44, 521–535 (1991).

8

Vertes, R.P. Memory consolidation in sleep; dream or reality. Neuron 44, 135–148 (2004).

9

Crick, F. & Mitchison, G. The function of dream sleep. Nature 304, 111–114 (1983).

10

Smith, C. & Lapp, L. Increases in number of REMS and REM density in humans following an intensive learning period. Sleep 14, 325–330 (1991).

11

Marks, G.A., Shaffery, J.P., Oksenberg, A., Speciale, S.G. & Roffwarg, H.P. A functional role for REM sleep in brain maturation. Behav. Brain Res. 69, 1–11 (1995).

12

Mirmiran, M. The function of fetal/neonatal rapid eye movement sleep. Behav. Brain Res. 69, 13–22 (1995).

13

Datta, S., Mavanji, V., Ulloor, J. & Patterson, E.H. Activation of phasic pontine-wave generator prevents rapid eye movement sleep deprivation-induced learning impairment in the rat: a mechanism for sleep-dependent plasticity. J. Neurosci. 24, 1416–1427 (2004).

14

Frank, M.G., Issa, N.P. & Stryker, M.P. Sleep enhances plasticity in the developing visual cortex. Neuron 30, 275–287 (2001).

15

Lavie, P., Pratt, H., Scharf, B., Peled, R. & Brown, J. Localized pontine lesion: nearly total absence of REM sleep. Neurology 34, 118–120 (1984).

16

Vertes, R.P. & Siegel, J.M. Time for the sleep community to take a critical look at the purported role of sleep in memory processing. Sleep 28, 1228–1229, discussion 1230–1233 (2005).

17

Vertes, R.P. & Eastman, K.E. The case against memory consolidation in REM sleep. Behav. Brain Sci. 23, 867–876, discussion 904–1121 (2000).

18

Rasch, B., Pommer, J., Diekelmann, S. & Born, J. Pharmacological REM sleep suppression paradoxically improves rather than impairs skill memory. Nat. Neurosci. 12, 396–397 (2009).

19

Stickgold, R. Sleep-dependent memory consolidation. Nature 437, 1272–1278 (2005).

20

Abel, T., Havekes, R., Saletin, J.M. & Walker, M.P. Sleep, plasticity and memory from molecules to whole-brain networks. Curr. Biol. 23, R774–R788 (2013).

21

Crick, F. & Mitchison, G. REM sleep and neural nets. Behav. Brain Res. 69, 147–155 (1995).

22

Hopfield, J.J., Feinstein, D.I. & Palmer, R.G. 'Unlearning' has a stabilizing effect in collective memories. Nature 304, 158–159 (1983).

23

Changeux, J.P. & Danchin, A. Selective stabilisation of developing synapses as a mechanism for the specification of neuronal networks. Nature 264, 705–712 (1976).

24

Lichtman, J.W. & Colman, H. Synapse elimination and indelible memory. Neuron 25, 269–278 (2000).

25

Yang, G., Pan, F. & Gan, W.B. Stably maintained dendritic spines are associated with lifelong memories. Nature 462, 920–924 (2009).

26

Grutzendler, J., Kasthuri, N. & Gan, W.B. Long-term dendritic spine stability in the adult cortex. Nature 420, 812–816 (2002).

27

Ribeiro, S., Goyal, V., Mello, C.V. & Pavlides, C. Brain gene expression during REM sleep depends on prior waking experience. Learn. Mem. 6, 500–508 (1999).

28

Ulloor, J. & Datta, S. Spatio-temporal activation of cyclic AMP response element-binding protein, activity-regulated cytoskeletal-associated protein and brain-derived nerve growth factor: a mechanism for pontine-wave generator activation-dependent two-way active-avoidance memory processing in the rat. J. Neurochem. 95, 418–428 (2005).

29

Ravassard, P. et al. Paradoxical (REM) sleep deprivation causes a large and rapidly reversible decrease in long-term potentiation, synaptic transmission, glutamate receptor protein levels, and ERK/MAPK activation in the dorsal hippocampus. Sleep 32, 227–240 (2009).

30

Bridi, M.C.D. et al. Rapid eye movement sleep promotes cortical plasticity in the developing brain. Science Advances 1, e1500105 (2015).

31

Yang, G. et al. Sleep promotes branch-specific formation of dendritic spines after learning. Science 344, 1173–1178 (2014).

32

Katz, L.C. & Shatz, C.J. Synaptic activity and the construction of cortical circuits. Science 274, 1133–1138 (1996).

33

Nelson, A.B., Faraguna, U., Zoltan, J.T., Tononi, G. & Cirelli, C. Sleep patterns and homeostatic mechanisms in adolescent mice. Brain Sci. 3, 318–343 (2013).

34

Liston, C. et al. Circadian glucocorticoid oscillations promote learning-dependent synapse formation and maintenance. Nat. Neurosci. 16, 698–705 (2013).

35

Newman, E.A. & Evans, C.R. Human dream processes as analogous to computer programme clearance. Nature 206, 534 (1965).

36

Gaarder, K. A conceptual model of sleep. Arch. Gen. Psychiatry 14, 253–260 (1966).

37

Hayashi-Takagi, A. et al. Labelling and optical erasure of synaptic memory traces in the motor cortex. Nature 525, 333–338 (2015).

38

Harris, K.M. & Stevens, J.K. Dendritic spines of CA 1 pyramidal cells in the rat hippocampus: serial electron microscopy with reference to their biophysical characteristics. J. Neurosci. 9, 2982–2997 (1989).

39

Matsuzaki, M. et al. Dendritic spine geometry is critical for AMPA receptor expression in hippocampal CA1 pyramidal neurons. Nat. Neurosci. 4, 1086–1092 (2001).

40

Cichon, J. & Gan, W.B. Branch-specific dendritic Ca(2+) spikes cause persistent synaptic plasticity. Nature 520, 180–185 (2015).

41

Lavzin, M., Rapoport, S., Polsky, A., Garion, L. & Schiller, J. Nonlinear dendritic processing determines angular tuning of barrel cortex neurons in vivo. Nature 490, 397–401 (2012).

42

Smith, S.L., Smith, I.T., Branco, T. & Häusser, M. Dendritic spikes enhance stimulus selectivity in cortical neurons in vivo. Nature 503, 115–120 (2013).

43

Xu, N.L. et al. Nonlinear dendritic integration of sensory and motor input during an active sensing task. Nature 492, 247–251 (2012).

44

Larkum, M.E., Nevian, T., Sandler, M., Polsky, A. & Schiller, J. Synaptic integration in tuft dendrites of layer 5 pyramidal neurons: a new unifying principle. Science 325, 756–760 (2009).

45

Sheffield, M.E. & Dombeck, D.A. Calcium transient prevalence across the dendritic arbour predicts place field properties. Nature 517, 200–204 (2015).

46

Golding, N.L., Staff, N.P. & Spruston, N. Dendritic spikes as a mechanism for cooperative long-term potentiation. Nature 418, 326–331 (2002).

47

Holthoff, K., Kovalchuk, Y., Yuste, R. & Konnerth, A. Single-shock LTD by local dendritic spikes in pyramidal neurons of mouse visual cortex. J. Physiol. (Lond.) 560, 27–36 (2004).

48

Kampa, B.M., Letzkus, J.J. & Stuart, G.J. Requirement of dendritic calcium spikes for induction of spike-timing-dependent synaptic plasticity. J. Physiol. (Lond.) 574, 283–290 (2006).

49

Nevian, T. & Sakmann, B. Single spine Ca2+ signals evoked by coincident EPSPs and backpropagating action potentials in spiny stellate cells of layer 4 in the juvenile rat somatosensory barrel cortex. J. Neurosci. 24, 1689–1699 (2004).

50

Grosmark, A.D., Mizuseki, K., Pastalkova, E., Diba, K. & Buzs´ki, G. REM sleep reorganizes hippocampal excitability. Neuron 75, 1001–1007 (2012).

51

Yang, G., Pan, F., Parkhurst, C.N., Grutzendler, J. & Gan, W.B. Thinned-skull cranial window technique for long-term imaging of the cortex in live mice. Nat. Protoc. 5, 201–208 (2010).

52

Pan, F., Aldridge, G.M., Greenough, W.T. & Gan, W.B. Dendritic spine instability and insensitivity to modulation by sensory experience in a mouse model of fragile X syndrome. Proc. Natl. Acad. Sci. USA 107, 17768–17773 (2010).

53

Fu, M., Yu, X., Lu, J. & Zuo, Y. Repetitive motor learning induces coordinated formation of clustered dendritic spines in vivo. Nature 483, 92–95 (2012).

54

Hofer, S.B., Mrsic-Flogel, T.D., Bonhoeffer, T. & Hübener, M. Experience leaves a lasting structural trace in cortical circuits. Nature 457, 313–317 (2009).

55

Zuo, Y., Lin, A., Chang, P. & Gan, W.B. Development of long-term dendritic spine stability in diverse regions of cerebral cortex. Neuron 46, 181–189 (2005).

56

Tennant, K.A. et al. The organization of the forelimb representation of the C57BL/6 mouse motor cortex as defined by intracortical microstimulation and cytoarchitecture. Cereb. Cortex 21, 865–876 (2011).
Acknowledgements
We thank J. Cichon for technical help and all the members of the Gan laboratory for comments on the manuscript. This study was supported by funding from the NIH (R01 NS047325 and R01 MH111486 to W.-B.G., R01 GM107469 and R21 AG048410 to G.Y.), by the National Natural Science Foundation of China (81100839 to W.L.) and by Shenzhen Science and Technology Innovation Funds (GJHS20120628101219327, JC201105170726A, JCYJ20160428154351820, JSGG20140703163838793, ZDSYS201504301539161 and KQTD2015032709315529 to W.L. and L.M.).
Ethics declarations
Competing interests
The authors declare no competing financial interests.
Integrated supplementary information
Supplementary information
Supplementary Figures 1–15 and Supplementary Tables 1–6 (PDF 1957 kb)
Two-photon imaging of dendritic Ca2+ was performed through a thinned skull window over the motor cortex. The video showed dendritic Ca2+ spikes over a period of 1 minute for each brain state (quiet, running, NREM and REM sleep) and Ca2+fluorescence traces were shown in Fig. 5b and Supplementary Fig. 9a. (AVI 4274 kb)
About this article
Cite this article
Li, W., Ma, L., Yang, G. et al. REM sleep selectively prunes and maintains new synapses in development and learning. Nat Neurosci 20, 427–437 (2017). https://doi.org/10.1038/nn.4479
Received:

Accepted:

Published:

Issue Date: