Abstract
Body fluid conditions are continuously monitored in the brain to regulate thirst and salt-appetite sensations. Angiotensin II drives both thirst and salt appetite; however, the neural mechanisms underlying selective water- and/or salt-intake behaviors remain unknown. Using optogenetics, we show that thirst and salt appetite are driven by distinct groups of angiotensin II receptor type 1a-positive excitatory neurons in the subfornical organ. Neurons projecting to the organum vasculosum lamina terminalis control water intake, while those projecting to the ventral part of the bed nucleus of the stria terminalis control salt intake. Thirst-driving neurons are suppressed under sodium-depleted conditions through cholecystokinin-mediated activation of GABAergic neurons. In contrast, the salt appetite-driving neurons were suppressed under dehydrated conditions through activation of another population of GABAergic neurons by Nax signals. These distinct mechanisms in the subfornical organ may underlie the selective intakes of water and/or salt and may contribute to body fluid homeostasis.
Relevant articles
Open Access articles citing this article.
Cintia Y. Porcari

,

María J. Cambiasso

…

Andrea Godino

Scientific Reports Open Access 20 August 2022

Julia A. Hellas

&

R. David Andrew

Neurocritical Care Open Access 08 September 2021

Takashi Matsuda

,

Takeshi Y. Hiyama

…

Masaharu Noda

Nature Communications Open Access 10 November 2020
Access options
Subscribe to this journal
Receive 12 print issues and online access
$189.00 per year
only $15.75 per issue
Rent or buy this article
Get just this article for as long as you need it
$39.95
Prices may be subject to local taxes which are calculated during checkout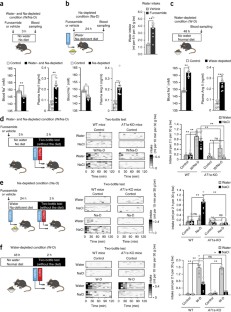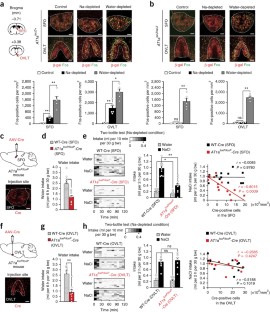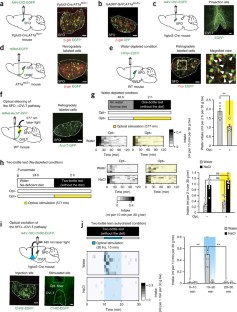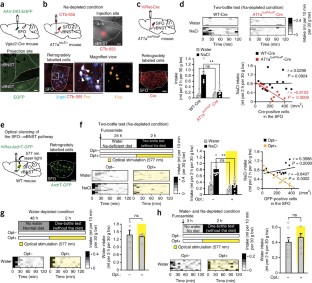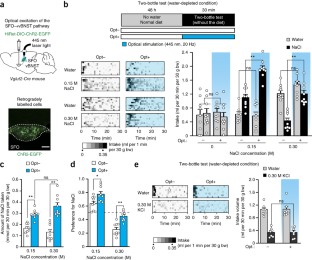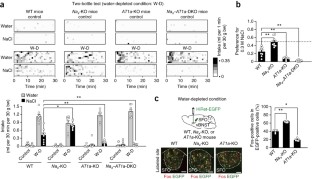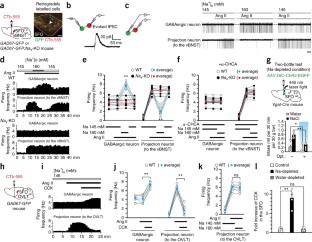 References
Stricker, E.M. & Sved, A.F. Thirst. Nutrition 16, 821–826 (2000).

Rowland, N.E., Farnbauch, L.J. & Crews, E.C. Sodium deficiency and salt appetite in ICR: CD1 mice. Physiol. Behav. 80, 629–635 (2004).

Noda, M. & Hiyama, T.Y. Sodium sensing in the brain. Pflugers Arch. 467, 465–474 (2015a).

Kenney, W.L. & Chiu, P. Influence of age on thirst and fluid intake. Med. Sci. Sports Exerc. 33, 1524–1532 (2001).

Geerling, J.C. & Loewy, A.D. Central regulation of sodium appetite. Exp. Physiol. 93, 177–209 (2008).

Gabor, A. & Leenen, F.H. Central neuromodulatory pathways regulating sympathetic activity in hypertension. J. Appl. Physiol. 113, 1294–1303 (2012).

Johnson, A.K. The sensory psychobiology of thirst and salt appetite. Med. Sci. Sports Exerc. 39, 1388–1400 (2007).

McKinley, M.J. et al. The sensory circumventricular organs of the mammalian brain. Adv. Anat. Embryol. Cell Biol. 172, III–XII, 1–122, back cover (2003).

Hiyama, T.Y. et al. Nax channel involved in CNS sodium-level sensing. Nat. Neurosci. 5, 511–512 (2002).

Noda, M. & Hiyama, T.Y. Sodium-level-sensitive sodium channel and salt-intake behavior. Chem. Senses 30 (Suppl. 1), i44–i45 (2005).

Noda, M. The subfornical organ, a specialized sodium channel, and the sensing of sodium levels in the brain. Neuroscientist 12, 80–91 (2006).

Watanabe, E. et al. Sodium-level-sensitive sodium channel Nax is expressed in glial laminate processes in the sensory circumventricular organs. Am. J. Physiol. Regul. Integr. Comp. Physiol. 290, R568–R576 (2006).

Hiyama, T.Y. et al. Endothelin-3 expression in the subfornical organ enhances the sensitivity of Nax, the brain sodium-level sensor, to suppress salt intake. Cell Metab. 17, 507–519 (2013).

Noda, M. & Hiyama, T.Y. The Nax channel: What it is and what it does. Neuroscientist 21, 399–412 (2015b).

Hiyama, T.Y., Watanabe, E., Okado, H. & Noda, M. The subfornical organ is the primary locus of sodium-level sensing by Nax sodium channels for the control of salt-intake behavior. J. Neurosci. 24, 9276–9281 (2004).

Watanabe, E. et al. Nav2/NaG channel is involved in control of salt-intake behavior in the CNS. J. Neurosci. 20, 7743–7751 (2000).

Hiyama, T.Y. et al. Autoimmunity to the sodium-level sensor in the brain causes essential hypernatremia. Neuron 66, 508–522 (2010).

Shimizu, H. et al. Glial Nax channels control lactate signaling to neurons for brain [Na+] sensing. Neuron 54, 59–72 (2007).

Paul, M., Poyan Mehr, A. & Kreutz, R. Physiology of local renin-angiotensin systems. Physiol. Rev. 86, 747–803 (2006).

Buggy, J. & Fisher, A.E. Evidence for a dual central role for angiotensin in water and sodium intake. Nature 250, 733–735 (1974).

Fitzsimons, J.T. Angiotensin, thirst, and sodium appetite. Physiol. Rev. 78, 583–686 (1998).

Premer, C., Lamondin, C., Mitzey, A., Speth, R.C. & Brownfield, M.S. Immunohistochemical localization of AT1a, AT1b, and AT2 angiotensin II receptor subtypes in the rat adrenal, pituitary, and brain with a perspective commentary. Int. J. Hypertens. 2013, 175428 (2013).

Sugaya, T. et al. Angiotensin II type 1a receptor-deficient mice with hypotension and hyperreninemia. J. Biol. Chem. 270, 18719–18722 (1995).

Matsusaka, T. et al. Angiotensin receptor blocker protection against podocyte-induced sclerosis is podocyte angiotensin II type 1 receptor-independent. Hypertension 55, 967–973 (2010).

Vong, L. et al. Leptin action on GABAergic neurons prevents obesity and reduces inhibitory tone to POMC neurons. Neuron 71, 142–154 (2011).

Tamamaki, N. et al. Green fluorescent protein expression and colocalization with calretinin, parvalbumin, and somatostatin in the GAD67-GFP knock-in mouse. J. Comp. Neurol. 467, 60–79 (2003).

Oka, Y., Ye, M. & Zuker, C.S. Thirst driving and suppressing signals encoded by distinct neural populations in the brain. Nature 520, 349–352 (2015).

Kato, S. et al. A lentiviral strategy for highly efficient retrograde gene transfer by pseudotyping with fusion envelope glycoprotein. Hum. Gene Ther. 22, 197–206 (2011).

Gladden, L.B. Lactate metabolism: a new paradigm for the third millennium. J. Physiol. (Lond.) 558, 5–30 (2004).

Willis, G.L., Hansky, J. & Smith, G.C. Ventricular, paraventricular and circumventricular structures involved in peptide-induced satiety. Regul. Pept. 9, 87–99 (1984).

Simpson, J.B. & Routtenberg, A. Subfornical organ: site of drinking elicitation by angiotensin II. Science 181, 1172–1175 (1973).

McKinley, M.J., Badoer, E. & Oldfield, B.J. Intravenous angiotensin II induces Fos-immunoreactivity in circumventricular organs of the lamina terminalis. Brain Res. 594, 295–300 (1992).

Simpson, J.B. & Routtenberg, A. Subfornical organ lesions reduce intravenous angiotensin-induced drinking. Brain Res. 88, 154–161 (1975).

Nation, H.L., Nicoleau, M., Kinsman, B.J., Browning, K.N. & Stocker, S.D. DREADD-induced activation of subfornical organ neurons stimulates thirst and salt appetite. J. Neurophysiol. 115, 3123–3129 (2016).

Abbott, S.B., Machado, N.L., Geerling, J.C. & Saper, C.B. Reciprocal control of drinking behavior by median preoptic neurons in mice. J. Neurosci. 36, 8228–8237 (2016).

Li, Z. et al. Role of AT2 receptor in the brain in regulation of blood pressure and water intake. Am. J. Physiol. Heart Circ. Physiol. 284, H116–H121 (2003).

Ahmed, A.S., Dai, L., Ho, W., Ferguson, A.V. & Sharkey, K.A. The subfornical organ: a novel site of action of cholecystokinin. Am. J. Physiol. Regul. Integr. Comp. Physiol. 306, R363–R373 (2014).

Noble, F. & Roques, B.P. CCK-B receptor: chemistry, molecular biology, biochemistry and pharmacology. Prog. Neurobiol. 58, 349–379 (1999).

Weiland, T.J., Voudouris, N.J. & Kent, S. The role of CCK2 receptors in energy homeostasis: insights from the CCK2 receptor-deficient mouse. Physiol. Behav. 82, 471–476 (2004).

Garfield, A.S. et al. A parabrachial-hypothalamic cholecystokinin neurocircuit controls counterregulatory responses to hypoglycemia. Cell Metab. 20, 1030–1037 (2014).

D'Agostino, G. et al. Appetite controlled by a cholecystokinin nucleus of the solitary tract to hypothalamus neurocircuit. eLife 5, e12225 (2016).

Sakuta, H., Nishihara, E., Hiyama, T.Y., Lin, C.H. & Noda, M. Nax signaling evoked by an increase in [Na+] in CSF induces water intake via EET-mediated TRPV4 activation. Am. J. Physiol. Regul. Integr. Comp. Physiol. 311, R299–R306 (2016).

Zardetto-Smith, A.M., Beltz, T.G. & Johnson, A.K. Role of the central nucleus of the amygdala and bed nucleus of the stria terminalis in experimentally-induced salt appetite. Brain Res. 645, 123–134 (1994).

Noda, M. & Sakuta, H. Central regulation of body-fluid homeostasis. Trends Neurosci. 36, 661–673 (2013).

Han, X. et al. A high-light sensitivity optical neural silencer: development and application to optogenetic control of non-human primate cortex. Front. Syst. Neurosci. 5, 18 (2011).
Acknowledgements
We thank Y. Yanagawa (Gunma University, Japan) for the GAD67-GFP mice and K. Deisseroth (Stanford University, USA) for the hChR2(H134R) gene. We also thank S. Miura and T. Hashimoto for their technical assistance and A. Kodama for her secretarial assistance. This work was supported by MEXT/JSPS KAKENHI (grant numbers; 24220010 to M.N.; 25136723 and 26293043 to T.Y.H.; and 14J00037 to T. Matsuda.), Takeda Science Foundation, Brain Science Foundation, the Salt Science Research Foundation and the NOVARTIS Foundation (Japan) for the Promotion of Science. This work was supported also by the Okazaki ORION project and Cooperative Study Program of National Institute for Physiological Sciences.
Ethics declarations
Competing interests
The authors declare no competing financial interests.
Integrated supplementary information
Supplementary information
Supplementary Figures 1–13 and Supplementary Results and Discussion (PDF 2037 kb)
About this article
Cite this article
Matsuda, T., Hiyama, T., Niimura, F. et al. Distinct neural mechanisms for the control of thirst and salt appetite in the subfornical organ. Nat Neurosci 20, 230–241 (2017). https://doi.org/10.1038/nn.4463
Received:

Accepted:

Published:

Issue Date:

DOI: https://doi.org/10.1038/nn.4463