Abstract
Hippocampal replay during sharp-wave ripple events (SWRs) is thought to drive memory consolidation in hippocampal and cortical circuits. Changes in neocortical activity can precede SWR events, but whether and how these changes influence the content of replay remains unknown. Here we show that during sleep there is a rapid cortical–hippocampal–cortical loop of information flow around the times of SWRs. We recorded neural activity in auditory cortex (AC) and hippocampus of rats as they learned a sound-guided task and during sleep. We found that patterned activation in AC precedes and predicts the subsequent content of hippocampal activity during SWRs, while hippocampal patterns during SWRs predict subsequent AC activity. Delivering sounds during sleep biased AC activity patterns, and sound-biased AC patterns predicted subsequent hippocampal activity. These findings suggest that activation of specific cortical representations during sleep influences the identity of the memories that are consolidated into long-term stores.
Relevant articles
Open Access articles citing this article.
Weinan Sun

,

Madhu Advani

…

James E. Fitzgerald

Nature Neuroscience Open Access 20 July 2023

Jaekyung Kim

,

Abhilasha Joshi

…

Karunesh Ganguly

Nature Open Access 14 December 2022

Nikolaos Karalis

&

Anton Sirota

Nature Communications Open Access 24 January 2022
Access options
Subscribe to this journal
Receive 12 print issues and online access
$209.00 per year
only $17.42 per issue
Rent or buy this article
Prices vary by article type
from$1.95
to$39.95
Prices may be subject to local taxes which are calculated during checkout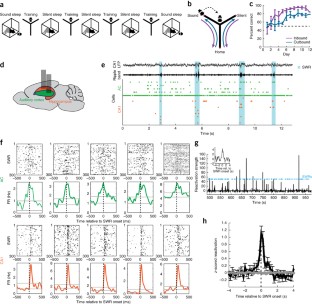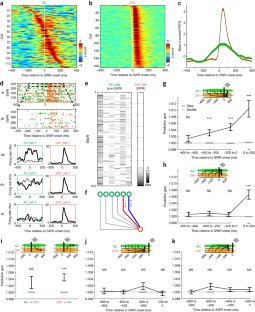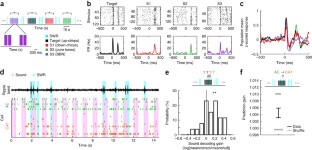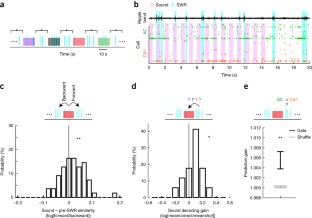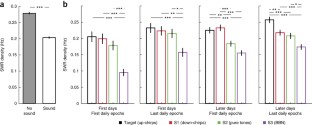 References
Frankland, P.W. & Bontempi, B. The organization of recent and remote memories. Nat. Rev. Neurosci. 6, 119–130 (2005).

Squire, L.R. & Alvarez, P. Retrograde amnesia and memory consolidation: a neurobiological perspective. Curr. Opin. Neurobiol. 5, 169–177 (1995).

Eichenbaum, H. A cortical-hippocampal system for declarative memory. Nat. Rev. Neurosci. 1, 41–50 (2000).

Buzsáki, G. The hippocampo-neocortical dialogue. Cereb. Cortex 6, 81–92 (1996).

Buzsáki, G. Hippocampal sharp wave-ripple: a cognitive biomarker for episodic memory and planning. Hippocampus 25, 1073–1188 (2015).

Lisman, J. & Morris, R.G. Memory. Why is the cortex a slow learner? Nature 411, 248–249 (2001).

Peyrache, A., Khamassi, M., Benchenane, K., Wiener, S.I. & Battaglia, F.P. Replay of rule-learning related neural patterns in the prefrontal cortex during sleep. Nat. Neurosci. 12, 919–926 (2009).

Ego-Stengel, V. & Wilson, M.A. Disruption of ripple-associated hippocampal activity during rest impairs spatial learning in the rat. Hippocampus 20, 1–10 (2010).

Girardeau, G. & Zugaro, M. Hippocampal ripples and memory consolidation. Curr. Opin. Neurobiol. 21, 452–459 (2011).

Inostroza, M. & Born, J. Sleep for preserving and transforming episodic memory. Annu. Rev. Neurosci. 36, 79–102 (2013).

Sadowski, J.H., Jones, M.W. & Mellor, J.R. Sharp-wave ripples orchestrate the induction of synaptic plasticity during reactivation of place cell firing patterns in the hippocampus. Cell Rep. 14, 1916–1929 (2016).

Oliva, A., Fernández-Ruiz, A., Buzsáki, G. & Berényi, A. Role of hippocampal CA2 region in triggering sharp-wave ripples. Neuron 91, 1342–1355 (2016).

Suzuki, S.S. & Smith, G.K. Spontaneous EEG spikes in the normal hippocampus. IV. Effects of medial septum and entorhinal cortex lesions. Electroencephalogr. Clin. Neurophysiol. 70, 73–83 (1988).

Chrobak, J.J. & Buzsáki, G. High-frequency oscillations in the output networks of the hippocampal-entorhinal axis of the freely behaving rat. J. Neurosci. 16, 3056–3066 (1996).

Isomura, Y. et al. Integration and segregation of activity in entorhinal-hippocampal subregions by neocortical slow oscillations. Neuron 52, 871–882 (2006).

Jadhav, S.P., Rothschild, G., Roumis, D.K. & Frank, L.M. Coordinated excitation and inhibition of prefrontal ensembles during awake hippocampal sharp-wave ripple events. Neuron 90, 113–127 (2016).

Ji, D. & Wilson, M.A. Coordinated memory replay in the visual cortex and hippocampus during sleep. Nat. Neurosci. 10, 100–107 (2007).

Sirota, A., Csicsvari, J., Buhl, D. & Buzsáki, G. Communication between neocortex and hippocampus during sleep in rodents. Proc. Natl. Acad. Sci. USA 100, 2065–2069 (2003).

Wierzynski, C.M., Lubenov, E.V., Gu, M. & Siapas, A.G. State-dependent spike-timing relationships between hippocampal and prefrontal circuits during sleep. Neuron 61, 587–596 (2009).

Eschenko, O., Ramadan, W., Mölle, M., Born, J. & Sara, S.J. Sustained increase in hippocampal sharp-wave ripple activity during slow-wave sleep after learning. Learn. Mem. 15, 222–228 (2008).

Girardeau, G., Benchenane, K., Wiener, S.I., Buzsáki, G. & Zugaro, M.B. Selective suppression of hippocampal ripples impairs spatial memory. Nat. Neurosci. 12, 1222–1223 (2009).

Jadhav, S.P., Kemere, C., German, P.W. & Frank, L.M. Awake hippocampal sharp-wave ripples support spatial memory. Science 336, 1454–1458 (2012).

Diekelmann, S. & Born, J. The memory function of sleep. Nat. Rev. Neurosci. 11, 114–126 (2010).

Maingret, N., Girardeau, G., Todorova, R., Goutierre, M. & Zugaro, M. Hippocampo-cortical coupling mediates memory consolidation during sleep. Nat. Neurosci. 19, 959–964 (2016).

Bendor, D. & Wilson, M.A. Biasing the content of hippocampal replay during sleep. Nat. Neurosci. 15, 1439–1444 (2012).

Remondes, M. & Schuman, E.M. Role for a cortical input to hippocampal area CA1 in the consolidation of a long-term memory. Nature 431, 699–703 (2004).

Fritz, J., Shamma, S., Elhilali, M. & Klein, D. Rapid task-related plasticity of spectrotemporal receptive fields in primary auditory cortex. Nat. Neurosci. 6, 1216–1223 (2003).

Nelken, I. Stimulus-specific adaptation and deviance detection in the auditory system: experiments and models. Biol. Cybern. 108, 655–663 (2014).

Letzkus, J.J. et al. A disinhibitory microcircuit for associative fear learning in the auditory cortex. Nature 480, 331–335 (2011).

Rothschild, G., Cohen, L., Mizrahi, A. & Nelken, I. Elevated correlations in neuronal ensembles of mouse auditory cortex following parturition. J. Neurosci. 33, 12851–12861 (2013).

Weinberger, N.M. Specific long-term memory traces in primary auditory cortex. Nat. Rev. Neurosci. 5, 279–290 (2004).

Recanzone, G.H., Schreiner, C.E. & Merzenich, M.M. Plasticity in the frequency representation of primary auditory cortex following discrimination training in adult owl monkeys. J. Neurosci. 13, 87–103 (1993).

Sacco, T. & Sacchetti, B. Role of secondary sensory cortices in emotional memory storage and retrieval in rats. Science 329, 649–656 (2010).

Rothschild, G. & Mizrahi, A. Global order and local disorder in brain maps. Annu. Rev. Neurosci. 38, 247–268 (2015).

Wilson, M.A. & McNaughton, B.L. Reactivation of hippocampal ensemble memories during sleep. Science 265, 676–679 (1994).

Skaggs, W.E. & McNaughton, B.L. Replay of neuronal firing sequences in rat hippocampus during sleep following spatial experience. Science 271, 1870–1873 (1996).

Siapas, A.G. & Wilson, M.A. Coordinated interactions between hippocampal ripples and cortical spindles during slow-wave sleep. Neuron 21, 1123–1128 (1998).

Staresina, B.P. et al. Hierarchical nesting of slow oscillations, spindles and ripples in the human hippocampus during sleep. Nat. Neurosci. 18, 1679–1686 (2015).

Clemens, Z. et al. Temporal coupling of parahippocampal ripples, sleep spindles and slow oscillations in humans. Brain 130, 2868–2878 (2007).

Issa, E.B. & Wang, X. Sensory responses during sleep in primate primary and secondary auditory cortex. J. Neurosci. 28, 14467–14480 (2008).

Schreiner, T. & Rasch, B. Boosting vocabulary learning by verbal cueing during sleep. Cereb. Cortex 25, 4169–4179 (2015).

Rudoy, J.D., Voss, J.L., Westerberg, C.E. & Paller, K.A. Strengthening individual memories by reactivating them during sleep. Science 326, 1079 (2009).

Logothetis, N.K. et al. Hippocampal-cortical interaction during periods of subcortical silence. Nature 491, 547–553 (2012).

Lesburguères, E. et al. Early tagging of cortical networks is required for the formation of enduring associative memory. Science 331, 924–928 (2011).

Cowansage, K.K. et al. Direct reactivation of a coherent neocortical memory of context. Neuron 84, 432–441 (2014).

Luczak, A., Barthó, P. & Harris, K.D. Spontaneous events outline the realm of possible sensory responses in neocortical populations. Neuron 62, 413–425 (2009).

Insausti, R., Herrero, M.T. & Witter, M.P. Entorhinal cortex of the rat: cytoarchitectonic subdivisions and the origin and distribution of cortical efferents. Hippocampus 7, 146–183 (1997).

Furtak, S.C., Wei, S.M., Agster, K.L. & Burwell, R.D. Functional neuroanatomy of the parahippocampal region in the rat: the perirhinal and postrhinal cortices. Hippocampus 17, 709–722 (2007).

Swanson, L.W. & Köhler, C. Anatomical evidence for direct projections from the entorhinal area to the entire cortical mantle in the rat. J. Neurosci. 6, 3010–3023 (1986).

Lansink, C.S., Goltstein, P.M., Lankelma, J.V., McNaughton, B.L. & Pennartz, C.M. Hippocampus leads ventral striatum in replay of place-reward information. PLoS Biol. 7, e1000173 (2009).

Karlsson, M.P. & Frank, L.M. Network dynamics underlying the formation of sparse, informative representations in the hippocampus. J. Neurosci. 28, 14271–14281 (2008).

Karlsson, M.P. & Frank, L.M. Awake replay of remote experiences in the hippocampus. Nat. Neurosci. 12, 913–918 (2009).

Cheng, S. & Frank, L.M. New experiences enhance coordinated neural activity in the hippocampus. Neuron 57, 303–313 (2008).

Peyrache, A., Benchenane, K., Khamassi, M., Wiener, S.I. & Battaglia, F.P. Principal component analysis of ensemble recordings reveals cell assemblies at high temporal resolution. J. Comput. Neurosci. 29, 309–325 (2010).
Acknowledgements
We thank L. Tian, K. Kay, J. Yu, E. Anderson, M. Sosa, A. Eban-Rothschild, M. Karlsson and C. Schreiner for discussion and suggestions, and L. Tian, I. Grossrubatscher and S. Harris for technical assistance. This work was supported by the Howard Hughes Medical Institute, an NIH grant (R01 MH090188) to L.M.F. and an EMBO long-term postdoctoral fellowship and an ELSC postdoctoral fellowship to G.R.
Ethics declarations
Competing interests
The authors declare no competing financial interests.
Integrated supplementary information
Supplementary information
Supplementary Figures 1–14 (PDF 2523 kb)
About this article
Cite this article
Rothschild, G., Eban, E. & Frank, L. A cortical–hippocampal–cortical loop of information processing during memory consolidation. Nat Neurosci 20, 251–259 (2017). https://doi.org/10.1038/nn.4457
Received:

Accepted:

Published:

Issue Date:

DOI: https://doi.org/10.1038/nn.4457