Abstract
The skin is equipped with specialized mechanoreceptors that allow the perception of the slightest brush. Indeed, some mechanoreceptors can detect even nanometer-scale movements. Movement is transformed into electrical signals via the gating of mechanically activated ion channels at sensory endings in the skin. The sensitivity of Piezo mechanically gated ion channels is controlled by stomatin-like protein-3 (STOML3), which is required for normal mechanoreceptor function. Here we identify small-molecule inhibitors of STOML3 oligomerization that reversibly reduce the sensitivity of mechanically gated currents in sensory neurons and silence mechanoreceptors in vivo. STOML3 inhibitors in the skin also reversibly attenuate fine touch perception in normal mice. Under pathophysiological conditions following nerve injury or diabetic neuropathy, the slightest touch can produce pain, and here STOML3 inhibitors can reverse mechanical hypersensitivity. Thus, small molecules applied locally to the skin can be used to modulate touch and may represent peripherally available drugs to treat tactile-driven pain following neuropathy.
Relevant articles
Open Access articles citing this article.
Shao-Chin Wu

,

Yuan-Ming Lo

…

Chi-Hung Lin

Nature Communications Open Access 19 July 2022

Kevin Y. Gonzalez-Velandia

,

Andres Hernandez-Clavijo

…

Simone Pifferi

Scientific Reports Open Access 06 July 2022

Lei Qin

,

Tailin He

…

Guozhi Xiao

Bone Research Open Access 20 October 2021
Access options
Subscribe to Journal
Get full journal access for 1 year
$99.00
only $8.25 per issue
All prices are NET prices.
VAT will be added later in the checkout.
Tax calculation will be finalised during checkout.
Buy article
Get time limited or full article access on ReadCube.
$32.00
All prices are NET prices.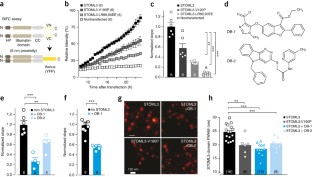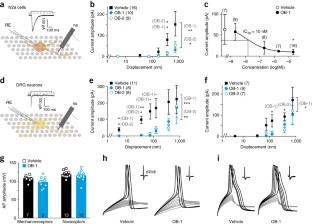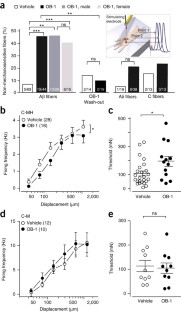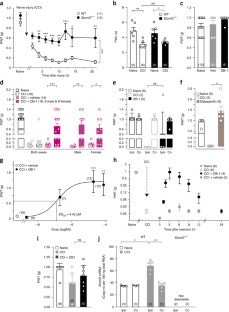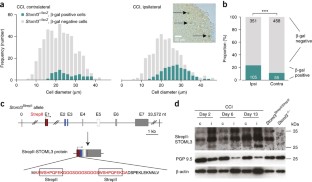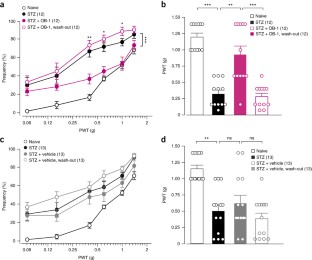 References
Bensmaia, S.J. Tactile intensity and population codes. Behav. Brain Res. 190, 165–173 (2008).

Poole, K., Herget, R., Lapatsina, L., Ngo, H.D. & Lewin, G.R. Tuning Piezo ion channels to detect molecular-scale movements relevant for fine touch. Nat. Commun. 5, 3520 (2014).

Woo, S.-H. et al. Piezo2 is required for Merkel-cell mechanotransduction. Nature 509, 622–626 (2014).

Ranade, S.S. et al. Piezo2 is the major transducer of mechanical forces for touch sensation in mice. Nature 516, 121–125 (2014).

Moshourab, R.A., Wetzel, C., Martinez-Salgado, C. & Lewin, G.R. Stomatin-domain protein interactions with acid-sensing ion channels modulate nociceptor mechanosensitivity. J. Physiol. (Lond.) 591, 5555–5574 (2013).

Wetzel, C. et al. A stomatin-domain protein essential for touch sensation in the mouse. Nature 445, 206–209 (2007).

Costigan, M., Scholz, J. & Woolf, C.J. Neuropathic pain: a maladaptive response of the nervous system to damage. Annu. Rev. Neurosci. 32, 1–32 (2009).

von Hehn, C.A., Baron, R. & Woolf, C.J. Deconstructing the neuropathic pain phenotype to reveal neural mechanisms. Neuron 73, 638–652 (2012).

Tal, M. & Bennett, G.J. Extra-territorial pain in rats with a peripheral mononeuropathy: mechano-hyperalgesia and mechano-allodynia in the territory of an uninjured nerve. Pain 57, 375–382 (1994).

Brand, J. et al. A stomatin dimer modulates the activity of acid-sensing ion channels. EMBO J. 31, 3635–3646 (2012).

Chesler, A.T. et al. The role of PIEZO2 in human mechanosensation. N. Engl. J. Med. 375, 1355–1364 (2016).

Mahmud, A.A. et al. Loss of the proprioception and touch sensation channel PIEZO2 in siblings with a progressive form of contractures. Clin. Genet. http://dx.doi.org/10.1111/cge.12850 (2016).

Wang, Y. & Morrow, J.S. Identification and characterization of human SLP-2, a novel homologue of stomatin (band 7.2b) present in erythrocytes and other tissues. J. Biol. Chem. 275, 8062–8071 (2000).

Boute, N. et al. NPHS2, encoding the glomerular protein podocin, is mutated in autosomal recessive steroid-resistant nephrotic syndrome. Nat. Genet. 24, 349–354 (2000).

Mairhofer, M., Steiner, M., Salzer, U. & Prohaska, R. Stomatin-like protein-1 interacts with stomatin and is targeted to late endosomes. J. Biol. Chem. 284, 29218–29229 (2009).

Da Cruz, S. et al. SLP-2 interacts with prohibitins in the mitochondrial inner membrane and contributes to their stability. Biochim. Biophys. Acta 1783, 904–911 (2008).

Lapatsina, L., Brand, J., Poole, K., Daumke, O. & Lewin, G.R. Stomatin-domain proteins. Eur. J. Cell Biol. 91, 240–245 (2012).

Hu, C.-D., Chinenov, Y. & Kerppola, T.K. Visualization of interactions among bZIP and Rel family proteins in living cells using bimolecular fluorescence complementation. Mol. Cell 9, 789–798 (2002).

Heilemann, M. et al. Subdiffraction-resolution fluorescence imaging with conventional fluorescent probes. Angew. Chem. Int. Edn Engl. 47, 6172–6176 (2008).

Lampe, A., Haucke, V., Sigrist, S.J., Heilemann, M. & Schmoranzer, J. Multi-colour direct STORM with red emitting carbocyanines. Biol. Cell 104, 229–237 (2012).

Wolter, S. et al. rapidSTORM: accurate, fast open-source software for localization microscopy. Nat. Methods 9, 1040–1041 (2012).

Hu, J. & Lewin, G.R. Mechanosensitive currents in the neurites of cultured mouse sensory neurones. J. Physiol. (Lond.) 577, 815–828 (2006).

McCarter, G.C., Reichling, D.B. & Levine, J.D. Mechanical transduction by rat dorsal root ganglion neurons in vitro. Neurosci. Lett. 273, 179–182 (1999).

Price, M.P., Thompson, R.J., Eshcol, J.O., Wemmie, J.A. & Benson, C.J. Stomatin modulates gating of acid-sensing ion channels. J. Biol. Chem. 279, 53886–53891 (2004).

Kozlenkov, A., Lapatsina, L., Lewin, G.R. & Smith, E.S.J. Subunit-specific inhibition of acid sensing ion channels by stomatin-like protein 1. J. Physiol. (Lond.) 592, 557–569 (2014).

Milenkovic, N., Wetzel, C., Moshourab, R. & Lewin, G.R. Speed and temperature dependences of mechanotransduction in afferent fibers recorded from the mouse saphenous nerve. J. Neurophysiol. 100, 2771–2783 (2008).

Lewin, G.R. & Moshourab, R. Mechanosensation and pain. J. Neurobiol. 61, 30–44 (2004).

Beggs, S., Trang, T. & Salter, M.W. P2X4R+ microglia drive neuropathic pain. Nat. Neurosci. 15, 1068–1073 (2012).

Chaplan, S.R., Bach, F.W., Pogrel, J.W., Chung, J.M. & Yaksh, T.L. Quantitative assessment of tactile allodynia in the rat paw. J. Neurosci. Methods 53, 55–63 (1994).

Baron, R. Neuropathic pain: a clinical perspective. Handb. Exp. Pharmacol. 194, 3–30 (2009).

Sorge, R.E. et al. Different immune cells mediate mechanical pain hypersensitivity in male and female mice. Nat. Neurosci. 18, 1081–1083 (2015).

Dworkin, R.H. et al. Recommendations for the pharmacological management of neuropathic pain: an overview and literature update. Mayo Clin. Proc. 85 (Suppl. 3), S3–S14 (2010).

Basbaum, A.I., Gautron, M., Jazat, F., Mayes, M. & Guilbaud, G. The spectrum of fiber loss in a model of neuropathic pain in the rat: an electron microscopic study. Pain 47, 359–367 (1991).

Decosterd, I. & Woolf, C.J. Spared nerve injury: an animal model of persistent peripheral neuropathic pain. Pain 87, 149–158 (2000).

Shields, S.D., Eckert, W.A. III & Basbaum, A.I. Spared nerve injury model of neuropathic pain in the mouse: a behavioral and anatomic analysis. J. Pain 4, 465–470 (2003).

Lewin, G.R., Lechner, S.G. & Smith, E.S.J. Nerve growth factor and nociception: from experimental embryology to new analgesic therapy. Handb. Exp. Pharmacol. 220, 251–282 (2014).

Lewin, G.R., Ritter, A.M. & Mendell, L.M. Nerve growth factor-induced hyperalgesia in the neonatal and adult rat. J. Neurosci. 13, 2136–2148 (1993).

Lewin, G.R., Rueff, A. & Mendell, L.M. Peripheral and central mechanisms of NGF-induced hyperalgesia. Eur. J. Neurosci. 6, 1903–1912 (1994).

Korndörfer, I.P. & Skerra, A. Improved affinity of engineered streptavidin for the Strep-tag II peptide is due to a fixed open conformation of the lid-like loop at the binding site. Protein Sci. 11, 883–893 (2002).

Lapatsina, L. et al. Regulation of ASIC channels by a stomatin/STOML3 complex located in a mobile vesicle pool in sensory neurons. Open Biol. 2, 120096 (2012).

van Hecke, O., Austin, S.K., Khan, R.A., Smith, B.H. & Torrance, N. Neuropathic pain in the general population: a systematic review of epidemiological studies. Pain 155, 654–662 (2014).

Bierhaus, A. et al. Methylglyoxal modification of Nav1.8 facilitates nociceptive neuron firing and causes hyperalgesia in diabetic neuropathy. Nat. Med. 18, 926–933 (2012).

Abraira, V.E. & Ginty, D.D. The sensory neurons of touch. Neuron 79, 618–639 (2013).

Lechner, S.G. & Lewin, G.R. Hairy sensation. Physiology (Bethesda) 28, 142–150 (2013).

Syeda, R. et al. Chemical activation of the mechanotransduction channel Piezo1. eLife http://dx.doi.org/10.7554/eLife.07369 (2015).

Li, J. et al. Piezo1 integration of vascular architecture with physiological force. Nature 515, 279–282 (2014).

Ranade, S.S. et al. Piezo1, a mechanically activated ion channel, is required for vascular development in mice. Proc. Natl. Acad. Sci. USA 111, 10347–10352 (2014).

Woo, S.-H. et al. Piezo2 is the principal mechanotransduction channel for proprioception. Nat. Neurosci. 18, 1756–1762 (2015).

Usoskin, D. et al. Unbiased classification of sensory neuron types by large-scale single-cell RNA sequencing. Nat. Neurosci. 18, 145–153 (2015).

Lechner, S.G. & Lewin, G.R. Peripheral sensitisation of nociceptors via G-protein-dependent potentiation of mechanotransduction currents. J. Physiol. (Lond.) 587, 3493–3503 (2009).

Chiang, L.-Y. et al. Laminin-332 coordinates mechanotransduction and growth cone bifurcation in sensory neurons. Nat. Neurosci. 14, 993–1000 (2011).

Lechner, S.G., Frenzel, H., Wang, R. & Lewin, G.R. Developmental waves of mechanosensitivity acquisition in sensory neuron subtypes during embryonic development. EMBO J. 28, 1479–1491 (2009).

Brideau, C., Gunter, B., Pikounis, B. & Liaw, A. Improved statistical methods for hit selection in high-throughput screening. J. Biomol. Screen. 8, 634–647 (2003).

von Kleist, L. et al. Role of the clathrin terminal domain in regulating coated pit dynamics revealed by small molecule inhibition. Cell 146, 471–484 (2011).

Vareniuk, I., Pavlov, I.A. & Obrosova, I.G. Inducible nitric oxide synthase gene deficiency counteracts multiple manifestations of peripheral neuropathy in a streptozotocin-induced mouse model of diabetes. Diabetologia 51, 2126–2133 (2008).

Osoegawa, K. et al. Bacterial artificial chromosome libraries for mouse sequencing and functional analysis. Genome Res. 10, 116–128 (2000).

Lee, E.C. et al. A highly efficient Escherichia coli-based chromosome engineering system adapted for recombinogenic targeting and subcloning of BAC DNA. Genomics 73, 56–65 (2001).

Liu, P., Jenkins, N.A. & Copeland, N.G. A highly efficient recombineering-based method for generating conditional knockout mutations. Genome Res. 13, 476–484 (2003).

Bunting, M., Bernstein, K.E., Greer, J.M., Capecchi, M.R. & Thomas, K.R. Targeting genes for self-excision in the germ line. Genes Dev. 13, 1524–1528 (1999).
Acknowledgements
We thank K. Barda, M. Braunschweig and H. Thraenhardt for technical assistance and G. Lichtner for providing the custom-written algorithm for dSTORM drift correction. We thank H.Wende for providing help and advice for generating the Stoml3lacZ allele and S. Lechner for comments on the MS. We also thank B. Purfürst for electron microscopy experiments. This study was funded by DFG collaborative research grant SFB958 (projects A09 to K.P. and G.R.L., A01 to V.H. and Z02 to J.S.). Additional support was provided by a senior ERC grant (grant number 294678 to G.R.L.) and by the NeuroCure Cluster of Excellence (to V.H., G.R.L. and J.F.A.P.). K.P. was supported by a Cecile-Vogt Fellowship (MDC). S.P. was supported by a Marie Curie Fellowship from the European Union (grant number 253663 Touch in situ). C.P. received a Ph.D. fellowship from the University of Cagliari. J.F.A.P. was funded by a European Research Council (ERC) starting grant (ERC-2010-StG-260590), the DFG (FOR 1341, FOR 2143), the Berlin Institute of Health (BIH) and the European Union (FP7, 3x3Dimaging 323945). R.K. was supported by an ERC Advanced Investigator grant (294293-PAIN PLASTICITY). D.H. was funded by the Berlin Institute of Health (BIH). E.St.J.S., L.E. and M.M. were supported by an Alexander von Humboldt Fellowship.
Ethics declarations
Competing interests
G.R.L., K.P., C.W. and L.L. are named as inventors on a patent application related to data in this paper.
Integrated supplementary information
Supplementary information
Supplementary Figures 1–9 and Supplementary Tables 1 and 2 (PDF 1726 kb)
Excel data sheet of results of in vitro screen for pharmacological activity of OB1 on a panel of 79 receptors. (XLS 47 kb)
About this article
Cite this article
Wetzel, C., Pifferi, S., Picci, C. et al. Small-molecule inhibition of STOML3 oligomerization reverses pathological mechanical hypersensitivity. Nat Neurosci 20, 209–218 (2017). https://doi.org/10.1038/nn.4454
Received:

Accepted:

Published:

Issue Date:

DOI: https://doi.org/10.1038/nn.4454