Abstract
The ability to regulate the consolidation and strengthening of memories for threatening experiences is critical for mental health, and its dysregulation may lead to psychopathologies. Re-exposure to the context in which the threat was experienced can either increase or decrease fear response through distinct processes known, respectively, as reconsolidation or extinction. Using a context retrieval-dependent memory-enhancement model in rats, we report that memory strengthens through activation of direct projections from dorsal hippocampus to prelimbic (PL) cortex and activation of critical PL molecular mechanisms that are not required for extinction. Furthermore, while sustained PL brain-derived neurotrophic factor (BDNF) expression is required for memory consolidation, retrieval engages PL BDNF to regulate excitatory and inhibitory synaptic proteins neuroligin 1 and neuroligin 2, which promote memory strengthening while inhibiting extinction. Thus, context retrieval-mediated fear-memory enhancement results from a concerted action of mechanisms that strengthen memory through reconsolidation while suppressing extinction.
Relevant articles
Open Access articles citing this article.
Nadine F. Joseph

,

Aya Zucca

…

Sathyanarayanan V. Puthanveettil

Molecular Brain Open Access 08 November 2021

Shuoshuo Li

,

Yajin Liao

…

Zengqiang Yuan

Journal of Neuroinflammation Open Access 05 January 2021

Verónica de la Fuente

,

Candela Medina

…

Arturo Romano

Scientific Reports Open Access 21 August 2019
Access options
Subscribe to Journal
Get full journal access for 1 year
$99.00
only $8.25 per issue
All prices are NET prices.
VAT will be added later in the checkout.
Tax calculation will be finalised during checkout.
Buy article
Get time limited or full article access on ReadCube.
$32.00
All prices are NET prices.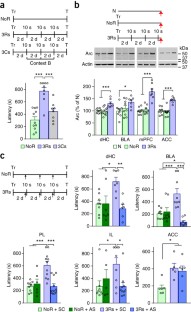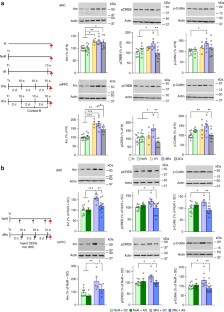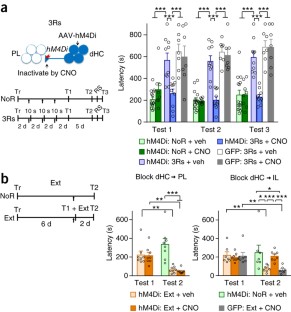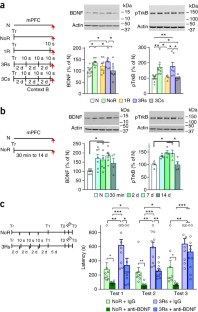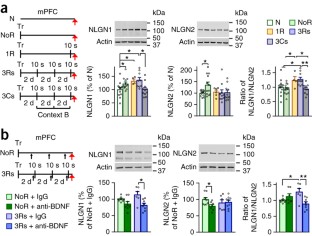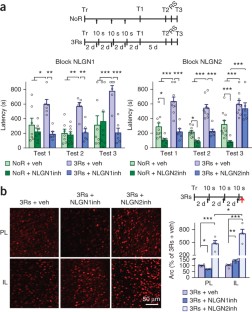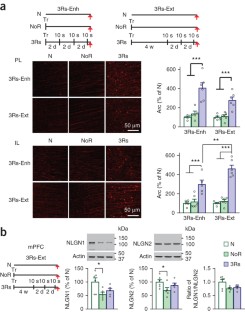 References
Dudai, Y. The neurobiology of consolidations, or, how stable is the engram? Annu. Rev. Psychol. 55, 51–86 (2004).

McGaugh, J.L. Memory--a century of consolidation. Science 287, 248–251 (2000).

Squire, L.R., Stark, C.E. & Clark, R.E. The medial temporal lobe. Annu. Rev. Neurosci. 27, 279–306 (2004).

Frankland, P.W. & Bontempi, B. The organization of recent and remote memories. Nat. Rev. Neurosci. 6, 119–130 (2005).

Kim, J.J. & Fanselow, M.S. Modality-specific retrograde amnesia of fear. Science 256, 675–677 (1992).

Nadel, L. & Moscovitch, M. Memory consolidation, retrograde amnesia and the hippocampal complex. Curr. Opin. Neurobiol. 7, 217–227 (1997).

Inda, M.C., Muravieva, E.V. & Alberini, C.M. Memory retrieval and the passage of time: from reconsolidation and strengthening to extinction. J. Neurosci. 31, 1635–1643 (2011).

Fukushima, H. et al. Enhancement of fear memory by retrieval through reconsolidation. eLife 3, e02736 (2014).

Berman, D.E. & Dudai, Y. Memory extinction, learning anew, and learning the new: dissociations in the molecular machinery of learning in cortex. Science 291, 2417–2419 (2001).

Santini, E., Ge, H., Ren, K., Peña de Ortiz, S. & Quirk, G.J. Consolidation of fear extinction requires protein synthesis in the medial prefrontal cortex. J. Neurosci. 24, 5704–5710 (2004).

Eisenberg, M., Kobilo, T., Berman, D.E. & Dudai, Y. Stability of retrieved memory: inverse correlation with trace dominance. Science 301, 1102–1104 (2003).

Suzuki, A. et al. Memory reconsolidation and extinction have distinct temporal and biochemical signatures. J. Neurosci. 24, 4787–4795 (2004).

Milekic, M.H., Pollonini, G. & Alberini, C.M. Temporal requirement of C/EBPbeta in the amygdala following reactivation but not acquisition of inhibitory avoidance. Learn. Mem. 14, 504–511 (2007).

Alberini, C.M. Mechanisms of memory stabilization: are consolidation and reconsolidation similar or distinct processes? Trends Neurosci. 28, 51–56 (2005).

Korb, E. & Finkbeiner, S. Arc in synaptic plasticity: from gene to behavior. Trends Neurosci. 34, 591–598 (2011).

Alberini, C.M. Transcription factors in long-term memory and synaptic plasticity. Physiol. Rev. 89, 121–145 (2009).

Gu, J. et al. ADF/cofilin-mediated actin dynamics regulate AMPA receptor trafficking during synaptic plasticity. Nat. Neurosci. 13, 1208–1215 (2010).

Schwindel, C.D. & McNaughton, B.L. Hippocampal-cortical interactions and the dynamics of memory trace reactivation. Prog. Brain Res. 193, 163–177 (2011).

Sierra-Mercado, D., Padilla-Coreano, N. & Quirk, G.J. Dissociable roles of prelimbic and infralimbic cortices, ventral hippocampus, and basolateral amygdala in the expression and extinction of conditioned fear. Neuropsychopharmacology 36, 529–538 (2011).

Sotres-Bayon, F. & Quirk, G.J. Prefrontal control of fear: more than just extinction. Curr. Opin. Neurobiol. 20, 231–235 (2010).

Urban, D.J. & Roth, B.L. DREADDs (designer receptors exclusively activated by designer drugs): chemogenetic tools with therapeutic utility. Annu. Rev. Pharmacol. Toxicol. 55, 399–417 (2015).

Stachniak, T.J., Ghosh, A. & Sternson, S.M. Chemogenetic synaptic silencing of neural circuits localizes a hypothalamus→midbrain pathway for feeding behavior. Neuron 82, 797–808 (2014).

Armbruster, B.N., Li, X., Pausch, M.H., Herlitze, S. & Roth, B.L. Evolving the lock to fit the key to create a family of G protein-coupled receptors potently activated by an inert ligand. Proc. Natl. Acad. Sci. USA 104, 5163–5168 (2007).

Hoover, W.B. & Vertes, R.P. Anatomical analysis of afferent projections to the medial prefrontal cortex in the rat. Brain Struct. Funct. 212, 149–179 (2007).

Xu, W. & Südhof, T.C. A neural circuit for memory specificity and generalization. Science 339, 1290–1295 (2013).

DeNardo, L.A., Berns, D.S., DeLoach, K. & Luo, L. Connectivity of mouse somatosensory and prefrontal cortex examined with trans-synaptic tracing. Nat. Neurosci. 18, 1687–1697 (2015).

Bambah-Mukku, D., Travaglia, A., Chen, D.Y., Pollonini, G. & Alberini, C.M. A positive autoregulatory BDNF feedback loop via C/EBPβ mediates hippocampal memory consolidation. J. Neurosci. 34, 12547–12559 (2014).

Rex, C.S. et al. Brain-derived neurotrophic factor promotes long-term potentiation-related cytoskeletal changes in adult hippocampus. J. Neurosci. 27, 3017–3029 (2007).

Gottmann, K., Mittmann, T. & Lessmann, V. BDNF signaling in the formation, maturation and plasticity of glutamatergic and GABAergic synapses. Exp. Brain Res. 199, 203–234 (2009).

Riga, D. et al. Optogenetic dissection of medial prefrontal cortex circuitry. Front. Syst. Neurosci. 8, 230 (2014).

Courtin, J. et al. Prefrontal parvalbumin interneurons shape neuronal activity to drive fear expression. Nature 505, 92–96 (2014).

Südhof, T.C. Neuroligins and neurexins link synaptic function to cognitive disease. Nature 455, 903–911 (2008).

Choi, D.C., Gourley, S.L. & Ressler, K.J. Prelimbic BDNF and TrkB signaling regulates consolidation of both appetitive and aversive emotional learning. Transl. Psychiatry 2, e205 (2012).

Choi, D.C. et al. Prelimbic cortical BDNF is required for memory of learned fear but not extinction or innate fear. Proc. Natl. Acad. Sci. USA 107, 2675–2680 (2010).

Liang, J. et al. Conditional neuroligin-2 knockout in adult medial prefrontal cortex links chronic changes in synaptic inhibition to cognitive impairments. Mol. Psychiatry 20, 850–859 (2015).

Yizhar, O. et al. Neocortical excitation/inhibition balance in information processing and social dysfunction. Nature 477, 171–178 (2011).

Rosas-Vidal, L.E., Do-Monte, F.H., Sotres-Bayon, F. & Quirk, G.J. Hippocampal--prefrontal BDNF and memory for fear extinction. Neuropsychopharmacology 39, 2161–2169 (2014).

Miller, E.K. & Cohen, J.D. An integrative theory of prefrontal cortex function. Annu. Rev. Neurosci. 24, 167–202 (2001).

Baldi, E. & Bucherelli, C. Brain sites involved in fear memory reconsolidation and extinction of rodents. Neurosci. Biobehav. Rev. 53, 160–190 (2015).

Marquis, J.P., Killcross, S. & Haddon, J.E. Inactivation of the prelimbic, but not infralimbic, prefrontal cortex impairs the contextual control of response conflict in rats. Eur. J. Neurosci. 25, 559–566 (2007).

Ragozzino, M.E. The contribution of the medial prefrontal cortex, orbitofrontal cortex, and dorsomedial striatum to behavioral flexibility. Ann. NY Acad. Sci. 1121, 355–375 (2007).
Acknowledgements
We thank W.-J. Lin, N. Humala, G. Pollonini, K. Pandey, L. Barboza and the personnel of the NYU animal facilities for technical support. We thank G. Philips and W.-J. Lin for feedback on the manuscript. This work was supported by grant R01-MH074736 to C.M.A. and a NARSAD Young Investigator Grant from the Brain & Behavior Research Foundation to X.Y.
Ethics declarations
Competing interests
The authors declare no competing financial interests.
Integrated supplementary information
Supplementary information
Supplementary Figures 1–12 (PDF 2557 kb)
About this article
Cite this article
Ye, X., Kapeller-Libermann, D., Travaglia, A. et al. Direct dorsal hippocampal–prelimbic cortex connections strengthen fear memories. Nat Neurosci 20, 52–61 (2017). https://doi.org/10.1038/nn.4443
Received:

Accepted:

Published:

Issue Date:

DOI: https://doi.org/10.1038/nn.4443