Abstract
Inflammation induced by innate immunity influences the development of T cell–mediated autoimmunity in multiple sclerosis and its animal model, experimental autoimmune encephalomyelitis (EAE). We found that strong activation of innate immunity induced Nod-like receptor protein 3 (NLRP3) inflammasome–independent and interferon-β (IFNβ)-resistant EAE (termed type B EAE), whereas EAE induced by weak activation of innate immunity requires the NLRP3 inflammasome and is sensitive to IFNβ treatment. Instead, an alternative inflammatory mechanism, including membrane-bound lymphotoxin-β receptor (LTβR) and CXC chemokine receptor 2 (CXCR2), is involved in type B EAE development, and type B EAE is ameliorated by antagonizing these receptors. Relative expression of Ltbr and Cxcr2 genes was indeed enhanced in patients with IFNβ-resistant multiple sclerosis. Remission was minimal in type B EAE due to neuronal damages induced by semaphorin 6B upregulation on CD4+ T cells. Our data reveal a new inflammatory mechanism by which an IFNβ-resistant EAE subtype develops.
Access options
Subscribe to this journal
Receive 12 print issues and online access
$209.00 per year
only $17.42 per issue
Rent or buy this article
Prices vary by article type
from$1.95
to$39.95
Prices may be subject to local taxes which are calculated during checkout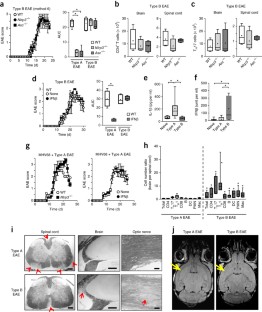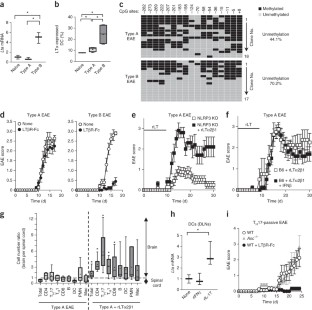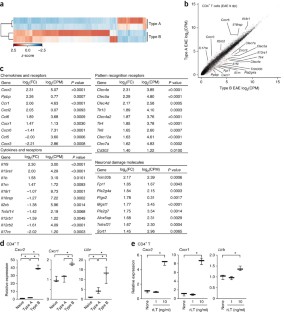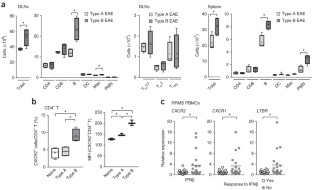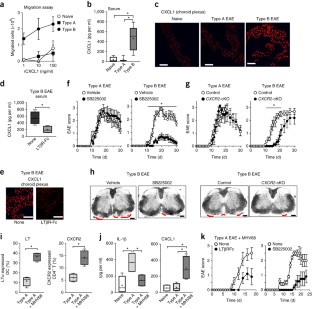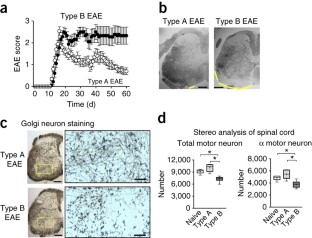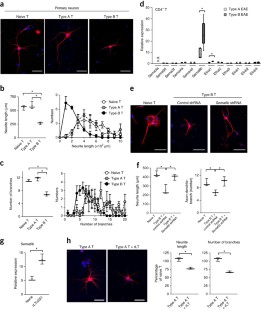 Similar content being viewed by others
Accession codes
Primary accessions
Gene Expression Omnibus
References
Haines, J.D., Inglese, M. & Casaccia, P. Axonal damage in multiple sclerosis. Mt. Sinai J. Med. 78, 231–243 (2011).

Río, J. et al. Defining the response to interferon-beta in relapsing-remitting multiple sclerosis patients. Ann. Neurol. 59, 344–352 (2006).

Rivers, T.M., Sprunt, D.H. & Berry, G.P. Observations on attempts to produce acute disseminated encephalomyelitis in monkeys. J. Exp. Med. 58, 39–53 (1933).

Arnon, R. & Sela, M. Immunomodulation by the copolymer glatiramer acetate. J. Mol. Recognit. 16, 412–421 (2003).

Steinman, L. The discovery of natalizumab, a potent therapeutic for multiple sclerosis. J. Cell Biol. 199, 413–416 (2012).

Simmons, S.B., Pierson, E.R., Lee, S.Y. & Goverman, J.M. Modeling the heterogeneity of multiple sclerosis in animals. Trends Immunol. 34, 410–422 (2013).

Inoue, M. et al. Interferon-β therapy against EAE is effective only when development of the disease depends on the NLRP3 inflammasome. Sci. Signal. 5, ra38 (2012).

Inoue, M., Williams, K.L., Gunn, M.D. & Shinohara, M.L. NLRP3 inflammasome induces chemotactic immune cell migration to the CNS in experimental autoimmune encephalomyelitis. Proc. Natl. Acad. Sci. USA 109, 10480–10485 (2012).

Gris, D. et al. NLRP3 plays a critical role in the development of experimental autoimmune encephalomyelitis by mediating Th1 and Th17 responses. J. Immunol. 185, 974–981 (2010).

Shaw, P.J. et al. Cutting edge: critical role for PYCARD/ASC in the development of experimental autoimmune encephalomyelitis. J. Immunol. 184, 4610–4614 (2010).

Smyk, D.S., Alexander, A.K., Walker, M. & Walker, M. Acute disseminated encephalomyelitis progressing to multiple sclerosis: are infectious triggers involved? Immunol. Res. 60, 16–22 (2014).

Meeker, R.B., Williams, K., Killebrew, D.A. & Hudson, L.C. Cell trafficking through the choroid plexus. Cell Adh. Migr. 6, 390–396 (2012).

Steinman, L. Some misconceptions about understanding autoimmunity through experiments with knockouts. J. Exp. Med. 185, 2039–2041 (1997).

Lock, C., Oksenberg, J. & Steinman, L. The role of TNFalpha and lymphotoxin in demyelinating disease. Ann. Rheum. Dis. 58 (Suppl. 1), I121–I128 (1999).

Woodroofe, M.N. & Cuzner, M.L. Cytokine mRNA expression in inflammatory multiple sclerosis lesions: detection by non-radioactive in situ hybridization. Cytokine 5, 583–588 (1993).

Kraus, J. et al. Serum cytokine levels do not correlate with disease activity and severity assessed by brain MRI in multiple sclerosis. Acta Neurol. Scand. 105, 300–308 (2002).

Columba-Cabezas, S. et al. Suppression of established experimental autoimmune encephalomyelitis and formation of meningeal lymphoid follicles by lymphotoxin beta receptor-Ig fusion protein. J. Neuroimmunol. 179, 76–86 (2006).

Axtell, R.C. et al. T helper type 1 and 17 cells determine efficacy of interferon-β in multiple sclerosis and experimental encephalomyelitis. Nat. Med. 16, 406–412 (2010).

Codarri, L. et al. RORγt drives production of the cytokine GM-CSF in helper T cells, which is essential for the effector phase of autoimmune neuroinflammation. Nat. Immunol. 12, 560–567 (2011).

Wang, C. et al. CD5L/AIM regulates lipid biosynthesis and restrains Th17 cell pathogenicity. Cell 163, 1413–1427 (2015).

Bustamante, M.F., Nurtdinov, R.N., Río, J., Montalban, X. & Comabella, M. Baseline gene expression signatures in monocytes from multiple sclerosis patients treated with interferon-beta. PLoS One 8, e60994 (2013).

Roth, G.A., Spada, V., Hamill, K. & Bornstein, M.B. Insulin-like growth factor I increases myelination and inhibits demyelination in cultured organotypic nerve tissue. Brain Res. Dev. Brain Res. 88, 102–108 (1995).

McMorris, F.A., Smith, T.M., DeSalvo, S. & Furlanetto, R.W. Insulin-like growth factor I/somatomedin C: a potent inducer of oligodendrocyte development. Proc. Natl. Acad. Sci. USA 83, 822–826 (1986).

Magliozzi, R. et al. Meningeal B-cell follicles in secondary progressive multiple sclerosis associate with early onset of disease and severe cortical pathology. Brain 130, 1089–1104 (2007).

Tawarayama, H., Yoshida, Y., Suto, F., Mitchell, K.J. & Fujisawa, H. Roles of semaphorin-6B and plexin-A2 in lamina-restricted projection of hippocampal mossy fibers. J. Neurosci. 30, 7049–7060 (2010).

Rothhammer, V. et al. Th17 lymphocytes traffic to the central nervous system independently of α4 integrin expression during EAE. J. Exp. Med. 208, 2465–2476 (2011).

Liu, Y. et al. Preferential recruitment of neutrophils into the cerebellum and brainstem contributes to the atypical experimental autoimmune encephalomyelitis phenotype. J. Immunol. 195, 841–852 (2015).

Qin, H. et al. Signal transducer and activator of transcription-3/suppressor of cytokine signaling-3 (STAT3/SOCS3) axis in myeloid cells regulates neuroinflammation. Proc. Natl. Acad. Sci. USA 109, 5004–5009 (2012).

Lukens, J.R. et al. The NLRP12 sensor negatively regulates autoinflammatory disease by modulating interleukin-4 production in T cells. Immunity 42, 654–664 (2015).

Siffrin, V. et al. In vivo imaging of partially reversible th17 cell-induced neuronal dysfunction in the course of encephalomyelitis. Immunity 33, 424–436 (2010).

Mo, R. et al. T cell chemokine receptor expression in aging. J. Immunol. 170, 895–904 (2003).

Liu, Y.J. et al. Peripheral T cells derived from Alzheimer's disease patients overexpress CXCR2 contributing to its transendothelial migration, which is microglial TNF-alpha-dependent. Neurobiol. Aging 31, 175–188 (2010).

Pokkali, S., Das, S.D. & Logamurthy, R. Expression of CXC and CC type of chemokines and its receptors in tuberculous and non-tuberculous effusions. Cytokine 41, 307–314 (2008).

Wang, Y. et al. Lymphotoxin beta receptor signaling in intestinal epithelial cells orchestrates innate immune responses against mucosal bacterial infection. Immunity 32, 403–413 (2010).

Revesz, T., Kidd, D., Thompson, A.J., Barnard, R.O. & McDonald, W.I. A comparison of the pathology of primary and secondary progressive multiple sclerosis. Brain 117, 759–765 (1994).

Thompson, A.J. et al. Major differences in the dynamics of primary and secondary progressive multiple sclerosis. Ann. Neurol. 29, 53–62 (1991).

Suto, F. et al. Plexin-a4 mediates axon-repulsive activities of both secreted and transmembrane semaphorins and plays roles in nerve fiber guidance. J. Neurosci. 25, 3628–3637 (2005).

Zhuang, B., Su, Y.S. & Sockanathan, S. FARP1 promotes the dendritic growth of spinal motor neuron subtypes through transmembrane Semaphorin6A and PlexinA4 signaling. Neuron 61, 359–372 (2009).

Suto, F. et al. Interactions between plexin-A2, plexin-A4, and semaphorin 6A control lamina-restricted projection of hippocampal mossy fibers. Neuron 53, 535–547 (2007).

Williams, A. et al. Semaphorin 3A and 3F: key players in myelin repair in multiple sclerosis? Brain 130, 2554–2565 (2007).

Liu, N.K. et al. Cytosolic phospholipase A2 protein as a novel therapeutic target for spinal cord injury. Ann. Neurol. 75, 644–658 (2014).

Kolko, M., Rodriguez de Turco, E.B., Diemer, N.H. & Bazan, N.G. Neuronal damage by secretory phospholipase A2: modulation by cytosolic phospholipase A2, platelet-activating factor, and cyclooxygenase-2 in neuronal cells in culture. Neurosci. Lett. 338, 164–168 (2003).

Takemiya, T. et al. Endothelial microsomal prostaglandin E synthase-1 facilitates neurotoxicity by elevating astrocytic Ca2+ levels. Neurochem. Int. 58, 489–496 (2011).

Whitney, L.W., Ludwin, S.K., McFarland, H.F. & Biddison, W.E. Microarray analysis of gene expression in multiple sclerosis and EAE identifies 5-lipoxygenase as a component of inflammatory lesions. J. Neuroimmunol. 121, 40–48 (2001).

Neu, I., Mallinger, J., Wildfeuer, A. & Mehlber, L. Leukotrienes in the cerebrospinal fluid of multiple sclerosis patients. Acta Neurol. Scand. 86, 586–587 (1992).

Yoshikawa, K., Palumbo, S., Toscano, C.D. & Bosetti, F. Inhibition of 5-lipoxygenase activity in mice during cuprizone-induced demyelination attenuates neuroinflammation, motor dysfunction and axonal damage. Prostaglandins Leukot. Essent. Fatty Acids 85, 43–52 (2011).

Liu, L. et al. Functional defect of peripheral neutrophils in mice with induced deletion of CXCR2. Genesis 51, 587–595 (2013).

Chiang, E.Y. et al. Targeted depletion of lymphotoxin-alpha-expressing TH1 and TH17 cells inhibits autoimmune disease. Nat. Med. 15, 766–773 (2009).

Shinohara, M.L., Kim, J.H., Garcia, V.A. & Cantor, H. Engagement of the type I interferon receptor on dendritic cells inhibits T helper 17 cell development: role of intracellular osteopontin. Immunity 29, 68–78 (2008).

Shinohara, M.L. et al. Osteopontin expression is essential for interferon-α production by plasmacytoid dendritic cells. Nat. Immunol. 7, 498–506 (2006).

Martin, M. Cutadapt removes adapter sequences from high-throughput sequencing reads. Bioinform. in Action 17, 10–12 (2012).

Kersey, P.J. et al. Ensembl Genomes: an integrative resource for genome-scale data from non-vertebrate species. Nucleic Acids Res. 40, D91–D97 (2012).

Dobin, A. et al. STAR: ultrafast universal RNA-seq aligner. Bioinformatics 29, 15–21 (2013).

Robinson, M.D., McCarthy, D.J. & Smyth, G.K. edgeR: a Bioconductor package for differential expression analysis of digital gene expression data. Bioinformatics 26, 139–140 (2010).

Gentleman, R.C. et al. Bioconductor: open software development for computational biology and bioinformatics. Genome Biol. 5, R80 (2004).

Robinson, M.D. & Smyth, G.K. Small-sample estimation of negative binomial dispersion, with applications to SAGE data. Biostatistics 9, 321–332 (2008).

Mootha, V.K. et al. PGC-1α-responsive genes involved in oxidative phosphorylation are coordinately downregulated in human diabetes. Nat. Genet. 34, 267–273 (2003).

Banker, G. & Goslin, K. Developments in neuronal cell culture. Nature 336, 185–186 (1988).

Eddy, N.B. & Leimbach, D. Synthetic analgesics. II. Dithienylbutenyl- and dithienylbutylamines. J. Pharmacol. Exp. Ther. 107, 385–393 (1953).
Acknowledgements
We thank A. Uezu for help in primary hippocampal neuron culture and Golgi staining, S. McKinnon for help in isolating optic nerves, M. Luftig for MHV68 experiments and M. Skeen for discussions on IFNβ treatment of MS patients. We are also grateful to S. Cote, S. Arvai, and all participants in the MURDOCK Study Community Registry and Biorepository and the MURDOCK Multiple Sclerosis Cohort Study. We thank MURDOCK Study leadership and staff, including principal investigator K. Newby, for providing samples and support. This study was funded by the National Multiple Sclerosis Society (RG4536 to M.L.S.; RG4723 to C.L.) and NIH (R01MH096979 and P41EB015897 to C.L.).
Ethics declarations
Competing interests
The authors declare no competing financial interests.
Integrated supplementary information
Supplementary information
About this article
Cite this article
Inoue, M., Chen, Ph., Siecinski, S. et al. An interferon-β-resistant and NLRP3 inflammasome–independent subtype of EAE with neuronal damage. Nat Neurosci 19, 1599–1609 (2016). https://doi.org/10.1038/nn.4421
Received:

Accepted:

Published:

Issue Date:

DOI: https://doi.org/10.1038/nn.4421