Abstract
The realm of human uniqueness steadily shrinks; reflecting this, other primates suffer from states closer to depression or anxiety than 'depressive-like' or 'anxiety-like behavior'. Nonetheless, there remain psychiatric domains unique to humans. Appreciating these continuities and discontinuities must inform the choice of neurobiological approach used in studying any animal model of psychiatric disorders. More fundamentally, the continuities reveal how aspects of psychiatric malaise run deeper than our species' history.
Access options
Subscribe to Journal
Get full journal access for 1 year
$79.00
only $6.58 per issue
All prices are NET prices.
VAT will be added later in the checkout.
Tax calculation will be finalised during checkout.
Buy article
Get time limited or full article access on ReadCube.
$32.00
All prices are NET prices.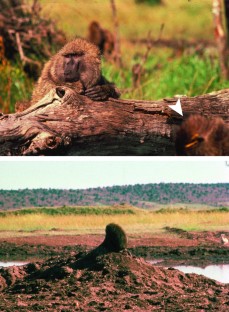 References
Shumaker, R.W., Walkup, K.R. & Beck, B.B. Animal Tool Behavior, the Use and Manufacture of Tools by Animals. (Johns Hopkins University Press, 2011).

Wrangham, R.W. & Glowacki, L. Hum. Nat. 23, 5–29 (2012).

Brosnan, S.F. & de Waal, F.B.M. Science 346, 314–319 (2014).

Steiner, A.P. & Redish, A.D. Nat. Neurosci. 17, 995–1002 (2014).

Rygula, R., Pluta, H. & Popik, P. PLoS One 7, e51959 (2012).

Langford, D.J. et al. Science 312, 1967–1970 (2006).

Martin, L.J. et al. Curr. Biol. 25, 326–332 (2015).

Ben-Ami Bartal, I., Decety, J. & Mason, P. Science 334, 1427–1430 (2011).

Burkett, J.P. et al. Science 351, 375–378 (2016).

Panksepp, J. Neurosci. Biobehav. Rev. 35, 1791–1804 (2011).

Engh, A.L. et al. Proc. R. Soc. Lond. B 273, 707–712 (2006).

Sugiyama, Y. et al. Anthropol. Sci. 117, 113–119 (2009).

Fashing, P.J. et al. Am. J. Primatol. 73, 405–409 (2011).

Biro, D. et al. Curr. Biol. 20, 351–352 (2010).

Goodall, J. The Chimpanzees of Gombe: Patterns of Behavior. (Harvard University Press, 1986).

Lesch, K.P. Curr. Top. Behav. Neurosci. 7, 251–280 (2011).

Sapolsky, R.M. & Share, L.J. PLoS Biol. 2, E106–E113 (2004).

Sapolsky, R. & Ray, J. Am. J. Primatol. 8, l–13 (1989).

Letham, J. Motherless Brooklyn. (Vintage, N.Y., 2000).

Skinner, B.F. Science and Human Behavior. (Simon & Schuster, NY, 1953).
Ethics declarations
Competing interests
The author declares no competing financial interests.
About this article
Cite this article
Sapolsky, R. Psychiatric distress in animals versus animal models of psychiatric distress. Nat Neurosci 19, 1387–1389 (2016). https://doi.org/10.1038/nn.4397
Published:

Issue Date:

DOI: https://doi.org/10.1038/nn.4397
This article is cited by
Cell and Tissue Research (2019)

Evolutionary Psychological Science (2018)

Nature Neuroscience (2016)