Abstract
The healthy human brain is a mosaic of varied genomes. Long interspersed element-1 (LINE-1 or L1) retrotransposition is known to create mosaicism by inserting L1 sequences into new locations of somatic cell genomes. Using a machine learning-based, single-cell sequencing approach, we discovered that somatic L1-associated variants (SLAVs) are composed of two classes: L1 retrotransposition insertions and retrotransposition-independent L1-associated variants. We demonstrate that a subset of SLAVs comprises somatic deletions generated by L1 endonuclease cutting activity. Retrotransposition-independent rearrangements in inherited L1s resulted in the deletion of proximal genomic regions. These rearrangements were resolved by microhomology-mediated repair, which suggests that L1-associated genomic regions are hotspots for somatic copy number variants in the brain and therefore a heritable genetic contributor to somatic mosaicism. We demonstrate that SLAVs are present in crucial neural genes, such as DLG2 (also called PSD93), and affect 44–63% of cells of the cells in the healthy brain.
Relevant articles
Open Access articles citing this article.
Fabio Macciardi

,

Maria Giulia Bacalini

…

Mark Mapstone

GeroScience Open Access 19 May 2022

Yilan Wang

,

Boxun Zhao

…

Eunjung Alice Lee

Mobile DNA Open Access 18 October 2021

Torrin L. McDonald

,

Weichen Zhou

…

Alan P. Boyle

Nature Communications Open Access 11 June 2021
Access options
Subscribe to Journal
Get full journal access for 1 year
$99.00
only $8.25 per issue
All prices are NET prices.
VAT will be added later in the checkout.
Tax calculation will be finalised during checkout.
Buy article
Get time limited or full article access on ReadCube.
$32.00
All prices are NET prices.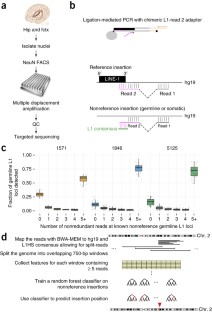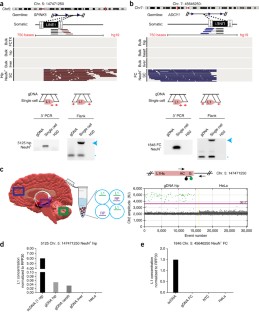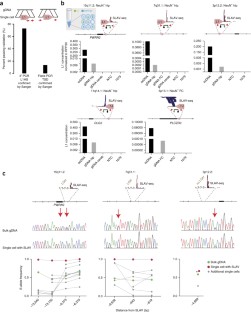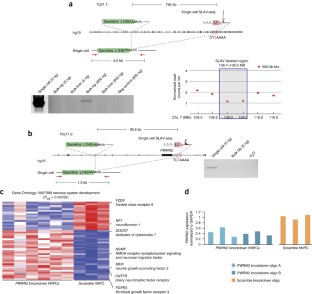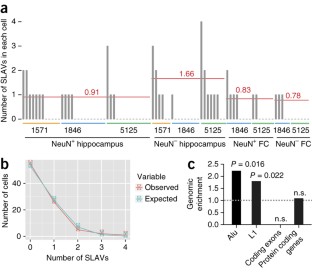 References
Campbell, I.M., Shaw, C.A., Stankiewicz, P. & Lupski, J.R. Somatic mosaicism: implications for disease and transmission genetics. Trends Genet. 31, 382–392 (2015).

Shirley, M.D. et al. Sturge-Weber syndrome and port-wine stains caused by somatic mutation in GNAQ. N. Engl. J. Med. 368, 1971–1979 (2013).

Poduri, A. et al. Somatic activation of AKT3 causes hemispheric developmental brain malformations. Neuron 74, 41–48 (2012).

Muotri, A.R. et al. Somatic mosaicism in neuronal precursor cells mediated by L1 retrotransposition. Nature 435, 903–910 (2005).

Erwin, J.A., Marchetto, M.C. & Gage, F.H. Mobile DNA elements in the generation of diversity and complexity in the brain. Nat. Rev. Neurosci. 15, 497–506 (2014).

Evrony, G.D. et al. Single-neuron sequencing analysis of L1 retrotransposition and somatic mutation in the human brain. Cell 151, 483–496 (2012).

Evrony, G.D. et al. Cell lineage analysis in human brain using endogenous retroelements. Neuron 85, 49–59 (2015).

Evrony, G.D., Lee, E., Park, P.J. & Walsh, C.A. Resolving rates of mutation in the brain using single-neuron genomics. eLife 5, e12966 (2016).

Upton, K.R. et al. Ubiquitous L1 mosaicism in hippocampal neurons. Cell 161, 228–239 (2015).

Coufal, N.G. et al. L1 retrotransposition in human neural progenitor cells. Nature 460, 1127–1131 (2009).

Muotri, A.R. et al. L1 retrotransposition in neurons is modulated by MeCP2. Nature 468, 443–446 (2010).

McConnell, M.J. et al. Mosaic copy number variation in human neurons. Science 342, 632–637 (2013).

Cai, X. et al. Single-cell, genome-wide sequencing identifies clonal somatic copy-number variation in the human brain. Cell Rep. 8, 1280–1289 (2014).

Dean, F.B. et al. Comprehensive human genome amplification using multiple displacement amplification. Proc. Natl. Acad. Sci. USA 99, 5261–5266 (2002).

Witherspoon, D.J. et al. Mobile element scanning (ME-Scan) by targeted high-throughput sequencing. BMC Genomics 11, 410 (2010).

Iskow, R.C. et al. Natural mutagenesis of human genomes by endogenous retrotransposons. Cell 141, 1253–1261 (2010).

Brouha, B. et al. Hot L1s account for the bulk of retrotransposition in the human population. Proc. Natl. Acad. Sci. USA 100, 5280–5285 (2003).

Lasken, R.S. & Stockwell, T.B. Mechanism of chimera formation during the multiple displacement amplification reaction. BMC Biotechnol. 7, 19 (2007).

Li, H. Aligning sequence reads, clone sequences and assembly contigs with BWA-MEM. Preprint at arXiv 1303.3997v2 (2013).

Breiman, L. Random forests. Mach. Learn. 45, 5–32 (2001).

White, T.B., McCoy, A.M., Streva, V.A., Fenrich, J. & Deininger, P.L. A droplet digital PCR detection method for rare L1 insertions in tumors. Mob. DNA 5, 30 (2014).

Gilbert, N., Lutz-Prigge, S. & Moran, J.V. Genomic deletions created upon LINE-1 retrotransposition. Cell 110, 315–325 (2002).

Morrish, T.A. et al. DNA repair mediated by endonuclease-independent LINE-1 retrotransposition. Nat. Genet. 31, 159–165 (2002).

Garvin, T. et al. Interactive analysis and assessment of single-cell copy-number variations. Nat. Methods 12, 1058–1060 (2015).

Jurka, J. Sequence patterns indicate an enzymatic involvement in integration of mammalian retroposons. Proc. Natl. Acad. Sci. USA 94, 1872–1877 (1997).

Feng, Q., Moran, J.V., Kazazian, H.H. Jr. & Boeke, J.D. Human L1 retrotransposon encodes a conserved endonuclease required for retrotransposition. Cell 87, 905–916 (1996).

Yu, D.X. et al. Modeling hippocampal neurogenesis using human pluripotent stem cells. Stem Cell Rep. 2, 295–310 (2014).

Moran, J.V. et al. High frequency retrotransposition in cultured mammalian cells. Cell 87, 917–927 (1996).

d'Adda di Fagagna, F. et al. A DNA damage checkpoint response in telomere-initiated senescence. Nature 426, 194–198 (2003).

Gasior, S.L., Wakeman, T.P., Xu, B. & Deininger, P.L. The human LINE-1 retrotransposon creates DNA double-strand breaks. J. Mol. Biol. 357, 1383–1393 (2006).

Nithianantharajah, J. et al. Synaptic scaffold evolution generated components of vertebrate cognitive complexity. Nat. Neurosci. 16, 16–24 (2013).

Kirov, G. et al. De novo CNV analysis implicates specific abnormalities of postsynaptic signalling complexes in the pathogenesis of schizophrenia. Mol. Psychiatry 17, 142–153 (2012).

Fromer, M. et al. De novo mutations in schizophrenia implicate synaptic networks. Nature 506, 179–184 (2014).

Lim, J.S. et al. Brain somatic mutations in MTOR cause focal cortical dysplasia type II leading to intractable epilepsy. Nat. Med. 21, 395–400 (2015).

Kempermann, G., Kuhn, H.G. & Gage, F.H. Genetic influence on neurogenesis in the dentate gyrus of adult mice. Proc. Natl. Acad. Sci. USA 94, 10409–10414 (1997).

Aimone, J.B., Deng, W. & Gage, F.H. Adult neurogenesis: integrating theories and separating functions. Trends Cogn. Sci. 14, 325–337 (2010).

Hosono, S. et al. Unbiased whole-genome amplification directly from clinical samples. Genome Res. 13, 954–964 (2003).

Needleman, S.B. & Wunsch, C.D. A general method applicable to the search for similarities in the amino acid sequence of two proteins. J. Mol. Biol. 48, 443–453 (1970).

Langdon, W.B. Performance of genetic programming optimised Bowtie2 on genome comparison and analytic testing (GCAT) benchmarks. BioData Min. 8, 1 (2015).

Quinlan, A.R. & Hall, I.M. BEDTools: a flexible suite of utilities for comparing genomic features. Bioinformatics 26, 841–842 (2010).

Untergasser, A. et al. Primer3--new capabilities and interfaces. Nucleic Acids Res. 40, e115 (2012).

Kent, W.J. et al. The human genome browser at UCSC. Genome Res. 12, 996–1006 (2002).

Dobin, A. et al. STAR: ultrafast universal RNA-seq aligner. Bioinformatics 29, 15–21 (2013).
Acknowledgements
We thank J. Moran, M. Gage, M. McConnell, C. Benner, R. Herai and D. O'Keefe for critical reading and discussions of the manuscript. We thank C. Fitzpatrick and C. O'Connor for FACS. J.A.E. was supported by the George E. Hewitt Foundation for Medical Research, and A.C.M.P. was supported by a training grant from the California Institute for Regenerative Medicine. The Gage Laboratory, and this project, was partially funded by NIH MH095741 (F.H.G.), NIH MH088485 (F.H.G.), NIH T32 CA009370 (F.H.G.), NIH U01 MH106882 (F.H.G.), The G. Harold & Leila Y. Mathers Foundation (F.H.G.), The Engman Foundation (F.H.G.), The Leona M. and Harry B. Helmsley Charitable Trust (F.H.G.), Paul G. Allen Family Foundation (F.H.G.), Glenn Center for Aging Research at the Salk Institute (F.H.G.) and JPB Foundation (F.H.G.). This work was supported by the Flow Cytometry Core Facility of the Salk Institute with funding from NIH-NCI CCSG: P30 014195.
Ethics declarations
Competing interests
The authors declare no competing financial interests.
Integrated supplementary information
Supplementary information
About this article
Cite this article
Erwin, J., Paquola, A., Singer, T. et al. L1-associated genomic regions are deleted in somatic cells of the healthy human brain. Nat Neurosci 19, 1583–1591 (2016). https://doi.org/10.1038/nn.4388
Received:

Accepted:

Published:

Issue Date:

DOI: https://doi.org/10.1038/nn.4388