Abstract
The spinal cord is the initial stage that integrates temperature information from peripheral inputs. Here we used molecular genetics and in vivo calcium imaging to investigate the coding of cutaneous temperature in the spinal cord in mice. We found that heating or cooling the skin evoked robust calcium responses in spinal neurons, and their activation threshold temperatures distributed smoothly over the entire range of stimulation temperatures. Once activated, heat-responding neurons encoded the absolute skin temperature without adaptation and received major inputs from transient receptor potential (TRP) channel V1 (TRPV1)-positive dorsal root ganglion (DRG) neurons. By contrast, cold-responding neurons rapidly adapted to ambient temperature and selectively encoded temperature changes. These neurons received TRP channel M8 (TRPM8)-positive DRG inputs as well as novel TRPV1+ DRG inputs that were selectively activated by intense cooling. Our results provide a comprehensive examination of the temperature representation in the spinal cord and reveal fundamental differences in the coding of heat and cold.
Relevant articles
Open Access articles citing this article.
Charles Warwick

,

Joseph Salsovic

…

Sarah E. Ross

Nature Communications Open Access 03 September 2022

Chen Ran

,

Jack C. Boettcher

…

Stephen D. Liberles

Nature Open Access 31 August 2022

Wanjie Wu

,

Sicong He

…

Jianan Y. Qu

Nature Communications Open Access 12 April 2022
Access options
Subscribe to Journal
Get full journal access for 1 year
$99.00
only $8.25 per issue
All prices are NET prices.
VAT will be added later in the checkout.
Tax calculation will be finalised during checkout.
Buy article
Get time limited or full article access on ReadCube.
$32.00
All prices are NET prices.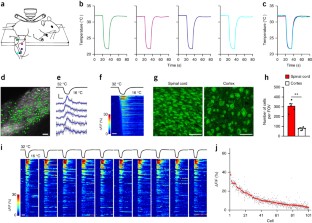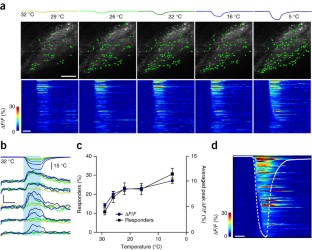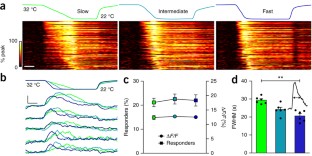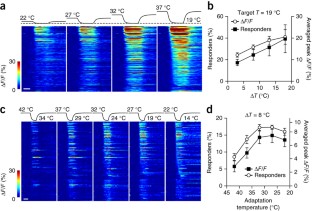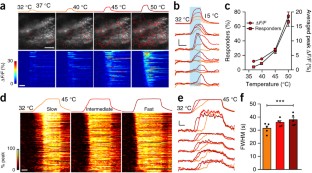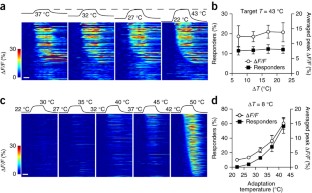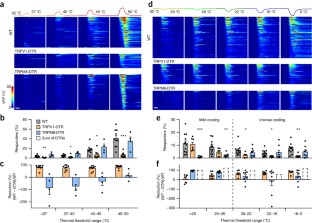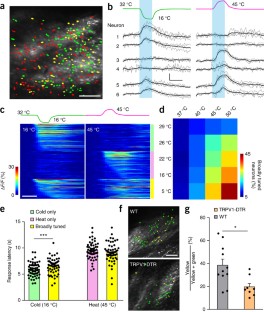 References
Julius, D. TRP channels and pain. Annu. Rev. Cell Dev. Biol. 29, 355–384 (2013).

Vriens, J., Nilius, B. & Voets, T. Peripheral thermosensation in mammals. Nat. Rev. Neurosci. 15, 573–589 (2014).

Basbaum, A.I., Bautista, D.M., Scherrer, G. & Julius, D. Cellular and molecular mechanisms of pain. Cell 139, 267–284 (2009).

Palkar, R., Lippoldt, E.K. & McKemy, D.D. The molecular and cellular basis of thermosensation in mammals. Curr. Opin. Neurobiol. 34, 14–19 (2015).

Caterina, M.J. et al. Impaired nociception and pain sensation in mice lacking the capsaicin receptor. Science 288, 306–313 (2000).

Caterina, M.J. et al. The capsaicin receptor: a heat-activated ion channel in the pain pathway. Nature 389, 816–824 (1997).

McKemy, D.D., Neuhausser, W.M. & Julius, D. Identification of a cold receptor reveals a general role for TRP channels in thermosensation. Nature 416, 52–58 (2002).

Peier, A.M. et al. A TRP channel that senses cold stimuli and menthol. Cell 108, 705–715 (2002).

Bautista, D.M. et al. The menthol receptor TRPM8 is the principal detector of environmental cold. Nature 448, 204–208 (2007).

Dhaka, A. et al. TRPM8 is required for cold sensation in mice. Neuron 54, 371–378 (2007).

Colburn, R.W. et al. Attenuated cold sensitivity in TRPM8 null mice. Neuron 54, 379–386 (2007).

Dhaka, A., Viswanath, V. & Patapoutian, A. Trp ion channels and temperature sensation. Annu. Rev. Neurosci. 29, 135–161 (2006).

Story, G.M. et al. ANKTM1, a TRP-like channel expressed in nociceptive neurons, is activated by cold temperatures. Cell 112, 819–829 (2003).

Kobayashi, K. et al. Distinct expression of TRPM8, TRPA1, and TRPV1 mRNAs in rat primary afferent neurons with aδ/c-fibers and colocalization with trk receptors. J. Comp. Neurol. 493, 596–606 (2005).

Dhaka, A., Earley, T.J., Watson, J. & Patapoutian, A. Visualizing cold spots: TRPM8-expressing sensory neurons and their projections. J. Neurosci. 28, 566–575 (2008).

Takashima, Y. et al. Diversity in the neural circuitry of cold sensing revealed by genetic axonal labeling of transient receptor potential melastatin 8 neurons. J. Neurosci. 27, 14147–14157 (2007).

Todd, A.J. Neuronal circuitry for pain processing in the dorsal horn. Nat. Rev. Neurosci. 11, 823–836 (2010).

Ma, Q. Labeled lines meet and talk: population coding of somatic sensations. J. Clin. Invest. 120, 3773–3778 (2010).

Craig, A.D., Krout, K. & Andrew, D. Quantitative response characteristics of thermoreceptive and nociceptive lamina I spinothalamic neurons in the cat. J. Neurophysiol. 86, 1459–1480 (2001).

Burton, H. Responses of spinal cord neurons to systematic changes in hindlimb skin temperatures in cats and primates. J. Neurophysiol. 38, 1060–1079 (1975).

Bester, H., Chapman, V., Besson, J.M. & Bernard, J.F. Physiological properties of the lamina I spinoparabrachial neurons in the rat. J. Neurophysiol. 83, 2239–2259 (2000).

Andrew, D. & Craig, A.D. Spinothalamic lamina I neurones selectively responsive to cutaneous warming in cats. J. Physiol. (Lond.) 537, 489–495 (2001).

Stosiek, C., Garaschuk, O., Holthoff, K. & Konnerth, A. In vivo two-photon calcium imaging of neuronal networks. Proc. Natl. Acad. Sci. USA 100, 7319–7324 (2003).

Johannssen, H.C. & Helmchen, F. In vivo Ca2+ imaging of dorsal horn neuronal populations in mouse spinal cord. J. Physiol. (Lond.) 588, 3397–3402 (2010).

Chen, X., Gabitto, M., Peng, Y., Ryba, N.J. & Zuker, C.S. A gustotopic map of taste qualities in the mammalian brain. Science 333, 1262–1266 (2011).

Chen, T.W. et al. Ultrasensitive fluorescent proteins for imaging neuronal activity. Nature 499, 295–300 (2013).

Nakai, J., Ohkura, M. & Imoto, K. A high signal-to-noise Ca(2+) probe composed of a single green fluorescent protein. Nat. Biotechnol. 19, 137–141 (2001).

Harrison, J.L. & Davis, K.D. Cold-evoked pain varies with skin type and cooling rate: a psychophysical study in humans. Pain 83, 123–135 (1999).

Kenshalo, D.R., Holmes, C.E. & Wood, P.B. Warm and cool thresholds as a function of rate of stimulus temperature change. Percept. Psychophys. 3, 81–84 (1968).

Hensel, H. Temperaturempfindung und intracutane Warmebewegung. Pflugers Arch. Gesamte Physiol. Menschen Tiere 252, 165–215 (1950).

Pogorzala, L.A., Mishra, S.K. & Hoon, M.A. The cellular code for mammalian thermosensation. J. Neurosci. 33, 5533–5541 (2013).

Knowlton, W.M. et al. A sensory-labeled line for cold: TRPM8-expressing sensory neurons define the cellular basis for cold, cold pain, and cooling-mediated analgesia. J. Neurosci. 33, 2837–2848 (2013).

Cavanaugh, D.J. et al. Distinct subsets of unmyelinated primary sensory fibers mediate behavioral responses to noxious thermal and mechanical stimuli. Proc. Natl. Acad. Sci. USA 106, 9075–9080 (2009).

Zhang, J., Cavanaugh, D.J., Nemenov, M.I. & Basbaum, A.I. The modality-specific contribution of peptidergic and non-peptidergic nociceptors is manifest at the level of dorsal horn nociresponsive neurons. J. Physiol. (Lond.) 591, 1097–1110 (2013).

Kandel, E.R., Schwartz, J.H. & Jessell, T.M. Principles of Neural Science 4th edn. (McGraw-Hill, 2000).

Hensel, H. & Iggo, A. Analysis of cutaneous warm and cold fibres in primates. Pflugers Arch. 329, 1–8 (1971).

Zeilhofer, H.U., Wildner, H. & Yévenes, G.E. Fast synaptic inhibition in spinal sensory processing and pain control. Physiol. Rev. 92, 193–235 (2012).

Urch, C.E. & Dickenson, A.H. In vivo single unit extracellular recordings from spinal cord neurones of rats. Brain Res. Brain Res. Protoc. 12, 26–34 (2003).

Rieke, F. & Rudd, M.E. The challenges natural images pose for visual adaptation. Neuron 64, 605–616 (2009).

Sarria, I. & Gu, J. Menthol response and adaptation in nociceptive-like and nonnociceptive-like neurons: role of protein kinases. Mol. Pain 6, 47 (2010).

Rohács, T., Lopes, C.M., Michailidis, I. & Logothetis, D.E. PI(4,5)P2 regulates the activation and desensitization of TRPM8 channels through the TRP domain. Nat. Neurosci. 8, 626–634 (2005).

Liu, B., Zhang, C. & Qin, F. Functional recovery from desensitization of vanilloid receptor TRPV1 requires resynthesis of phosphatidylinositol 4,5-bisphosphate. J. Neurosci. 25, 4835–4843 (2005).

Yao, J. & Qin, F. Interaction with phosphoinositides confers adaptation onto the TRPV1 pain receptor. PLoS Biol. 7, e46 (2009).

Tominaga, M. et al. The cloned capsaicin receptor integrates multiple pain-producing stimuli. Neuron 21, 531–543 (1998).

Tominaga, M. & Tominaga, T. Structure and function of TRPV1. Pflugers Arch. 451, 143–150 (2005).

Duclaux, R. & Kenshalo, D.R. Sr. Response characteristics of cutaneous warm receptors in the monkey. J. Neurophysiol. 43, 1–15 (1980).

Kenshalo, D.R. & Duclaux, R. Response characteristics of cutaneous cold receptors in the monkey. J. Neurophysiol. 40, 319–332 (1977).

Karashima, Y. et al. TRPA1 acts as a cold sensor in vitro and in vivo. Proc. Natl. Acad. Sci. USA 106, 1273–1278 (2009).

Bandell, M. et al. Noxious cold ion channel TRPA1 is activated by pungent compounds and bradykinin. Neuron 41, 849–857 (2004).

Braz, J., Solorzano, C., Wang, X. & Basbaum, A.I. Transmitting pain and itch messages: a contemporary view of the spinal cord circuits that generate gate control. Neuron 82, 522–536 (2014).
Acknowledgements
We thank L. Luo for his generous support during the entire project, Z. Shen for initial experiments and G. Kamalani for assistance; and B. Barres (Stanford University) and D. Julius (University of California, San Francisco) for Mgfap-cre and Trpa1 knockout mice. We are grateful to X. Gao, C. Guenthner, B. Weissbourd and members of the Chen laboratory for comments on the manuscript. This work was supported by grants from the intramural research program of NIDCR (M.A.H.), and the Whitehall Foundation, Terman Fellowship and start-up funding from Stanford University (X.C.).
Ethics declarations
Competing interests
The authors declare no competing financial interests.
Integrated supplementary information
Supplementary information
Supplementary Figures 1–6 (PDF 1398 kb)
About this article
Cite this article
Ran, C., Hoon, M. & Chen, X. The coding of cutaneous temperature in the spinal cord. Nat Neurosci 19, 1201–1209 (2016). https://doi.org/10.1038/nn.4350
Received:

Accepted:

Published:

Issue Date:

DOI: https://doi.org/10.1038/nn.4350