Abstract
Social encounters are associated with varying degrees of emotional arousal and stress. The mechanisms underlying adequate socioemotional balance are unknown. The medial amygdala (MeA) is a brain region associated with social behavior in mice. Corticotropin-releasing factor receptor type-2 (CRF-R2) and its specific ligand urocortin-3 (Ucn3), known components of the behavioral stress response system, are highly expressed in the MeA. Here we show that mice deficient in CRF-R2 or Ucn3 exhibit abnormally low preference for novel conspecifics. MeA-specific knockdown of Crfr2 (Crhr2) in adulthood recapitulated this phenotype. In contrast, pharmacological activation of MeA CRF-R2 or optogenetic activation of MeA Ucn3 neurons increased preference for novel mice. Furthermore, chemogenetic inhibition of MeA Ucn3 neurons elicited pro-social behavior in freely behaving groups of mice without affecting their hierarchal structure. These findings collectively suggest that the MeA Ucn3–CRF-R2 system modulates the ability of mice to cope with social challenges.
Relevant articles
Open Access articles citing this article.
Stoyo Karamihalev

,

Cornelia Flachskamm

…

Alon Chen

Scientific Reports Open Access 23 October 2019

Caterina Squillacioti

,

Alessandra Pelagalli

…

Nicola Mirabella

Acta Veterinaria Scandinavica Open Access 04 October 2019
Access options
Subscribe to Journal
Get full journal access for 1 year
$79.00
only $6.58 per issue
All prices are NET prices.
VAT will be added later in the checkout.
Tax calculation will be finalised during checkout.
Buy article
Get time limited or full article access on ReadCube.
$32.00
All prices are NET prices.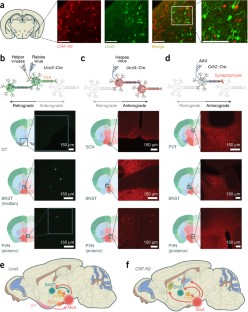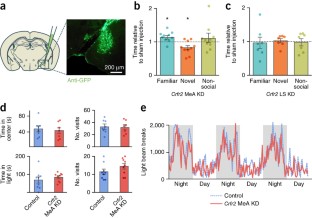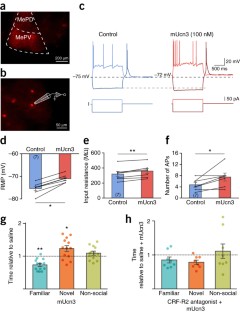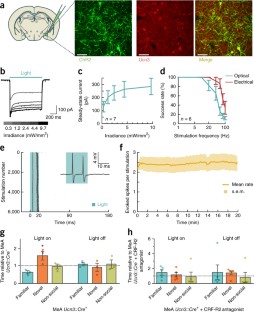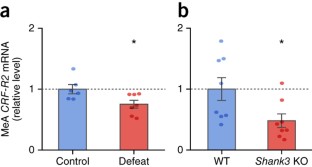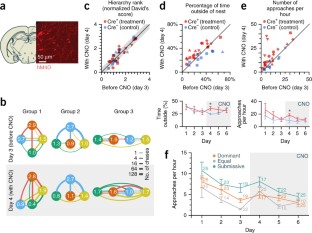 References
Tost, H., Champagne, F.A. & Meyer-Lindenberg, A. Environmental influence in the brain, human welfare and mental health. Nat. Neurosci. 18, 1421–1431 (2015).

Iarocci, G., Yager, J. & Elfers, T. What gene-environment interactions can tell us about social competence in typical and atypical populations. Brain Cogn. 65, 112–127 (2007).

Heimberg, R.G. et al. Social anxiety disorder in DSM-5. Depress. Anxiety 31, 472–479 (2014).

Mehling, M.H. & Tassé, M.J. Severity of autism spectrum disorders: current conceptualization, and transition to DSM-5. J. Autism Dev. Disord. 46, 2000–2016 (2016).

Eisenberger, N.I. & Cole, S.W. Social neuroscience and health: neurophysiological mechanisms linking social ties with physical health. Nat. Neurosci. 15, 669–674 (2012).

Sztainberg, Y. & Chen, A. Neuropeptide regulation of stress-induced behavior: insights from the crf/urocortin family. in Handbook of Neuroendocrinology (eds Fink, G., Pfaff, D.W. & Levine, J.) Ch. 15 (Academic Press, 2011).

Lewis, K. et al. Identification of urocortin III, an additional member of the corticotropin-releasing factor (CRF) family with high affinity for the CRF2 receptor. Proc. Natl. Acad. Sci. USA 98, 7570–7575 (2001).

Deussing, J.M. et al. Urocortin 3 modulates social discrimination abilities via corticotropin-releasing hormone receptor type 2. J. Neurosci. 30, 9103–9116 (2010).

Van Pett, K. et al. Distribution of mRNAs encoding CRF receptors in brain and pituitary of rat and mouse. J. Comp. Neurol. 428, 191–212 (2000).

Goodson, J.L. The vertebrate social behavior network: evolutionary themes and variations. Horm. Behav. 48, 11–22 (2005).

Brennan, P.A. & Keverne, E.B. Something in the air? New insights into mammalian pheromones. Curr. Biol. 14, R81–R89 (2004).

Samuelsen, C.L. & Meredith, M. Categorization of biologically relevant chemical signals in the medial amygdala. Brain Res. 1263, 33–42 (2009).

Toth, I. & Neumann, I.D. Animal models of social avoidance and social fear. Cell Tissue Res. 354, 107–118 (2013).

Silverman, J.L., Yang, M., Lord, C. & Crawley, J.N. Behavioural phenotyping assays for mouse models of autism. Nat. Rev. Neurosci. 11, 490–502 (2010).

Gray, S.J., Jensen, S.P. & Hurst, J.L. Structural complexity of territories: preference, use of space and defence in commensal house mice, Mus domesticus. Anim. Behav. 60, 765–772 (2000).

Kalueff, A.V., Wheaton, M. & Murphy, D.L. What's wrong with my mouse model? Advances and strategies in animal modeling of anxiety and depression. Behav. Brain Res. 179, 1–18 (2007).

Shemesh, Y. et al. High-order social interactions in groups of mice. Elife 2, e00759 (2013).

de Chaumont, F. et al. Computerized video analysis of social interactions in mice. Nat. Methods 9, 410–417 (2012).

Hong, W. et al. Automated measurement of mouse social behaviors using depth sensing, video tracking, and machine learning. Proc. Natl. Acad. Sci. USA 112, E5351–E5360 (2015).

Moy, S.S. et al. Social approach in genetically engineered mouse lines relevant to autism. Genes Brain Behav. 8, 129–142 (2009).

Watabe-Uchida, M., Zhu, L., Ogawa, S.K., Vamanrao, A. & Uchida, N. Whole-brain mapping of direct inputs to midbrain dopamine neurons. Neuron 74, 858–873 (2012).

Allen Institute for Brain Science. Allen Mouse Brain Atlas. http://mouse.brain-map.org (2015).

Lein, E.S. et al. Genome-wide atlas of gene expression in the adult mouse brain. Nature 445, 168–176 (2007).

Wesson, D.W. & Wilson, D.A. Sniffing out the contributions of the olfactory tubercle to the sense of smell: hedonics, sensory integration, and more? Neurosci. Biobehav. Rev. 35, 655–668 (2011).

Lebow, M.A. & Chen, A. Overshadowed by the amygdala: the bed nucleus of the stria terminalis emerges as key to psychiatric disorders. Mol. Psychiatry 21, 450–463 (2016).

Stoop, R. Neuromodulation by oxytocin and vasopressin. Neuron 76, 142–159 (2012).

Lo, L. & Anderson, D.J.A. A Cre-dependent, anterograde transsynaptic viral tracer for mapping output pathways of genetically marked neurons. Neuron 72, 938–950 (2011).

Pardo-Bellver, C., Cádiz-Moretti, B., Novejarque, A., Martínez-García, F. & Lanuza, E. Differential efferent projections of the anterior, posteroventral, and posterodorsal subdivisions of the medial amygdala in mice. Front. Neuroanat. 6, 33 (2012).

Taniguchi, H. et al. A resource of Cre driver lines for genetic targeting of GABAergic neurons in cerebral cortex. Neuron 71, 995–1013 (2011).

Kirouac, G.J. Placing the paraventricular nucleus of the thalamus within the brain circuits that control behavior. Neurosci. Biobehav. Rev. 56, 315–329 (2015).

Lebow, M. et al. Susceptibility to PTSD-like behavior is mediated by corticotropin-releasing factor receptor type 2 levels in the bed nucleus of the stria terminalis. J. Neurosci. 32, 6906–6916 (2012).

Keshavarzi, S., Sullivan, R.K., Ianno, D.J. & Sah, P. Functional properties and projections of neurons in the medial amygdala. J. Neurosci. 34, 8699–8715 (2014).

Elliott, E., Ezra-Nevo, G., Regev, L., Neufeld-Cohen, A. & Chen, A. Resilience to social stress coincides with functional DNA methylation of the Crf gene in adult mice. Nat. Neurosci. 13, 1351–1353 (2010).

Peça, J. et al. Shank3 mutant mice display autistic-like behaviours and striatal dysfunction. Nature 472, 437–442 (2011).

Urban, D.J. & Roth, B.L. DREADDs (designer receptors exclusively activated by designer drugs): chemogenetic tools with therapeutic utility. Annu. Rev. Pharmacol. Toxicol. 55, 399–417 (2015).

Bronson, F.H. The reproductive ecology of the house mouse. Q. Rev. Biol. 54, 265–299 (1979).

Selten, J.-P., van der Ven, E., Rutten, B.P. & Cantor-Graae, E. The social defeat hypothesis of schizophrenia: an update. Schizophr. Bull. 39, 1180–1186 (2013).

van Os, J., Kenis, G. & Rutten, B.P. The environment and schizophrenia. Nature 468, 203–212 (2010).

Anderson, D.J. & Perona, P. Toward a science of computational ethology. Neuron 84, 18–31 (2014).

De Dreu, C.K., Greer, L.L., Van Kleef, G.A., Shalvi, S. & Handgraaf, M.J. Oxytocin promotes human ethnocentrism. Proc. Natl. Acad. Sci. USA 108, 1262–1266 (2011).

Miskovic, V. & Schmidt, L.A. Social fearfulness in the human brain. Neurosci. Biobehav. Rev. 36, 459–478 (2012).

Rabiner, L.R. A tutorial on hidden Markov models and selected applications in speech recognition. Proc. IEEE 77, 257–286 (1989).

Duda, R.O., Hart, P.E. & Stork, D.G. Pattern Classification and Scene Analysis 2nd ed. (Wiley Interscience, 1995).

Breiman, L., Friedman, J., Stone, C.J. & Olshen, R.A. Classification and Regression Trees (CRC Press, 1984).

Clopper, C.J. & Pearson, E.S. The use of confidence or fiducial limits illustrated in the case of the binomial. Biometrika 26, 404–413 (1934).

Cormen, T.H. Introduction to Algorithms (MIT Press, 2009).

de Vries, H., Stevens, J.M. & Vervaecke, H. Measuring and testing the steepness of dominance hierarchies. Anim. Behav. 71, 585–592 (2006).

Howell, D. Statistical Methods for Psychology (Cengage Learning, 2012).
Acknowledgements
We thank S. Ovadia for his devoted assistance with animal care. We thank J. Keverne for professional English editing, formatting and scientific input. This work is supported by an FP7 grant from the European Research Council (260463; A.C.); research grants from the Israel Science Foundation (1565/15) (A.C.); research support from Roberto and Renata Ruhman (A.C.); research support from Bruno and Simone Licht; I-CORE Program of the Planning and Budgeting Committee and The Israel Science Foundation (grant no. 1916/12 to A.C.); the Nella and Leon Benoziyo Center for Neurological Diseases (A.C.); the Henry Chanoch Krenter Institute for Biomedical Imaging and Genomics (A.C.); the Perlman Family Foundation, founded by Louis L. and Anita M. Perlman (A.C.); the Adelis Foundation (A.C.); the Irving I. Moskowitz Foundation (A.C.); grants from the Israel Science Foundation (1351/12) and the European Commission (ERC StG #337637 and Marie Curie CIG #321919) (O.Y.) and a Human Frontier Program career development award (O.Y.); a Human Frontier Science Program grant (E.S.); European Research Council grant # 311238 (E.S.); an Israel Science Foundation grant #1629/12 (E.S.); research support from Martin Kushner Schnur (E.S.); and Mr. and Mrs. Lawrence Feis (E.S.).
Ethics declarations
Competing interests
The authors declare no competing financial interests.
Integrated supplementary information
Supplementary information
About this article
Cite this article
Shemesh, Y., Forkosh, O., Mahn, M. et al. Ucn3 and CRF-R2 in the medial amygdala regulate complex social dynamics. Nat Neurosci 19, 1489–1496 (2016). https://doi.org/10.1038/nn.4346
Received:

Accepted:

Published:

Issue Date:

DOI: https://doi.org/10.1038/nn.4346