Abstract
Cocaine withdrawal produces aversive states and vulnerability to relapse, hallmarks of addiction. The lateral habenula (LHb) encodes negative stimuli and contributes to aversive withdrawal symptoms. However, it remains unclear which inputs to LHb promote this and what the consequences are for relapse susceptibility. We report, using rabies-based retrolabeling and optogenetic mapping, that the entopeduncular nucleus (EPN, the mouse equivalent of the globus pallidus interna) projects to an LHb neuronal subset innervating aversion-encoding midbrain GABA neurons. EPN-to-LHb excitatory signaling is limited by GABAergic cotransmission. This inhibitory component decreases during cocaine withdrawal as a result of reduced presynaptic vesicular GABA transporter (VGAT). This shifts the EPN-to-LHb GABA/glutamate balance, disinhibiting EPN-driven LHb activity. Selective virally mediated VGAT overexpression at EPN-to-LHb terminals during withdrawal normalizes GABAergic neurotransmission. This intervention rescues cocaine-evoked aversive states and prevents stress-induced reinstatement, used to model relapse. This identifies diminished inhibitory transmission at EPN-to-LHb GABA/glutamate synapses as a mechanism contributing to the relapsing feature of addictive behavior.
Relevant articles
Open Access articles citing this article.
Ya Wen

,

Zhifang Dong

…

Yu Tian Wang

Signal Transduction and Targeted Therapy Open Access 03 October 2022

Maggie W. Waung

,

Kayla A. Maanum

…

Elyssa B. Margolis

Nature Communications Open Access 09 February 2022

Yuta Miyamoto

&

Takaichi Fukuda

Brain Structure and Function Open Access 31 March 2021
Access options
Subscribe to this journal
Receive 12 print issues and online access
$209.00 per year
only $17.42 per issue
Rent or buy this article
Prices vary by article type
from$1.95
to$39.95
Prices may be subject to local taxes which are calculated during checkout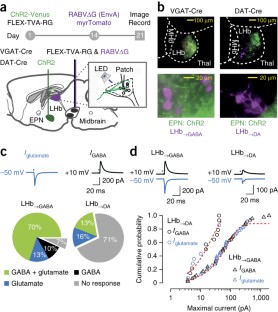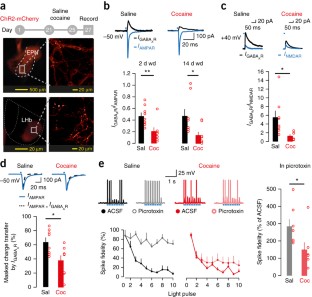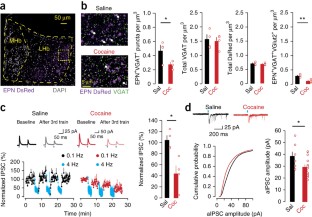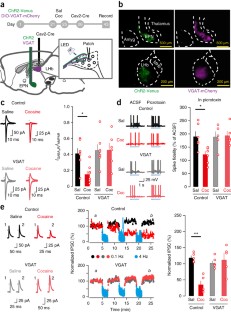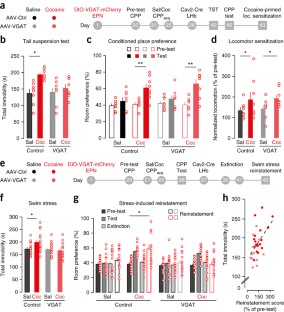 References
Lammel, S. et al. Input-specific control of reward and aversion in the ventral tegmental area. Nature 491, 212–217 (2012).

Stamatakis, A.M. & Stuber, G.D. Activation of lateral habenula inputs to the ventral midbrain promotes behavioral avoidance. Nat. Neurosci. 15, 1105–1107 (2012).

Ide, J.S. & Li, C.S. Error-related functional connectivity of the habenula in humans. Front. Hum. Neurosci. 5, 25 (2011).

Brown, R.M., Short, J.L. & Lawrence, A.J. Identification of brain nuclei implicated in cocaine-primed reinstatement of conditioned place preference: a behaviour dissociable from sensitization. PLoS One 5, e15889 (2010).

Gill, M.J., Ghee, S.M., Harper, S.M. & See, R.E. Inactivation of the lateral habenula reduces anxiogenic behavior and cocaine seeking under conditions of heightened stress. Pharmacol. Biochem. Behav. 111, 24–29 (2013).

Jhou, T.C. et al. Cocaine drives aversive conditioning via delayed activation of dopamine-responsive habenular and midbrain pathways. J. Neurosci. 33, 7501–7512 (2013).

Meye, F.J. et al. Cocaine-evoked negative symptoms require AMPA receptor trafficking in the lateral habenula. Nat. Neurosci. 18, 376–378 (2015).

Shabel, S.J., Proulx, C.D., Trias, A., Murphy, R.T. & Malinow, R. Input to the lateral habenula from the basal ganglia is excitatory, aversive, and suppressed by serotonin. Neuron 74, 475–481 (2012).

Shabel, S.J., Proulx, C.D., Piriz, J. & Malinow, R. Mood regulation. GABA/glutamate co-release controls habenula output and is modified by antidepressant treatment. Science 345, 1494–1498 (2014).

Hong, S. & Hikosaka, O. The globus pallidus sends reward-related signals to the lateral habenula. Neuron 60, 720–729 (2008).

Ishida, Y., Denovan-Wright, E., Hebb, M.O. & Robertson, H.A. Amphetamine-induced Fos expression is evident in gamma-aminobutyric acid neurons in the globus pallidus and entopeduncular nucleus in rats treated with intrastriatal c-fos antisense oligodeoxynucleotides. Exp. Neurol. 175, 275–281 (2002).

Porrino, L.J. Functional consequences of acute cocaine treatment depend on route of administration. Psychopharmacology (Berl.) 112, 343–351 (1993).

Pignatelli, M. & Bonci, A. Role of dopamine neurons in reward and aversion: a synaptic plasticity perspective. Neuron 86, 1145–1157 (2015).

Micheva, K.D. & Smith, S.J. Array tomography: a new tool for imaging the molecular architecture and ultrastructure of neural circuits. Neuron 55, 25–36 (2007).

Soiza-Reilly, M., Anderson, W.B., Vaughan, C.W. & Commons, K.G. Presynaptic gating of excitation in the dorsal raphe nucleus by GABA. Proc. Natl. Acad. Sci. USA 110, 15800–15805 (2013).

Edwards, R.H. The neurotransmitter cycle and quantal size. Neuron 55, 835–858 (2007).

Erickson, J.D., De Gois, S., Varoqui, H., Schafer, M.K. & Weihe, E. Activity-dependent regulation of vesicular glutamate and GABA transporters: a means to scale quantal size. Neurochem. Int. 48, 643–649 (2006).

Wang, L., Tu, P., Bonet, L., Aubrey, K.R. & Supplisson, S. Cytosolic transmitter concentration regulates vesicle cycling at hippocampal GABAergic terminals. Neuron 80, 143–158 (2013).

Tritsch, N.X., Ding, J.B. & Sabatini, B.L. Dopaminergic neurons inhibit striatal output through non-canonical release of GABA. Nature 490, 262–266 (2012).

Chillon, M. & Kremer, E.J. Trafficking and propagation of canine adenovirus vectors lacking a known integrin-interacting motif. Hum. Gene Ther. 12, 1815–1823 (2001).

Barr, A.M., Markou, A. & Phillips, A.G.A. A 'crash' course on psychostimulant withdrawal as a model of depression. Trends Pharmacol. Sci. 23, 475–482 (2002).

Koob, G.F. & Volkow, N.D. Neurocircuitry of addiction. Neuropsychopharmacology 35, 217–238 (2010).

Mantsch, J.R., Baker, D.A., Funk, D., Le, A.D. & Shaham, Y. Stress-induced reinstatement of drug seeking: 20 years of progress. Neuropsychopharmacology 41, 335–356 (2016).

Hatzigiakoumis, D.S., Martinotti, G., Giannantonio, M.D. & Janiri, L. Anhedonia and substance dependence: clinical correlates and treatment options. Front. Psychiatry 2, 10 (2011).

Li, B. et al. Synaptic potentiation onto habenula neurons in the learned helplessness model of depression. Nature 470, 535–539 (2011).

Ji, H. & Shepard, P.D. Lateral habenula stimulation inhibits rat midbrain dopamine neurons through a GABAA receptor-mediated mechanism. J. Neurosci. 27, 6923–6930 (2007).

Dunlop, B.W. & Nemeroff, C.B. The role of dopamine in the pathophysiology of depression. Arch. Gen. Psychiatry 64, 327–337 (2007).

Tye, K.M. et al. Dopamine neurons modulate neural encoding and expression of depression-related behaviour. Nature 493, 537–541 (2013).

Radke, A.K. & Gewirtz, J.C. Increased dopamine receptor activity in the nucleus accumbens shell ameliorates anxiety during drug withdrawal. Neuropsychopharmacology 37, 2405–2415 (2012).

Twining, R.C. et al. Aversive stimuli drive drug seeking in a state of low dopamine tone. Biol. Psychiatry 77, 895–902 (2015).

Rah, J.C. et al. Thalamocortical input onto layer 5 pyramidal neurons measured using quantitative large-scale array tomography. Front. Neural Circuits 7, 177 (2013).

Micheva, K.D., Busse, B., Weiler, N.C., O'Rourke, N. & Smith, S.J. Single-synapse analysis of a diverse synapse population: proteomic imaging methods and markers. Neuron 68, 639–653 (2010).

Soiza-Reilly, M. & Commons, K.G. Quantitative analysis of glutamatergic innervation of the mouse dorsal raphe nucleus using array tomography. J. Comp. Neurol. 519, 3802–3814 (2011).

Seo, S. & Leitch, B. Synaptic changes in GABAA receptor expression in the thalamus of the stargazer mouse model of absence epilepsy. Neuroscience 306, 28–38 (2015).

Woo, J. et al. The adhesion protein IgSF9b is coupled to neuroligin 2 via S-SCAM to promote inhibitory synapse development. J. Cell Biol. 201, 929–944 (2013).
Acknowledgements
We thank E. Kremer and P. Jegouzo for technical assistance. We thank A. Adamantidis, G. Ramakers, C. Bellone, J.C. Poncer and the Mameli laboratory for feedback on the manuscript and discussions. This work was supported by INSERM Atip-Avenir, the City of Paris, the European Research Council (Starting Grant SalienSy 335333) to M.M., the Fyssen Foundation to F.J.M. and the SFB1089 to M.K.S. The Mameli laboratory is part of the LabEx BioPsy.
Ethics declarations
Competing interests
The authors declare no competing financial interests.
Integrated supplementary information
Supplementary information
Supplementary figures 1–6 (PDF 1294 kb)
About this article
Cite this article
Meye, F., Soiza-Reilly, M., Smit, T. et al. Shifted pallidal co-release of GABA and glutamate in habenula drives cocaine withdrawal and relapse. Nat Neurosci 19, 1019–1024 (2016). https://doi.org/10.1038/nn.4334
Received:

Accepted:

Published:

Issue Date:

DOI: https://doi.org/10.1038/nn.4334