Abstract
Different cortical areas are organized into distinct intracortical subnetworks. The manner in which descending pathways from the entire cortex interact subcortically as a network remains unclear. We developed an open-access comprehensive mesoscale mouse cortico-striatal projectome: a detailed connectivity projection map from the entire cerebral cortex to the dorsal striatum or caudoputamen (CP) in rodents. On the basis of these projections, we used new computational neuroanatomical tools to identify 29 distinct functional striatal domains. Furthermore, we characterized different cortico-striatal networks and how they reconfigure across the rostral–caudal extent of the CP. The workflow was also applied to select cortico-striatal connections in two different mouse models of disconnection syndromes to demonstrate its utility for characterizing circuitry-specific connectopathies. Together, our results provide the structural basis for studying the functional diversity of the dorsal striatum and disruptions of cortico-basal ganglia networks across a broad range of disorders.
Relevant articles
Open Access articles citing this article.
Allen P. F. Chen

,

Jeffrey M. Malgady

…

Qiaojie Xiong

Nature Communications Open Access 08 October 2022

Drew C. Schreiner

,

Christian Cazares

…

Christina M. Gremel

Nature Communications Open Access 19 April 2022

Chuan Huang

,

Yu Wang

…

Jiang-Ning Zhou

Communications Biology Open Access 06 April 2022
Access options
Subscribe to Journal
Get full journal access for 1 year
$79.00
only $6.58 per issue
All prices are NET prices.
VAT will be added later in the checkout.
Tax calculation will be finalised during checkout.
Buy article
Get time limited or full article access on ReadCube.
$32.00
All prices are NET prices.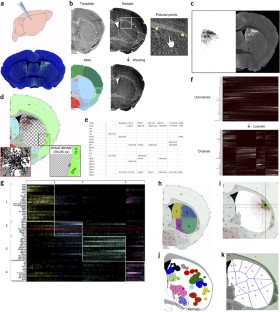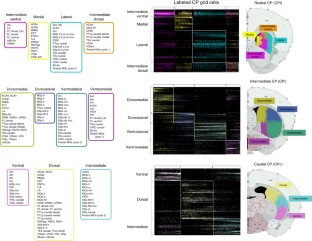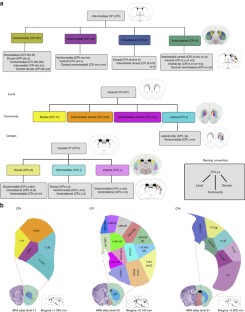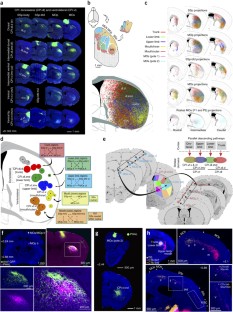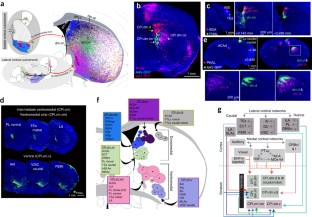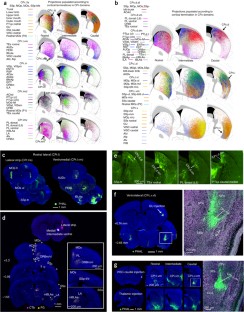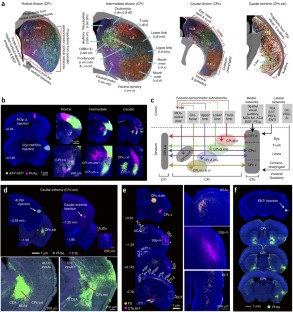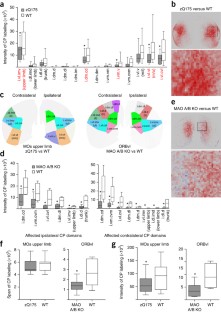 References
Zingg, B. et al. Neural networks of the mouse neocortex. Cell 156, 1096–1111 (2014).

Oh, S.W. et al. A mesoscale connectome of the mouse brain. Nature 508, 207–214 (2014).

Bota, M., Sporns, O. & Swanson, L.W. Architecture of the cerebral cortical association connectome underlying cognition. Proc. Natl. Acad. Sci. USA 112, E2093–E2101 (2015).

Song, H.F., Kennedy, H. & Wang, X.J. Spatial embedding of structural similarity in the cerebral cortex. Proc. Natl. Acad. Sci. USA 111, 16580–16585 (2014).

Alexander, G.E., DeLong, M.R. & Strick, P.L. Parallel organization of functionally segregated circuits linking basal ganglia and cortex. Annu. Rev. Neurosci. 9, 357–381 (1986).

Parent, A. & Hazrati, L.N. Functional anatomy of the basal ganglia. I. The cortico-basal ganglia-thalamo-cortical loop. Brain Res. Brain Res. Rev. 20, 91–127 (1995).

Swanson, L.W. Cerebral hemisphere regulation of motivated behavior. Brain Res. 886, 113–164 (2000).

Yin, H.H. & Knowlton, B.J. The role of the basal ganglia in habit formation. Nat. Rev. Neurosci. 7, 464–476 (2006).

Graybiel, A.M. Habits, rituals, and the evaluative brain. Annu. Rev. Neurosci. 31, 359–387 (2008).

Balleine, B.W. & O'Doherty, J.P. Human and rodent homologies in action control: corticostriatal determinants of goal-directed and habitual action. Neuropsychopharmacology 35, 48–69 (2010).

Malach, R. & Graybiel, A.M. Mosaic architecture of the somatic sensory-recipient sector of the cat's striatum. J. Neurosci. 6, 3436–3458 (1986).

Flaherty, A.W. & Graybiel, A.M. Corticostriatal transformations in the primate somatosensory system. Projections from physiologically mapped body-part representations. J. Neurophysiol. 66, 1249–1263 (1991).

Berendse, H.W., Galis-de Graaf, Y. & Groenewegen, H.J. Topographical organization and relationship with ventral striatal compartments of prefrontal corticostriatal projections in the rat. J. Comp. Neurol. 316, 314–347 (1992).

Brown, L.L., Smith, D.M. & Goldbloom, L.M. Organizing principles of cortical integration in the rat neostriatum: corticostriate map of the body surface is an ordered lattice of curved laminae and radial points. J. Comp. Neurol. 392, 468–488 (1998).

Alloway, K.D., Crist, J., Mutic, J.J. & Roy, S.A. Corticostriatal projections from rat barrel cortex have an anisotropic organization that correlates with vibrissal whisking behavior. J. Neurosci. 19, 10908–10922 (1999).

Mailly, P., Aliane, V., Groenewegen, H.J., Haber, S.N. & Deniau, J.M. The rat prefrontostriatal system analyzed in 3D: evidence for multiple interacting functional units. J. Neurosci. 33, 5718–5727 (2013).

Averbeck, B.B., Lehman, J., Jacobson, M. & Haber, S.N. Estimates of projection overlap and zones of convergence within frontal-striatal circuits. J. Neurosci. 34, 9497–9505 (2014).

Pan, W.X., Mao, T. & Dudman, J.T. Inputs to the dorsal striatum of the mouse reflect the parallel circuit architecture of the forebrain. Front. Neuroanat. 4, 147 (2010).

Haber, S.N. The primate basal ganglia: parallel and integrative networks. J. Chem. Neuroanat. 26, 317–330 (2003).

Voorn, P., Vanderschuren, L.J., Groenewegen, H.J., Robbins, T.W. & Pennartz, C.M. Putting a spin on the dorsal-ventral divide of the striatum. Trends Neurosci. 27, 468–474 (2004).

Joel, D. Open interconnected model of basal ganglia-thalamocortical circuitry and its relevance to the clinical syndrome of Huntington's disease. Mov. Disord. 16, 407–423 (2001).

Nelson, A.B. & Kreitzer, A.C. Reassessing models of basal ganglia function and dysfunction. Annu. Rev. Neurosci. 37, 117–135 (2014).

Shepherd, G.M. Corticostriatal connectivity and its role in disease. Nat. Rev. Neurosci. 14, 278–291 (2013).

Dong, H.W. The Allen Reference Atlas: a digital color brain atlas of the C57BL/6J male mouse (John Wiley and Sons, 2007).

Paxinos, G. & Watson, C. The Rat Brain in Stereotaxic Coordinates 7th edn. (Academic Press, 2013).

Swanson, L.W. Brain Maps: Structure of the Rat Brain 3rd edn. (Academic Press, 2004).

Blondel, V.D., Guillaume, J.L., Lambiotte, R. & Lefebvre, E. Fast unfolding of communities in large networks. J. Stat. Mech. published online, doi:10.1088/1742-5468/2008/10/p10008 (9 October 2008).

Moser, E.I., Kropff, E. & Moser, M.B. Place cells, grid cells, and the brain's spatial representation system. Annu. Rev. Neurosci. 31, 69–89 (2008).

Taube, J.S. Head direction cells and the neurophysiological basis for a sense of direction. Prog. Neurobiol. 55, 225–256 (1998).

Fanselow, M.S. & Poulos, A.M. The neuroscience of mammalian associative learning. Annu. Rev. Psychol. 56, 207–234 (2005).

Reep, R.L., Cheatwood, J.L. & Corwin, J.V. The associative striatum: organization of cortical projections to the dorsocentral striatum in rats. J. Comp. Neurol. 467, 271–292 (2003).

Reep, R.L. & Corwin, J.V. Posterior parietal cortex as part of a neural network for directed attention in rats. Neurobiol. Learn. Mem. 91, 104–113 (2009).

Thakkar, K.N., van den Heiligenberg, F.M., Kahn, R.S. & Neggers, S.F. Frontal-subcortical circuits involved in reactive control and monitoring of gaze. J. Neurosci. 34, 8918–8929 (2014).

Allen, G.V., Saper, C.B., Hurley, K.M. & Cechetto, D.F. Organization of visceral and limbic connections in the insular cortex of the rat. J. Comp. Neurol. 311, 1–16 (1991).

Craig, A.D. How do you feel--now? The anterior insula and human awareness. Nat. Rev. Neurosci. 10, 59–70 (2009).

Swanson, L.W. & Petrovich, G.D. What is the amygdala? Trends Neurosci. 21, 323–331 (1998).

Pisa, M. Motor somatotopy in the striatum of rat: manipulation, biting and gait. Behav. Brain Res. 27, 21–35 (1988).

dos Santos, L.M. et al. The role of the ventrolateral caudoputamen in predatory hunting. Physiol. Behav. 105, 893–898 (2012).

Griffiths, K.R., Morris, R.W. & Balleine, B.W. Translational studies of goal-directed action as a framework for classifying deficits across psychiatric disorders. Front. Syst. Neurosci. 8, 101 (2014).

Heikkinen, T. et al. Characterization of neurophysiological and behavioral changes, MRI brain volumetry and 1H MRS in zQ175 knock-in mouse model of Huntington's disease. PLoS One 7, e50717 (2012).

Bortolato, M. et al. Monoamine oxidase A and A/B knockout mice display autistic-like features. Int. J. Neuropsychopharmacol. 16, 869–888 (2013).

Geschwind, D.H. & Levitt, P. Autism spectrum disorders: developmental disconnection syndromes. Curr. Opin. Neurobiol. 17, 103–111 (2007).

Sporns, O. Contributions and challenges for network models in cognitive neuroscience. Nat. Neurosci. 17, 652–660 (2014).

Zahm, D.S. An integrative neuroanatomical perspective on some subcortical substrates of adaptive responding with emphasis on the nucleus accumbens. Neurosci. Biobehav. Rev. 24, 85–105 (2000).

Groenewegen, H.J., Wright, C.I., Beijer, A.V. & Voorn, P. Convergence and segregation of ventral striatal inputs and outputs. Ann. NY Acad. Sci. 877, 49–63 (1999).

Cromwell, H.C. & Berridge, K.C. Implementation of action sequences by a neostriatal site: a lesion mapping study of grooming syntax. J. Neurosci. 16, 3444–3458 (1996).

Devan, B.D. & White, N.M. Parallel information processing in the dorsal striatum: relation to hippocampal function. J. Neurosci. 19, 2789–2798 (1999).

Hikosaka, O., Nakamura, K. & Nakahara, H. Basal ganglia orient eyes to reward. J. Neurophysiol. 95, 567–584 (2006).

Cohen, Y.E. & Andersen, R.A. A common reference frame for movement plans in the posterior parietal cortex. Nat. Rev. Neurosci. 3, 553–562 (2002).

Steinberg, E.E., Christoffel, D.J., Deisseroth, K. & Malenka, R.C. Illuminating circuitry relevant to psychiatric disorders with optogenetics. Curr. Opin. Neurobiol. 30, 9–16 (2015).

Smith, K.S. & Graybiel, A.M. A dual operator view of habitual behavior reflecting cortical and striatal dynamics. Neuron 79, 361–374 (2013).

Hintiryan, H. et al. Comprehensive connectivity of the mouse main olfactory bulb: analysis and online digital atlas. Front. Neuroanat. 6, 30 (2012).

Biag, J. et al. Cyto- and chemoarchitecture of the hypothalamic paraventricular nucleus in the C57BL/6J male mouse: a study of immunostaining and multiple fluorescent tract tracing. J. Comp. Neurol. 520, 6–33 (2012).

Gerfen, C.R. & Sawchenko, P.E. An anterograde neuroanatomical tracing method that shows the detailed morphology of neurons, their axons and terminals: immunohistochemical localization of an axonally transported plant lectin, Phaseolus vulgaris leucoagglutinin (PHA-L). Brain Res. 290, 219–238 (1984).

Rubinov, M. & Sporns, O. Complex network measures of brain connectivity: uses and interpretations. Neuroimage 52, 1059–1069 (2010).

Voronoï, G. Nouvelles applications des paramètres continus à la théorie des formes quadratiques Deuxième mémoire Recherches sur les parallélloèdres primitifs. J. reine angewandte Mathematik 134, 198–287 (1908).

Fabri, M. & Burton, H. Topography of connections between primary somatosensory cortex and posterior complex in rat: a multiple fluorescent tracer study. Brain Res. 538, 351–357 (1991).

Hoogland, P.V., Welker, E. & Van der Loos, H. Organization of the projections from barrel cortex to thalamus in mice studied with Phaseolus vulgaris-leucoagglutinin and HRP. Exp. Brain Res. 68, 73–87 (1987).

Liao, C.C., Chen, R.F., Lai, W.S., Lin, R.C. & Yen, C.T. Distribution of large terminal inputs from the primary and secondary somatosensory cortices to the dorsal thalamus in the rodent. J. Comp. Neurol. 518, 2592–2611 (2010).

Nambu, A. Somatotopic organization of the primate Basal Ganglia. Front. Neuroanat. 5, 26 (2011).

Li, X.G., Florence, S.L. & Kaas, J.H. Areal distributions of cortical neurons projecting to different levels of the caudal brain stem and spinal cord in rats. Somatosens. Mot. Res. 7, 315–335 (1990).

Remple, M.S., Henry, E.C. & Catania, K.C. Organization of somatosensory cortex in the laboratory rat (Rattus norvegicus): Evidence for two lateral areas joined at the representation of the teeth. J. Comp. Neurol. 467, 105–118 (2003).

Cerkevich, C.M., Qi, H.X. & Kaas, J.H. Corticocortical projections to representations of the teeth, tongue, and face in somatosensory area 3b of macaques. J. Comp. Neurol. 522, 546–572 (2014).

Welker, E., Hoogland, P.V. & Van der Loos, H. Organization of feedback and feedforward projections of the barrel cortex: a PHA-L study in the mouse. Exp. Brain Res. 73, 411–435 (1988).
Acknowledgements
The authors are grateful to L.W. Swanson and H. Karten for serving on the Advisory Council for the Mouse Connectome Project (http://www.mouseconnectome.org/). This work was supported by NIH/NIMH MH094360-01A1 (H.-W.D.), NIH/NCI U01CA198932-01 (H.-W.D.), the CHDI Foundation A-7601 (H.-W.D.), NIH/NIMH U01MH106008 (X.W.Y.) and LONIR P41 EB015922 (A.W.T.).
Ethics declarations
Competing interests
The authors declare no competing financial interests.
Integrated supplementary information
Supplementary information
Supplementary Figures 1–9 (PDF 3043 kb)
List of repeated cortical injections (XLSX 10 kb)
About this article
Cite this article
Hintiryan, H., Foster, N., Bowman, I. et al. The mouse cortico-striatal projectome. Nat Neurosci 19, 1100–1114 (2016). https://doi.org/10.1038/nn.4332
Received:

Accepted:

Published:

Issue Date:

DOI: https://doi.org/10.1038/nn.4332