Early nicotine exposure during brain development may cause long-lasting neurobiological and behavioral alterations in adulthood. Jung et al. present insights into the mechanisms mediating these developmental changes.
Access options
Subscribe to Journal
Get full journal access for 1 year
$79.00
only $6.58 per issue
All prices are NET prices.
VAT will be added later in the checkout.
Tax calculation will be finalised during checkout.
Buy article
Get time limited or full article access on ReadCube.
$32.00
All prices are NET prices.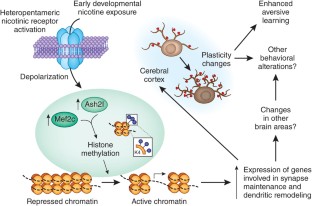 References
Suter, M.A. & Aagaard, K. Epigenomics 4, 115–118 (2012).

Muhammad, A. et al. Synapse 66, 950–954 (2012).

Blood-Siegfried, J. & Rende, E.K. J. Midwifery Womens Health 55, 143–152 (2010).

Jung, Y. et al. Nat. Neurosci. 19, 905–914 (2016).

Rumbaugh, G. & Miller, C.A. Methods Mol. Biol. 670, 263–274 (2011).

Krmpotić-Nemanić, J., Kostović, I., Kelović, Z., Nemanić, D. & Mrzljak, L. Acta Anat. 116, 69–73 (1983).

Robinson, T.E. & Kolb, B. Neuropharmacology 47 (suppl. 1), 33–46 (2004).

Guegan, T. et al. Eur. Neuropsychopharmacol. 23, 146–159 (2013).

Russo, S.J. et al. Trends Neurosci. 33, 267–276 (2010).
Ethics declarations
Competing interests
The authors declare no competing financial interests.
About this article
Cite this article
Maldonado, R., Martin, M. Epigenetics, behavior and early nicotine. Nat Neurosci 19, 863–864 (2016). https://doi.org/10.1038/nn.4330
Published:

Issue Date:

DOI: https://doi.org/10.1038/nn.4330