Abstract
In addition to the place-cell rate code, hippocampal area CA1 employs a temporal code, both on the single-cell and ensemble level, to accurately represent space. Although there is clear evidence that this precise spike timing is organized by theta and gamma oscillations that are present in hippocampus, the circuit mechanisms underlying these temporal codes remain poorly understood. We found that the loss of CA3 input abolished temporal coding at the ensemble level in CA1 despite the persistence of both rate and temporal coding in individual neurons. Moreover, low gamma oscillations were present in CA1 despite the absence of CA3 input, but spikes associated with these periods carried significantly reduced spatial information. Our findings dissociate temporal coding at the single-cell (phase precession) and population (theta sequences) levels and suggest that CA3 input is crucial for temporal coordination of the CA1 ensemble code for space.
Access options
Subscribe to Journal
Get full journal access for 1 year
$209.00
only $17.42 per issue
All prices are NET prices.
VAT will be added later in the checkout.
Rent or Buy article
Get time limited or full article access on ReadCube.
from$8.99
All prices are NET prices.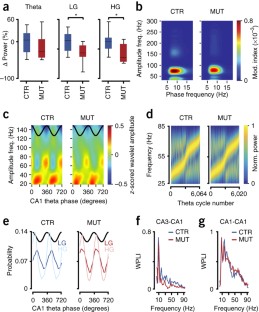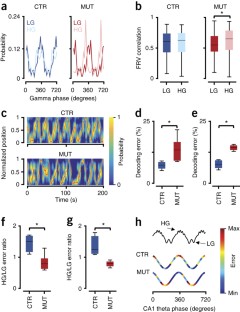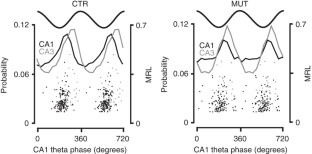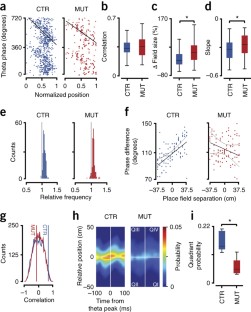 References
1

Moser, E.I. et al. Grid cells and cortical representation. Nat. Rev. Neurosci. 15, 466–481 (2014).

2

Colgin, L.L. et al. Frequency of gamma oscillations routes flow of information in the hippocampus. Nature 462, 353–357 (2009).

3

Schomburg, E.W. et al. Theta phase segregation of input-specific gamma patterns in entorhinal-hippocampal networks. Neuron 84, 470–485 (2014).

4

O'Keefe, J. & Dostrovsky, J. The hippocampus as a spatial map. Preliminary evidence from unit activity in the freely-moving rat. Brain Res. 34, 171–175 (1971).

5

O'Keefe, J. & Recce, M.L. Phase relationship between hippocampal place units and the EEG theta rhythm. Hippocampus 3, 317–330 (1993).

6

Dragoi, G. & Buzsáki, G. Temporal encoding of place sequences by hippocampal cell assemblies. Neuron 50, 145–157 (2006).

7

Feng, T., Silva, D. & Foster, D.J. Dissociation between the experience-dependent development of hippocampal theta sequences and single-trial phase precession. J. Neurosci. 35, 4890–4902 (2015).

8

Foster, D.J. & Wilson, M.A. Hippocampal theta sequences. Hippocampus 17, 1093–1099 (2007).

9

Skaggs, W.E., McNaughton, B.L., Wilson, M.A. & Barnes, C.A. Theta phase precession in hippocampal neuronal populations and the compression of temporal sequences. Hippocampus 6, 149–172 (1996).

10

Wang, Y., Romani, S., Lustig, B., Leonardo, A. & Pastalkova, E. Theta sequences are essential for internally generated hippocampal firing fields. Nat. Neurosci. 18, 282–288 (2015).

11

Schlesiger, M.I. et al. The medial entorhinal cortex is necessary for temporal organization of hippocampal neuronal activity. Nat. Neurosci. 18, 1123–1132 (2015).

12

Nakashiba, T., Buhl, D.L., McHugh, T.J. & Tonegawa, S. Hippocampal CA3 output is crucial for ripple-associated reactivation and consolidation of memory. Neuron 62, 781–787 (2009).

13

Nakashiba, T., Young, J.Z., McHugh, T.J., Buhl, D.L. & Tonegawa, S. Transgenic inhibition of synaptic transmission reveals role of CA3 output in hippocampal learning. Science 319, 1260–1264 (2008).

14

Csicsvari, J., Jamieson, B., Wise, K.D. & Buzsáki, G. Mechanisms of gamma oscillations in the hippocampus of the behaving rat. Neuron 37, 311–322 (2003).

15

Mizuseki, K., Sirota, A., Pastalkova, E. & Buzsáki, G. Theta oscillations provide temporal windows for local circuit computation in the entorhinal-hippocampal loop. Neuron 64, 267–280 (2009).

16

Buzsáki, G., Leung, L.W. & Vanderwolf, C.H. Cellular bases of hippocampal EEG in the behaving rat. Brain Res. 287, 139–171 (1983).

17

Vinck, M., Oostenveld, R., van Wingerden, M., Battaglia, F. & Pennartz, C.M. An improved index of phase-synchronization for electrophysiological data in the presence of volume-conduction, noise and sample-size bias. Neuroimage 55, 1548–1565 (2011).

18

Ahmed, O.J. & Mehta, M.R. Running speed alters the frequency of hippocampal gamma oscillations. J. Neurosci. 32, 7373–7383 (2012).

19

Zheng, C., Bieri, K.W., Trettel, S.G. & Colgin, L.L. The relationship between gamma frequency and running speed differs for slow and fast gamma rhythms in freely behaving rats. Hippocampus 25, 924–938 (2015).

20

Gupta, A.S., van der Meer, M.A., Touretzky, D.S. & Redish, A.D. Segmentation of spatial experience by hippocampal θ sequences. Nat. Neurosci. 15, 1032–1039 (2012).

21

Farovik, A., Dupont, L.M. & Eichenbaum, H. Distinct roles for dorsal CA3 and CA1 in memory for sequential nonspatial events. Learn. Mem. 17, 12–17 (2010).

22

O'Keefe, J. & Burgess, N. Dual phase and rate coding in hippocampal place cells: theoretical significance and relationship to entorhinal grid cells. Hippocampus 15, 853–866 (2005).

23

Kamondi, A., Acsády, L., Wang, X.J. & Buzsáki, G. Theta oscillations in somata and dendrites of hippocampal pyramidal cells in vivo: activity-dependent phase-precession of action potentials. Hippocampus 8, 244–261 (1998).

24

Magee, J.C. Dendritic mechanisms of phase precession in hippocampal CA1 pyramidal neurons. J. Neurophysiol. 86, 528–532 (2001).

25

Chance, F.S. Hippocampal phase precession from dual input components. J. Neurosci. 32, 16693–16703 (2012).

26

Johnson, A. & Redish, A.D. Neural ensembles in CA3 transiently encode paths forward of the animal at a decision point. J. Neurosci. 27, 12176–12189 (2007).

27

Whittington, M.A., Traub, R.D. & Jefferys, J.G. Synchronized oscillations in interneuron networks driven by metabotropic glutamate receptor activation. Nature 373, 612–615 (1995).

28

Lasztóczi, B. & Klausberger, T. Layer-specific GABAergic control of distinct gamma oscillations in the CA1 hippocampus. Neuron 81, 1126–1139 (2014).

29

Mann, E.O., Suckling, J.M., Hajos, N., Greenfield, S.A. & Paulsen, O. Perisomatic feedback inhibition underlies cholinergically induced fast network oscillations in the rat hippocampus in vitro. Neuron 45, 105–117 (2005).

30

Bibbig, A. et al. Beta rhythms (15-20 Hz) generated by nonreciprocal communication in hippocampus. J. Neurophysiol. 97, 2812–2823 (2007).

31

Jaramillo, J., Schmidt, R. & Kempter, R. Modeling inheritance of phase precession in the hippocampal formation. J. Neurosci. 34, 7715–7731 (2014).

32

Hafting, T., Fyhn, M., Bonnevie, T., Moser, M.B. & Moser, E.I. Hippocampus-independent phase precession in entorhinal grid cells. Nature 453, 1248–1252 (2008).

33

Climer, J.R., Newman, E.L. & Hasselmo, M.E. Phase coding by grid cells in unconstrained environments: two-dimensional phase precession. Eur. J. Neurosci. 38, 2526–2541 (2013).

34

Zheng, C., Bieri, K.W., Hsiao, Y.T. & Colgin, L.L. Spatial sequence coding differs during slow and fast gamma rhythms in the hippocampus. Neuron 89, 398–408 (2016).

35

Knierim, J.J., Neunuebel, J.P. & Deshmukh, S.S. Functional correlates of the lateral and medial entorhinal cortex: objects, path integration and local-global reference frames. Phil. Trans. R. Soc. Lond. B 369, 20130369 (2014).

36

Schmitzer-Torbert, N., Jackson, J., Henze, D., Harris, K. & Redish, A.D. Quantitative measures of cluster quality for use in extracellular recordings. Neuroscience 131, 1–11 (2005).

37

McHugh, T.J., Blum, K.I., Tsien, J.Z., Tonegawa, S. & Wilson, M.A. Impaired hippocampal representation of space in CA1-specific NMDAR1 knockout mice. Cell 87, 1339–1349 (1996).

38

Senior, T.J., Huxter, J.R., Allen, K., O'Neill, J. & Csicsvari, J. Gamma oscillatory firing reveals distinct populations of pyramidal cells in the CA1 region of the hippocampus. J. Neurosci. 28, 2274–2286 (2008).

39

Tort, A.B. et al. Dynamic cross-frequency couplings of local field potential oscillations in rat striatum and hippocampus during performance of a T-maze task. Proc. Natl. Acad. Sci. USA 105, 20517–20522 (2008).

40

Buhl, D.L., Harris, K.D., Hormuzdi, S.G., Monyer, H. & Buzsáki, G. Selective impairment of hippocampal gamma oscillations in connexin-36 knock-out mouse in vivo. J. Neurosci. 23, 1013–1018 (2003).

41

Pfeiffer, B.E. & Foster, D.J. Hippocampal place-cell sequences depict future paths to remembered goals. Nature 497, 74–79 (2013).

42

Berens, P. CircStat: A Matlab Toolbox for Circular Statistics. J. Stat. Softw. 31 http://dx.doi.org/10.18637/jss.v031.i10 (2009).

43

Kempter, R., Leibold, C., Buzsáki, G., Diba, K. & Schmidt, R. Quantifying circular-linear associations: hippocampal phase precession. J. Neurosci. Methods 207, 113–124 (2012).

44

Geisler, C. et al. Temporal delays among place cells determine the frequency of population theta oscillations in the hippocampus. Proc. Natl. Acad. Sci. USA 107, 7957–7962 (2010).

45

Oostenveld, R., Fries, P., Maris, E. & Schoffelen, J.M. FieldTrip: Open source software for advanced analysis of MEG, EEG, and invasive electrophysiological data. Comput. Intell. Neurosci. 2011, 156869 (2011).
Acknowledgements
We thank all members of the Laboratory for Circuit and Behavioral Physiology for discussions on the manuscript and for their support, the RIKEN Advanced Manufacturing Team for their assistance in microdrive production, and D.J. Foster and T. Feng for providing Matlab code for Bayesian decoding. This work was supported by RIKEN BSI (T.J.M.) and the Japan Society for the Promotion of Science (JSPS) Kakenhi program #26750378 (S.J.M.).
Ethics declarations
Competing interests
The authors declare no competing financial interests.
Integrated supplementary information
Supplementary information
Supplementary Figures 1–8 (PDF 1277 kb)
About this article
Cite this article
Middleton, S., McHugh, T. Silencing CA3 disrupts temporal coding in the CA1 ensemble. Nat Neurosci 19, 945–951 (2016). https://doi.org/10.1038/nn.4311
Received:

Accepted:

Published:

Issue Date: