Abstract
A sparse population of a few hundred primarily hypothalamic neurons forms the hub of a complex neuroglial network that controls reproduction in mammals by secreting the 'master molecule' gonadotropin-releasing hormone (GnRH). Timely postnatal changes in GnRH expression are essential for puberty and adult fertility. Here we report that a multilayered microRNA-operated switch with built-in feedback governs increased GnRH expression during the infantile-to-juvenile transition and that impairing microRNA synthesis in GnRH neurons leads to hypogonadotropic hypogonadism and infertility in mice. Two essential components of this switch, miR-200 and miR-155, respectively regulate Zeb1, a repressor of Gnrh transcriptional activators and Gnrh itself, and Cebpb, a nitric oxide–mediated repressor of Gnrh that acts both directly and through Zeb1, in GnRH neurons. This alteration in the delicate balance between inductive and repressive signals induces the normal GnRH-fuelled run-up to correct puberty initiation, and interfering with this process disrupts the neuroendocrine control of reproduction.
Relevant articles
Open Access articles citing this article.
Juan Roa

,

Miguel Ruiz-Cruz

…

Manuel Tena-Sempere

Nature Communications Open Access 09 August 2022

Veronica Pena-Leon

,

Cintia Folgueira

…

Luisa M. Seoane

Nature Metabolism Open Access 25 July 2022
Access options
Subscribe to this journal
Receive 12 print issues and online access
$209.00 per year
only $17.42 per issue
Rent or buy this article
Prices vary by article type
from$1.95
to$39.95
Prices may be subject to local taxes which are calculated during checkout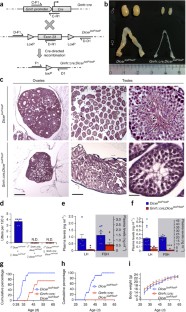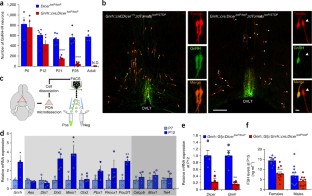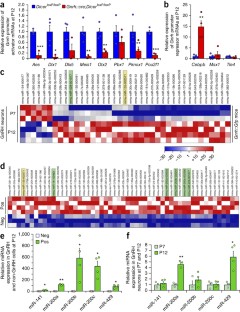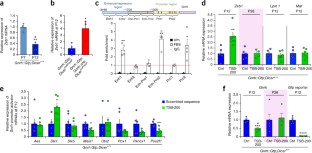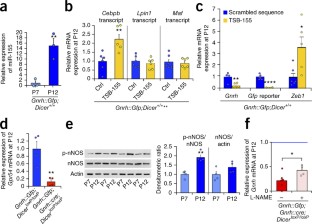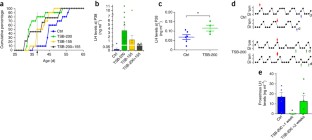 References
Ojeda, S.R. & Lomniczi, A. Puberty in 2013: unraveling the mystery of puberty. Nat. Rev. Endocrinol. 10, 67–69 (2014).

Schwanzel-Fukuda, M., Bick, D. & Pfaff, D.W. Luteinizing hormone-releasing hormone (LHRH)-expressing cells do not migrate normally in an inherited hypogonadal (Kallmann) syndrome. Brain Res. Mol. Brain Res. 6, 311–326 (1989).

Mason, A.J. et al. A deletion truncating the gonadotropin-releasing hormone gene is responsible for hypogonadism in the HPG mouse. Science 234, 1366–1371 (1986).

de Roux, N. et al. A family with hypogonadotropic hypogonadism and mutations in the gonadotropin-releasing hormone receptor. N. Engl. J. Med. 337, 1597–1602 (1997).

Harfe, B.D., McManus, M.T., Mansfield, J.H., Hornstein, E. & Tabin, C.J. The RNaseIII enzyme Dicer is required for morphogenesis but not patterning of the vertebrate limb. Proc. Natl. Acad. Sci. USA 102, 10898–10903 (2005).

Hasuwa, H., Ueda, J., Ikawa, M. & Okabe, M. miR-200b and miR-429 function in mouse ovulation and are essential for female fertility. Science 341, 71–73 (2013).

Papaioannou, M.D. & Nef, S. microRNAs in the testis: building up male fertility. J. Androl. 31, 26–33 (2010).

Bernstein, E., Caudy, A.A., Hammond, S.M. & Hannon, G.J. Role for a bidentate ribonuclease in the initiation step of RNA interference. Nature 409, 363–366 (2001).

Yoon, H., Enquist, L.W. & Dulac, C. Olfactory inputs to hypothalamic neurons controlling reproduction and fertility. Cell 123, 669–682 (2005).

d'Anglemont de Tassigny, X., Ackroyd, K.J., Chatzidaki, E.E. & Colledge, W.H. Kisspeptin signaling is required for peripheral but not central stimulation of gonadotropin-releasing hormone neurons by NMDA. J. Neurosci. 30, 8581–8590 (2010).

Urbanski, H.F. & Ojeda, S.R. A role for N-methyl-D-aspartate (NMDA) receptors in the control of LH secretion and initiation of female puberty. Endocrinology 126, 1774–1776 (1990).

Wierman, M.E., Kiseljak-Vassiliades, K. & Tobet, S. Gonadotropin-releasing hormone (GnRH) neuron migration: initiation, maintenance and cessation as critical steps to ensure normal reproductive function. Front. Neuroendocrinol. 32, 43–52 (2011).

Forni, P.E. & Wray, S. GnRH, anosmia and hypogonadotropic hypogonadism--where are we? Front. Neuroendocrinol. 36, 165–177 (2015).

Prevot, V. et al. Normal female sexual development requires neuregulin-erbB receptor signaling in hypothalamic astrocytes. J. Neurosci. 23, 230–239 (2003).

Prevot, V. Puberty in mice and rats. in Knobil and Neill′s Physiology of Reproduction (eds. Plant, T.M. & Zeleznik, J.) 1395–1439 (Elsevier, New York, 2015).

Kuiri-Hänninen, T., Sankilampi, U. & Dunkel, L. Activation of the hypothalamic-pituitary-gonadal axis in infancy: minipuberty. Horm. Res. Paediatr. 82, 73–80 (2014).

Belsham, D.D. & Mellon, P.L. Transcription factors Oct-1 and C/EBPbeta (CCAAT/enhancer-binding protein-beta) are involved in the glutamate/nitric oxide/cyclic-guanosine 5′-monophosphate-mediated repression of mediated repression of gonadotropin-releasing hormone gene expression. Mol. Endocrinol. 14, 212–228 (2000).

Lee, V.H., Lee, L.T. & Chow, B.K. Gonadotropin-releasing hormone: regulation of the GnRH gene. FEBS J. 275, 5458–5478 (2008).

Burk, U. et al. A reciprocal repression between ZEB1 and members of the miR-200 family promotes EMT and invasion in cancer cells. EMBO Rep. 9, 582–589 (2008).

Le Béchec, A. et al. MIR@NT@N: a framework integrating transcription factors, microRNAs and their targets to identify sub-network motifs in a meta-regulation network model. BMC Bioinformatics 12, 67 (2011).

van Rooij, E., Purcell, A.L. & Levin, A.A. Developing microRNA therapeutics. Circ. Res. 110, 496–507 (2012).

Alisi, A. et al. Mirnome analysis reveals novel molecular determinants in the pathogenesis of diet-induced nonalcoholic fatty liver disease. Lab. Invest. 91, 283–293 (2011).

Klein, D. et al. MicroRNA expression in alpha and beta cells of human pancreatic islets. PLoS One 8, e55064 (2013).

Dweep, H., Sticht, C., Pandey, P. & Gretz, N. miRWalk--database: prediction of possible miRNA binding sites by "walking" the genes of three genomes. J. Biomed. Inform. 44, 839–847 (2011).

Costinean, S. et al. Src homology 2 domain-containing inositol-5-phosphatase and CCAAT enhancer-binding protein beta are targeted by miR-155 in B cells of Emicro-MiR-155 transgenic mice. Blood 114, 1374–1382 (2009).

Koch, M., Mollenkopf, H.J., Klemm, U. & Meyer, T.F. Induction of microRNA-155 is TLR- and type IV secretion system-dependent in macrophages and inhibits DNA-damage induced apoptosis. Proc. Natl. Acad. Sci. USA 109, E1153–E1162 (2012).

Rodriguez, A. et al. Requirement of bic/microRNA-155 for normal immune function. Science 316, 608–611 (2007).

Yang, J.H., Li, J.H., Jiang, S., Zhou, H. & Qu, L.H. ChIPBase: a database for decoding the transcriptional regulation of long non-coding RNA and microRNA genes from ChIP-Seq data. Nucleic Acids Res. 41, D177–D187 (2013).

Heinz, S. et al. Simple combinations of lineage-determining transcription factors prime cis-regulatory elements required for macrophage and B cell identities. Mol. Cell 38, 576–589 (2010).

Lefterova, M.I. et al. Cell-specific determinants of peroxisome proliferator-activated receptor gamma function in adipocytes and macrophages. Mol. Cell. Biol. 30, 2078–2089 (2010).

Novaira, H.J., Fadoju, D., Diaczok, D. & Radovick, S. Genetic mechanisms mediating kisspeptin regulation of GnRH gene expression. J. Neurosci. 32, 17391–17400 (2012).

Hanchate, N.K. et al. Kisspeptin-GPR54 signaling in mouse NO-synthesizing neurons participates in the hypothalamic control of ovulation. J. Neurosci. 32, 932–945 (2012).

Bellefontaine, N. et al. Leptin-dependent neuronal NO signaling in the preoptic hypothalamus facilitates reproduction. J. Clin. Invest. 124, 2550–2559 (2014).

Rameau, G.A. et al. Biphasic coupling of neuronal nitric oxide synthase phosphorylation to the NMDA receptor regulates AMPA receptor trafficking and neuronal cell death. J. Neurosci. 27, 3445–3455 (2007).

Bouret, S.G., Draper, S.J. & Simerly, R.B. Formation of projection pathways from the arcuate nucleus of the hypothalamus to hypothalamic regions implicated in the neural control of feeding behavior in mice. J. Neurosci. 24, 2797–2805 (2004).

Caron, E., Ciofi, P., Prevot, V. & Bouret, S.G. Alteration in neonatal nutrition causes perturbations in hypothalamic neural circuits controlling reproductive function. J. Neurosci. 32, 11486–11494 (2012).

Grueter, C.E. et al. A cardiac microRNA governs systemic energy homeostasis by regulation of MED13. Cell 149, 671–683 (2012).

Lomniczi, A. et al. Epigenetic control of female puberty. Nat. Neurosci. 16, 281–289 (2013).

Lomniczi, A. et al. Epigenetic regulation of puberty via Zinc finger protein-mediated transcriptional repression. Nat. Commun. 6 http://dx.doi.org/10.1038/ncomms10195 (2015).

Issler, O. et al. MicroRNA 135 is essential for chronic stress resiliency, antidepressant efficacy, and intact serotonergic activity. Neuron 83, 344–360 (2014).

Hanchate, N.K. et al. SEMA3A, a gene involved in axonal pathfinding, is mutated in patients with Kallmann syndrome. PLoS Genet. 8, e1002896 (2012).

Franzoni, E. et al. miR-128 regulates neuronal migration, outgrowth and intrinsic excitability via the intellectual disability gene Phf6. eLife 4 http://dx.doi.org/10.7554/eLife.04263 (2015).

Givens, M.L. et al. Developmental regulation of gonadotropin-releasing hormone gene expression by the MSX and DLX homeodomain protein families. J. Biol. Chem. 280, 19156–19165 (2005).

Cottrell, E.C., Campbell, R.E., Han, S.K. & Herbison, A.E. Postnatal remodeling of dendritic structure and spine density in gonadotropin-releasing hormone neurons. Endocrinology 147, 3652–3661 (2006).

Garthwaite, J. From synaptically localized to volume transmission by nitric oxide. J. Physiol. (Lond.) 594, 9–18 (2016).

Cossenza, M. et al. Nitric oxide in the nervous system: biochemical, developmental, and neurobiological aspects. Vitam. Horm. 96, 79–125 (2014).

Choe, H.K. et al. Real-time GnRH gene transcription in GnRH promoter-driven luciferase-expressing transgenic mice: effect of kisspeptin. Neuroendocrinology 102, 194–199 (2015).

Parent, A.S. et al. The timing of normal puberty and the age limits of sexual precocity: variations around the world, secular trends, and changes after migration. Endocr. Rev. 24, 668–693 (2003).

Chachlaki, K. & Prévot, V. Coexpression profiles reveal hidden gene networks. Proc. Natl. Acad. Sci. USA 113, 2563–2565 (2016).

Boehm, U. et al. Expert consensus document: European Consensus Statement on congenital hypogonadotropic hypogonadism—pathogenesis, diagnosis and treatment. Nat. Rev. Endocrinol. 11, 547–564 (2015).

Spergel, D.J., Krüth, U., Hanley, D.F., Sprengel, R. & Seeburg, P.H. GABA- and glutamate-activated channels in green fluorescent protein-tagged gonadotropin-releasing hormone neurons in transgenic mice. J. Neurosci. 19, 2037–2050 (1999).

García-Galiano, D. et al. Kisspeptin signaling is indispensable for neurokinin B, but not glutamate, stimulation of gonadotropin secretion in mice. Endocrinology 153, 316–328 (2012).

Messina, A. et al. Dysregulation of Semaphorin7A/β1-integrin signaling leads to defective GnRH-1 cell migration, abnormal gonadal development and altered fertility. Hum. Mol. Genet. 20, 4759–4774 (2011).

Giacobini, P. et al. Brain endothelial cells control fertility through ovarian-steroid-dependent release of semaphorin 3A. PLoS Biol. 12, e1001808 (2014).

Beauvillain, J.C. & Tramu, G. Immunocytochemical demonstration of LH-RH, somatostatin, and ACTH-like peptide in osmium-postfixed, resin-embedded median eminence. J.Histochem.Cytochem. 28, 1014–1017 (1980).

Schmittgen, T.D. & Livak, K.J. Analyzing real-time PCR data by the comparative C(T) method. Nat. Protoc. 3, 1101–1108 (2008).
Acknowledgements
A.M. was a postdoctoral fellow supported by the Fondation pour la Recherche Médicale (FRM). We are indebted to D. Accili for his help in conducting the ChIP assays. We thank M. Tardivel (microscopy core facility), M.-H. Gevaert (histology core facility), D. Taillieu and J. Devassine (animal core facility) and the BICeL core facility of the Lille University School of Medicine for expert technical assistance. This research was supported by the FRM (Equipe FRM 2005 and DEQ20130326524, France to V.P.), grant BFI2011-025021 from the Spanish Ministry of Economy and Science (M.T.-S.), the ERC COST action BM1015 (V.P., P.G. and M.T.-S.) and the Fondation Bettencourt Schueller (F.L.).
Ethics declarations
Competing interests
The authors declare no competing financial interests.
Integrated supplementary information
Supplementary information
Supplementary Figures 1–15 and Supplementary Tables 1–5 (PDF 4808 kb)
About this article
Cite this article
Messina, A., Langlet, F., Chachlaki, K. et al. A microRNA switch regulates the rise in hypothalamic GnRH production before puberty. Nat Neurosci 19, 835–844 (2016). https://doi.org/10.1038/nn.4298
Received:

Accepted:

Published:

Issue Date:

DOI: https://doi.org/10.1038/nn.4298