Abstract
EGFRvIII-STAT3 signaling is important in glioblastoma pathogenesis. Here, we identified the cytokine receptor OSMR as a direct target gene of the transcription factor STAT3 in mouse astrocytes and human brain tumor stem cells (BTSCs). We found that OSMR functioned as an essential co-receptor for EGFRvIII. OSMR formed a physical complex with EGFRvIII, and depletion of OSMR impaired EGFRvIII-STAT3 signaling. Conversely, pharmacological inhibition of EGFRvIII phosphorylation inhibited the EGFRvIII-OSMR interaction and activation of STAT3. EGFRvIII-OSMR signaling in tumors operated constitutively, whereas EGFR-OSMR signaling in nontumor cells was synergistically activated by the ligands EGF and OSM. Finally, knockdown of OSMR strongly suppressed cell proliferation and tumor growth of mouse glioblastoma cells and human BTSC xenografts in mice, and prolonged the lifespan of these mice. Our findings identify OSMR as a critical regulator of glioblastoma tumor growth that orchestrates a feed-forward signaling mechanism with EGFRvIII and STAT3 to drive tumorigenesis.
Access options
Subscribe to Journal
Get full journal access for 1 year
$59.00
only $4.92 per issue
All prices are NET prices.
VAT will be added later in the checkout.
Tax calculation will be finalised during checkout.
Rent or Buy article
Get time limited or full article access on ReadCube.
from$8.99
All prices are NET prices.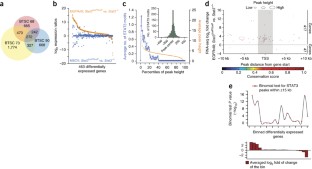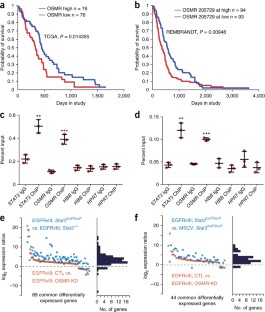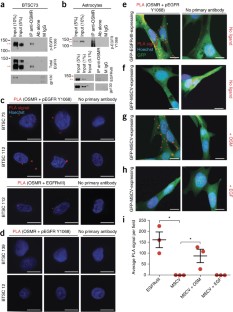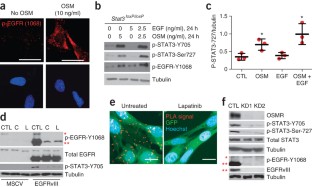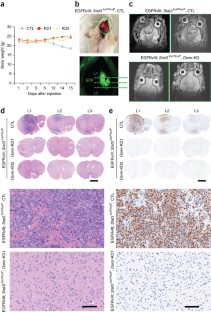 Accession codes
Primary accessions
Gene Expression Omnibus
References
1

Stupp, R. et al. Radiotherapy plus concomitant and adjuvant temozolomide for glioblastoma. N. Engl. J. Med. 352, 987–996 (2005).

2

Robins, H.I., Chang, S., Butowski, N. & Mehta, M. Therapeutic advances for glioblastoma multiforme: current status and future prospects. Curr. Oncol. Rep. 9, 66–70 (2007).

3

Maher, E.A. et al. Malignant glioma: genetics and biology of a grave matter. Genes Dev. 15, 1311–1333 (2001).

4

Furnari, F.B. et al. Malignant astrocytic glioma: genetics, biology, and paths to treatment. Genes Dev. 21, 2683–2710 (2007).

5

Wen, P.Y. & Kesari, S. Malignant gliomas in adults. N. Engl. J. Med. 359, 492–507 (2008).

6

Holland, E.C. Gliomagenesis: genetic alterations and mouse models. Nat. Rev. Genet. 2, 120–129 (2001).

7

Bachoo, R.M. et al. Epidermal growth factor receptor and Ink4a/Arf: convergent mechanisms governing terminal differentiation and transformation along the neural stem cell to astrocyte axis. Cancer Cell 1, 269–277 (2002).

8

Uhrbom, L. et al. Ink4a-Arf loss cooperates with KRas activation in astrocytes and neural progenitors to generate glioblastomas of various morphologies depending on activated Akt. Cancer Res. 62, 5551–5558 (2002).

9

Bajenaru, M.L. et al. Optic nerve glioma in mice requires astrocyte Nf1 gene inactivation and Nf1 brain heterozygosity. Cancer Res. 63, 8573–8577 (2003).

10

Louis, D.N. Molecular pathology of malignant gliomas. Annu. Rev. Pathol. 1, 97–117 (2006).

11

Singh, S.K. et al. Identification of a cancer stem cell in human brain tumors. Cancer Res. 63, 5821–5828 (2003).

12

Singh, S.K. et al. Identification of human brain tumour initiating cells. Nature 432, 396–401 (2004).

13

Galli, R. et al. Isolation and characterization of tumorigenic, stem-like neural precursors from human glioblastoma. Cancer Res. 64, 7011–7021 (2004).

14

Yuan, X. et al. Isolation of cancer stem cells from adult glioblastoma multiforme. Oncogene 23, 9392–9400 (2004).

15

Wong, A.J. et al. Structural alterations of the epidermal growth factor receptor gene in human gliomas. Proc. Natl. Acad. Sci. USA 89, 2965–2969 (1992).

16

Nagane, M., Lin, H., Cavenee, W.K. & Huang, H.J. Aberrant receptor signaling in human malignant gliomas: mechanisms and therapeutic implications. Cancer Lett. 162, S17–S21 (2001).

17

de la Iglesia, N. et al. Identification of a PTEN-regulated STAT3 brain tumor suppressor pathway. Genes Dev. 22, 449–462 (2008).

18

de la Iglesia, N., Puram, S.V. & Bonni, A. STAT3 regulation of glioblastoma pathogenesis. Curr. Mol. Med. 9, 580–590 (2009).

19

Mosley, B. et al. Dual oncostatin M (OSM) receptors. Cloning and characterization of an alternative signaling subunit conferring OSM-specific receptor activation. J. Biol. Chem. 271, 32635–32643 (1996).

20

Inda, M.M. et al. Tumor heterogeneity is an active process maintained by a mutant EGFR-induced cytokine circuit in glioblastoma. Genes Dev. 24, 1731–1745 (2010).

21

Fan, Q.W. et al. EGFR phosphorylates tumor-derived EGFRvIII driving STAT3/5 and progression in glioblastoma. Cancer Cell 24, 438–449 (2013).

22

Biernat, W., Huang, H., Yokoo, H., Kleihues, P. & Ohgaki, H. Predominant expression of mutant EGFR (EGFRvIII) is rare in primary glioblastomas. Brain Pathol. 14, 131–136 (2004).

23

Zadeh, G., Bhat, K.P. & Aldape, K. EGFR and EGFRvIII in glioblastoma: partners in crime. Cancer Cell 24, 403–404 (2013).

24

de la Iglesia, N. et al. Deregulation of a STAT3-interleukin 8 signaling pathway promotes human glioblastoma cell proliferation and invasiveness. J. Neurosci. 28, 5870–5878 (2008).

25

Bonni, A. et al. Regulation of gliogenesis in the central nervous system by the JAK-STAT signaling pathway. Science 278, 477–483 (1997).

26

Jahani-Asl, A. & Bonni, A. iNOS: a potential therapeutic target for malignant glioma. Curr. Mol. Med. 13, 1241–1249 (2013).

27

Puram, S.V. et al. STAT3-iNOS Signaling Mediates EGFRvIII-Induced Glial Proliferation and Transformation. J. Neurosci. 32, 7806–7818 (2012).

28

Caffarel, M.M. & Coleman, N. Oncostatin M receptor is a novel therapeutic target in cervical squamous cell carcinoma. J. Pathol. 232, 386–390 (2014).

29

Winder, D.M. et al. Overexpression of the oncostatin M receptor in cervical squamous cell carcinoma cells is associated with a pro-angiogenic phenotype and increased cell motility and invasiveness. J. Pathol. 225, 448–462 (2011).

30

Raz, R., Lee, C.K., Cannizzaro, L.A., d'Eustachio, P. & Levy, D.E. Essential role of STAT3 for embryonic stem cell pluripotency. Proc. Natl. Acad. Sci. USA 96, 2846–2851 (1999).

31

Kelly, J.J. et al. Proliferation of human glioblastoma stem cells occurs independently of exogenous mitogens. Stem Cells 27, 1722–1733 (2009).

32

Luchman, H.A. et al. An in vivo patient-derived model of endogenous IDH1-mutant glioma. Neuro. Oncol. 14, 184–191 (2012).

33

Di Giorgio, F.P., Carrasco, M.A., Siao, M.C., Maniatis, T. & Eggan, K. Non-cell autonomous effect of glia on motor neurons in an embryonic stem cell-based ALS model. Nat. Neurosci. 10, 608–614 (2007).

34

Nagai, M. et al. Astrocytes expressing ALS-linked mutated SOD1 release factors selectively toxic to motor neurons. Nat. Neurosci. 10, 615–622 (2007).

35

Bryant, D.M. et al. A molecular network for de novo generation of the apical surface and lumen. Nat. Cell Biol. 12, 1035–1045 (2010).

36

Huang, W., Sherman, B.T. & Lempicki, R.A. Bioinformatics enrichment tools: paths toward the comprehensive functional analysis of large gene lists. Nucleic Acids Res. 37, 1–13 (2009).

37

Soleimani, V.D., Palidwor, G.A., Ramachandran, P., Perkins, T.J. & Rudnicki, M.A. Chromatin tandem affinity purification sequencing. Nat. Protoc. 8, 1525–1534 (2013).

38

Soleimani, V.D. et al. Transcriptional dominance of Pax7 in adult myogenesis is due to high-affinity recognition of homeodomain motifs. Dev. Cell 22, 1208–1220 (2012).

39

Soleimani, V.D. et al. Snail regulates MyoD binding-site occupancy to direct enhancer switching and differentiation-specific transcription in myogenesis. Mol. Cell 47, 457–468 (2012).

40

Bailey, T.L., Williams, N., Misleh, C. & Li, W.W. MEME: discovering and analyzing DNA and protein sequence motifs. Nucleic Acids Res. 34, W369–W373 (2006).

41

Grant, C.E., Bailey, T.L. & Noble, W.S. FIMO: scanning for occurrences of a given motif. Bioinformatics 27, 1017–1018 (2011).

42

Bewick, V., Cheek, L. & Ball, J. Statistics review 12: survival analysis. Crit. Care 8, 389–394 (2004).

43

Lavictoire, S.J., Parolin, D.A., Klimowicz, A.C., Kelly, J.F. & Lorimer, I.A. Interaction of Hsp90 with the nascent form of the mutant epidermal growth factor receptor EGFRvIII. J. Biol. Chem. 278, 5292–5299 (2003).
Acknowledgements
These studies were carried out with support of grants to A.B. from the US National Institutes for Health (NS064007) and the Mathers Foundation, to M.A.R. from the US National Institutes for Health (R01AR044031), the Canadian Institutes for Health Research (CIHR, MOP-81288), and to A.J.-A. from the new investigator startup funds at the LDI/McGill University. M.A.R. is funded as the Canada Research Chair in Molecular Genetics. V.D.S. is funded as the Canada research chair in stem cell epigenetics. A.J.-A., H.Y. and N.C.C. were supported by postdoctoral fellowships from the CIHR. H.A.L. and S.W. are supported by grants from the Alberta Cancer Foundation and the Stem Cell Network. A.M.S. is supported by National Health and Medical Research Council grant and the Operational Infrastructure Support Program provided by the Victorian Government. We thank C. Porter at the Ottawa Hospital Research Institute for critical help with genomic data analyses.
Ethics declarations
Competing interests
The authors declare no competing financial interests.
Integrated supplementary information
Supplementary information
Supplementary Figures 1–8 and Supplementary Tables 1–3 (PDF 2635 kb)
Functional annotation of EGFRvIII common candidate target genes by DAVID Bioinformatics Resources 6.7. (XLS 176 kb)
About this article
Cite this article
Jahani-Asl, A., Yin, H., Soleimani, V. et al. Control of glioblastoma tumorigenesis by feed-forward cytokine signaling. Nat Neurosci 19, 798–806 (2016). https://doi.org/10.1038/nn.4295
Received:

Accepted:

Published:

Issue Date: