Abstract
Spinal cord injury (SCI) at high spinal levels (e.g., above thoracic level 5) causes systemic immune suppression; however, the underlying mechanisms are unknown. Here we show that profound plasticity develops within spinal autonomic circuitry below the injury, creating a sympathetic anti-inflammatory reflex, and that chemogenetic silencing of this reflex circuitry blocks post-SCI immune suppression. These data provide new insights and potential therapeutic options for limiting the devastating consequences of post-traumatic autonomic hyperreflexia and post-injury immune suppression.
Access options
Subscribe to Journal
Get full journal access for 1 year
$59.00
only $4.92 per issue
All prices are NET prices.
VAT will be added later in the checkout.
Tax calculation will be finalised during checkout.
Rent or Buy article
Get time limited or full article access on ReadCube.
from$8.99
All prices are NET prices.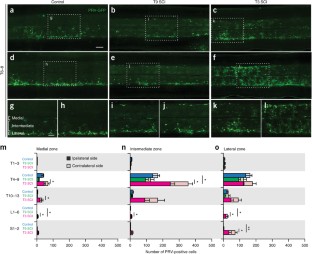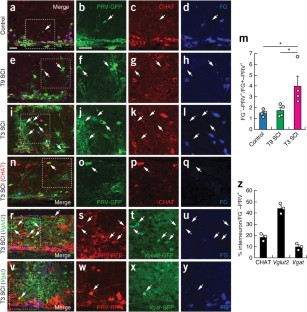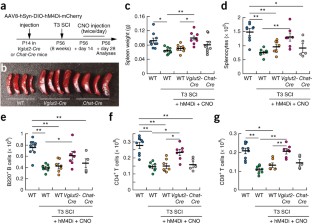 References
1

Blackmer, J. CMAJ 169, 931–935 (2003).

2

Inskip, J.A., Ramer, L.M., Ramer, M.S. & Krassioukov, A.V. Spinal Cord 47, 2–35 (2009).

3

Zhang, Y. et al. J. Neurosci. 33, 12970–12981 (2013).

4

Lucin, K.M., Sanders, V.M., Jones, T.B., Malarkey, W.B. & Popovich, P.G. Exp. Neurol. 207, 75–84 (2007).

5

Lucin, K.M., Sanders, V.M. & Popovich, P.G. J. Neurochem. 110, 1409–1421 (2009).

6

Meisel, C., Schwab, J.M., Prass, K., Meisel, A. & Dirnagl, U. Nat. Rev. Neurosci. 6, 775–786 (2005).

7

Smith, B.N. et al. Proc. Natl. Acad. Sci. USA 97, 9264–9269 (2000).

8

Cano, G., Sved, A.F., Rinaman, L., Rabin, B.S. & Card, J.P. J. Comp. Neurol. 439, 1–18 (2001).

9

Anderson, C.R. & Edwards, S.L. J. Neurosci. Methods 53, 137–141 (1994).

10

Vong, L. et al. Neuron 71, 142–154 (2011).

11

Nakamura, T., Colbert, M.C. & Robbins, J. Circ. Res. 98, 1547–1554 (2006).

12

Hou, S. et al. J. Comp. Neurol. 509, 382–399 (2008).

13

Duale, H., Lyttle, T.S., Smith, B.N. & Rabchevsky, A.G. J. Neurotrauma 27, 1369–1378 (2010).

14

Sternson, S.M. & Roth, B.L. Annu. Rev. Neurosci. 37, 387–407 (2014).

15

Brommer, B. et al. Brain 139, 692–707 (2016).

16

Iversen, P.O. et al. Blood 96, 2081–2083 (2000).

17

Rossi, J. et al. Cell Metab. 13, 195–204 (2011).

18

Banfield, B.W., Kaufman, J.D., Randall, J.A. & Pickard, G.E. J. Virol. 77, 10106–10112 (2003).

19

Paxinos, G. The Mouse Brain in Stereotaxic Coordinates (Academic, 2001).

20

Yang, B. et al. Cell 158, 945–958 (2014).
Acknowledgements
We would like to thank L. Enquist (Princeton University) and the Center for Neuroanatomy with Neurotropic Viruses (CNNV; NIH grant P40RR018604) for providing PRV; Y. Zhang for advice on SCI surgery; Z. Gu and S. Goyama for comments, P. Thanh, A. Epstein, M. Sandy and M. Maezawa for help with experiments, and M. Muntifering for the clearing technique. This work is supported by NINDS-NS083942 and the Ray W. Poppleton Endowment (P.G.P.); NINDS-NS093002 (Y.Y.); PRESTO (JST), JSPS Postdoctoral Fellowships for Research Abroad and KANAE Foundation for the Promotion of Medical Science (M.U.).
Ethics declarations
Competing interests
The authors declare no competing financial interests.
Integrated supplementary information
Supplementary information
Supplementary Figures 1–9 and Supplementary Table 1 (PDF 2461 kb)
About this article
Cite this article
Ueno, M., Ueno-Nakamura, Y., Niehaus, J. et al. Silencing spinal interneurons inhibits immune suppressive autonomic reflexes caused by spinal cord injury. Nat Neurosci 19, 784–787 (2016). https://doi.org/10.1038/nn.4289
Received:

Accepted:

Published:

Issue Date: