Abstract
The ventral tegmental area (VTA) is best known for its dopamine neurons, some of which project to nucleus accumbens (nAcc). However, the VTA also has glutamatergic neurons that project to nAcc. The function of the mesoaccumbens glutamatergic pathway remains unknown. Here we report that nAcc photoactivation of mesoaccumbens glutamatergic fibers promotes aversion. Although we found that these mesoaccumbens glutamatergic fibers lack GABA, the aversion evoked by their photoactivation depended on glutamate- and GABA-receptor signaling, and not on dopamine-receptor signaling. We found that mesoaccumbens glutamatergic fibers established multiple asymmetric synapses on single parvalbumin GABAergic interneurons and that nAcc photoactivation of these fibers drove AMPA-mediated cellular firing of parvalbumin GABAergic interneurons. These parvalbumin GABAergic interneurons in turn inhibited nAcc medium spiny output neurons, thereby controlling inhibitory neurotransmission in nAcc. To our knowledge, the mesoaccumbens glutamatergic pathway is the first glutamatergic input to nAcc shown to mediate aversion instead of reward, and the first pathway shown to establish excitatory synapses on nAcc parvalbumin GABAergic interneurons.
Relevant articles
Open Access articles citing this article.
Kelsey M. Vollmer

,

Lisa M. Green

…

James M. Otis

Nature Communications Open Access 11 November 2022

Translational Psychiatry Open Access 07 November 2022

Zhiyuan Liu

,

Qiumin Le

…

Xing Liu

Cell Research Open Access 30 November 2021
Access options
Subscribe to Journal
Get full journal access for 1 year
$79.00
only $6.58 per issue
All prices are NET prices.
VAT will be added later in the checkout.
Tax calculation will be finalised during checkout.
Buy article
Get time limited or full article access on ReadCube.
$32.00
All prices are NET prices.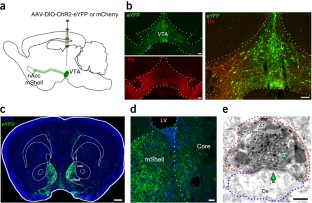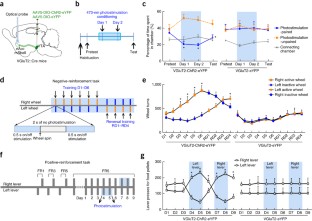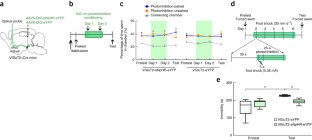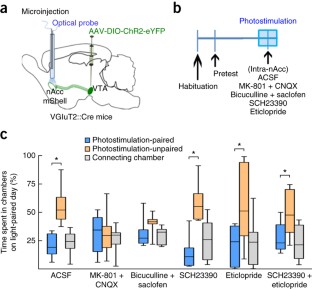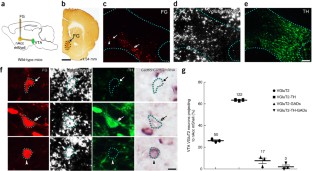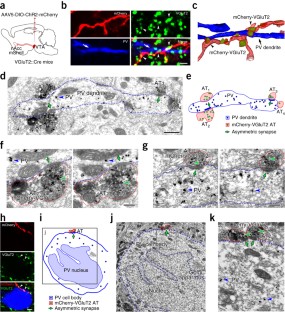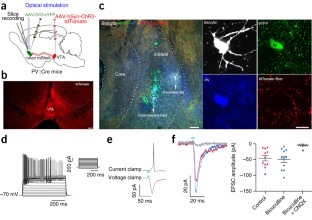 Accession codes
Accessions
NCBI Reference Sequence
References
Carlezon, W.A. Jr. & Thomas, M.J. Biological substrates of reward and aversion: a nucleus accumbens activity hypothesis. Neuropharmacology 56, 122–132 (2009).

Todtenkopf, M.S. et al. Brain reward regulated by AMPA receptor subunits in nucleus accumbens shell. J. Neurosci. 26, 11665–11669 (2006).

Britt, J.P. et al. Synaptic and behavioral profile of multiple glutamatergic inputs to the nucleus accumbens. Neuron 76, 790–803 (2012).

Friedman, D.P., Aggleton, J.P. & Saunders, R.C. Comparison of hippocampal, amygdala, and perirhinal projections to the nucleus accumbens: combined anterograde and retrograde tracing study in the Macaque brain. J. Comp. Neurol. 450, 345–365 (2002).

Grace, A.A., Floresco, S.B., Goto, Y. & Lodge, D.J. Regulation of firing of dopaminergic neurons and control of goal-directed behaviors. Trends Neurosci. 30, 220–227 (2007).

Kelley, A.E. Memory and addiction: shared neural circuitry and molecular mechanisms. Neuron 44, 161–179 (2004).

O'Donnell, P. & Grace, A.A. Synaptic interactions among excitatory afferents to nucleus accumbens neurons: hippocampal gating of prefrontal cortical input. J. Neurosci. 15, 3622–3639 (1995).

Phillips, P.E., Stuber, G.D., Heien, M.L., Wightman, R.M. & Carelli, R.M. Subsecond dopamine release promotes cocaine seeking. Nature 422, 614–618 (2003).

Stuber, G.D. et al. Reward-predictive cues enhance excitatory synaptic strength onto midbrain dopamine neurons. Science 321, 1690–1692 (2008).

Sesack, S.R., Carr, D.B., Omelchenko, N. & Pinto, A. Anatomical substrates for glutamate-dopamine interactions: evidence for specificity of connections and extrasynaptic actions. Ann. NY Acad. Sci. 1003, 36–52 (2003).

Papp, E. et al. Glutamatergic input from specific sources influences the nucleus accumbens-ventral pallidum information flow. Brain Struct. Funct. 217, 37–48 (2012).

Stuber, G.D. et al. Excitatory transmission from the amygdala to nucleus accumbens facilitates reward seeking. Nature 475, 377–380 (2011).

Morales, M. & Root, D.H. Glutamate neurons within the midbrain dopamine regions. Neuroscience 282, 60–68 (2014).10.1016/j.neuroscience.2014.05.032

Stuber, G.D., Hnasko, T.S., Britt, J.P., Edwards, R.H. & Bonci, A. Dopaminergic terminals in the nucleus accumbens but not the dorsal striatum corelease glutamate. J. Neurosci. 30, 8229–8233 (2010).

Tecuapetla, F. et al. Glutamatergic signaling by mesolimbic dopamine neurons in the nucleus accumbens. J. Neurosci. 30, 7105–7110 (2010).

Van Bockstaele, E.J. & Pickel, V.M. GABA-containing neurons in the ventral tegmental area project to the nucleus accumbens in rat brain. Brain Res. 682, 215–221 (1995).

van Zessen, R., Phillips, J.L., Budygin, E.A. & Stuber, G.D. Activation of VTA GABA neurons disrupts reward consumption. Neuron 73, 1184–1194 (2012).

Yamaguchi, T., Wang, H.L., Li, X., Ng, T.H. & Morales, M. Mesocorticolimbic glutamatergic pathway. J. Neurosci. 31, 8476–8490 (2011).

Oleson, E.B., Gentry, R.N., Chioma, V.C. & Cheer, J.F. Subsecond dopamine release in the nucleus accumbens predicts conditioned punishment and its successful avoidance. J. Neurosci. 32, 14804–14808 (2012).

Peciña, S. & Berridge, K.C. Dopamine or opioid stimulation of nucleus accumbens similarly amplify cue-triggered 'wanting' for reward: entire core and medial shell mapped as substrates for PIT enhancement. Eur. J. Neurosci. 37, 1529–1540 (2013).

Brown, M.T. et al. Ventral tegmental area GABA projections pause accumbal cholinergic interneurons to enhance associative learning. Nature 492, 452–456 (2012).

Kawano, M. et al. Particular subpopulations of midbrain and hypothalamic dopamine neurons express vesicular glutamate transporter 2 in the rat brain. J. Comp. Neurol. 498, 581–592 (2006).

Trudeau, L.E. et al. The multilingual nature of dopamine neurons. Prog. Brain Res. 211, 141–164 (2014).

Yamaguchi, T., Sheen, W. & Morales, M. Glutamatergic neurons are present in the rat ventral tegmental area. Eur. J. Neurosci. 25, 106–118 (2007).

Chuhma, N., Mingote, S., Moore, H. & Rayport, S. Dopamine neurons control striatal cholinergic neurons via regionally heterogeneous dopamine and glutamate signaling. Neuron 81, 901–912 (2014).

Zhang, S. et al. Dopaminergic and glutamatergic microdomains in a subset of rodent mesoaccumbens axons. Nat. Neurosci. 18, 386–392 (2015).

Root, D.H., Mejias-Aponte, C.A., Qi, J. & Morales, M. Role of glutamatergic projections from ventral tegmental area to lateral habenula in aversive conditioning. J. Neurosci. 34, 13906–13910 (2014).

Yamaguchi, T., Qi, J., Wang, H.L., Zhang, S. & Morales, M. Glutamatergic and dopaminergic neurons in the mouse ventral tegmental area. Eur. J. Neurosci. 41, 760–772 (2015).

Root, D.H. et al. Single rodent mesohabenular axons release glutamate and GABA. Nat. Neurosci. 17, 1543–1551 (2014).

Tritsch, N.X., Ding, J.B. & Sabatini, B.L. Dopaminergic neurons inhibit striatal output through non-canonical release of GABA. Nature 490, 262–266 (2012).

Taylor, S.R. et al. GABAergic and glutamatergic efferents of the mouse ventral tegmental area. J. Comp. Neurol. 522, 3308–3334 (2014).

Kawaguchi, Y., Wilson, C.J., Augood, S.J. & Emson, P.C. Striatal interneurones: chemical, physiological and morphological characterization. Trends Neurosci. 18, 527–535 (1995).

Kita, H., Kosaka, T. & Heizmann, C.W. Parvalbumin-immunoreactive neurons in the rat neostriatum: a light and electron microscopic study. Brain Res. 536, 1–15 (1990).

Li, X., Qi, J., Yamaguchi, T., Wang, H.L. & Morales, M. Heterogeneous composition of dopamine neurons of the rat A10 region: molecular evidence for diverse signaling properties. Brain Struct. Funct. 218, 1159–1176 (2013).

Parthasarathy, H.B. & Graybiel, A.M. Cortically driven immediate-early gene expression reflects modular influence of sensorimotor cortex on identified striatal neurons in the squirrel monkey. J. Neurosci. 17, 2477–2491 (1997).

Ramanathan, S., Hanley, J.J., Deniau, J.M. & Bolam, J.P. Synaptic convergence of motor and somatosensory cortical afferents onto GABAergic interneurons in the rat striatum. J. Neurosci. 22, 8158–8169 (2002).

Tepper, J.M., Wilson, C.J. & Koós, T. Feedforward and feedback inhibition in neostriatal GABAergic spiny neurons. Brain Res. Rev. 58, 272–281 (2008).

Koós, T. & Tepper, J.M. Inhibitory control of neostriatal projection neurons by GABAergic interneurons. Nat. Neurosci. 2, 467–472 (1999).

Gittis, A.H., Nelson, A.B., Thwin, M.T., Palop, J.J. & Kreitzer, A.C. Distinct roles of GABAergic interneurons in the regulation of striatal output pathways. J. Neurosci. 30, 2223–2234 (2010).

Planert, H., Szydlowski, S.N., Hjorth, J.J., Grillner, S. & Silberberg, G. Dynamics of synaptic transmission between fast-spiking interneurons and striatal projection neurons of the direct and indirect pathways. J. Neurosci. 30, 3499–3507 (2010).

Taverna, S., Canciani, B. & Pennartz, C.M. Membrane properties and synaptic connectivity of fast-spiking interneurons in rat ventral striatum. Brain Res. 1152, 49–56 (2007).

Koos, T., Tecuapetla, F. & Tepper, J.M. Glutamatergic signaling by midbrain dopaminergic neurons: recent insights from optogenetic, molecular and behavioral studies. Curr. Opin. Neurobiol. 21, 393–401 (2011).

Cachope, R. et al. Selective activation of cholinergic interneurons enhances accumbal phasic dopamine release: setting the tone for reward processing. Cell Rep. 2, 33–41 (2012).

Threlfell, S. et al. Striatal dopamine release is triggered by synchronized activity in cholinergic interneurons. Neuron 75, 58–64 (2012).

Chang, H.T. & Kita, H. Interneurons in the rat striatum: relationships between parvalbumin neurons and cholinergic neurons. Brain Res. 574, 307–311 (1992).

Barker, D.J., Root, D.H., Zhang, S. & Morales, M. Multiplexed neurochemical signaling by neurons of the ventral tegmental area. J. Chem. Neuroanat. http://dx.doi.org/10.1016/j.jchemneu.2015.12.016 (4 January 2016).10.1016/j.jchemneu.2015.12.016

Wang, H.L., Qi, J., Zhang, S., Wang, H. & Morales, M. Rewarding effects of optical stimulation of ventral tegmental area glutamatergic neurons. J. Neurosci. 35, 15948–15954 (2015).

Borgius, L., Restrepo, C.E., Leao, R.N., Saleh, N. & Kiehn, O. A transgenic mouse line for molecular genetic analysis of excitatory glutamatergic neurons. Mol. Cell. Neurosci. 45, 245–257 (2010).

Qi, J. et al. A glutamatergic reward input from the dorsal raphe to ventral tegmental area dopamine neurons. Nat. Commun. 5, 5390 (2014).

Li, B. et al. Synaptic potentiation onto habenula neurons in the learned helplessness model of depression. Nature 470, 535–539 (2011).
Acknowledgements
We thank O. Kiehn and L. Borgius (Karolinska Institutet, Solna, Sweden) for providing the VGluT2::Cre transgenic mice. We thank R. Wise, M.F. Barbano and D. Root for comments. We thank B. Liu and R. Ye for their help in processing brain tissue. This work was supported by the Intramural Research Program of the National Institute on Drug Abuse, US National Institutes of Health (IRP/NIDA/NIH).
Ethics declarations
Competing interests
The authors declare no competing financial interests.
Integrated supplementary information
Supplementary information
Supplementary Figures 1–10 and Supplementary Tables 1 and 2 (PDF 5404 kb)
About this article
Cite this article
Qi, J., Zhang, S., Wang, HL. et al. VTA glutamatergic inputs to nucleus accumbens drive aversion by acting on GABAergic interneurons. Nat Neurosci 19, 725–733 (2016). https://doi.org/10.1038/nn.4281
Received:

Accepted:

Published:

Issue Date:

DOI: https://doi.org/10.1038/nn.4281