Abstract
Optogenetic and chemogenetic actuators are critical for deconstructing the neural correlates of behavior. However, these tools have several limitations, including invasive modes of stimulation or slow on/off kinetics. We have overcome these disadvantages by synthesizing a single-component, magnetically sensitive actuator, "Magneto," comprising the cation channel TRPV4 fused to the paramagnetic protein ferritin. We validated noninvasive magnetic control over neuronal activity by demonstrating remote stimulation of cells using in vitro calcium imaging assays, electrophysiological recordings in brain slices, in vivo electrophysiological recordings in the brains of freely moving mice, and behavioral outputs in zebrafish and mice. As proof of concept, we used Magneto to delineate a causal role of striatal dopamine receptor 1 neurons in mediating reward behavior in mice. Together our results present Magneto as an actuator capable of remotely controlling circuits associated with complex animal behaviors.
Relevant articles
Open Access articles citing this article.
Zhenhua Liu

,

Nannan Yang

…

Beisha Tang

Nature Communications Open Access 17 June 2022

Sangjin Yoo

,

David R. Mittelstein

…

Mikhail G. Shapiro

Nature Communications Open Access 25 January 2022

Maren Laughlin

,

Bradley Cooke

…

Luke E. Stoeckel

International Journal of Obesity Open Access 21 December 2021
Access options
Subscribe to Journal
Get full journal access for 1 year
$79.00
only $6.58 per issue
All prices are NET prices.
VAT will be added later in the checkout.
Tax calculation will be finalised during checkout.
Buy article
Get time limited or full article access on ReadCube.
$32.00
All prices are NET prices.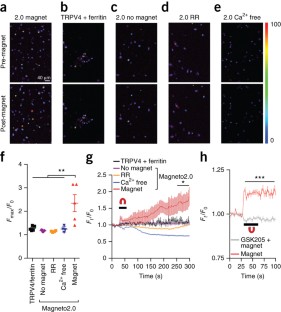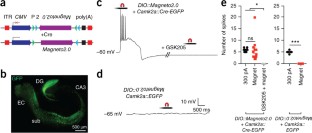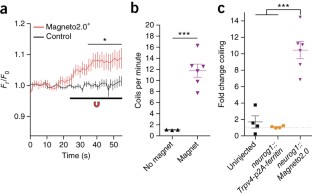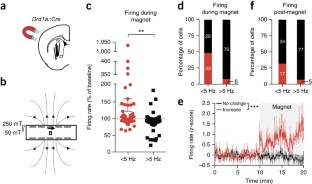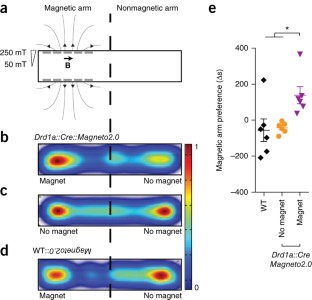 References
Zemelman, B.V., Lee, G.A., Ng, M. & Miesenböck, G. Selective photostimulation of genetically chARGed neurons. Neuron 33, 15–22 (2002).

Boyden, E.S., Zhang, F., Bamberg, E., Nagel, G. & Deisseroth, K. Millisecond-timescale, genetically targeted optical control of neural activity. Nat. Neurosci. 8, 1263–1268 (2005).

Gradinaru, V., Mogri, M., Thompson, K.R., Henderson, J.M. & Deisseroth, K. Optical deconstruction of parkinsonian neural circuitry. Science 324, 354–359 (2009).

Sternson, S.M. & Roth, B.L. Chemogenetic tools to interrogate brain functions. Annu. Rev. Neurosci. 37, 387–407 (2014).

Alexander, G.M. et al. Remote control of neuronal activity in transgenic mice expressing evolved G protein-coupled receptors. Neuron 63, 27–39 (2009).

Güler, A.D. et al. Transient activation of specific neurons in mice by selective expression of the capsaicin receptor. Nat. Commun. 3, 746 (2012).

Bernstein, J.G., Garrity, P.A. & Boyden, E.S. Optogenetics and thermogenetics: technologies for controlling the activity of targeted cells within intact neural circuits. Curr. Opin. Neurobiol. 22, 61–71 (2012).

Hughes, S., McBain, S., Dobson, J. & El Haj, A.J. Selective activation of mechanosensitive ion channels using magnetic particles. J. R. Soc. Interface 5, 855–863 (2008).

Huang, H., Delikanli, S., Zeng, H., Ferkey, D.M. & Pralle, A. Remote control of ion channels and neurons through magnetic-field heating of nanoparticles. Nat. Nanotechnol. 5, 602–606 (2010).

Stanley, S.A. et al. Radio-wave heating of iron oxide nanoparticles can regulate plasma glucose in mice. Science 336, 604–608 (2012).

Stanley, S.A., Sauer, J., Kane, R.S., Dordick, J.S. & Friedman, J.M. Remote regulation of glucose homeostasis in mice using genetically encoded nanoparticles. Nat. Med. 21, 92–98 (2015).

Chen, R., Romero, G., Christiansen, M.G., Mohr, A. & Anikeeva, P. Wireless magnetothermal deep brain stimulation. Science 347, 1477–1480 (2015).

Loukin, S., Zhou, X., Su, Z., Saimi, Y. & Kunsg, C. Wild-type and brachyolmia-causing mutant TRPV4 channels respond directly to stretch force. J. Biol. Chem. 285, 27176–27181 (2010).

Liedtke, W. et al. Vanilloid receptor-related osmotically activated channel (VR-OAC), a candidate vertebrate osmoreceptor. Cell 103, 525–535 (2000).

Güler, A.D. et al. Heat-evoked activation of the ion channel, TRPV4. J. Neurosci. 22, 6408–6414 (2002).

Stanley, S. Biological nanoparticles and their influence on organisms. Curr. Opin. Biotechnol. 28, 69–74 (2014).

Iordanova, B., Robison, C.S. & Ahrens, E.T. Design and characterization of a chimeric ferritin with enhanced iron loading and transverse NMR relaxation rate. J. Biol. Inorg. Chem. 15, 957–965 (2010).

Lei, L. et al. A TRPV4 channel C-terminal folding recognition domain critical for trafficking and function. J. Biol. Chem. 288, 10427–10439 (2013).

Hofherr, A., Fakler, B. & Klöcker, N. Selective Golgi export of Kir2.1 controls the stoichiometry of functional Kir2.x channel heteromers. J. Cell Sci. 118, 1935–1943 (2005).

Gradinaru, V. et al. Molecular and cellular approaches for diversifying and extending optogenetics. Cell 141, 154–165 (2010).

Lytton, J., Westlin, M. & Hanley, M.R. Thapsigargin inhibits the sarcoplasmic or endoplasmic reticulum Ca-ATPase family of calcium pumps. J. Biol. Chem. 266, 17067–17071 (1991).

Phan, M.N. et al. Functional characterization of TRPV4 as an osmotically sensitive ion channel in porcine articular chondrocytes. Arthritis Rheum. 60, 3028–3037 (2009).

Sohal, V.S., Zhang, F., Yizhar, O. & Deisseroth, K. Parvalbumin neurons and gamma rhythms enhance cortical circuit performance. Nature 459, 698–702 (2009).

Andermann, P., Ungos, J. & Raible, D.W. Neurogenin1 defines zebrafish cranial sensory ganglia precursors. Dev. Biol. 251, 45–58 (2002).

Douglass, A.D., Kraves, S., Deisseroth, K., Schier, A.F. & Engert, F. Escape behavior elicited by single, channelrhodopsin-2-evoked spikes in zebrafish somatosensory neurons. Curr. Biol. 18, 1133–1137 (2008).

Tian, L. et al. Imaging neural activity in worms, flies and mice with improved GCaMP calcium indicators. Nat. Methods 6, 875–881 (2009).

Wyart, C. et al. Optogenetic dissection of a behavioural module in the vertebrate spinal cord. Nature 461, 407–410 (2009).

Sagasti, A., Guido, M.R., Raible, D.W. & Schier, A.F. Repulsive interactions shape the morphologies and functional arrangement of zebrafish peripheral sensory arbors. Curr. Biol. 15, 804–814 (2005).

Hersch, S.M. et al. Electron microscopic analysis of D1 and D2 dopamine receptor proteins in the dorsal striatum and their synaptic relationships with motor corticostriatal afferents. J. Neurosci. 15, 5222–5237 (1995).

Berke, J.D., Okatan, M., Skurski, J. & Eichenbaum, H.B. Oscillatory entrainment of striatal neurons in freely moving rats. Neuron 43, 883–896 (2004).

Wise, R.A. Dopamine, learning and motivation. Nat. Rev. Neurosci. 5, 483–494 (2004).

Tsai, H.-C. et al. Phasic firing in dopaminergic neurons is sufficient for behavioral conditioning. Science 324, 1080–1084 (2009).

Lobo, M.K. et al. Cell type-specific loss of BDNF signaling mimics optogenetic control of cocaine reward. Science 330, 385–390 (2010).

Zengin-Toktas, Y. et al. Motivational properties of D2 and D3 dopamine receptors agonists and cocaine, but not with D1 dopamine receptors agonist and L-dopa, in bilateral 6-OHDA-lesioned rat. Neuropharmacology 70, 74–82 (2013).

Gore, B.B. & Zweifel, L.S. Genetic reconstruction of dopamine D1 receptor signaling in the nucleus accumbens facilitates natural and drug reward responses. J. Neurosci. 33, 8640–8649 (2013).

Stuber, G.D., Britt, J.P. & Bonci, A. Optogenetic modulation of neural circuits that underlie reward seeking. Biol. Psychiatry 71, 1061–1067 (2012).

Jeong, J.W. et al. Wireless optofluidic systems for programmable in vivo pharmacology and optogenetics. Cell 162, 662–674 (2015).

O'Neil, R.G. & Heller, S. The mechanosensitive nature of TRPV channels. Pflugers Arch. 451, 193–203 (2005).

Liedtke, W. & Kim, C. Functionality of the TRPV subfamily of TRP ion channels: add mechano-TRP and osmo-TRP to the lexicon! Cell. Mol. Life Sci. 62, 2985–3001 (2005).

Matthews, B.D. et al. Ultra-rapid activation of TRPV4 ion channels by mechanical forces applied to cell surface beta1 integrins. Integr. Biol. (Camb.) 2, 435–442 (2010).

Kimmel, C.B., Ballard, W.W., Kimmel, S.R., Ullmann, B. & Schilling, T.F. Stages of embryonic development of the zebrafish. Dev. Dyn. 203, 253–310 (1995).

McFarland, T.J. et al. Evaluation of a novel short polyadenylation signal as an alternative to the SV40 polyadenylation signal. Plasmid 56, 62–67 (2006).

Wheeler, M.A. et al. TNF-α/TNFR1 signaling is required for the development and function of primary nociceptors. Neuron 82, 587–602 (2014).

Smith, C.J., Morris, A.D., Welsh, T.G. & Kucenas, S. Contact-mediated inhibition between oligodendrocyte progenitor cells and motor exit point glia establishes the spinal cord transition zone. PLoS Biol. 12, e1001961 (2014).

Hargus, N.J., Nigam, A., Bertram, E.H. III & Patel, M.K. Evidence for a role of Nav1.6 in facilitating increases in neuronal hyperexcitability during epileptogenesis. J. Neurophysiol. 110, 1144–1157 (2013).

Quintana, A. et al. Lack of GPR88 enhances medium spiny neuron activity and alters motor- and cue-dependent behaviors. Nat. Neurosci. 15, 1547–1555 (2012).

Chen, S., Chiu, C.N., McArthur, K.L., Fetcho, J.R. & Prober, D. TRP channel mediated neuronal activation and ablation in freely behaving zebrafish. Nat. Methods 13, 147–150 (2016).

Long, X., Ye, J., Zhao, D. & Zhang, S.J. Magnetogenetics: remote non-invasive magnetic activation of neuronal activity with a magnetoreceptor. Sci. Bull. (Beijing) 60, 2107–2119 (2015).
Acknowledgements
We thank members of the Condron, Beenhakker, Kucenas, Patel, Deppmann and Güler labs for comments and suggestions. In particular, we are thankful for technical assistance provided by A. Morris, P. Neff, A. Rainwater and S. Young. We are thankful for comments on the manuscript from M. Caterina, I. Cheng, B. Condron, K. Gamage and I. Provencio. We acknowledge the UVa Keck Center for Cellular Imaging staff for use of the Leica confocal microscopy system, supported by US National Institutes of Health (NIH) National Center for Research Resources RR025616. This work was supported by NIH National Institute of General Medical Sciences (NIGMS) 5T32GM008328, NIH NIGMS 5T32GM008136, a Neuroscience Center of Excellence fellowship and a Wagner Fellowship (M.A.W.); NIH National Institute of Neurological Disorders and Stroke (NINDS) F32NS087791 (C.J.S.); NIH NINDS R01NS072212 (S.K.); NIH NINDS R01NS075157 (M.K.P.); NIH NINDS R01NS072388 (C.D.D.); and UVa startup funds (A.D.G.).
Ethics declarations
Competing interests
The authors declare no competing financial interests.
Integrated supplementary information
Supplementary information
About this article
Cite this article
Wheeler, M., Smith, C., Ottolini, M. et al. Genetically targeted magnetic control of the nervous system. Nat Neurosci 19, 756–761 (2016). https://doi.org/10.1038/nn.4265
Received:

Accepted:

Published:

Issue Date:

DOI: https://doi.org/10.1038/nn.4265