Abstract
Fear expression relies on the coordinated activity of prefrontal and amygdala circuits, yet the mechanisms allowing long-range network synchronization during fear remain unknown. Using a combination of extracellular recordings, pharmacological and optogenetic manipulations, we found that freezing, a behavioral expression of fear, temporally coincided with the development of sustained, internally generated 4-Hz oscillations in prefrontal–amygdala circuits. 4-Hz oscillations predict freezing onset and offset and synchronize prefrontal–amygdala circuits. Optogenetic induction of prefrontal 4-Hz oscillations coordinates prefrontal–amygdala activity and elicits fear behavior. These results unravel a sustained oscillatory mechanism mediating prefrontal–amygdala coupling during fear behavior.
Relevant articles
Open Access articles citing this article.
Shani Folschweiller

&

Jonas-Frederic Sauer

Pflügers Archiv - European Journal of Physiology Open Access 31 May 2022

Xin Fu

,

Eric Teboul

…

Jeffrey G. Tasker

Nature Communications Open Access 11 March 2022

Nikolaos Karalis

&

Anton Sirota

Nature Communications Open Access 24 January 2022
Access options
Subscribe to Journal
Get full journal access for 1 year
$79.00
only $6.58 per issue
All prices are NET prices.
VAT will be added later in the checkout.
Tax calculation will be finalised during checkout.
Buy article
Get time limited or full article access on ReadCube.
$32.00
All prices are NET prices.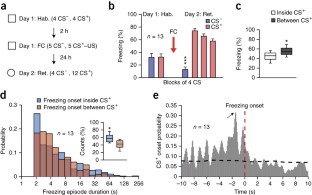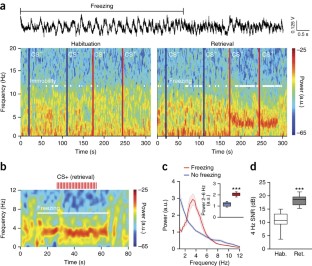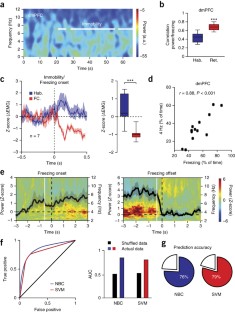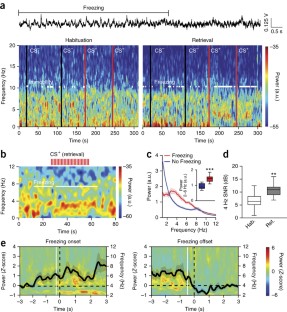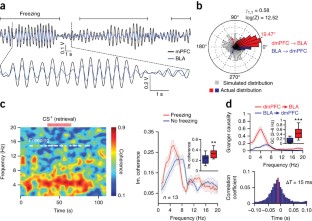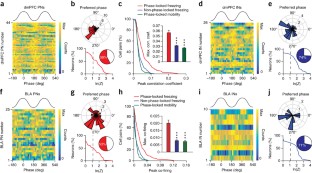 References
Bosman, C.A. et al. Attentional stimulus selection through selective synchronization between monkey visual areas. Neuron 75, 875–888 (2012).

Siegel, M., Donner, T.H., Oostenveld, R., Fries, P. & Engel, A.K. Neuronal synchronization along the dorsal visual pathway reflects the focus of spatial attention. Neuron 60, 709–719 (2008).

Rodriguez, E. et al. Perception's shadow: long-distance synchronization of human brain activity. Nature 397, 430–433 (1999).

Hipp, J.F., Engel, A.K. & Siegel, M. Oscillatory synchronization in large-scale cortical networks predicts perception. Neuron 69, 387–396 (2011).

Friedrich, R.W., Habermann, C.J. & Laurent, G. Multiplexing using synchrony in the zebrafish olfactory bulb. Nat. Neurosci. 7, 862–871 (2004).

Riehle, A., Grün, S., Diesmann, M. & Aertsen, A. Spike synchronization and rate modulation differentially involved in motor cortical function. Science 278, 1950–1953 (1997).

Benchenane, K. et al. Coherent theta oscillations and reorganization of spike timing in the hippocampal- prefrontal network upon learning. Neuron 66, 921–936 (2010).

Gregoriou, G.G., Gotts, S.J., Zhou, H. & Desimone, R. High-frequency, long-range coupling between prefrontal and visual cortex during attention. Science 324, 1207–1210 (2009).

Courtin, J. et al. Prefrontal parvalbumin interneurons shape neuronal activity to drive fear expression. Nature 505, 92–96 (2014).

Likhtik, E., Stujenske, J.M., Topiwala, M.A., Harris, A.Z. & Gordon, J.A. Prefrontal entrainment of amygdala activity signals safety in learned fear and innate anxiety. Nat. Neurosci. 17, 106–113 (2014).

Livneh, U. & Paz, R. Amygdala-prefrontal synchronization underlies resistance to extinction of aversive memories. Neuron 75, 133–142 (2012).

Stujenske, J.M., Likhtik, E., Topiwala, M.A. & Gordon, J.A. Fear and safety engage competing patterns of theta-gamma coupling in the basolateral amygdala. Neuron 83, 919–933 (2014).

Gabbott, P.L., Warner, T.A., Jays, P.R., Salway, P. & Busby, S.J. Prefrontal cortex in the rat: projections to subcortical autonomic, motor, and limbic centers. J. Comp. Neurol. 492, 145–177 (2005).

Holstege, G. The periaqueductal gray controls brainstem emotional motor systems including respiration. Prog. Brain Res. 209, 379–405 (2014).

Subramanian, H.H., Balnave, R.J. & Holstege, G. The midbrain periaqueductal gray control of respiration. J. Neurosci. 28, 12274–12283 (2008).

Vianna, D.M., Landeira-Fernandez, J. & Brandão, M.L. Dorsolateral and ventral regions of the periaqueductal gray matter are involved in distinct types of fear. Neurosci. Biobehav. Rev. 25, 711–719 (2001).

Lesting, J. et al. Patterns of coupled theta activity in amygdala-hippocampal-prefrontal cortical circuits during fear extinction. PLoS One 6, e21714 (2011).

Seidenbecher, T., Laxmi, T.R., Stork, O. & Pape, H.C. Amygdalar and hippocampal theta rhythm synchronization during fear memory retrieval. Science 301, 846–850 (2003).

Yoder, R.M. & Pang, K.C. Involvement of GABAergic and cholinergic medial septal neurons in hippocampal theta rhythm. Hippocampus 15, 381–392 (2005).

Stark, E. et al. Inhibition-induced theta resonance in cortical circuits. Neuron 80, 1263–1276 (2013).

Siegle, J.H. & Wilson, M.A. Enhancement of encoding and retrieval functions through theta phase-specific manipulation of hippocampus. eLife 3, e03061 (2014).

Atallah, B.V., Bruns, W., Carandini, M. & Scanziani, M. Parvalbumin-expressing interneurons linearly transform cortical responses to visual stimuli. Neuron 73, 159–170 (2012).

Nunez, P.L. & Srinivasan, R. Electric Fields of the Brain: The Neurophysics of EEG 2nd edn. (Oxford Univ. Press, 2006).

Magee, J.C. Dendritic integration of excitatory synaptic input. Nat. Rev. Neurosci. 1, 181–190 (2000).

Vaidya, S.P. & Johnston, D. Temporal synchrony and gamma-to-theta power conversion in the dendrites of CA1 pyramidal neurons. Nat. Neurosci. 16, 1812–1820 (2013).

Steenland, H.W., Li, X.Y. & Zhuo, M. Predicting aversive events and terminating fear in the mouse anterior cingulate cortex during trace fear conditioning. J. Neurosci. 32, 1082–1095 (2012).

Goshen, I. et al. Dynamics of retrieval strategies for remote memories. Cell 147, 678–689 (2011).

Ito, J. et al. Whisker barrel cortex delta oscillations and gamma power in the awake mouse are linked to respiration. Nat. Commun. 5, 3572 (2014).

Fujisawa, S. & Buzsáki, G. A 4 Hz oscillation adaptively synchronizes prefrontal, VTA, and hippocampal activities. Neuron 72, 153–165 (2011).

Engel, A.K., König, P., Gray, C.M. & Singer, W. Stimulus-dependent neuronal oscillations in cat visual cortex: inter-columnar interaction as determined by cross-correlation analysis. Eur. J. Neurosci. 2, 588–606 (1990).

Gray, C.M., König, P., Engel, A.K. & Singer, W. Oscillatory responses in cat visual cortex exhibit inter-columnar synchronization which reflects global stimulus properties. Nature 338, 334–337 (1989).

Young, M.P., Tanaka, K. & Yamane, S. On oscillating neuronal responses in the visual cortex of the monkey. J. Neurophysiol. 67, 1464–1474 (1992).

Mitra, P.P. & Pesaran, B. Analysis of dynamic brain imaging data. Biophys. J. 76, 691–708 (1999).

Nolte, G. et al. Identifying true brain interaction from EEG data using the imaginary part of coherency. Clin. Neurophysiol. 115, 2292–2307 (2004).

Barnett, L. & Seth, A.K. The MVGC multivariate Granger causality toolbox: a new approach to Granger-causal inference. J. Neurosci. Methods 223, 50–68 (2014).

Buzsáki, G. et al. Hippocampal network patterns of activity in the mouse. Neuroscience 116, 201–211 (2003).

Steenland, H.W. & Zhuo, M. Neck electromyography is an effective measure of fear behavior. J. Neurosci. Methods 177, 355–360 (2009).

Siapas, A.G., Lubenov, E.V. & Wilson, M.A. Prefrontal phase locking to hippocampal theta oscillations. Neuron 46, 141–151 (2005).

Sirota, A. et al. Entrainment of neocortical neurons and gamma oscillations by the hippocampal theta rhythm. Neuron 60, 683–697 (2008).

Vinck, M., van Wingerden, M., Womelsdorf, T., Fries, P. & Pennartz, C.M. The pairwise phase consistency: a bias-free measure of rhythmic neuronal synchronization. Neuroimage 51, 112–122 (2010).

Cortes, C. & Vapnik, V. Support-vector networks. Mach. Learn. 20, 273–297 (1995).

Bishop, C.M. Pattern Recognition and Machine Learning (eds. Jordan, M., Kleinberg J. & Schölkopf, B.) (Springer, 2006).
Acknowledgements
We thank the members of the Herry laboratory for discussions and comments on the manuscript and K. Deisseroth (Stanford University) and E. Boyden (Massachusetts Institute of Technology) for generously sharing material. This work was supported by grants from the French National Research Agency (ANR-2010-BLAN-1442-01; ANR-10-EQPX-08 OPTOPATH; LABEX BRAIN ANR 10-LABX-43, LABEX TRAIL ANR 10-LABX-57), the European Research Council (ERC) under the European Union's Seventh Framework Program (FP7/2007-2013)/ERC grant agreement no. 281168, the Conseil Regional d'Aquitaine (C.H.), the Fondation pour la Recherche Médicale (FRM) (F.C.), the CNRS ATIP program (2014) and the city of Paris (Grant Emergence 2014), the French National Research Agency (ANR-10-LABX-54 MEMO LIFE; ANR-11-IDEX-0001-02 PSL) (K.B.), Munich Cluster for Systems Neurology (SyNergy, EXC 1010), Deutsche Forschungsgemeinschaft Priority Program 1665 and 1392 and Bundesministerium für Bildung und Forschung via grant no. 01GQ0440 (Bernstein Centre for Computational Neuroscience Munich) (A.S.) and a scholarship from the Erasmus Mundus program Neurasmus (N.K.).
Ethics declarations
Competing interests
The authors declare no competing financial interests.
Integrated supplementary information
Supplementary information
Supplementary Figures 1–11 (PDF 1632 kb)
About this article
Cite this article
Karalis, N., Dejean, C., Chaudun, F. et al. 4-Hz oscillations synchronize prefrontal–amygdala circuits during fear behavior. Nat Neurosci 19, 605–612 (2016). https://doi.org/10.1038/nn.4251
Received:

Accepted:

Published:

Issue Date:

DOI: https://doi.org/10.1038/nn.4251