Abstract
Dyshomeostasis of amyloid-β peptide (Aβ) is responsible for synaptic malfunctions leading to cognitive deficits ranging from mild impairment to full-blown dementia in Alzheimer's disease. Aβ appears to skew synaptic plasticity events toward depression. We found that inhibition of PTEN, a lipid phosphatase that is essential to long-term depression, rescued normal synaptic function and cognition in cellular and animal models of Alzheimer's disease. Conversely, transgenic mice that overexpressed PTEN displayed synaptic depression that mimicked and occluded Aβ-induced depression. Mechanistically, Aβ triggers a PDZ-dependent recruitment of PTEN into the postsynaptic compartment. Using a PTEN knock-in mouse lacking the PDZ motif, and a cell-permeable interfering peptide, we found that this mechanism is crucial for Aβ-induced synaptic toxicity and cognitive dysfunction. Our results provide fundamental information on the molecular mechanisms of Aβ-induced synaptic malfunction and may offer new mechanism-based therapeutic targets to counteract downstream Aβ signaling.
Relevant articles
Open Access articles citing this article.
Xiaoyan Zeng

,

Stanley K. K. Cheung

…

Andrew M. Chan

Journal of Neuroinflammation Open Access 02 December 2023

Ankit Verma

,

Anna Shteinfer-Kuzmine

…

Varda Shoshan-Barmatz

Translational Neurodegeneration Open Access 28 December 2022

Zengtao Wang

,

Xiaojia Tang

…

Krishna R. Kalari

npj Systems Biology and Applications Open Access 16 August 2022
Access options
Subscribe to this journal
Receive 12 print issues and online access
$209.00 per year
only $17.42 per issue
Rent or buy this article
Prices vary by article type
from$1.95
to$39.95
Prices may be subject to local taxes which are calculated during checkout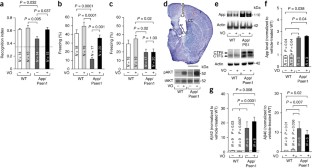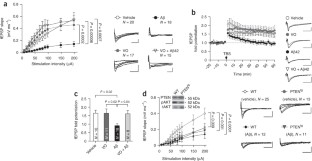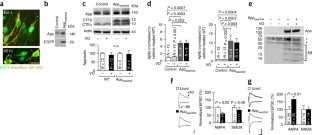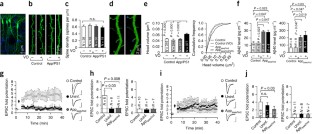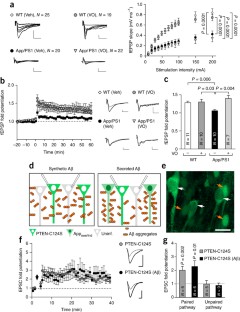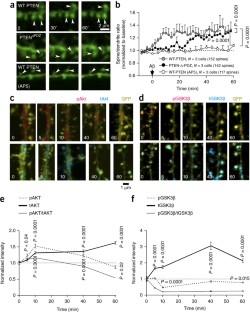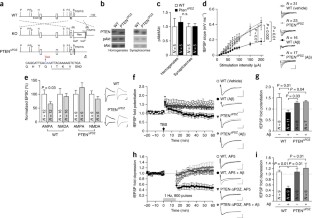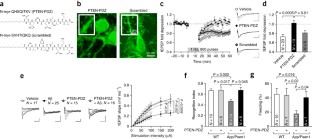 References
Terry, R.D. et al. Physical basis of cognitive alterations in Alzheimer's disease: synapse loss is the major correlate of cognitive impairment. Ann. Neurol. 30, 572–580 (1991).

Selkoe, D.J. Alzheimer's disease is a synaptic failure. Science 298, 789–791 (2002).

Jack, C.R. Jr. et al. Brain beta-amyloid measures and magnetic resonance imaging atrophy both predict time-to-progression from mild cognitive impairment to Alzheimer's disease. Brain 133, 3336–3348 (2010).

Selkoe, D.J. Resolving controversies on the path to Alzheimer's therapeutics. Nat. Med. 17, 1060–1065 (2011).

Li, S. et al. Soluble oligomers of amyloid Beta protein facilitate hippocampal long-term depression by disrupting neuronal glutamate uptake. Neuron 62, 788–801 (2009).

Hsieh, H. et al. AMPAR removal underlies Abeta-induced synaptic depression and dendritic spine loss. Neuron 52, 831–843 (2006).

Shankar, G.M. et al. Natural oligomers of the Alzheimer amyloid-beta protein induce reversible synapse loss by modulating an NMDA-type glutamate receptor–dependent signaling pathway. J. Neurosci. 27, 2866–2875 (2007).

Shankar, G.M. et al. Amyloid-beta protein dimers isolated directly from Alzheimer's brains impair synaptic plasticity and memory. Nat. Med. 14, 837–842 (2008).

Walsh, D.M. et al. Naturally secreted oligomers of amyloid beta protein potently inhibit hippocampal long-term potentiation in vivo. Nature 416, 535–539 (2002).

Cullen, W.K., Wu, J., Anwyl, R. & Rowan, M.J. beta-Amyloid produces a delayed NMDA receptor–dependent reduction in synaptic transmission in rat hippocampus. Neuroreport 8, 87–92 (1996).

Lambert, M.P. et al. Diffusible, nonfibrillar ligands derived from Abeta1-42 are potent central nervous system neurotoxins. Proc. Natl. Acad. Sci. USA 95, 6448–6453 (1998).

Man, H.Y. et al. Activation of PI3-kinase is required for AMPA receptor insertion during LTP of mEPSCs in cultured hippocampal neurons. Neuron 38, 611–624 (2003).

Peineau, S. et al. LTP inhibits LTD in the hippocampus via regulation of GSK3beta. Neuron 53, 703–717 (2007).

Arendt, K.L. et al. PIP3 controls synaptic function by maintaining AMPA receptor clustering at the postsynaptic membrane. Nat. Neurosci. 13, 36–44 (2010).

Jurado, S. et al. PTEN is recruited to the postsynaptic terminal for NMDA receptor-dependent long-term depression. EMBO J. 29, 2827–2840 (2010).

Holcomb, L. et al. Accelerated Alzheimer-type phenotype in transgenic mice carrying both mutant amyloid precursor protein and presenilin 1 transgenes. Nat. Med. 4, 97–100 (1998).

Rosivatz, E. et al. A small molecule inhibitor for phosphatase and tensin homologue deleted on chromosome 10 (PTEN). ACS Chem. Biol. 1, 780–790 (2006).

Jan, A., Hartley, D.M. & Lashuel, H.A. Preparation and characterization of toxic Abeta aggregates for structural and functional studies in Alzheimer's disease research. Nat. Protoc. 5, 1186–1209 (2010).

Selkoe, D.J. Soluble oligomers of the amyloid beta-protein impair synaptic plasticity and behavior. Behav. Brain Res. 192, 106–113 (2008).

Welsby, P.J., Rowan, M.J. & Anwyl, R. Beta-amyloid blocks high frequency stimulation induced LTP but not nicotine enhanced LTP. Neuropharmacology 53, 188–195 (2007).

Klyubin, I. et al. Soluble Arctic amyloid beta protein inhibits hippocampal long-term potentiation in vivo. Eur. J. Neurosci. 19, 2839–2846 (2004).

Wang, Q., Walsh, D.M., Rowan, M.J., Selkoe, D.J. & Anwyl, R. Block of long-term potentiation by naturally secreted and synthetic amyloid beta-peptide in hippocampal slices is mediated via activation of the kinases c-Jun N-terminal kinase, cyclin-dependent kinase 5, and p38 mitogen-activated protein kinase as well as metabotropic glutamate receptor type 5. J. Neurosci. 24, 3370–3378 (2004).

Chen, Q.S., Wei, W.Z., Shimahara, T. & Xie, C.W. Alzheimer amyloid beta-peptide inhibits the late phase of long-term potentiation through calcineurin-dependent mechanisms in the hippocampal dentate gyrus. Neurobiol. Learn. Mem. 77, 354–371 (2002).

Ortega-Molina, A. et al. Pten positively regulates brown adipose function, energy expenditure, and longevity. Cell Metab. 15, 382–394 (2012).

Gerges, N.Z., Brown, T.C., Correia, S.S. & Esteban, J.A. Analysis of Rab protein function in neurotransmitter receptor trafficking at hippocampal synapses. Methods Enzymol. 403, 153–166 (2005).

Kamenetz, F. et al. APP processing and synaptic function. Neuron 37, 925–937 (2003).

Citron, M., Teplow, D.B. & Selkoe, D.J. Generation of amyloid beta protein from its precursor is sequence specific. Neuron 14, 661–670 (1995).

Jacobsen, J.S. et al. Early-onset behavioral and synaptic deficits in a mouse model of Alzheimer's disease. Proc. Natl. Acad. Sci. USA 103, 5161–5166 (2006).

Knafo, S. et al. Widespread changes in dendritic spines in a model of Alzheimer's disease. Cereb. Cortex 19, 586–592 (2009).

Wei, W. et al. Amyloid beta from axons and dendrites reduces local spine number and plasticity. Nat. Neurosci. 13, 190–196 (2010).

Spires, T.L. et al. Dendritic spine abnormalities in amyloid precursor protein transgenic mice demonstrated by gene transfer and intravital multiphoton microscopy. J. Neurosci. 25, 7278–7287 (2005).

Maehama, T. & Dixon, J.E. The tumor suppressor, PTEN/MMAC1, dephosphorylates the lipid second messenger, phosphatidylinositol 3,4,5-trisphosphate. J. Biol. Chem. 273, 13375–13378 (1998).

He, J. et al. Proteomic analysis of beta1-adrenergic receptor interactions with PDZ scaffold proteins. J. Biol. Chem. 281, 2820–2827 (2006).

Wu, Y. et al. Interaction of the tumor suppressor PTEN/MMAC with a PDZ domain of MAGI3, a novel membrane-associated guanylate kinase. J. Biol. Chem. 275, 21477–21485 (2000).

Wu, X. et al. Evidence for regulation of the PTEN tumor suppressor by a membrane-localized multi-PDZ domain containing scaffold protein MAGI-2. Proc. Natl. Acad. Sci. USA 97, 4233–4238 (2000).

von Stein, W., Ramrath, A., Grimm, A., Müller-Borg, M. & Wodarz, A. Direct association of Bazooka/PAR-3 with the lipid phosphatase PTEN reveals a link between the PAR/aPKC complex and phosphoinositide signaling. Development 132, 1675–1686 (2005).

Cissé, M. et al. Reversing EphB2 depletion rescues cognitive functions in Alzheimer model. Nature 469, 47–52 (2011).

Jo, J. et al. A(1-42) inhibition of LTP is mediated by a signaling pathway involving caspase-3, Akt1 and GSK-3β. Nat. Neurosci. 14, 545–547 (2011).

Hongpaisan, J., Sun, M.K. & Alkon, D.L. PKC ɛ activation prevents synaptic loss, Aβ elevation, and cognitive deficits in Alzheimer's disease transgenic mice. J. Neurosci. 31, 630–643 (2011).

Ma, T. et al. Dysregulation of the mTOR pathway mediates impairment of synaptic plasticity in a mouse model of Alzheimer's disease. PLoS One 5, e12845 (2010).

Kwak, Y.D. et al. NO signaling and S-nitrosylation regulate PTEN inhibition in neurodegeneration. Mol. Neurodegener. 5, 49 (2010).

Talbot, K. et al. Demonstrated brain insulin resistance in Alzheimer's disease patients is associated with IGF-1 resistance, IRS-1 dysregulation, and cognitive decline. J. Clin. Invest. 122, 1316–1338 (2012).

Zhang, X. et al. Tumor-suppressor PTEN affects tau phosphorylation, aggregation, and binding to microtubules. FASEB J. 20, 1272–1274 (2006).

Griffin, R.J. et al. Activation of Akt/PKB, increased phosphorylation of Akt substrates and loss and altered distribution of Akt and PTEN are features of Alzheimer's disease pathology. J. Neurochem. 93, 105–117 (2005).

Pei, J.J. et al. Role of protein kinase B in Alzheimer's neurofibrillary pathology. Acta Neuropathol. 105, 381–392 (2003).

Freude, S. et al. Neuronal IGF-1 resistance reduces Abeta accumulation and protects against premature death in a model of Alzheimer's disease. FASEB J. 23, 3315–3324 (2009).

Cohen, E. et al. Reduced IGF-1 signaling delays age-associated proteotoxicity in mice. Cell 139, 1157–1169 (2009).

De Felice, F.G., Lourenco, M.V. & Ferreira, S.T. How does brain insulin resistance develop in Alzheimer's disease? Alzheimers Dement. 10 (suppl. 1) S26–S32 (2014).

Ehrengruber, M.U. et al. Recombinant Semliki Forest virus and Sindbis virus efficiently infect neurons in hippocampal slice cultures. Proc. Natl. Acad. Sci. USA 96, 7041–7046 (1999).

Torres, J. et al. Heterogeneous lack of expression of the tumour suppressor PTEN protein in human neoplastic tissues. Eur. J. Cancer 37, 114–121 (2001).

Valiente, M. et al. Binding of PTEN to specific PDZ domains contributes to PTEN protein stability and phosphorylation by microtubule-associated serine/threonine kinases. J. Biol. Chem. 280, 28936–28943 (2005).

Hood, C.A. et al. Fast conventional Fmoc solid-phase peptide synthesis with HCTU. J. Pept. Sci. 14, 97–101 (2008).
Acknowledgements
We thank F. Valdivieso (Centro de Biología Molecular "Severo Ochoa") for the Appswe/lnd construct, W. Klein (Northwestern University) for the Aβ antibody (NU-1), D. Walsh (Harvard Institutes of Medicine) for expert advice and providing protocols, and members of the Esteban laboratory for critical reading of this manuscript. This work was supported by grants from the Spanish Ministry of Economy and Competitiveness (CSD-2010-00045, SAF-2011-24730 and SAF2014-57233-R to J.A.E.; SAF2010-15676, SAF2013-43902-R and SAF2015-62540-ERC to S.K.; SAF-2009-09129 to C.V.; SAF2009-12249-C02-01 to F.W.; CSD2010-00045 and SAF2010-14906 to C.G.D.; SAF2013-48812-R to R.P.). The laboratory of S.K. is supported by a grant from Alzheimer's Association (NIRG-13-279533), from the Basque Ministry of Health (2013111138), from the University of the Basque Country (EHUrOPE14/03) and from Ikerbasque foundation. The laboratory of F.W. is also supported by CIBERNED (an initiative of ISCIII) and by EU-FP7-2009-CT222887 grant. M.S. is funded by grants from the MINECO, European Union (ERC Advanced Grant), Regional Government of Madrid, Botín Foundation, Ramón Areces Foundation, and AXA Foundation. A.M.C. is funded by grants R01CA095063 and R21CA133669 from the US National Institutes of Health. T.W. is funded from the Federal Office for Scientific Affairs (IUAP P6/43) and Flemish Government's Methusalem Grant. N.Z.G. is funded from the US National Institute on Aging (AG032320), Alzheimer's Association and American Health Assistance Foundation (AHAF). S.K. was the recipient of a "Ramón y Cajal" contract from the Spanish Ministry of Science and Innovation and is now an IkerBasque Research Professor. C.S.-P. is a recipient of an FPI scholarship from the Spanish Ministry of Economy and Competitiveness (BES-2011-043464). J.M. is the recipient of a predoctoral fellowship (PRE_2014_1_285) from Gobierno Vasco, Departamento de Educación (Basque Country, Spain).
Ethics declarations
Competing interests
The authors declare no competing financial interests.
Integrated supplementary information
Supplementary information
Supplementary Figures 1–10 (PDF 2152 kb)
About this article
Cite this article
Knafo, S., Sánchez-Puelles, C., Palomer, E. et al. PTEN recruitment controls synaptic and cognitive function in Alzheimer's models. Nat Neurosci 19, 443–453 (2016). https://doi.org/10.1038/nn.4225
Received:

Accepted:

Published:

Issue Date:

DOI: https://doi.org/10.1038/nn.4225