Abstract
To attribute spatial meaning to sensory information, the state of the sensory organ must be represented in the nervous system. In the rodent's vibrissal system, the whisking-cycle phase has been identified as a key coordinate, and phase-based representation of touch has been reported in the somatosensory cortex. Where and how phase is extracted in the ascending afferent pathways remains unknown. Using a closed-loop interface in anesthetized rats, we found that whisking phase is already encoded in a frequency- and amplitude-invariant manner by primary vibrissal afferents. We found that, for naturally constrained whisking dynamics, such invariant phase coding could be obtained by tuning each receptor to a restricted kinematic subspace. Invariant phase coding was preserved in the brainstem, where paralemniscal neurons filtered out the slowly evolving offset, whereas lemniscal neurons preserved it. These results demonstrate accurate, perceptually relevant, mechanically based processing at the sensor level.
Relevant articles
Open Access articles citing this article.
Shubhodeep Chakrabarti

&

Cornelius Schwarz

Nature Communications Open Access 25 September 2018

Calogero M. Oddo

,

Alberto Mazzoni

…

Henrik Jörntell

Scientific Reports Open Access 04 April 2017
Access options
Subscribe to Journal
Get full journal access for 1 year
$99.00
only $8.25 per issue
All prices are NET prices.
VAT will be added later in the checkout.
Tax calculation will be finalised during checkout.
Buy article
Get time limited or full article access on ReadCube.
$32.00
All prices are NET prices.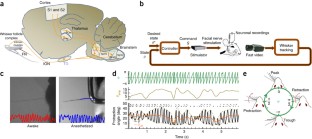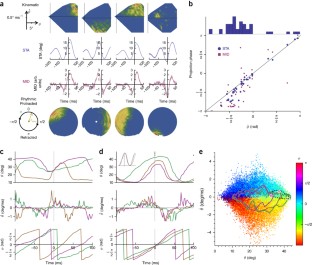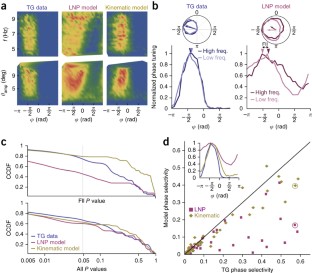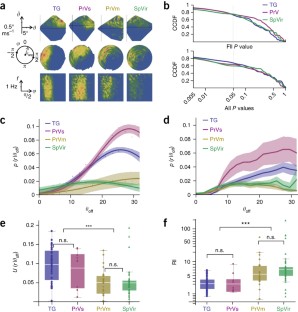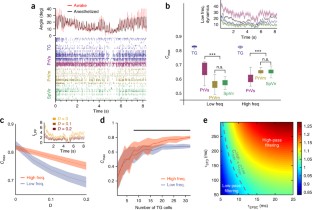 References
Ebara, S., Kumamoto, K., Matsuura, T., Mazurkiewicz, J.E. & Rice, F.L. Similarities and differences in the innervation of mystacial vibrissal follicle-sinus complexes in the rat and cat: a confocal microscopic study. J. Comp. Neurol. 449, 103–119 (2002).

Maravall, M. & Diamond, M.E. Algorithms of whisker-mediated touch perception. Curr. Opin. Neurobiol. 25, 176–186 (2014).

Kleinfeld, D. & Deschênes, M. Neuronal basis for object location in the vibrissa scanning sensorimotor system. Neuron 72, 455–468 (2011).

Crochet, S. & Petersen, C.C. Correlating whisker behavior with membrane potential in barrel cortex of awake mice. Nat. Neurosci. 9, 608–610 (2006).

Arkley, K., Grant, R.A., Mitchinson, B. & Prescott, T.J. Strategy change in vibrissal active sensing during rat locomotion. Curr. Biol. 24, 1507–1512 (2014).

Sofroniew, N.J., Cohen, J.D., Lee, A.K. & Svoboda, K. Natural whisker-guided behavior by head-fixed mice in tactile virtual reality. J. Neurosci. 34, 9537–9550 (2014).

Lenschow, C. & Brecht, M. Barrel cortex membrane potential dynamics in social touch. Neuron 85, 718–725 (2015).

Szwed, M., Bagdasarian, K. & Ahissar, E. Encoding of vibrissal active touch. Neuron 40, 621–630 (2003).

Ahissar, E. & Knutsen, P.M. Object localization with whiskers. Biol. Cybern. 98, 449–458 (2008).

Curtis, J.C. & Kleinfeld, D. Phase-to-rate transformations encode touch in cortical eurons of a scanning sensorimotor system. Nat. Neurosci. 12, 492–501 (2009).

Tonomura, S. et al. Structure-function correlations of rat trigeminal primary neurons: Emphasis on club-like endings, a vibrissal mechanoreceptor. Proc. Jpn. Acad. Ser. B Phys. Biol. Sci. 91, 560–576 (2015).

Wolpert, D.M. & Kawato, M. Multiple paired forward and inverse models for motor control. Neural Netw. 11, 1317–1329 (1998).

Hill, D.N., Curtis, J.C., Moore, J.D. & Kleinfeld, D. Primary motor cortex reports efferent control of vibrissa motion on multiple timescales. Neuron 72, 344–356 (2011).

Deutsch, D., Pietr, M., Knutsen, P.M., Ahissar, E. & Schneidman, E. Fast feedback in active sensing: touch-induced changes to whisker-object interaction. PLoS One 7, e44272 (2012).

Bale, M.R., Davies, K., Freeman, O.J., Ince, R.A. & Petersen, R.S. Low-dimensional sensory feature representation by trigeminal primary afferents. J. Neurosci. 33, 12003–12012 (2013).

Sharpee, T., Rust, N.C. & Bialek, W. Analyzing neural responses to natural signals: maximally informative dimensions. Neural Comput. 16, 223–250 (2004).

Quist, B.W., Seghete, V., Huet, L.A., Murphey, T.D. & Hartmann, M.J. Modeling forces and moments at the base of a rat vibrissa during noncontact whisking and whisking against an object. J. Neurosci. 34, 9828–9844 (2014).

Yu, C. et al. Coding of object location in the vibrissal thalamocortical system. Cereb. Cortex 25, 563–577 (2013).

Yu, C., Derdikman, D., Haidarliu, S. & Ahissar, E. Parallel thalamic pathways for whisking and touch signals in the rat. PLoS Biol. 4, e124 (2006).

Mohar, B., Katz, Y. & Lampl, I. Opposite adaptive processing of stimulus intensity in two major nuclei of the somatosensory brainstem. J. Neurosci. 33, 15394–15400 (2013).

Furuta, T. et al. Inhibitory gating of vibrissal inputs in the brainstem. J. Neurosci. 28, 1789–1797 (2008).

Xiang, C., Arends, J.J. & Jacquin, M.F. Whisker-related circuitry in the trigeminal nucleus principalis: ultrastructure. Somatosens. Mot. Res. 31, 141–151 (2014).

Knutsen, P.M., Biess, A. & Ahissar, E. Vibrissal kinematics in 3D: tight coupling of azimuth, elevation, and torsion across different whisking modes. Neuron 59, 35–42 (2008).

Maravall, M., Alenda, A., Bale, M.R. & Petersen, R.S. Transformation of adaptation and gain rescaling along the whisker sensory pathway. PLoS One 8, e82418 (2013).

Fairhall, A.L., Lewen, G.D., Bialek, W. & de Ruyter Van Steveninck, R.R. Efficiency and ambiguity in an adaptive neural code. Nature 412, 787–792 (2001).

Seung, H.S. & Sompolinsky, H. Simple models for reading neuronal population codes. Proc. Natl. Acad. Sci. USA 90, 10749–10753 (1993).

Knutsen, P.M., Pietr, M. & Ahissar, E. Haptic object localization in the vibrissal system: behavior and performance. J. Neurosci. 26, 8451–8464 (2006).

Saraf-Sinik, I., Assa, E. & Ahissar, E. Motion makes sense: an adaptive motor-sensory strategy underlies the perception of object location in rats. J. Neurosci. 35, 8777–8789 (2015).

Sanchez-Jimenez, A., Panetsos, F. & Murciano, A. Early frequency-dependent information processing and cortical control in the whisker pathway of the rat: electrophysiological study of brainstem nuclei principalis and interpolaris. Neuroscience 160, 212–226 (2009).

Sreenivasan, V., Karmakar, K., Rijli, F.M. & Petersen, C.C. Parallel pathways from motor and somatosensory cortex for controlling whisker movements in mice. Eur. J. Neurosci. 41, 354–367 (2014).

Timofeeva, E., Dufresne, C., Sík, A., Zhang, Z.W. & Deschênes, M. Cholinergic modulation of vibrissal receptive fields in trigeminal nuclei. J. Neurosci. 25, 9135–9143 (2005).

Deschenes, M. & Urbain, N. Vibrissal afferents from trigeminus to cortices. Scholarpedia 4, 7454 (2009).

Veinante, P. & Deschênes, M. Single- and multi-whisker channels in the ascending projections from the principal trigeminal nucleus in the rat. J. Neurosci. 19, 5085–5095 (1999).

Bishop, G.H. The relation between nerve fiber size and sensory modality: phylogenetic implications of the afferent innervation of cortex. J. Nerv. Ment. Dis. 128, 89–114 (1959).

Fee, M.S., Mitra, P.P. & Kleinfeld, D. Central versus peripheral determinants of patterned spike activity in rat vibrissa cortex during whisking. J. Neurophysiol. 78, 1144–1149 (1997).

Derdikman, D. et al. Layer-specific touch-dependent facilitation and depression in the somatosensory cortex during active whisking. J. Neurosci. 26, 9538–9547 (2006).

Semba, K. & Egger, M.D. The facial "motor" nerve of the rat: control of vibrissal movement and examination of motor and sensory components. J. Comp. Neurol. 247, 144–158 (1986).

Shoykhet, M., Doherty, D. & Simons, D.J. Coding of deflection velocity and amplitude by whisker primary afferent neurons: implications for higher level processing. Somatosens. Mot. Res. 17, 171–180 (2000).

Paxinos, G. & Watson, C. The Rat Brain in Stereotaxic Coordinates, 4th edn (Academic Press, 1998).

Bagdasarian, K. et al. Pre-neuronal morphological processing of object location by individual whiskers. Nat. Neurosci. 16, 622–631 (2013).

Kawato, M. Internal models for motor control and trajectory planning. Curr. Opin. Neurobiol. 9, 718–727 (1999).

Haidarliu, S. & Ahissar, E. Spatial organization of facial vibrissae and cortical barrels in the guinea pig and golden hamster. J. Comp. Neurol. 385, 515–527 (1997).

Zucker, E. & Welker, W.I. Coding of somatic sensory input by vibrissae neurons in the rat's trigeminal ganglion. Brain Res. 12, 138–156 (1969).

Chichilnisky, E.J. A simple white noise analysis of neuronal light responses. Network 12, 199–213 (2001).

Tsodyks, M.V. & Markram, H. The neural code between neocortical pyramidal neurons depends on neurotransmitter release probability. Proc. Natl. Acad. Sci. USA 94, 719–723 (1997).
Acknowledgements
We thank D. Kleinfeld, N. Ulanovsky and A. Finkelstein for discussions. This research was supported by the Israel Science Foundation (grant no. 1127/14), the Minerva Foundation funded by the Federal German Ministry for Education and Research, the United States-Israel Binational Science Foundation (BSF, grant no. 2011432), the NSF-BSF Brain Research EAGER program (grant no. 2014906) and a fund from Lord Alliance for Life Science Collaboration. E.A. holds the Helen Diller Family Professorial Chair of Neurobiology.
Ethics declarations
Competing interests
The authors declare no competing financial interests.
Integrated supplementary information
Supplementary information
Supplementary Figures 1–7 (PDF 1192 kb)
Tracking of whisker protraction angle in an awake, head-fixed rat (left, red) and generation of the same trajectory in an anesthetized rat (right, blue) using real-time closed-loop control. (MOV 1930 kb)
About this article
Cite this article
Wallach, A., Bagdasarian, K. & Ahissar, E. On-going computation of whisking phase by mechanoreceptors. Nat Neurosci 19, 487–493 (2016). https://doi.org/10.1038/nn.4221
Received:

Accepted:

Published:

Issue Date:

DOI: https://doi.org/10.1038/nn.4221
This article is cited by
Nature Reviews Neuroscience (2019)

Shubhodeep Chakrabarti
Cornelius Schwarz

Nature Communications (2018)

Calogero M. Oddo
Alberto Mazzoni
Henrik Jörntell

Scientific Reports (2017)