Abstract
Genetic determinants of cognition are poorly characterized, and their relationship to genes that confer risk for neurodevelopmental disease is unclear. Here we performed a systems-level analysis of genome-wide gene expression data to infer gene-regulatory networks conserved across species and brain regions. Two of these networks, M1 and M3, showed replicable enrichment for common genetic variants underlying healthy human cognitive abilities, including memory. Using exome sequence data from 6,871 trios, we found that M3 genes were also enriched for mutations ascertained from patients with neurodevelopmental disease generally, and intellectual disability and epileptic encephalopathy in particular. M3 consists of 150 genes whose expression is tightly developmentally regulated, but which are collectively poorly annotated for known functional pathways. These results illustrate how systems-level analyses can reveal previously unappreciated relationships between neurodevelopmental disease–associated genes in the developed human brain, and provide empirical support for a convergent gene-regulatory network influencing cognition and neurodevelopmental disease.
Relevant articles
Open Access articles citing this article.
Benjamin B. Sun

,

Stephanie J. Loomis

…

Christopher D. Whelan

Nature Communications Open Access 14 October 2022

Ian J. Deary

,

Simon R. Cox

&

W. David Hill

Molecular Psychiatry Open Access 02 February 2021

Yong Shao

,

Xiao-Bo Wang

…

Dong-Dong Wu

Nature Communications Open Access 27 May 2020
Access options
Subscribe to this journal
Receive 12 print issues and online access
$209.00 per year
only $17.42 per issue
Rent or buy this article
Prices vary by article type
from$1.95
to$39.95
Prices may be subject to local taxes which are calculated during checkout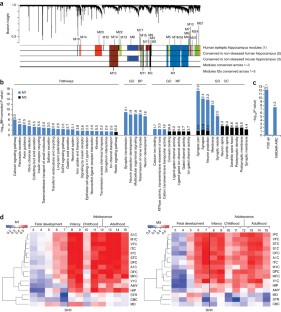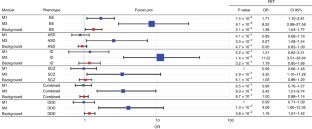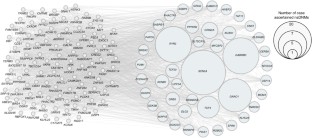 Accession codes
Accessions
Gene Expression Omnibus
References
Deary, I.J., Johnson, W. & Houlihan, L.M. Genetic foundations of human intelligence. Hum. Genet. 126, 215–232 (2009).

Davies, G. et al. Genome-wide association studies establish that human intelligence is highly heritable and polygenic. Mol. Psychiatry 16, 996–1005 (2011).

Plomin, R., Haworth, C.M., Meaburn, E.L., Price, T.S. & Davis, O.S. & Wellcome Trust Case Control Consortium 2. Common DNA markers can account for more than half of the genetic influence on cognitive abilities. Psychol. Sci. 24, 562–568 (2013).

Davies, G. et al. Genetic contributions to variation in general cognitive function: a meta-analysis of genome-wide association studies in the CHARGE consortium (N=53949). Mol. Psychiatry 20, 183–192 (2015).

Hill, W.D. et al. Human cognitive ability is influenced by genetic variation in components of postsynaptic signalling complexes assembled by NMDA receptors and MAGUK proteins. Transl. Psychiatry 4, e341 (2014).

Christoforou, A. et al. GWAS-based pathway analysis differentiates between fluid and crystallized intelligence. Genes Brain Behav. 13, 663–674 (2014).

Carroll, J. Human cognitive abilities: A survey of factor-analytic studies (Cambridge University Press, 1993).

Plomin, R. & Deary, I.J. Genetics and intelligence differences: five special findings. Mol. Psychiatry 20, 98–108 (2015).

Trzaskowski, M. et al. DNA evidence for strong genome-wide pleiotropy of cognitive and learning abilities. Behav. Genet. 43, 267–273 (2013).

Trzaskowski, M., Shakeshaft, N.G. & Plomin, R. Intelligence indexes generalist genes for cognitive abilities. Intelligence 41, 560–565 (2013).

Kahn, R.S. & Keefe, R.S.E. Schizophrenia is a cognitive illness: time for a change in focus. JAMA Psychiatry 70, 1107–1112 (2013).

Doherty, J.L. & Owen, M.J. Genomic insights into the overlap between psychiatric disorders: implications for research and clinical practice. Genome Med. 6, 29 (2014).

Helmstaedter, C. & Witt, J.-A. Clinical neuropsychology in epilepsy: theoretical and practical issues. Handb. Clin. Neurol. 107, 437–459 (2012).

Langfelder, P. & Horvath, S. WGCNA: an R package for weighted correlation network analysis. BMC Bioinformatics 9, 559 (2008).

Li, J.Z. et al. Circadian patterns of gene expression in the human brain and disruption in major depressive disorder. Proc. Natl. Acad. Sci. USA 110, 9950–9955 (2013).

Nithianantharajah, J. et al. Synaptic scaffold evolution generated components of vertebrate cognitive complexity. Nat. Neurosci. 16, 16–24 (2013).

Bayés, A. et al. Characterization of the proteome, diseases and evolution of the human postsynaptic density. Nat. Neurosci. 14, 19–21 (2011).

Bayés, A. et al. Comparative study of human and mouse postsynaptic proteomes finds high compositional conservation and abundance differences for key synaptic proteins. PLoS One 7, e46683 (2012).

Bliss, T.V.P. & Collingridge, G.L. A synaptic model of memory: long-term potentiation in the hippocampus. Nature 361, 31–39 (1993).

Ramasamy, A. et al. Genetic variability in the regulation of gene expression in ten regions of the human brain. Nat. Neurosci. 17, 1418–1428 (2014).

Fromer, M. et al. De novo mutations in schizophrenia implicate synaptic networks. Nature 506, 179–184 (2014).

Kirov, G. et al. De novo CNV analysis implicates specific abnormalities of postsynaptic signalling complexes in the pathogenesis of schizophrenia. Mol. Psychiatry 17, 142–153 (2012).

Rossin, E.J. et al. Proteins encoded in genomic regions associated with immune-mediated disease physically interact and suggest underlying biology. PLoS Genet. 7, e1001273 (2011).

Smith, B.H. et al. Cohort profile: generation Scotland: Scottish family health study (GS:SFHS). The study, its participants and their potential for genetic research on health and illness. Int. J. Epidemiol. 42, 689–700 (2013).

Deary, I.J., Gow, A.J., Pattie, A. & Starr, J.M. Cohort profile: the Lothian birth cohorts of 1921 and 1936. Int. J. Epidemiol. 41, 1576–1584 (2012).

Liu, J.Z. et al.; AMFS Investigators. A versatile gene-based test for genome-wide association studies. Am. J. Hum. Genet. 87, 139–145 (2010).

Nam, D., Kim, J., Kim, S.-Y. & Kim, S. GSA-SNP: a general approach for gene set analysis of polymorphisms. Nucleic Acids Res. 38, W749–54 (2010).

Pletikos, M. et al. Temporal specification and bilaterality of human neocortical topographic gene expression. Neuron 81, 321–332 (2014).

Kang, H.J. et al. Spatio-temporal transcriptome of the human brain. Nature 478, 483–489 (2011).

Wang, J., Duncan, D., Shi, Z. & Zhang, B. WEB-based GEne SeT AnaLysis Toolkit (WebGestalt): update 2013. Nucleic Acids Res. 41, W77–W83 (2013).

Satoh, J., Kawana, N. & Yamamoto, Y. ChIP-Seq data mining: remarkable differences in NRSF/REST target genes between human ESC and ESC-derived neurons. Bioinform. Biol. Insights 7, 357–368 (2013).

Moreno-De-Luca, A. et al. Developmental brain dysfunction: revival and expansion of old concepts based on new genetic evidence. Lancet Neurol. 12, 406–414 (2013).

Johnson, M.R. & Shorvon, S.D. Heredity in epilepsy: neurodevelopment, comorbidity, and the neurological trait. Epilepsy Behav. 22, 421–427 (2011).

Petrovski, S., Wang, Q., Heinzen, E.L., Allen, A.S. & Goldstein, D.B. Genic intolerance to functional variation and the interpretation of personal genomes. PLoS Genet. 9, e1003709 (2013).

Zhu, X., Need, A.C., Petrovski, S. & Goldstein, D.B. One gene, many neuropsychiatric disorders: lessons from Mendelian diseases. Nat. Neurosci. 17, 773–781 (2014).

Deciphering Developmental Disorders Study. Large-scale discovery of novel genetic causes of developmental disorders. Nature 519, 223–228 (2014).

Wright, C.F. et al. Genetic diagnosis of developmental disorders in the DDD study: a scalable analysis of genome-wide research data. Lancet 385, 1305–1314 (2015).

Sanders, S.J. et al. De novo mutations revealed by whole-exome sequencing are strongly associated with autism. Nature 485, 237–241 (2012).

Iossifov, I. et al. De novo gene disruptions in children on the autistic spectrum. Neuron 74, 285–299 (2012).

O'Roak, B.J. et al. Sporadic autism exomes reveal a highly interconnected protein network of de novo mutations. Nature 485, 246–250 (2012).

Rauch, A. et al. Range of genetic mutations associated with severe non-syndromic sporadic intellectual disability: an exome sequencing study. Lancet 380, 1674–1682 (2012).

Gulsuner, S. et al. Spatial and temporal mapping of de novo mutations in schizophrenia to a fetal prefrontal cortical network. Cell 154, 518–529 (2013).

Xu, B. et al. De novo gene mutations highlight patterns of genetic and neural complexity in schizophrenia. Nat. Genet. 44, 1365–1369 (2012).

Iossifov, I. et al. The contribution of de novo coding mutations to autism spectrum disorder. Nature 515, 216–221 (2014).

Cross-Disorder Group of the Psychiatric Genomics Consortium. Identification of risk loci with shared effects on five major psychiatric disorders: a genome-wide analysis. Lancet 381, 1371–1379 (2013).

International League Against Epilepsy Consortium on Complex Epilepsies. Genetic determinants of common epilepsies: a meta-analysis of genome-wide association studies. Lancet Neurol. 13, 893–903 (2014).

Li, H. et al. Candidate single-nucleotide polymorphisms from a genomewide association study of Alzheimer disease. Arch. Neurol. 65, 45–53 (2008).

Rimfeld, K., Kovas, Y., Dale, P.S. & Plomin, R. Pleiotropy across academic subjects at the end of compulsory education. Sci. Rep. 5, 11713 (2015).

McLaren, W. et al. Deriving the consequences of genomic variants with the Ensembl API and SNP Effect Predictor. Bioinformatics 26, 2069–2070 (2010).

Johnson, M.R. et al. Systems genetics identifies Sestrin 3 as a regulator of a proconvulsant gene network in human epileptic hippocampus. Nat. Commun. 6, 6031 (2015).

Barbosa-Morais, N.L. et al. A re-annotation pipeline for Illumina BeadArrays: improving the interpretation of gene expression data. Nucleic Acids Res. 38, e17 (2010).

Hardin, J., Mitani, A., Hicks, L. & VanKoten, B. A robust measure of correlation between two genes on a microarray. BMC Bioinformatics 8, 220 (2007).

Langfelder, P., Zhang, B. & Horvath, S. Defining clusters from a hierarchical cluster tree: the Dynamic Tree Cut package for R. Bioinformatics 24, 719–720 (2008).

Kim, D. et al. TopHat2: accurate alignment of transcriptomes in the presence of insertions, deletions and gene fusions. Genome Biol. 14, R36 (2013).

Robinson, M.D., McCarthy, D.J. & Smyth, G.K. edgeR: a Bioconductor package for differential expression analysis of digital gene expression data. Bioinformatics 26, 139–140 (2010).

North, B.V., Curtis, D. & Sham, P.C. A note on the calculation of empirical P values from Monte Carlo procedures. Am. J. Hum. Genet. 71, 439–441 (2002).

Therneau, T.M. & Ballman, K.V. What does PLIER really do? Cancer Inform. 6, 423–431 (2008).

Stegle, O., Parts, L., Piipari, M., Winn, J. & Durbin, R. Using probabilistic estimation of expression residuals (PEER) to obtain increased power and interpretability of gene expression analyses. Nat. Protoc. 7, 500–507 (2012).

Hebenstreit, D. et al. RNA sequencing reveals two major classes of gene expression levels in metazoan cells. Mol. Syst. Biol. 7, 497 (2011).

Kanehisa, M., Goto, S., Kawashima, S., Okuno, Y. & Hattori, M. The KEGG resource for deciphering the genome. Nucleic Acids Res. 32, D277–D280 (2004).

Ashburner, M. et al. Gene ontology: tool for the unification of biology. Nat. Genet. 25, 25–29 (2000).

Wechsler, D. Wechsler Adult Intelligence Scale - third edition. (London: The Psychological Corporation, 1998).

Nelson, H.E. & Willison, J. National Adult Reading Test (NART) Test Manual. (Windsor, NFER-Nelson, 1991).

Wechsler, D. Wechsler Memory Scale III UK. (London: The Psychological Corporation, 1998).

Lezak, M.D., Howieson, D.B., Bigler, E.D. & Tranel, D. Neuropsychological Assessment (Oxford University Press, 2004).

Raven, J.C., Court, J.H. & Raven, J. Manual for Raven's Progressive Matrices and Vocabulary Scales (H.K. Lewis, 1977).

Johnson, W., Bouchard, T.J., Krueger, R.F., McGue, M. & Gottesman, I.I. Just one g: consistent results from three test batteries. Intelligence 32, 95–107 (2004).

Johnson, W., Nijenhuis, J.T. & Bouchard, T.J. Still just 1 g: consistent results from five test batteries. Intelligence 36, 81–95 (2008).

Smith, B.H. et al. Generation Scotland: the Scottish Family Health Study; a new resource for researching genes and heritability. BMC Med. Genet. 7, 74 (2006).

Kerr, S.M. et al. Pedigree and genotyping quality analyses of over 10,000 DNA samples from the Generation Scotland: Scottish Family Health Study. BMC Med. Genet. 14, 38 (2013).

Purcell, S. et al. PLINK: a tool set for whole-genome association and population-based linkage analyses. Am. J. Hum. Genet. 81, 559–575 (2007).

Pruitt, K.D. et al. The consensus coding sequence (CCDS) project: identifying a common protein-coding gene set for the human and mouse genomes. Genome Res. 19, 1316–1323 (2009).

De Rubeis, S. et al. Synaptic, transcriptional and chromatin genes disrupted in autism. Nature 515, 209–215 (2014).

Girard, S.L. et al. Increased exonic de novo mutation rate in individuals with schizophrenia. Nat. Genet. 43, 860–863 (2011).

Girard, S.L. et al. Mutation burden of rare variants in schizophrenia candidate genes. PLoS One 10, e0128988 (2015).

de Ligt, J. et al. Diagnostic exome sequencing in persons with severe intellectual disability. N. Engl. J. Med. 367, 1921–1929 (2012).

Hamdan, F.F. et al. De novo mutations in moderate or severe intellectual disability. PLoS Genet. 10, e1004772 (2014).

Allen, A.S. et al. De novo mutations in epileptic encephalopathies. Nature 501, 217–221 (2013).

EuroEPINOMICS-RES. Consortium, Epilepsy Phenome/Genome Project & Epi4K Consortium. De novo mutations in synaptic transmission genes including DNM1 cause epileptic encephalopathies. Am. J. Hum. Genet. 95, 360–370 (2014).

Kumar, P., Henikoff, S. & Ng, P.C. Predicting the effects of coding non-synonymous variants on protein function using the SIFT algorithm. Nat. Protoc. 4, 1073–1081 (2009).

Adzhubei, I.A. et al. A method and server for predicting damaging missense mutations. Nat. Methods 7, 248–249 (2010).
Acknowledgements
We acknowledge funding from UK Imperial National Institute for Health Research Biomedical Research Centre (M.R.J.), the UK Medical Research Council (M.R.J., E.P. and D.S.), The National Genome Research Network (NGFNplus: EMINet, grant 01GS08122; A.J.B.), EuroEpinomics (A.J.B.), UCB Pharma (M.R.J. and E.P.) and the Singapore Ministry of Health (E.P.). We thank the Lothian Birth Cohort 1936 research team for data collection and collation. The Lothian Birth Cohort 1936 is supported by Age UK (Disconnected Mind project). The work at The University of Edinburgh was undertaken by The University of Edinburgh Centre for Cognitive Ageing and Cognitive Epidemiology, part of the cross council Lifelong Health and Wellbeing Initiative (MR/K026992/1). We acknowledge funding from the Biotechnology and Biological Sciences Research Council and MRC. Generation Scotland received core funding from the Chief Scientist Office of the Scottish Government Health Directorate CZD/16/6 and the Scottish Funding Council HR03006. Genotyping of the GS:SFHS samples was carried out by staff at the Genetics Core Laboratory at the Wellcome Trust Clinical Research Facility, Edinburgh, Scotland and was funded by the UK's Medical Research Council. We thank all the families who took part, the general practitioners and the Scottish School of Primary Care for their help in recruiting them, and the whole Generation Scotland team, which includes interviewers, computer and laboratory technicians, clerical workers, research scientists, volunteers, managers, receptionists, healthcare assistants and nurses. A.D.-D. was supported by a Marie Curie Intra European Fellowship within the 7th European Community Framework Programme.
Ethics declarations
Competing interests
The authors declare no competing financial interests.
Integrated supplementary information
We hypothesized that gene regulatory networks starting from the human hippocampus could be informative for genes and pathways relevant to diverse cognitive abilities and neurodevelopmental disease. Hippocampus gene-regulatory networks were inferred a priori, without reference to cognitive phenotypes using fresh-frozen hippocampus samples that had been surgically removed from 122 patients undergoing temporal lobectomy for epilepsy. Conservation of modules was then tested using distinct expression datasets from non-diseased post-mortem hippocampus samples (n=63) and healthy mouse hippocampus samples (n=100). From this, we identified 4 cross-species conserved hippocampal gene co- expression modules whose co-expression relationships are unrelated to epilepsy (M1, M3, M11 and M19). We then used independent gene expression datasets to show that these modules were conserved widely across the human cortex and expressed under tight developmental regulation during brain development. The modules were then integrated with GWAS data relating to four cognitive abilities (general fluid cognitive ability, processing speed, crystalized cognitive ability and verbal delayed recall) in two independent community cohorts (GS:SFHS and LBC1936), and de novo mutation data from parent-offspring trios across five neurodevelopmental disorders (ASD, SCZ, ID, EE, DDD) to reveal convergent gene co-expression modules for healthy human cognitive abilities and neurodevelopmental disease. Full details relating to datasets, experimental methods and references are provided in the manuscript. TLE=temporal lobe epilepsy; ASD=autism spectrum disorder; SCZ=schizophrenia; ID=intellectual disability; DDD=Deciphering Development Disorders Cohort (http://www.ddduk.org). UKBEC=UK Brain Expression Consortium (http://www.braineac.org). WES= whole-exome sequencing.
Supplementary information
About this article
Cite this article
Johnson, M., Shkura, K., Langley, S. et al. Systems genetics identifies a convergent gene network for cognition and neurodevelopmental disease. Nat Neurosci 19, 223–232 (2016). https://doi.org/10.1038/nn.4205
Received:

Accepted:

Published:

Issue Date:

DOI: https://doi.org/10.1038/nn.4205