Abstract
Sensory perception depends on the context in which a stimulus occurs. Prevailing models emphasize cortical feedback as the source of contextual modulation. However, higher order thalamic nuclei, such as the pulvinar, interconnect with many cortical and subcortical areas, suggesting a role for the thalamus in providing sensory and behavioral context. Yet the nature of the signals conveyed to cortex by higher order thalamus remains poorly understood. Here we use axonal calcium imaging to measure information provided to visual cortex by the pulvinar equivalent in mice, the lateral posterior nucleus (LP), as well as the dorsolateral geniculate nucleus (dLGN). We found that dLGN conveys retinotopically precise visual signals, while LP provides distributed information from the visual scene. Both LP and dLGN projections carry locomotion signals. However, while dLGN inputs often respond to positive combinations of running and visual flow speed, LP signals discrepancies between self-generated and external visual motion. This higher order thalamic nucleus therefore conveys diverse contextual signals that inform visual cortex about visual scene changes not predicted by the animal's own actions.
Your institute does not have access to this article
Relevant articles
Open Access articles citing this article.
Matteo Saponati

,

Jordi Garcia-Ojalvo

…

Alberto Mazzoni

Brain Topography Open Access 04 June 2021

Sami El-Boustani

,

B. Semihcan Sermet

…

Carl C. H. Petersen

Nature Communications Open Access 03 July 2020

Rune Rasmussen

,

Akihiro Matsumoto

…

Keisuke Yonehara

Nature Communications Open Access 11 February 2020
Access options
Subscribe to Journal
Get full journal access for 1 year
$59.00
only $4.92 per issue
All prices are NET prices.
VAT will be added later in the checkout.
Tax calculation will be finalised during checkout.
Buy article
Get time limited or full article access on ReadCube.
$32.00
All prices are NET prices.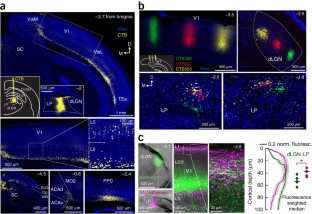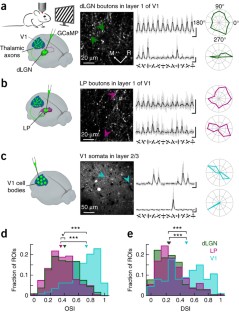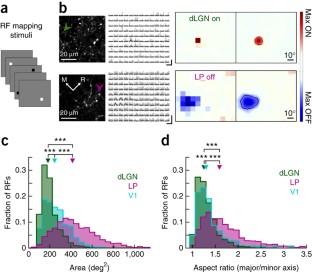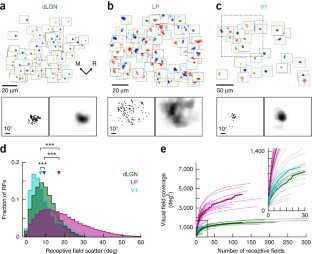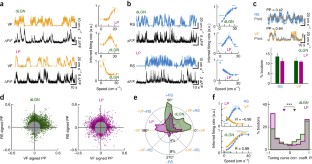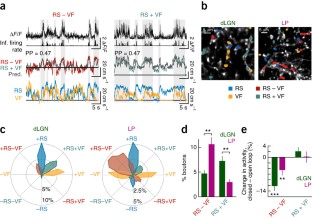 References
Gilbert, C.D. & Wiesel, T.N. The influence of contextual stimuli on the orientation selectivity of cells in primary visual cortex of the cat. Vision Res. 30, 1689–1701 (1990).

Roelfsema, P.R., Lamme, V.A.F. & Spekreijse, H. Object-based attention in the primary visual cortex of the macaque monkey. Nature 395, 376–381 (1998).

Gilbert, C.D. & Li, W. Top-down influences on visual processing. Nat. Rev. Neurosci. 14, 350–363 (2013).

Niell, C.M. & Stryker, M.P. Modulation of visual responses by behavioral state in mouse visual cortex. Neuron 65, 472–479 (2010).

Keller, G.B., Bonhoeffer, T. & Hübener, M. Sensorimotor mismatch signals in primary visual cortex of the behaving mouse. Neuron 74, 809–815 (2012).

Saleem, A.B., Ayaz, A., Jeffery, K.J., Harris, K.D. & Carandini, M. Integration of visual motion and locomotion in mouse visual cortex. Nat. Neurosci. 16, 1864–1869 (2013).

Mumford, D. On the computational architecture of the neocortex. II. The role of cortico-cortical loops. Biol. Cybern. 66, 241–251 (1992).

Rao, R.P.N. & Ballard, D.H. Predictive coding in the visual cortex: a functional interpretation of some extra-classical receptive-field effects. Nat. Neurosci. 2, 79–87 (1999).

Makino, H. & Komiyama, T. Learning enhances the relative impact of top-down processing in the visual cortex. Nat. Neurosci. 18, 1116–1122 (2015).

Zhang, S. et al. Selective attention. Long-range and local circuits for top-down modulation of visual cortex processing. Science 345, 660–665 (2014).

Lee, A.M. et al. Identification of a brainstem circuit regulating visual cortical state in parallel with locomotion. Neuron 83, 455–466 (2014).

Fu, Y. et al. A cortical circuit for gain control by behavioral state. Cell 156, 1139–1152 (2014).

McAlonan, K., Cavanaugh, J. & Wurtz, R.H. Guarding the gateway to cortex with attention in visual thalamus. Nature 456, 391–394 (2008).

Erisken, S. et al. Effects of locomotion extend throughout the mouse early visual system. Curr. Biol. 24, 2899–2907 (2014).

Williamson, R.S., Hancock, K.E., Shinn-Cunningham, B.G. & Polley, D.B. Locomotion and task demands differentially modulate thalamic audiovisual processing during active search. Curr. Biol. 25, 1885–1891 (2015).

Sherman, S.M. & Guillery, R.W. The role of the thalamus in the flow of information to the cortex. Phil. Trans. R. Soc. Lond. B 357, 1695–1708 (2002).

Shipp, S. The functional logic of cortico-pulvinar connections. Phil. Trans. R. Soc. Lond. B 358, 1605–1624 (2003).

Grieve, K.L., Acuña, C. & Cudeiro, J. The primate pulvinar nuclei: vision and action. Trends Neurosci. 23, 35–39 (2000).

Saalmann, Y.B. & Kastner, S. Cognitive and perceptual functions of the visual thalamus. Neuron 71, 209–223 (2011).

Kaas, J.H. & Lyon, D.C. Pulvinar contributions to the dorsal and ventral streams of visual processing in primates. Brain Res. Rev. 55, 285–296 (2007).

Raczkowski, D. & Rosenquist, A.C. Connections of the multiple visual cortical areas with the lateral posterior-pulvinar complex and adjacent thalamic nuclei in the cat. J. Neurosci. 3, 1912–1942 (1983).

Bender, D.B. Receptive-field properties of neurons in the macaque inferior pulvinar. J. Neurophysiol. 48, 1–17 (1982).

Saalmann, Y.B., Pinsk, M.A., Wang, L., Li, X. & Kastner, S. The pulvinar regulates information transmission between cortical areas based on attention demands. Science 337, 753–756 (2012).

Purushothaman, G., Marion, R., Li, K. & Casagrande, V.A. Gating and control of primary visual cortex by pulvinar. Nat. Neurosci. 15, 905–912 (2012).

Baldwin, M.K.L., Wong, P., Reed, J.L. & Kaas, J.H. Superior colliculus connections with visual thalamus in gray squirrels (Sciurus carolinensis): evidence for four subdivisions within the pulvinar complex. J. Comp. Neurol. 519, 1071–1094 (2011).

Wurtz, R.H., McAlonan, K., Cavanaugh, J. & Berman, R.A. Thalamic pathways for active vision. Trends Cogn. Sci. 15, 177–184 (2011).

Kamishina, H. et al. Cortical connections of the rat lateral posterior thalamic nucleus. Brain Res. 1264, 39–56 (2009).

Gale, S.D. & Murphy, G.J. Distinct representation and distribution of visual information by specific cell types in mouse superficial superior colliculus. J. Neurosci. 34, 13458–13471 (2014).

Rubio-Garrido, P., Pérez-de-Manzo, F., Porrero, C., Galazo, M.J. & Clascá, F. Thalamic input to distal apical dendrites in neocortical layer 1 is massive and highly convergent. Cereb. Cortex 19, 2380–2395 (2009).

Cruz-Martín, A. et al. A dedicated circuit links direction-selective retinal ganglion cells to the primary visual cortex. Nature 507, 358–361 (2014).

Bickford, M.E., Zhou, N., Krahe, T.E., Govindaiah, G. & Guido, W. Retinal and tectal "driver-like" inputs converge in the shell of the mouse dorsal lateral geniculate nucleus. J. Neurosci. 35, 10523–10534 (2015).

Tohmi, M., Meguro, R., Tsukano, H., Hishida, R. & Shibuki, K. The extrageniculate visual pathway generates distinct response properties in the higher visual areas of mice. Curr. Biol. 24, 587–597 (2014).

Piscopo, D.M., El-Danaf, R.N., Huberman, A.D. & Niell, C.M. Diverse visual features encoded in mouse lateral geniculate nucleus. J. Neurosci. 33, 4642–4656 (2013).

Chen, T.-W. et al. Ultrasensitive fluorescent proteins for imaging neuronal activity. Nature 499, 295–300 (2013).

De Paola, V. et al. Cell type-specific structural plasticity of axonal branches and boutons in the adult neocortex. Neuron 49, 861–875 (2006).

Petreanu, L. et al. Activity in motor-sensory projections reveals distributed coding in somatosensation. Nature 489, 299–303 (2012).

Huber, D. et al. Multiple dynamic representations in the motor cortex during sensorimotor learning. Nature 484, 473–478 (2012).

Grubb, M.S. & Thompson, I.D. Quantitative characterization of visual response properties in the mouse dorsal lateral geniculate nucleus. J. Neurophysiol. 90, 3594–3607 (2003).

Marshel, J.H., Kaye, A.P., Nauhaus, I. & Callaway, E.M. Anterior-posterior direction opponency in the superficial mouse lateral geniculate nucleus. Neuron 76, 713–720 (2012).

Zhao, X., Chen, H., Liu, X. & Cang, J. Orientation-selective responses in the mouse lateral geniculate nucleus. J. Neurosci. 33, 12751–12763 (2013).

Scholl, B., Tan, A.Y.Y., Corey, J. & Priebe, N.J. Emergence of orientation selectivity in the Mammalian visual pathway. J. Neurosci. 33, 10616–10624 (2013).

Liang, F. et al. Sensory cortical control of a visually induced arrest behavior via corticotectal projections. Neuron 86, 755–767 (2015).

Sillito, A.M., Cudeiro, J. & Jones, H.E. Always returning: feedback and sensory processing in visual cortex and thalamus. Trends Neurosci. 29, 307–316 (2006).

McCormick, D.A. Neurotransmitter actions in the thalamus and cerebral cortex and their role in neuromodulation of thalamocortical activity. Prog. Neurobiol. 39, 337–388 (1992).

Kropff, E., Carmichael, J.E., Moser, M.-B. & Moser, E.I. Speed cells in the medial entorhinal cortex. Nature 523, 419–424 (2015).

Friston, K. A theory of cortical responses. Phil. Trans. R. Soc. Lond. B 360, 815–836 (2005).

Robinson, D.L. & Petersen, S.E. The pulvinar and visual salience. Trends Neurosci. 15, 127–132 (1992).

Guillery, R.W. & Sherman, S.M. Branched thalamic afferents: what are the messages that they relay to the cortex? Brain Res. Rev. 66, 205–219 (2011).

Harris, K.D. & Mrsic-Flogel, T.D. Cortical connectivity and sensory coding. Nature 503, 51–58 (2013).

Larkum, M. A cellular mechanism for cortical associations: an organizing principle for the cerebral cortex. Trends Neurosci. 36, 141–151 (2013).

Akerboom, J. et al. Optimization of a GCaMP calcium indicator for neural activity imaging. J. Neurosci. 32, 13819–13840 (2012).

Brainard, D.H. The psychophysics toolbox. Spat. Vis. 10, 433–436 (1997).

Pologruto, T.A., Sabatini, B.L. & Svoboda, K. ScanImage: flexible software for operating laser scanning microscopes. Biomed. Eng. Online 2, 13 (2003).

Leinweber, M. et al. Two-photon calcium imaging in mice navigating a virtual reality environment. J. Vis. Exp. 84, e50885 (2014).

Poort, J. et al. Learning enhances sensory and multiple non-sensory representations in primary visual cortex. Neuron 86, 1478–1490 (2015).

Guizar-Sicairos, M., Thurman, S.T. & Fienup, J.R. Efficient subpixel image registration algorithms. Opt. Lett. 33, 156–158 (2008).

Smith, S.L. & Häusser, M. Parallel processing of visual space by neighboring neurons in mouse visual cortex. Nat. Neurosci. 13, 1144–1149 (2010).

Mukamel, E.A., Nimmerjahn, A. & Schnitzer, M.J. Automated analysis of cellular signals from large-scale calcium imaging data. Neuron 63, 747–760 (2009).

Dyer, E.L., Studer, C., Robinson, J.T. & Baraniuk, R.G. A robust and efficient method to recover neural events from noisy and corrupted data. Int. IEEE/EMBS Conf. Neural Eng. NER 593–596 (2013).

Gandy, A. & Hahn, G. MMCTest – a safe algorithm for implementing multiple Monte Carlo tests. Scand. J. Stat. 41, 1083–1101 (2014).

Harris, K.D., Henze, D.A., Csicsvari, J., Hirase, H. & Buzsáki, G. Accuracy of tetrode spike separation as determined by simultaneous intracellular and extracellular measurements. J. Neurophysiol. 84, 401–414 (2000).

Paxinos, G. & Franklin, K.B.J. The Mouse Brain in Stereotaxic Coordinates (Academic, 2001).
Acknowledgements
We thank J. Poort and A.G. Khan for generous help, software and hardware for the behavioral experiments, data acquisition and analysis, H. Ko for analysis software, M. Pachitariu for related preliminary analysis, A. Nemri for building the intrinsic imaging setup, G.B. Keller and his group (Friedrich Miescher Institute, Basel) for analysis software and AAV vectors, and I. Orsolic for an earlier version of the schematic in Figure 5a. We thank P. Znamensky, J. Poort, A. Blot, A.J. Keller and G.B. Keller for comments on earlier versions of the manuscript, the Hofer and Mrsic-Flogel laboratory for discussions and T.D. Mrsic-Flogel for support, comments and discussions. We thank the Biozentrum Imaging Core Facility (IMCF; Basel) for providing access and maintenance of confocal microscopes, as well as analysis support. We thank the GENIE Program, Janelia Farm Research Campus and Howard Hughes Medical Institute for making GCaMP5 and GCaMP6 material available. This work was supported by the European Research Council (S.B.H., HigherVision 337797) and the Wellcome Trust (S.B.H., 095853; J.C.D., 076508).
Ethics declarations
Competing interests
The authors declare no competing financial interests.
Integrated supplementary information
Supplementary information
Supplementary Figures 1–10 (PDF 1753 kb)
About this article
Cite this article
Roth, M., Dahmen, J., Muir, D. et al. Thalamic nuclei convey diverse contextual information to layer 1 of visual cortex. Nat Neurosci 19, 299–307 (2016). https://doi.org/10.1038/nn.4197
Received:

Accepted:

Published:

Issue Date:

DOI: https://doi.org/10.1038/nn.4197