Abstract
Although multiple sclerosis is a common neurological disorder, the origin of the autoimmune response against myelin, which is the characteristic feature of the disease, remains unclear. To investigate whether oligodendrocyte death could cause this autoimmune response, we examined the oligodendrocyte ablation Plp1-CreERT;ROSA26-eGFP-DTA (DTA) mouse model. Approximately 30 weeks after recovering from oligodendrocyte loss and demyelination, DTA mice develop a fatal secondary disease characterized by extensive myelin and axonal loss. Strikingly, late-onset disease was associated with increased numbers of T lymphocytes in the CNS and myelin oligodendrocyte glycoprotein (MOG)-specific T cells in lymphoid organs. Transfer of T cells derived from DTA mice to naive recipients resulted in neurological defects that correlated with CNS white matter inflammation. Furthermore, immune tolerization against MOG ameliorated symptoms. Overall, these data indicate that oligodendrocyte death is sufficient to trigger an adaptive autoimmune response against myelin, suggesting that a similar process can occur in the pathogenesis of multiple sclerosis.
Access options
Subscribe to Journal
Get full journal access for 1 year
$59.00
only $4.92 per issue
All prices are NET prices.
VAT will be added later in the checkout.
Tax calculation will be finalised during checkout.
Rent or Buy article
Get time limited or full article access on ReadCube.
from$8.99
All prices are NET prices.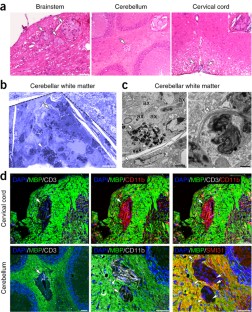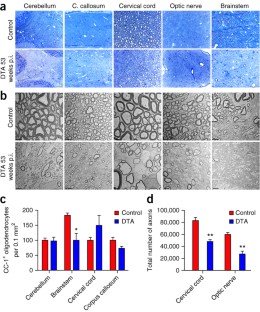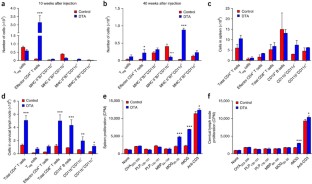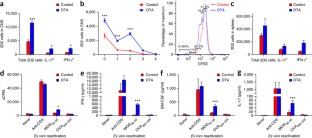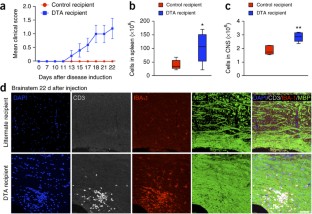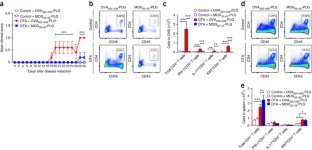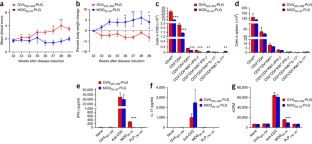 References
1

Nylander, A. & Hafler, D.A. Multiple sclerosis. J. Clin. Invest. 122, 1180–1188 (2012).

2

Nakahara, J., Aiso, S. & Suzuki, N. Autoimmune versus oligodendrogliopathy: the pathogenesis of multiple sclerosis. Arch. Immunol. Ther. Exp. (Warsz.) 58, 325–333 (2010).

3

McFarland, H.F. & Martin, R. Multiple sclerosis: a complicated picture of autoimmunity. Nat. Immunol. 8, 913–919 (2007).

4

Stys, P.K., Zamponi, G.W., van Minnen, J. & Geurts, J.J. Will the real multiple sclerosis please stand up? Nat. Rev. Neurosci. 13, 507–514 (2012).

5

Barnett, M.H. & Prineas, J.W. Relapsing and remitting multiple sclerosis: pathology of the newly forming lesion. Ann. Neurol. 55, 458–468 (2004).

6

Henderson, A.P., Barnett, M.H., Parratt, J.D. & Prineas, J.W. Multiple sclerosis: distribution of inflammatory cells in newly forming lesions. Ann. Neurol. 66, 739–753 (2009).

7

Rodriguez, M. & Scheithauer, B. Ultrastructure of multiple sclerosis. Ultrastruct. Pathol. 18, 3–13 (1994).

8

Traka, M. et al. A genetic mouse model of adult-onset, pervasive central nervous system demyelination with robust remyelination. Brain 133, 3017–3029 (2010).

9

Doerflinger, N.H., Macklin, W.B. & Popko, B. Inducible site-specific recombination in myelinating cells. Genesis 35, 63–72 (2003).

10

Feil, R. et al. Ligand-activated site-specific recombination in mice. Proc. Natl. Acad. Sci. USA 93, 10887–10890 (1996).

11

Bailey, S.L., Schreiner, B., McMahon, E.J. & Miller, S.D. CNS myeloid DCs presenting endogenous myelin peptides 'preferentially' polarize CD4+ TH-17 cells in relapsing EAE. Nat. Immunol. 8, 172–180 (2007).

12

Bettelli, E., Baeten, D., Jäger, A., Sobel, R.A. & Kuchroo, V.K. Myelin oligodendrocyte glycoprotein-specific T and B cells cooperate to induce a Devic-like disease in mice. J. Clin. Invest. 116, 2393–2402 (2006).

13

McMahon, E.J., Bailey, S.L., Castenada, C.V., Waldner, H. & Miller, S.D. Epitope spreading initiates in the CNS in two mouse models of multiple sclerosis. Nat. Med. 11, 335–339 (2005).

14

Mombaerts, P. et al. RAG-1-deficient mice have no mature B and T lymphocytes. Cell 68, 869–877 (1992).

15

Butovsky, O. et al. Microglia activated by IL-4 or IFN-gamma differentially induce neurogenesis and oligodendrogenesis from adult stem/progenitor cells. Mol. Cell. Neurosci. 31, 149–160 (2006).

16

Pusic, A.D., Pusic, K.M., Clayton, B.L. & Kraig, R.P. IFNγ-stimulated dendritic cell exosomes as a potential therapeutic for remyelination. J. Neuroimmunol. 266, 12–23 (2014).

17

Schwartz, M. & Raposo, C. Protective autoimmunity: a unifying model for the immune network involved in CNS repair. Neuroscientist 20, 343–358 (2014).

18

Yednock, T.A. et al. Prevention of experimental autoimmune encephalomyelitis by antibodies against α4β1 integrin. Nature 356, 63–66 (1992).

19

Polman, C.H. et al. A randomized, placebo-controlled trial of natalizumab for relapsing multiple sclerosis. N. Engl. J. Med. 354, 899–910 (2006).

20

Podojil, J.R. et al. B7-H4Ig inhibits mouse and human T-cell function and treats EAE via IL-10/Treg-dependent mechanisms. J. Autoimmun. 44, 71–81 (2013).

21

Hunter, Z. et al. A biodegradable nanoparticle platform for the induction of antigen-specific immune tolerance for treatment of autoimmune disease. ACS Nano 8, 2148–2160 (2014).

22

Bjartmar, C., Wujek, J.R. & Trapp, B.D. Axonal loss in the pathology of MS: consequences for understanding the progressive phase of the disease. J. Neurol. Sci. 206, 165–171 (2003).

23

Maña, P. et al. Demyelination caused by the copper chelator cuprizone halts T cell mediated autoimmune neuroinflammation. J. Neuroimmunol. 210, 13–21 (2009).

24

Manrique-Hoyos, N. et al. Late motor decline after accomplished remyelination: impact for progressive multiple sclerosis. Ann. Neurol. 71, 227–244 (2012).

25

Blakemore, W.F. Demyelination of the superior cerebellar peduncle in the mouse induced by cuprizone. J. Neurol. Sci. 20, 63–72 (1973).

26

Emerson, M.R., Biswas, S. & LeVine, S.M. Cuprizone and piperonyl butoxide, proposed inhibitors of T-cell function, attenuate experimental allergic encephalomyelitis in SJL mice. J. Neuroimmunol. 119, 205–213 (2001).

27

Locatelli, G. et al. Primary oligodendrocyte death does not elicit anti-CNS immunity. Nat. Neurosci. 15, 543–550 (2012).

28

Buch, T. et al. A Cre-inducible diphtheria toxin receptor mediates cell lineage ablation after toxin administration. Nat. Methods 2, 419–426 (2005).

29

Ghosh, A. et al. Targeted ablation of oligodendrocytes triggers axonal damage. PLoS One 6, e22735 (2011).

30

Pohl, H.B. et al. Genetically induced adult oligodendrocyte cell death is associated with poor myelin clearance, reduced remyelination, and axonal damage. J. Neurosci. 31, 1069–1080 (2011).

31

Oluich, L.J. et al. Targeted ablation of oligodendrocytes induces axonal pathology independent of overt demyelination. J. Neurosci. 32, 8317–8330 (2012).

32

Gritsch, S. et al. Oligodendrocyte ablation triggers central pain independently of innate or adaptive immune responses in mice. Nat. Commun. 5, 5472 (2014).

33

Rumah, K.R., Linden, J., Fischetti, V.A. & Vartanian, T. Isolation of Clostridium perfringens type B in an individual at first clinical presentation of multiple sclerosis provides clues for environmental triggers of the disease. PLoS One 8, e76359 (2013).

34

Linden, J.R. et al. Clostridium perfringens epsilon toxin causes selective death of mature oligodendrocytes and central nervous system demyelination. MBio 6, e02513 (2015).

35

Caprariello, A.V., Mangla, S., Miller, R.H. & Selkirk, S.M. Apoptosis of oligodendrocytes in the central nervous system results in rapid focal demyelination. Ann. Neurol. 72, 395–405 (2012).

36

Kassmann, C.M. et al. Axonal loss and neuroinflammation caused by peroxisome-deficient oligodendrocytes. Nat. Genet. 39, 969–976 (2007).

37

Ip, C.W. et al. Immune cells contribute to myelin degeneration and axonopathic changes in mice overexpressing proteolipid protein in oligodendrocytes. J. Neurosci. 26, 8206–8216 (2006).

38

Ohno, M., Komiyama, A., Martin, P.M. & Suzuki, K. MHC class II antigen expression and T-cell infiltration in the demyelinating CNS and PNS of the twitcher mouse. Brain Res. 625, 186–196 (1993).

39

Suzuki, K. Twenty five years of the "psychosine hypothesis": a personal perspective of its history and present status. Neurochem. Res. 23, 251–259 (1998).

40

Suzuki, K. Globoid cell leukodystrophy (Krabbe's disease): update. J. Child Neurol. 18, 595–603 (2003).

41

Hafler, D.A. et al. Risk alleles for multiple sclerosis identified by a genomewide study. N. Engl. J. Med. 357, 851–862 (2007).

42

Sawcer, S. et al. Genetic risk and a primary role for cell-mediated immune mechanisms in multiple sclerosis. Nature 476, 214–219 (2011).

43

Ivanova, A. et al. In vivo genetic ablation by Cre-mediated expression of diphtheria toxin fragment A. Genesis 43, 129–135 (2005).

44

Srinivas, S. et al. Cre reporter strains produced by targeted insertion of EYFP and ECFP into the ROSA26 locus. BMC Dev. Biol. 1, 4 (2001).

45

Traka, M. et al. Nur7 is a nonsense mutation in the mouse aspartoacylase gene that causes spongy degeneration of the CNS. J. Neurosci. 28, 11537–11549 (2008).

46

Shen, S. et al. Age-dependent epigenetic control of differentiation inhibitors is critical for remyelination efficiency. Nat. Neurosci. 11, 1024–1034 (2008).
Acknowledgements
We thank E. Liu, A. Solanki, A.X. Tang and S. Labak for technical assistance, G. Wright for assistance with the morphometric analysis of the EM images using the ImageJ software and V. Bindokas from the University of Chicago Integrated Light Microscopy Core Facility for help with image acquisition and image processing. The work was supported by awards from the Myelin Repair Foundation and the National Multiple Sclerosis Society (RG 4952-A-5) to B.P. and S.D.M.
Ethics declarations
Competing interests
The authors declare no competing financial interests.
Integrated supplementary information
Supplementary information
About this article
Cite this article
Traka, M., Podojil, J., McCarthy, D. et al. Oligodendrocyte death results in immune-mediated CNS demyelination. Nat Neurosci 19, 65–74 (2016). https://doi.org/10.1038/nn.4193
Received:

Accepted:

Published:

Issue Date: